If picking out the groomsmen gifts is the one thing you've been asked to do, these gift ideas will help you out.
What's the point of groomsmen gifts? Well, they're a gesture of thanks for standing up for you on your big day–renting the tuxedos, maybe flying into town, wearing embarrassing pastel-colored vests that your bride-to-be chose and so on. Groomsmen, however, are more than just a party waiting to happen. These are the guys who've been a part of your life for some reason or a long season. Think of each person as you choose the personalized groomsmen gifts you'll give. One is timeless–you've known him since kindergarten. One is loyal—he walked into freshman orientation with you, even though you had a bro tank on. One is forgiving—he plays on your basketball team even though you're a ball hog. With these ideas in mind, below are five gifts you can give the groomsmen at your wedding–in order of most expensive to least.
(Check out our personalized bridesmaids gifts for under $30 if you need ideas for the ladies too.)

Hand-stamped Money Clip for $75
This hand-stamped money clip is made of recycled sterling silver and is sized to hold the entire bill plus cards. It's hand-formed and the personalization is included in the price. If your budget can afford it, you know I'd love to see a personalized gift card tucked inside. Give money clips to the guys you can always count on.
Buy it from Love Out Loud Creations on Etsy.

Monogrammed Travel Bag for $55
I love gifts that are both personal and useful. A matching set of monogrammed canvas Dopp kits is perfect for travelers coming to the wedding. Even groomsmen who didn't have to travel far to be at the party will be able to use this toiletry bag for future adventures. Custom made, you can choose matching fabrics or select different styles to suit different tastes. Give travel bags to the guys who will go anywhere with you.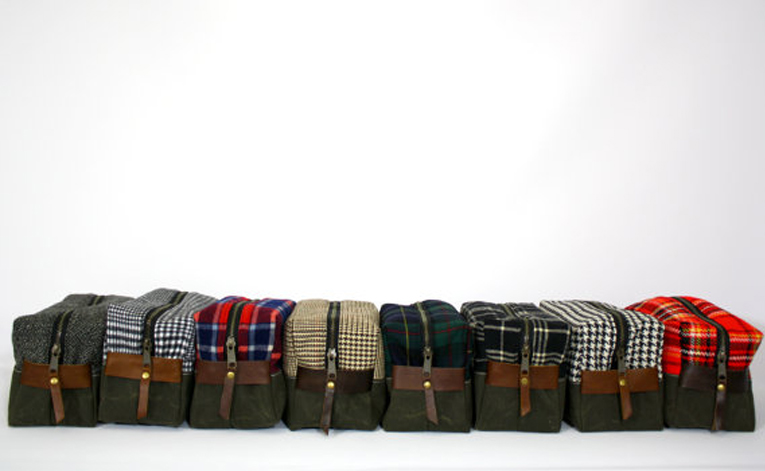 Buy it from BUTTER Design Lab on Etsy.

Personalized Pocket Watches for $29.99
Pocket watches may be old school but they are certainly trending at weddings these days. This gunmetal watch can be personalized with up to three lines of ten characters, so you can engrave names, initials or "band of brothers" on the timepieces–or whatever your group moniker happens to be. Give timepieces to the guys who you've grown up with and will grow old with.
Buy it from My Personal Memories on Etsy.

Superhero Cufflinks for $19.55
This Etsy shop will make you a set of groomsmen cufflinks with the superheroes you choose. From Green Lantern to Batman, you can find a set that will match the guys in your wedding party. Since the cufflinks are made to order, I bet you could even send in images of your own to use. Still have a team picture from when you all played football together? A picture from picnic days during that first year of college? Turn the images into a set of cufflinks for your pals. Seems to me anything (within reason) is possible. Give these cufflinks to the guys you look up to.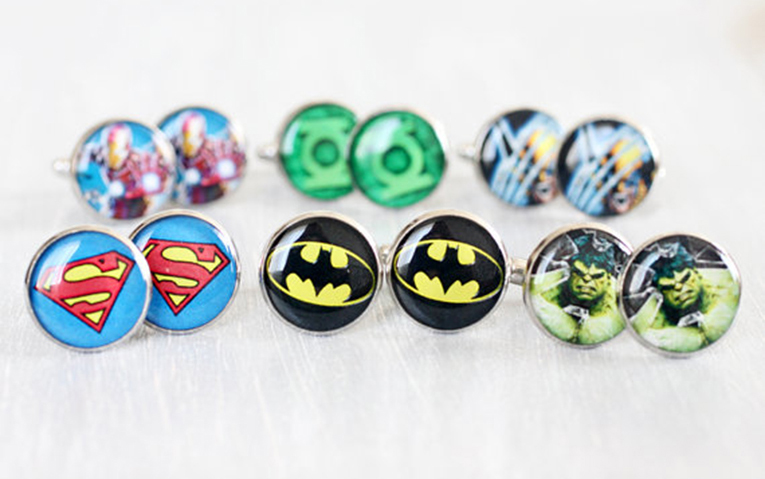 Buy it by Visiting Etsy.

Man Card Bottle Opener for $16.95
Finally, a personalized credit card bottle opener that fits in your wallet. It's the size of a credit card (I mean gift card!), yet the stainless steel composition is durable enough to open nearly any bottle cap. You can also have it engraved with up to two lines of 20 character text. I'm thinking "Don't drink and drive?" Give this man card to the guys you enjoy hanging out with.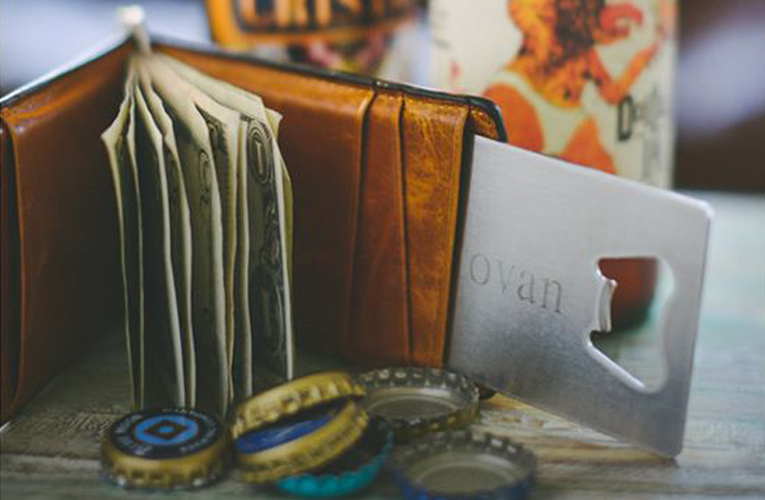 Buy it from The Man Registry.
More Groomsmen Gift Ideas
If none of those ideas seem right for you, then consider making personalized gift cards for your guys. Grab pictures from the glory days or awkward middle school photos and turn those into gift cards your groomsmen can use to spend however they'd like. Some may use their cards to pay for travel expenses or other costs of standing up for you. Others may treat themselves to a round of golf or a nice dinner out. However they spend the value, chances are, they'll keep the gift cards as mementos long after the redeemable dollars are gone. Perfect! Isn't that the purpose of the groomsmen gifts–to thank the guys with a token they can use and remember your ceremony by? Then gift cards it is!
Happy Gift Carding!
~Shelley Hunter, Gift Card Girlfriend