Monday 11.23.2015
{Free Printable} Gift Card Holder for Hanukkah
Free printable Hanukkah gift card holder plus tutorial on embellishing gift cards. Cute way to light the menorah!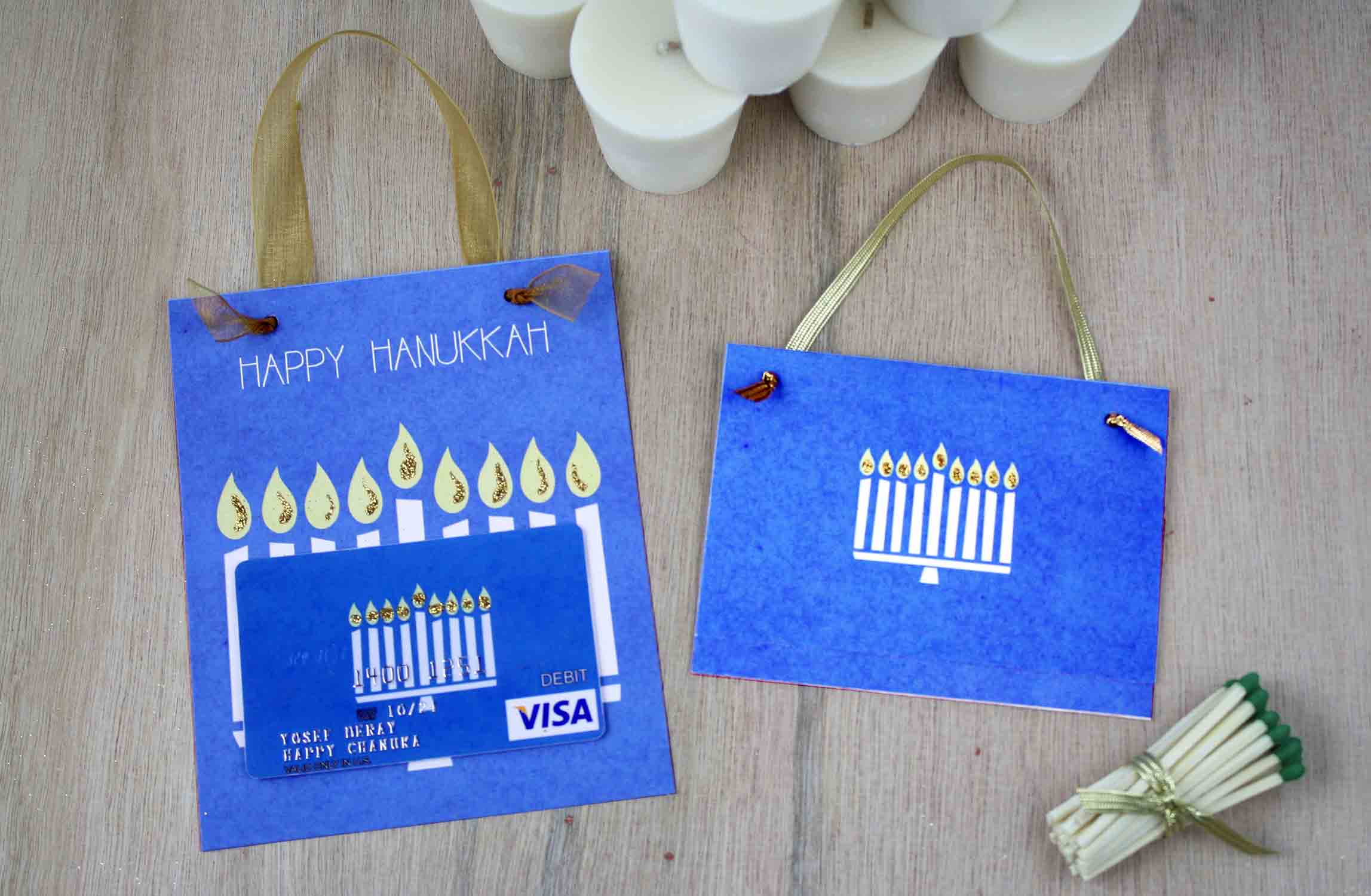 "Gifting Made Easy" by Gift Card Girlfriend
Since I don't celebrate Hanukkah, I did some research to learn more about this special Jewish holiday before getting crafty. As such, I decided to keep this printable gift card holder simple because the tradition it honors is sacred to the people who do observe it. You may have noticed, however, that I added an extra touch to the menorahs. This card is for the festival of lights, after all, so I wanted the flames to sparkle just a bit. See below for step-by-step instructions on how to make this printable gift card holder for Hanukkah.

Order Gift Card and Download Printable
One thing I learned is that there are many ways to spell Hanukkah including Chanuka, Chanukah or Chanukkah. You'll notice that I changed the spelling on the gift card itself, thanks to a hint from one of my co-workers. (Thanks Yosef!)
You can use these printables to present cash, a check or another merchant's gift card. Of course, I think the matching Visa® or Mastercard® gift cards look best.

Print the Gift Card Holders
After downloading the holder you want, print it on a color printer using "best quality" and "actual size" settings. (Do not select "shrink to fit" or any other setting that will change the size of the printed .pdf image.) White, card stock paper measuring 8-1/2″ x 11″ works best. Cut the holder with a paper cutter using the trim marks as a guide.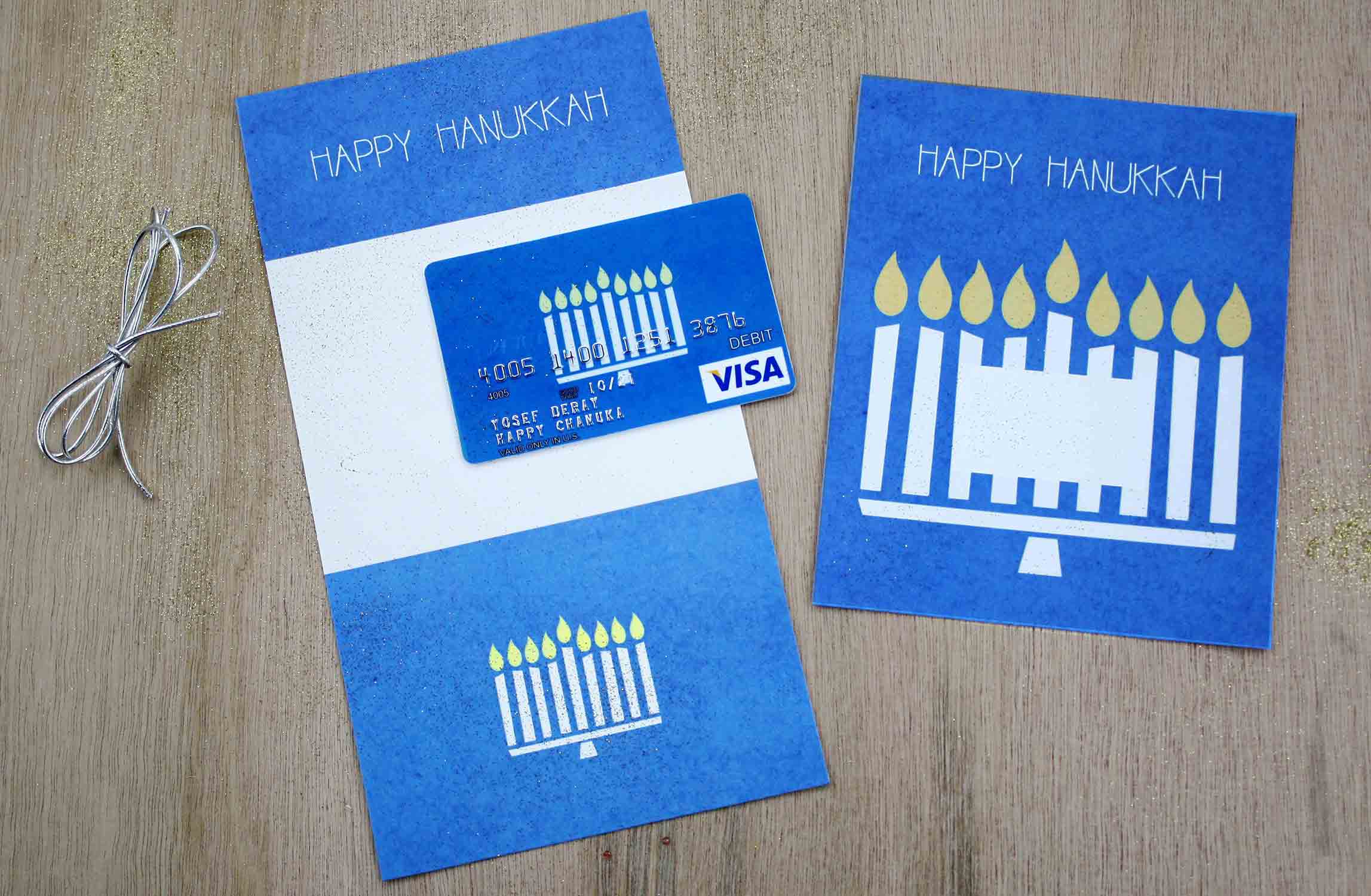 Make it Fancy
Brace yourself because I'm about to blow your crafter's mind. In addition to adding glitter to the gift card holders, I'm also going to add a little sparkle to the gift card itself! There's no reason I can't. The only thing you have to protect is the magstripe on the back of the card. As long as you don't touch that, you're free to embellish the design as much as you want. I'm simply going to use a toothpick to add glue dots and glitter to my card.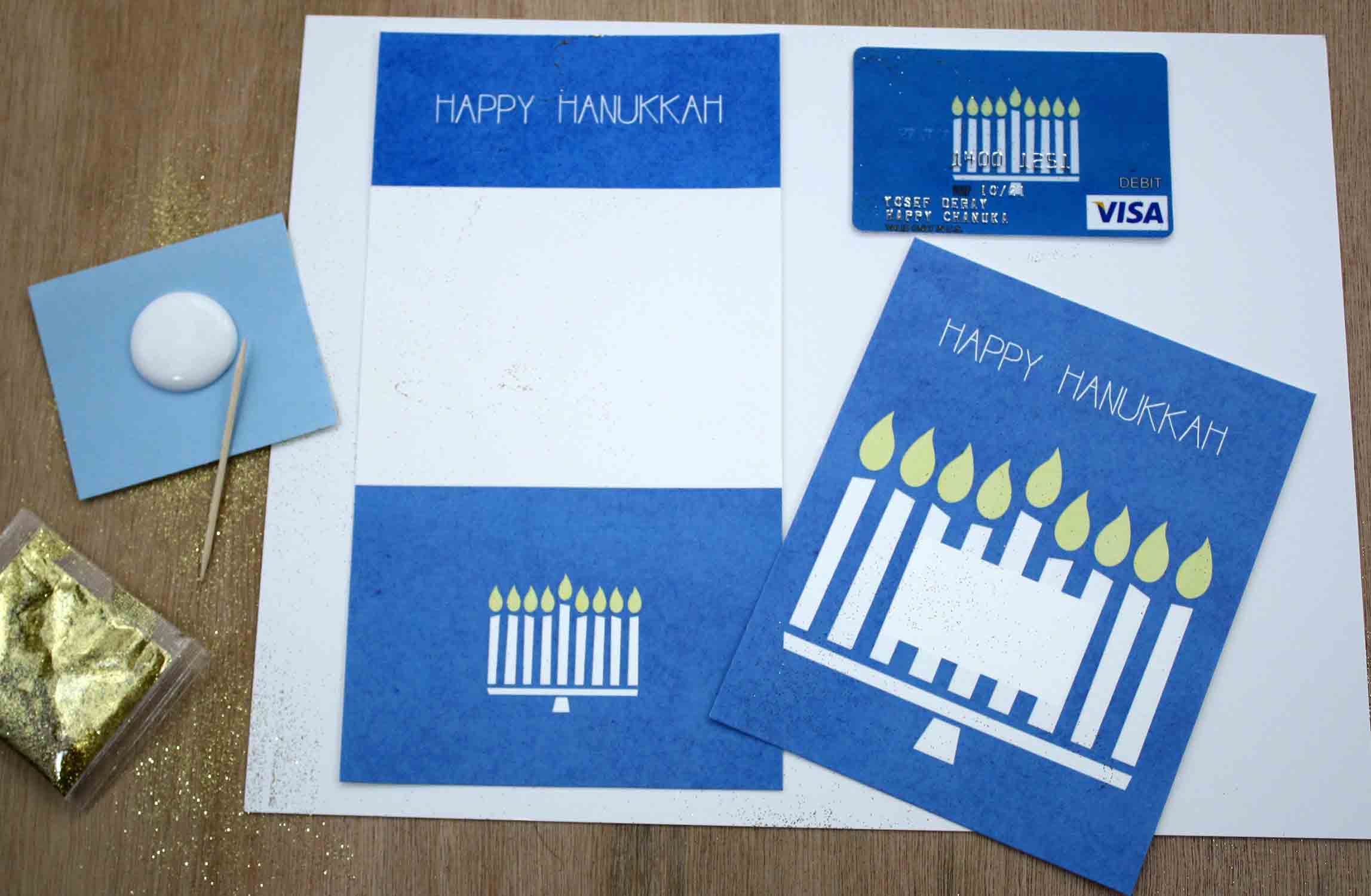 Adding the Bling
For the tiny flames on the gift card and the folded gift card holder, I added a simple glue dot. With the flat holder, however, I had enough room to trace the outline on the flames. Throw a little glitter on top and wait for it to dry–this really lights up the menorah.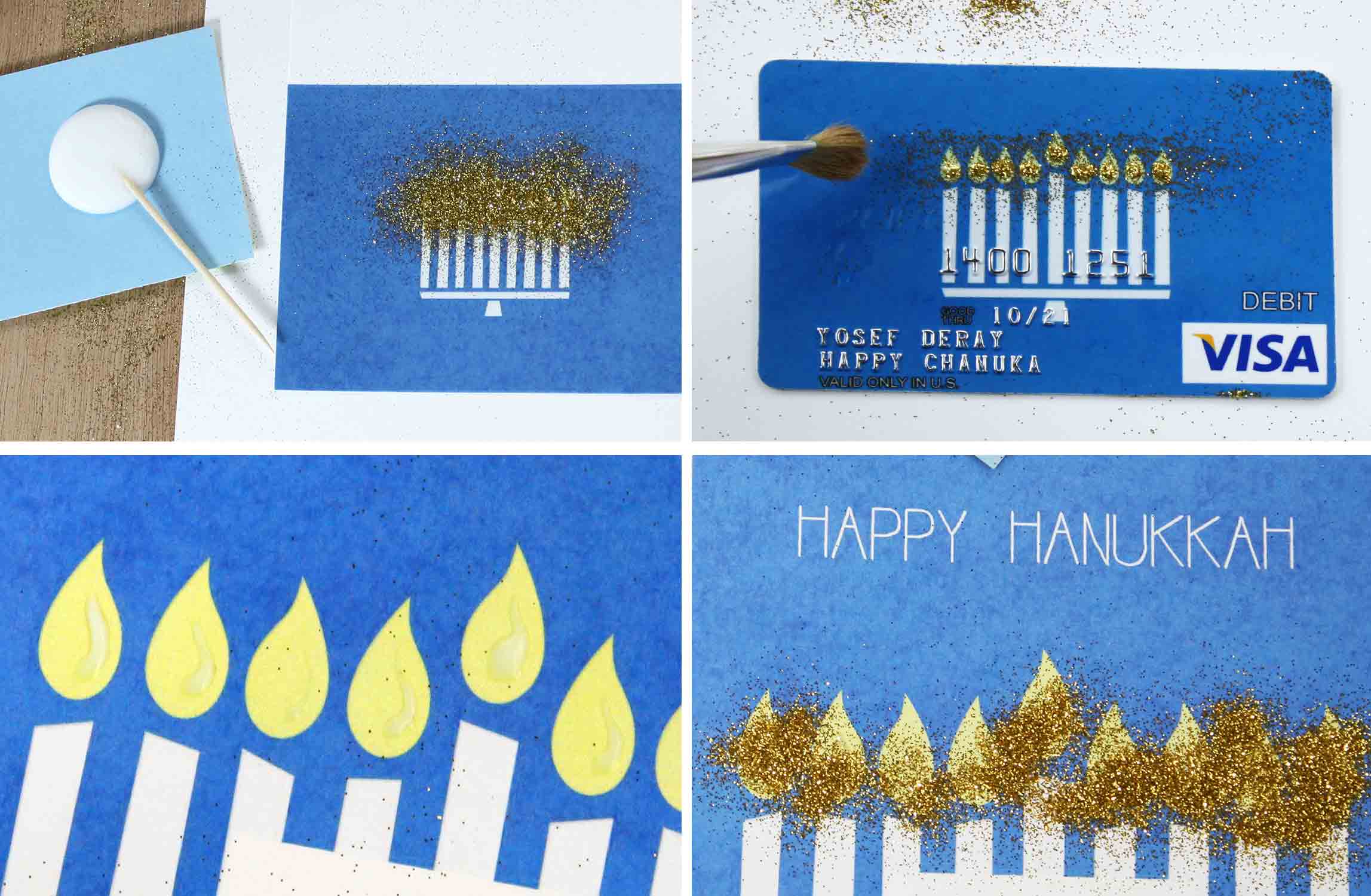 Glitter Done
After shaking the majority of the glitter off, I used a soft brush to gently remove the strays. It was at this point that I realized I should have put the glitter on AFTER I folded the gift card holder. Not to worry. I just did the next steps very carefully.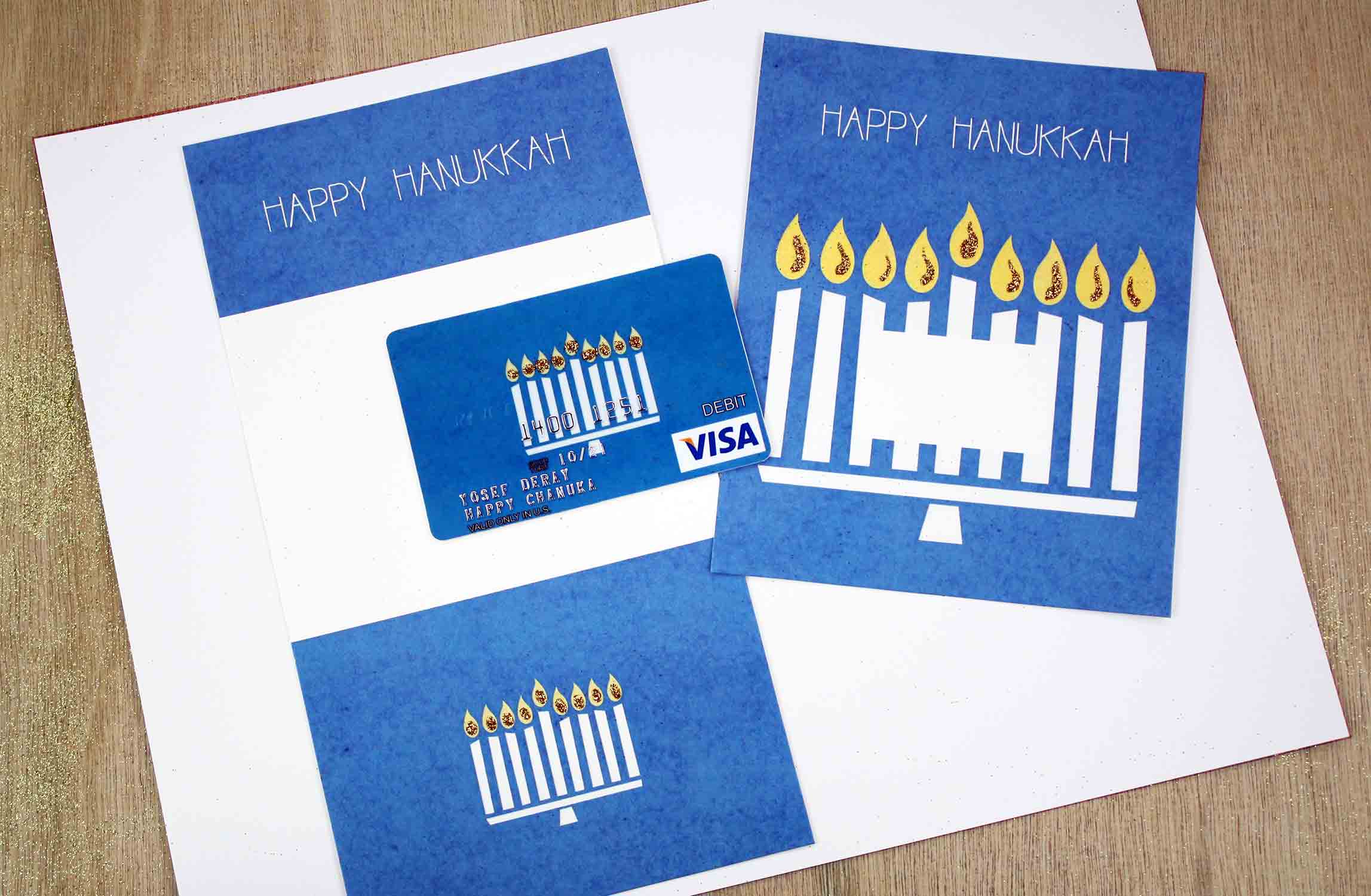 Make the Folded Holder
If you look at the printed side of the folded gift card holder, you'll see where the colored card should be folded. Even though I can see it on one side, I always measure it so I can score the card on the opposite side before folding. The lines are at the 3″ and 6-1/4″ marks. Using a pencil, mark the back side (white side) of the carrier at those measurements.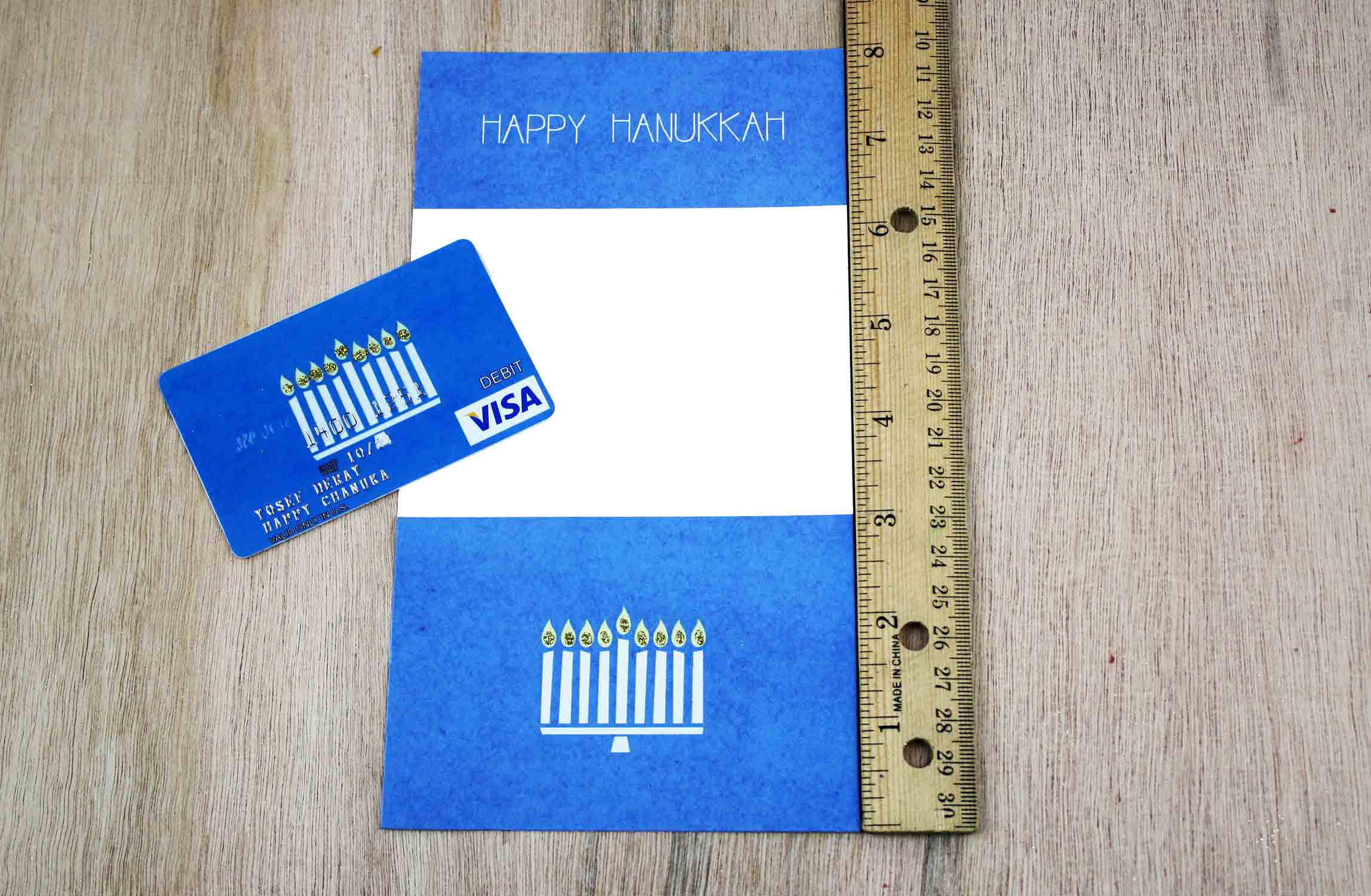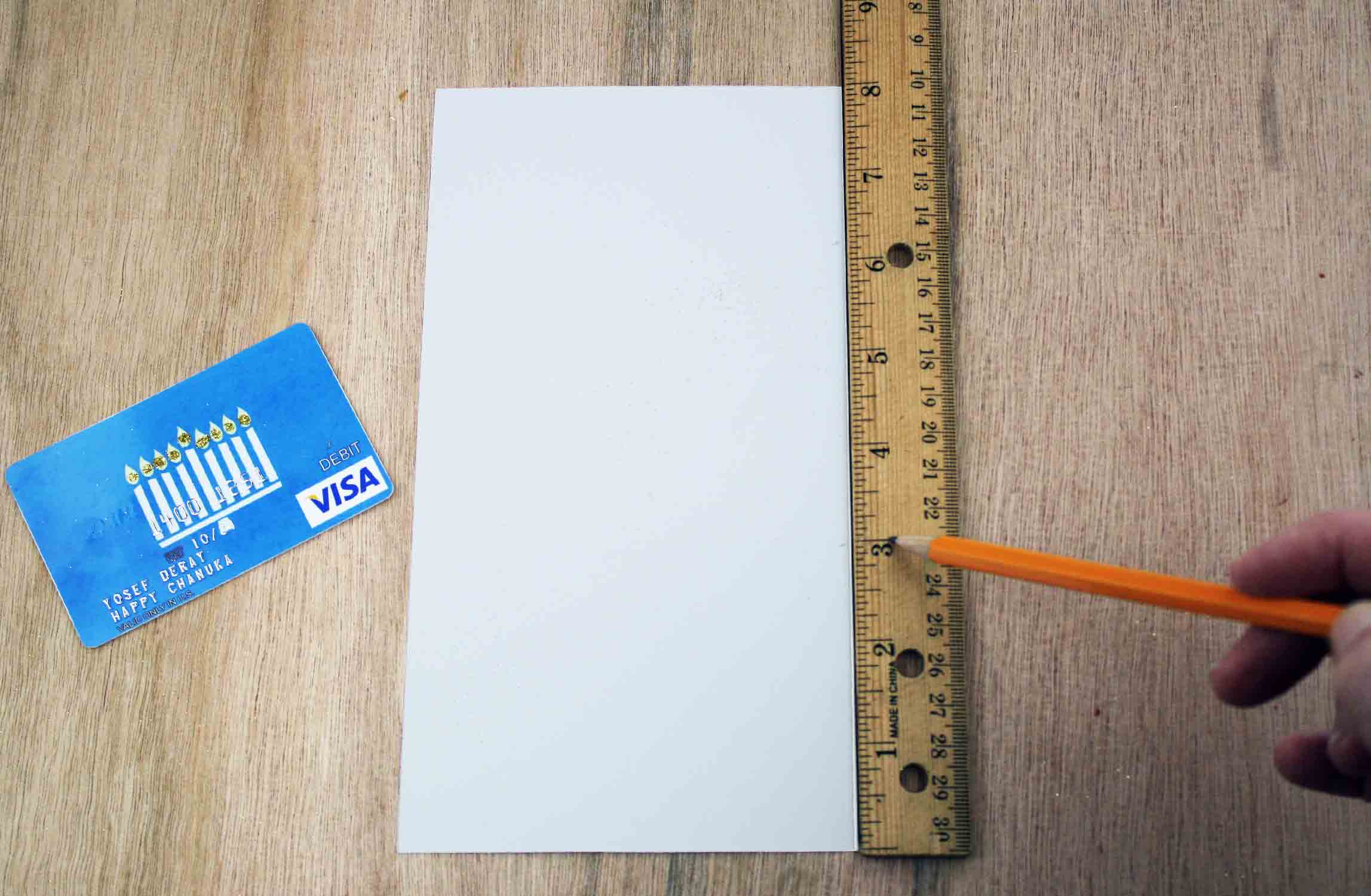 Score the Folded Holder
The easiest way to fold card stock is to score it first. Although there are scoring instruments, I just use whatever sharp object I have around that won't mark the paper or cut it. (Believe me, I've used some random objects including a pen lid.) Using a ruler and the measured marks, score the paper on the fold lines.
When the card is folded, use tape or glue to seal the sides of the bottom flap. This creates a little pocket, perfectly sized to hold a gift card or cash. Then all you have to do is tuck the gift card inside. You can write a note on the inside of the card (upper fold) if you'd like as well.

Add Ribbon and Present
In the spirit of keeping this simple (and because I really don't know enough about the Hanukkah/Chanukah tradition to be elaborate), I added a gold ribbon to the top of each holder. In each card, I punched two holes at the top and strung a gold ribbon through, tying knots in front to keep the ribbon secure and to provide decoration. Now you're free to hang these holders on a matching gift (e.g. bottle of sparkling apple cider) or just them deliver as-is. (If you celebrate Hanukkah, help me out. What would you attach these gift card holders to? Please tell me in the comments below.)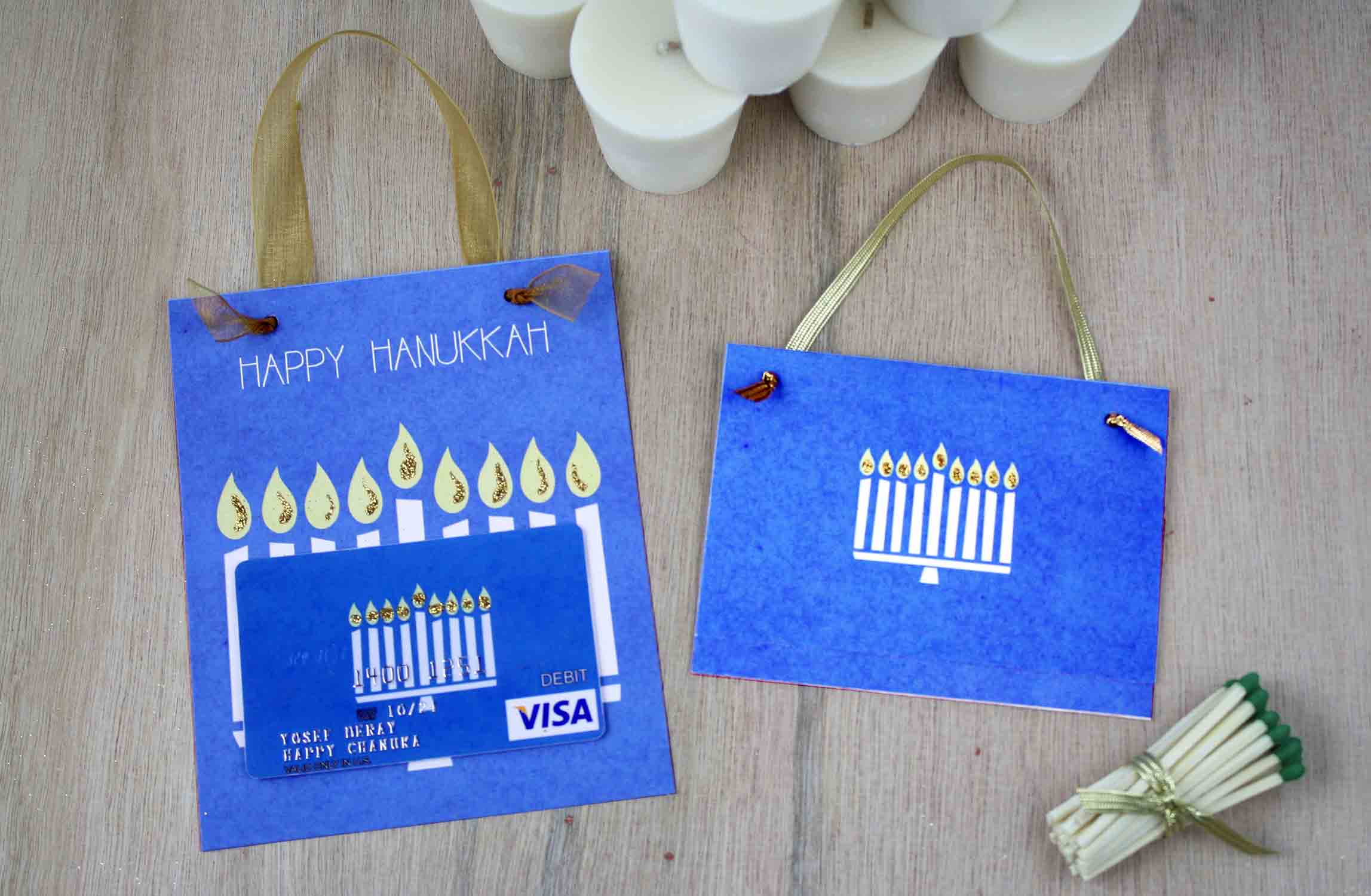 Bonus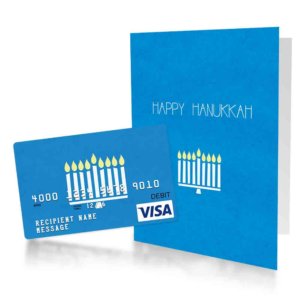 Speaking of simple, the easiest way to send a Hanukkah gift card is to order the Hanukkah Gift Card and let us send it for you. You can order the standard greeting card or a personalized one for less than a couple of dollars more. It's very simple. Of course, you won't get the glitter touch, but that's okay. You'll have more time to sit back and enjoy the holiday season.
For more free printable gift card holders, check out the free prints page or follow Gift Card Girlfriend on Pinterest. This gift is on our Hanukkah Gift Ideas board and our free printables board.
If you use this printable, send me a link to your page in the comments below or send me a message on Twitter (@GCGirlfriend) so I can check it out! I love to see what inspires you.
Happy Gift Carding!
~Shelley Hunter, Gift Card Girlfriend