How to find the AUTHENTIC Giftcards.com website and be sure you are on the correct website before entering your gift card number and PIN.
If you have a Visa gift card or a Mastercard gift carf from Giftcards.com, the first thing you'll need to do is activate the gift card. Good news for you…you've come to the right place.
There are many gift card issuers so it's important that you activate your gift card on the site that issued the gift card you're holding–or are looking at on your phone. Even more important, don't do a Google search to find the correct site. Why?
Because scammers create fake gift card websites that look just like the real thing, hoping to trick you into entering your gift card number, expiration date and card verification code. Once you do that, they access the card value and use it before you have a chance.
But not to worry–as long as you activate your gift card on the OFFICIAL gift card website for YOUR card, you'll be fine.
Activate Your Gift Card on Giftcards.com
The below instructions are ONLY for gift cards issued by Giftcards.com. How do you know who issued your card? Look at the back of your gift card. You should find a website address (URL) listed along with a telephone number and maybe even a QR code.
Here's a link to the Giftcards.com Activation page.
1. Go to Giftcards.com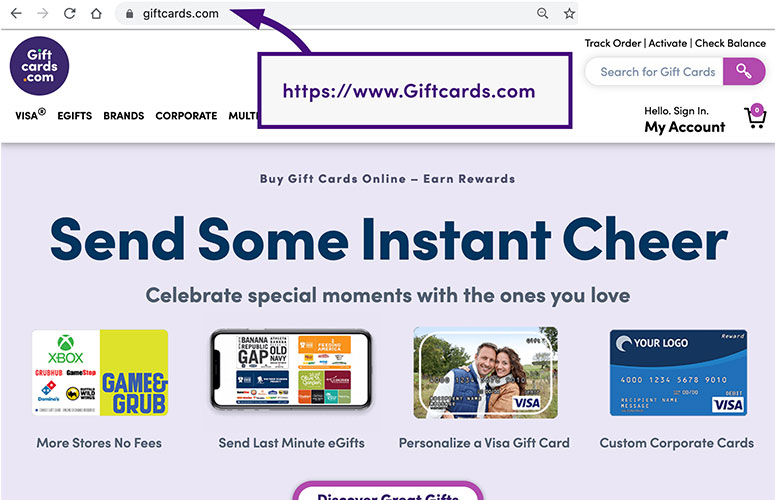 When you receive a prepaid debit card from Giftcards.com, you first need to activate the gift card. To do this, you MUST go to the correct website, which is generally listed on the back of the gift card and, oftentimes, printed on a sticker across the front of the gift card as well. You may also find a telephone number or a QR code to use instead.
Above is a screenshot of what the CURRENT Giftcards.com website landing page looks like. Of course, the images may change and the colors could too, but if you are on the correct website, the URL in the address bar should start with "https://www.giftcards.com/".
If you don't see that URL, call the phone number on the gift card or use the QR code to be safe.
2. Select "Activate"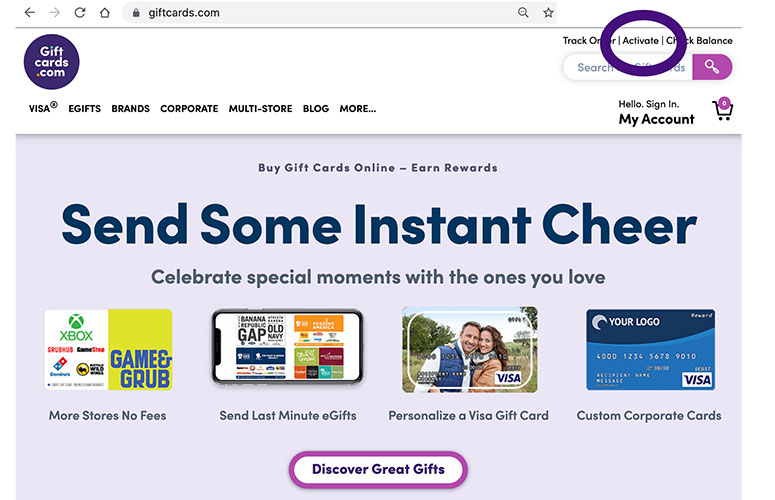 I know this must seem like an obvious suggestion, but I often hear from customers who think their gift cards aren't working only to discover that they are trying to activate their gift cards on the wrong websites. There are many prepaid gift card issuers, so be sure to enter the website directly into the address bar exactly as it is written. Do not do a "search" in hopes of landing on the correct page.
3. Tip for Reading the Back of Gift Cards
If you find that the print on the back of the gift card is too small to read, use your phone to zoom in on the details. This is an easy way to ensure you are reading the activation website correctly and double-check that you got the right one.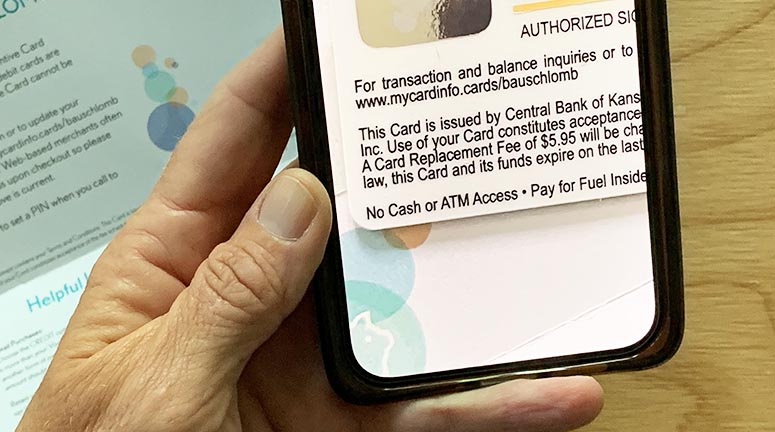 4. Check the Balance of a Giftcards.com Gift Card
Just like the activation step, you must check the balance of a Giftcards.com gift card on the Giftcards.com website. Though it may seem easier to type a variation of the address in a Google search to save a few keystrokes, doing so could land you on the wrong website entirely–no matter how close the URL resembles the correct one.
In this video below, I'll show you how easy it is to get the wrong website address when activating a gift card and why it's important to type the website address correctly.
5. Get Help with a Giftcards.com Gift Card
If you need help with a gift card from Giftcards.com, go directly to that website and look for the Frequently Asked Questions or the Contact Us page listed on the bottom of the page. To make it easier for you, I am including links here as well:
You'll find information on how to replace a lost gift card or report a gift card lost or stolen as well.
What other questions do you have about Giftcards.com or prepaid gift cards in general? Let me know in the comments below or reach out to me on Twitter (@GCGirlfriend) or Instagram (@Gift.Card.Girlfriend) so I can help you out.
Happy Gift Carding!
~Shelley Hunter, Gift Card Girlfriend