This free DIY Santa gift card holder can be downloaded and put together in minutes. Add cookies and milk for a super simple present.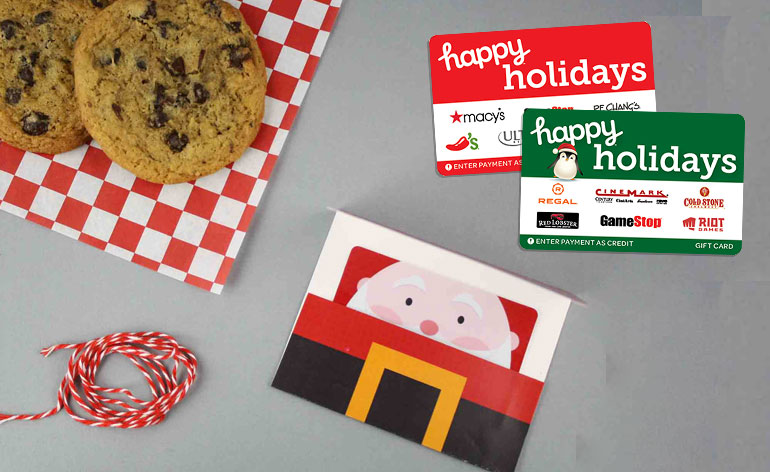 "Gifting Made Easy" by Gift Card Girlfriend
This Santa Claus gift card holder is ready for special delivery. Fill it with a matching Visa® gift card, add a store or restaurant gift card, or slip a little cash in the pocket instead. Then, deliver it with milk and cookies, of course! See below for simple instructions on how to make this free Santa Claus gift card holder.
1. Order Gift Card and Download Printable
The first thing to do is decide what gift card you'll put into the Santa Claus card holder. The matching one is adorable, but any gift card will do. If you select the matching card, then the flat gift card holder is a nice choice. If you opt for another merchant card, then I suggest the folded gift card holder.
Order the Santa Gift Card or choose a Happy Holidays gift card.
Download the matching Flat Santa Gift Card Holder
Download the matching Folded Santa Gift Card Holder
Check out my list of top gift cards for holidays for some other gift card suggestions as well.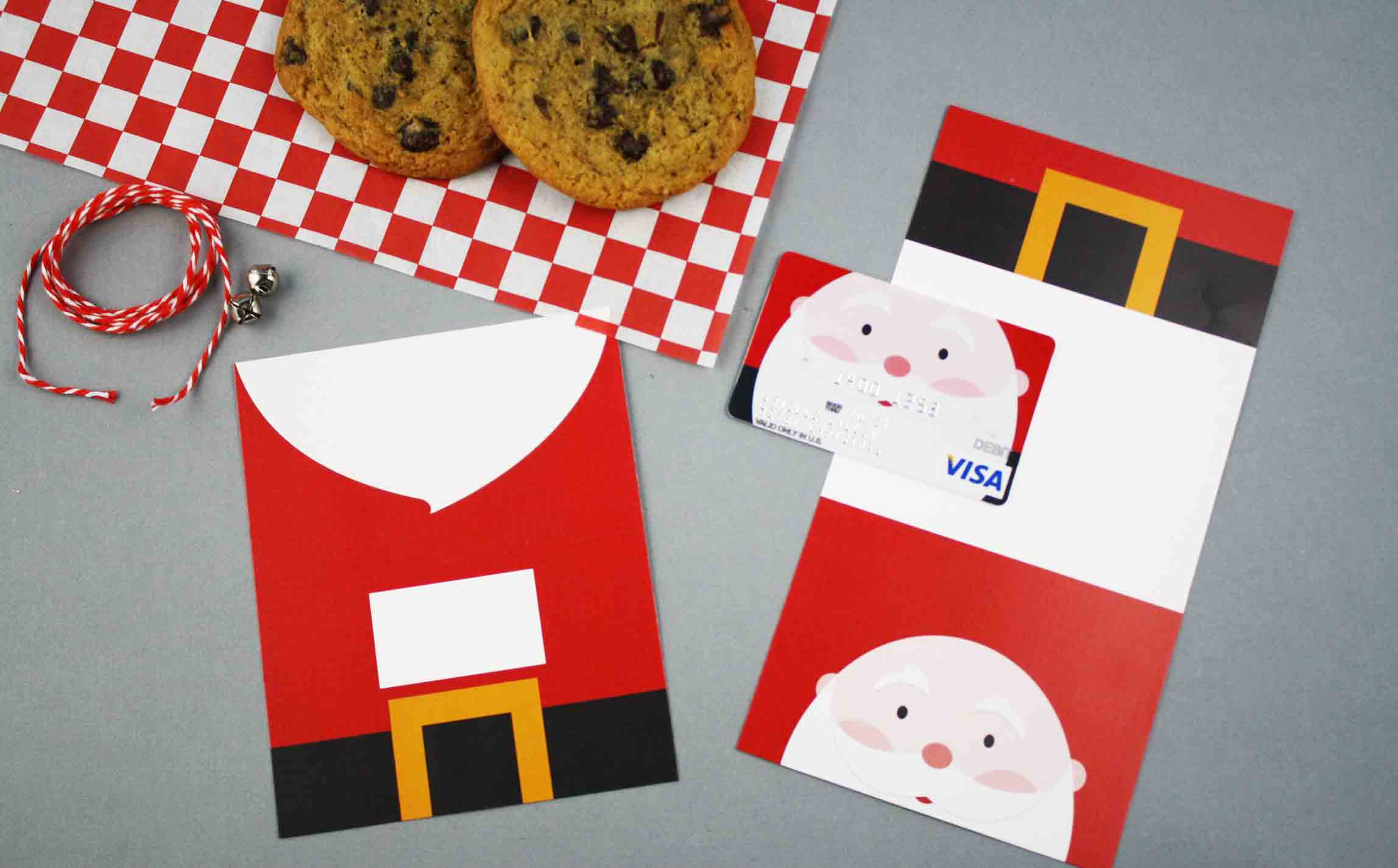 2. Print the Holders
After downloading the holder you want, print it on a color printer using "best quality" and "actual size" settings. (Do not select "shrink to fit" or any other setting that will change the size of the printed .pdf image.) White, card stock paper measuring 8-1/2″ x 11″ works best. Cut the holder with a paper cutter using the trim marks as a guide.
For the flat Santa printable, I glued some white cotton batting to his "beard". Then, I looped a piece of twine along the top of the card. With a bell for a little bling, this flat gift card holder is ready to go. All you need to do is add the gift card.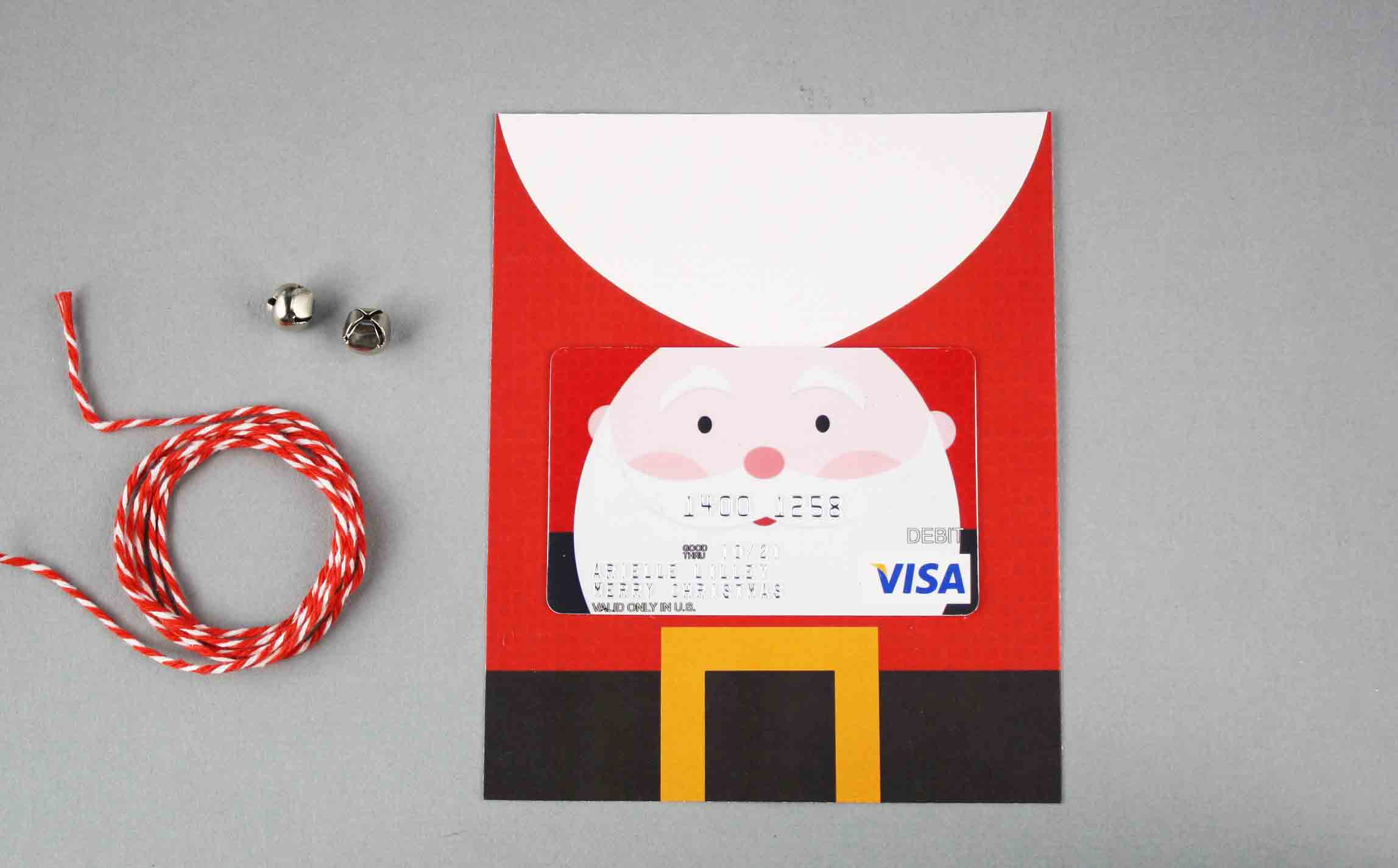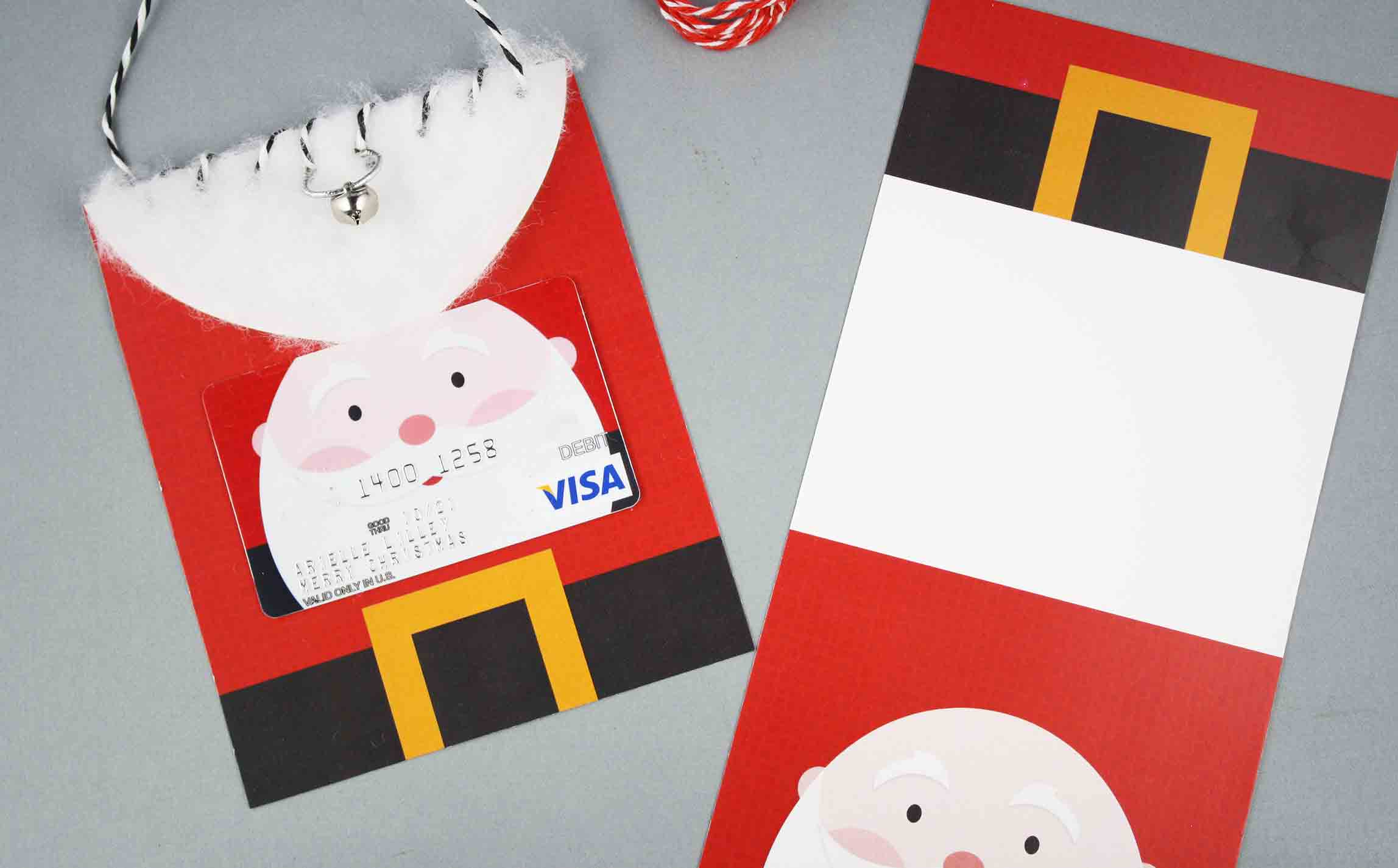 3. Make the Folded Holder
If you look at the printed side of the folded printable holder, you'll see the fold lines are marked where the design meets the white space. If you line up a ruler against the card, those fold lines should be at the 3″ and 6-1/4″ marks. (If your card printed differently, write down the measurements of where your card should be folded instead.) Using a pencil, mark the back side (white side) of the carrier at those same measurements.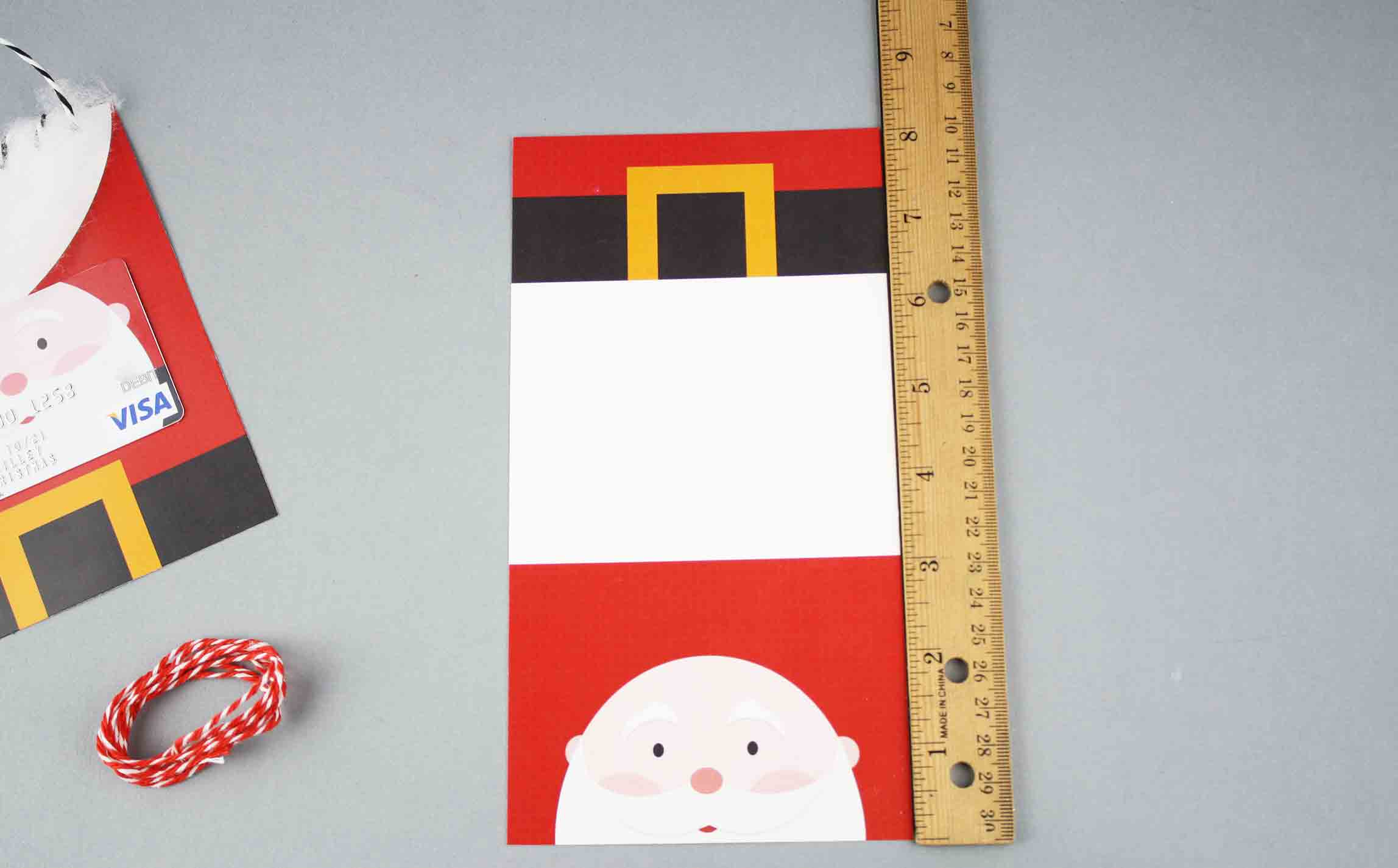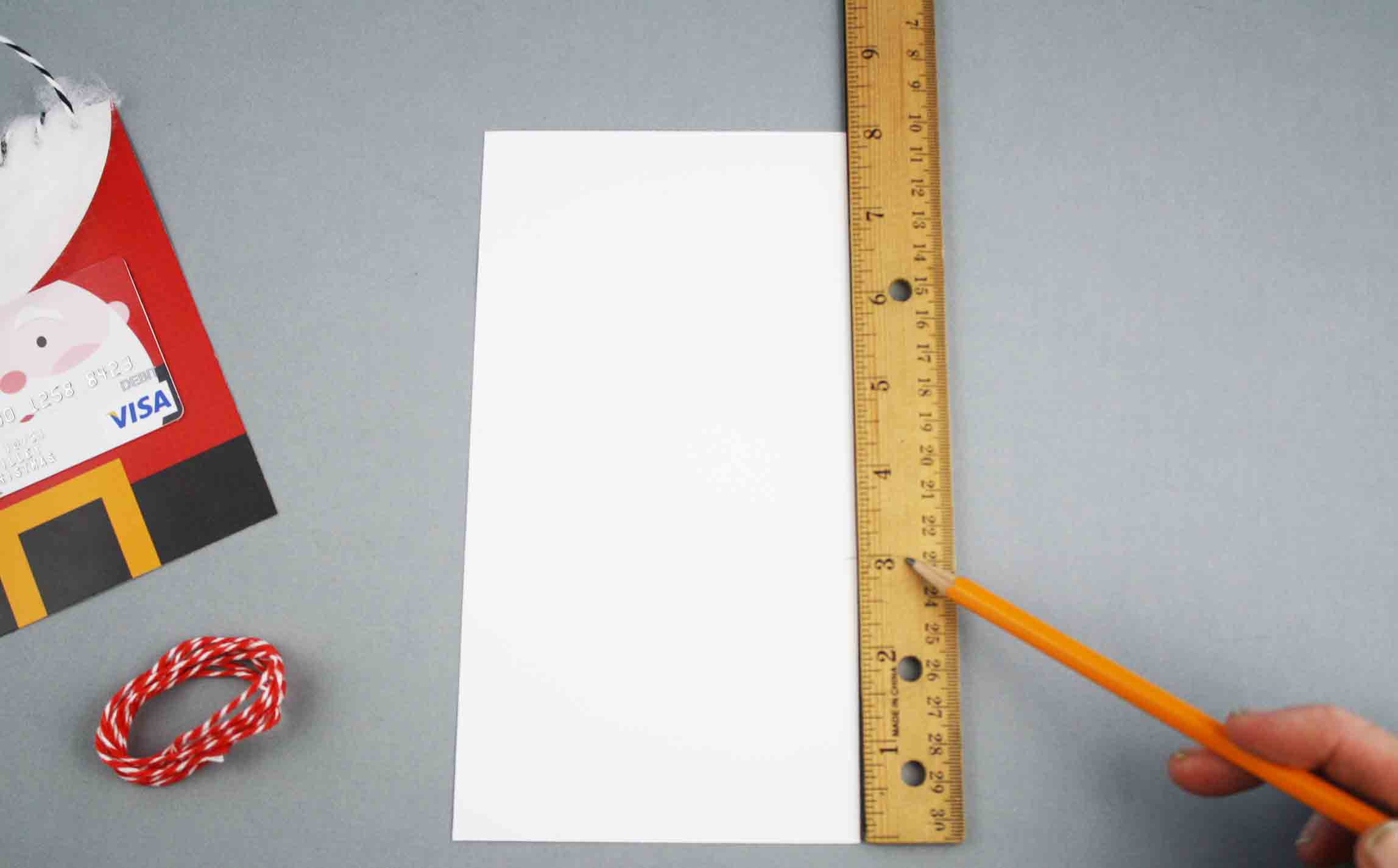 4. Add the Card
Before folding the card carrier, score the card stock paper. Although sometimes I'm tempted to skip this step, I always regret it when I do. The fold lines are fat and I have to press the seam over and over again to get it straight. Scored card stock paper, however, folds quickly and easily, and the line looks professionally done. Using a ruler, score the card stock at the marked measurements.
When the card is folded, use tape or glue to seal the sides of the bottom flap. This creates a simple pocket to hold a gift card or cash.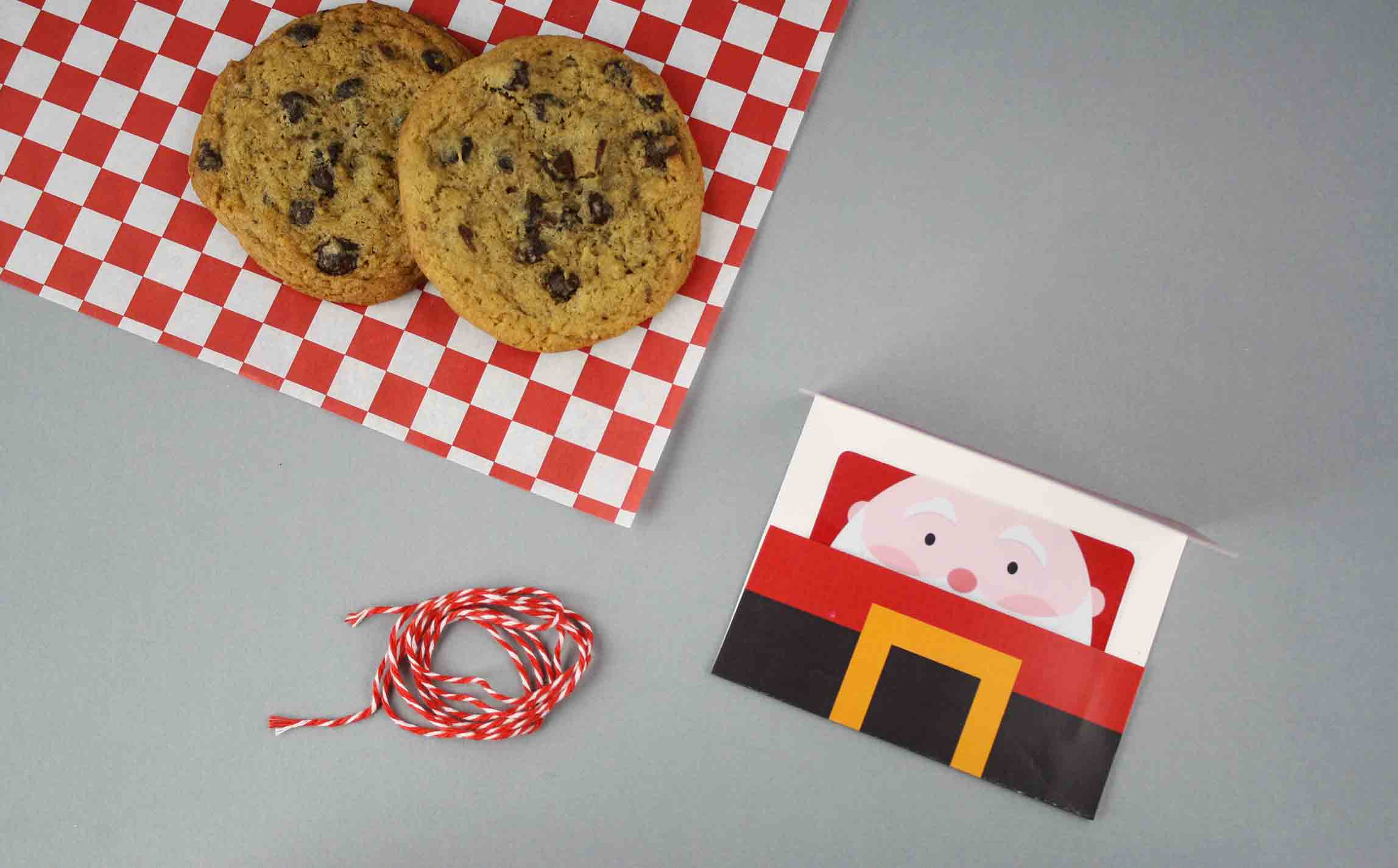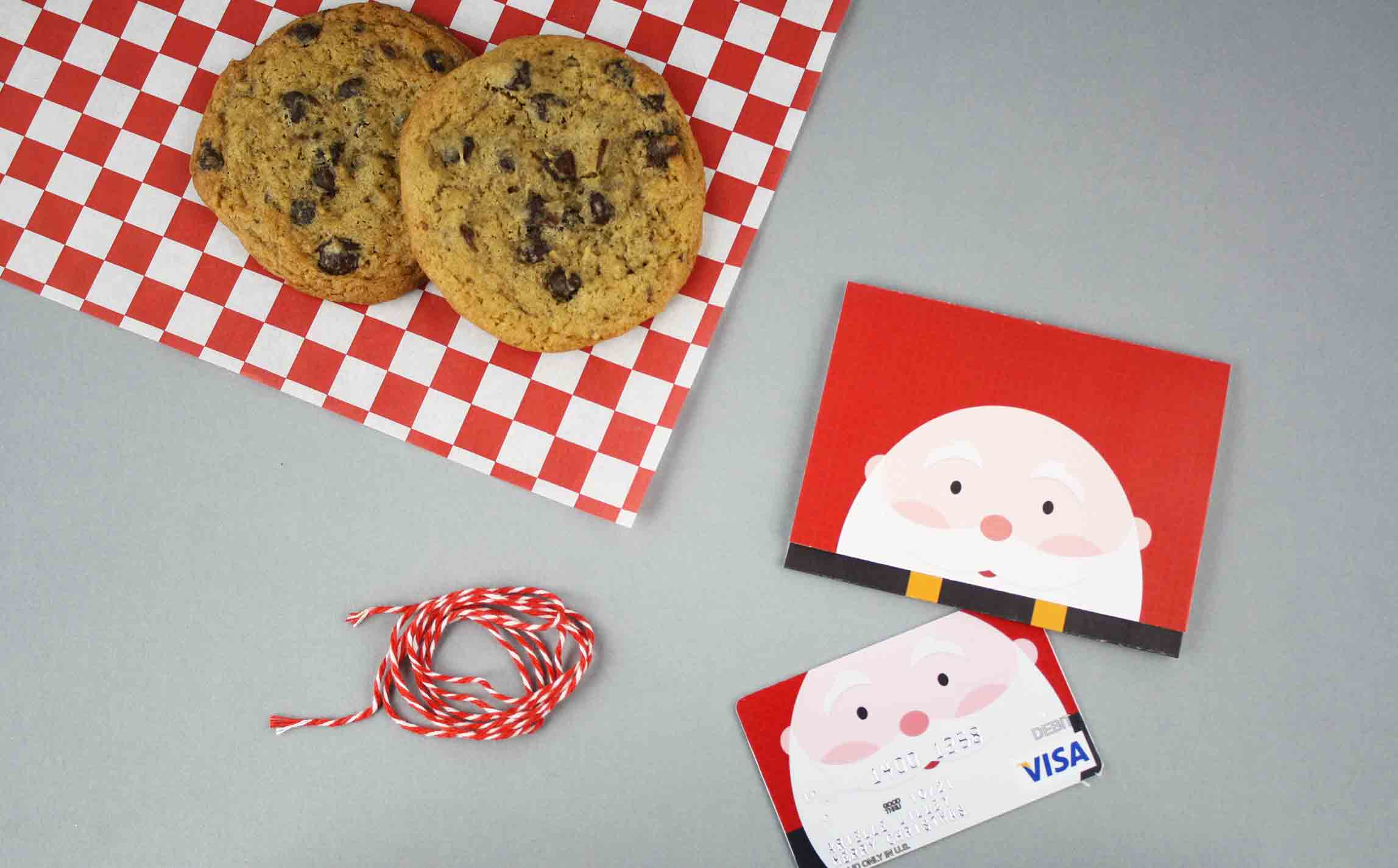 5. Deliver with Cookies
When I deliver gift cards with little extra gifts, I try to do so as inexpensively as possible because I prefer to put the bulk of my money towards the gift card itself. My goal is to create fun gift card presentations for under five dollars. This DIY cookie basket from a folded paper plate fits my criteria perfectly. With cookies made, a simple paper plate to hold them and a gift card ready to go, this holiday giving just got easier.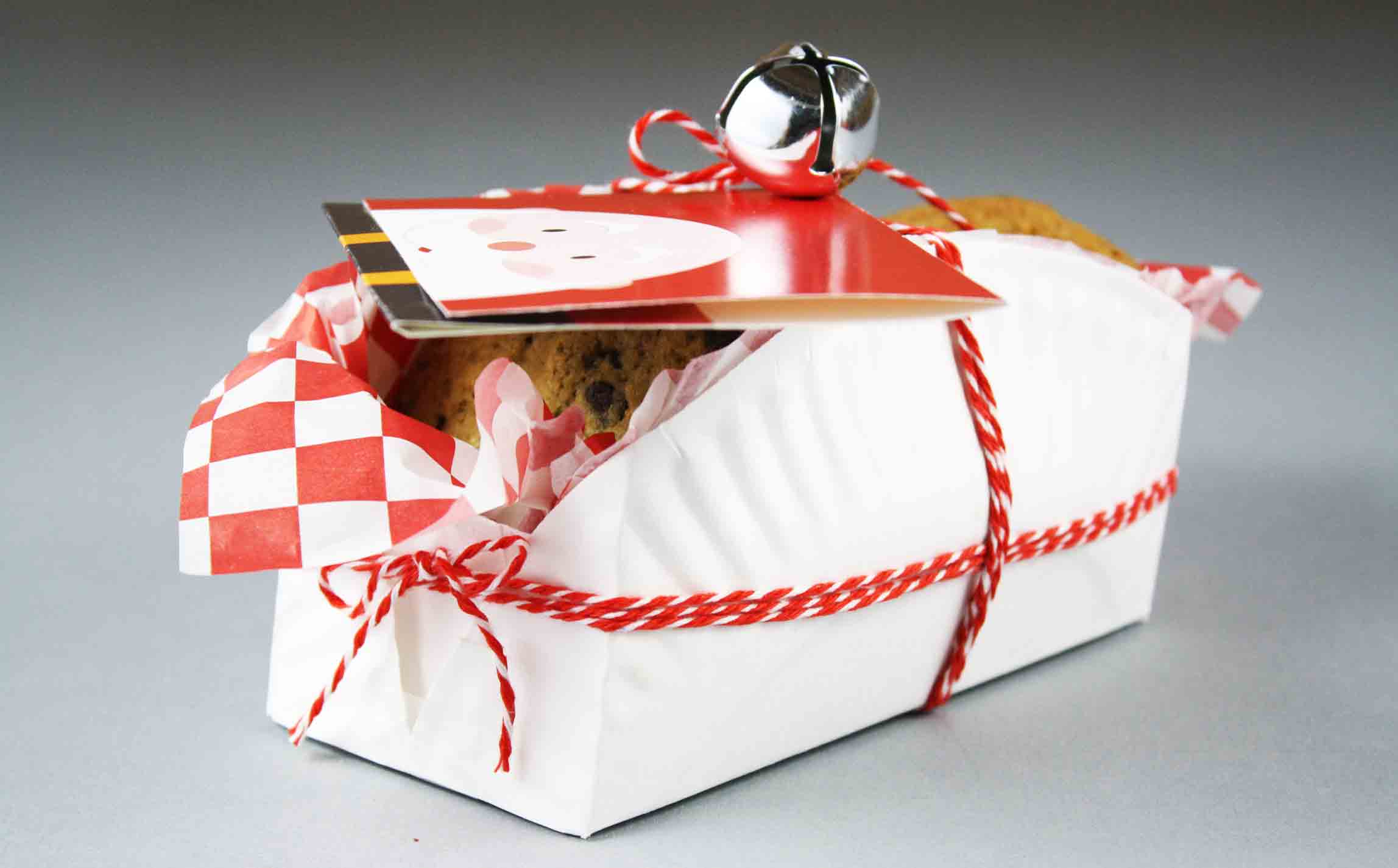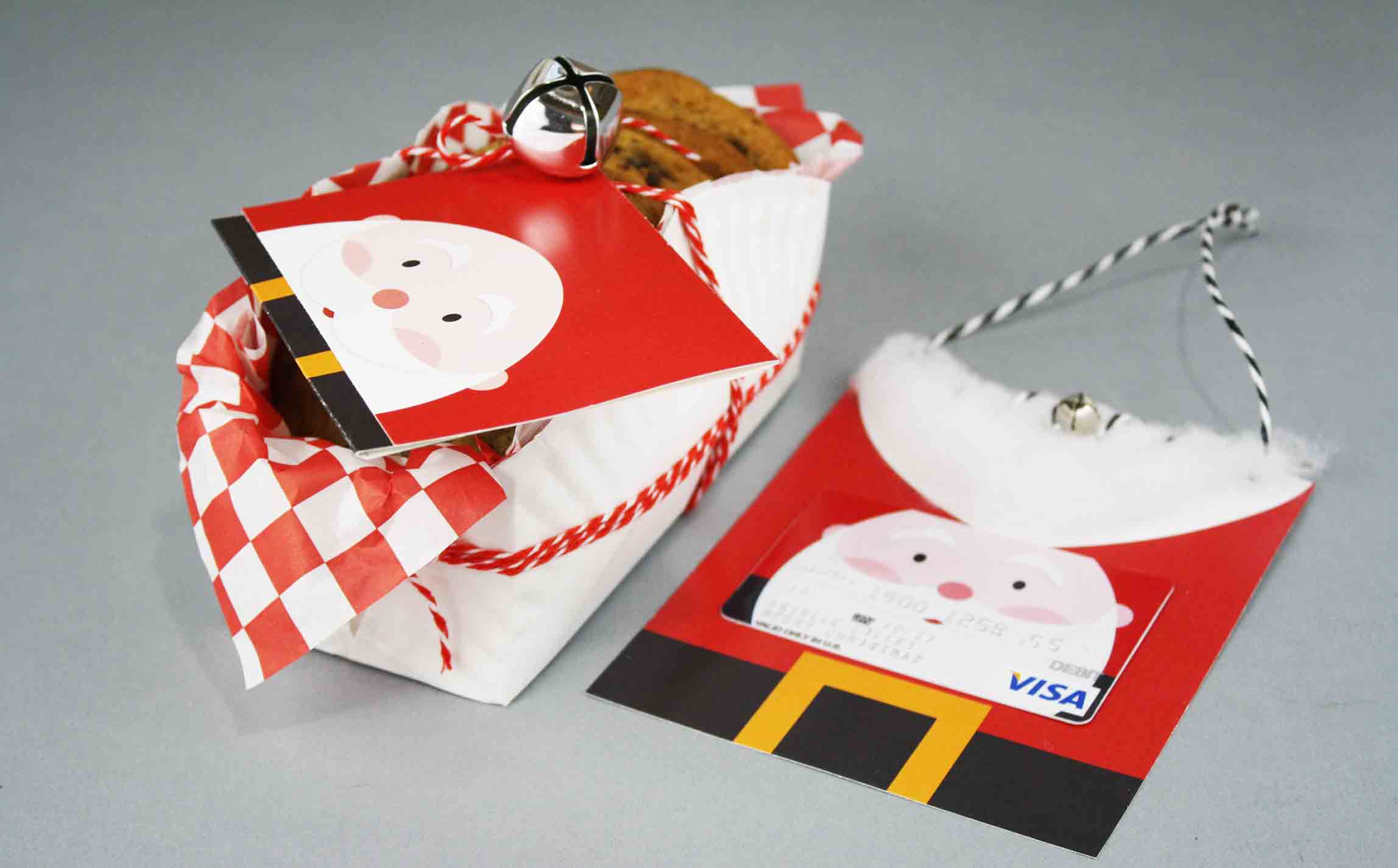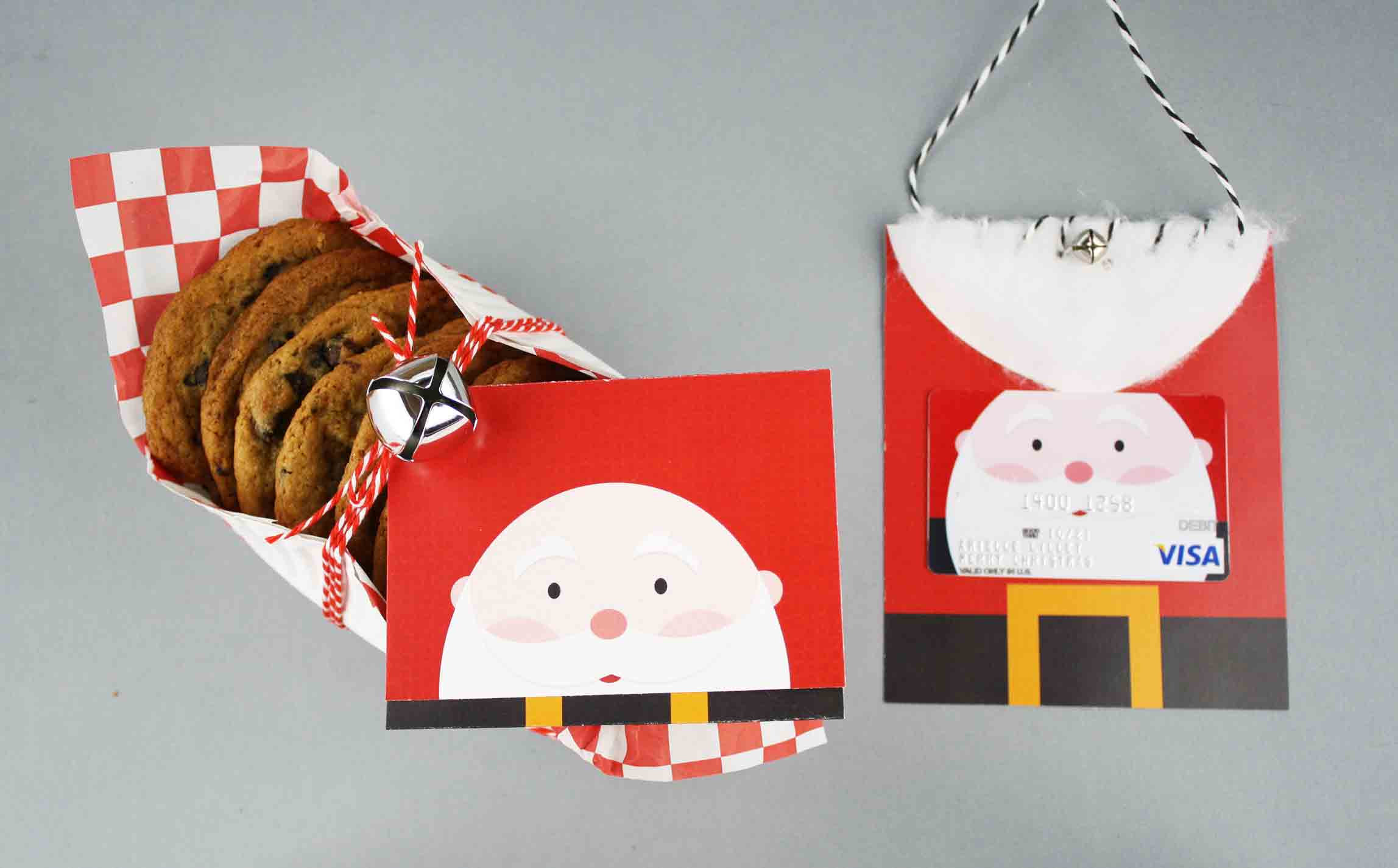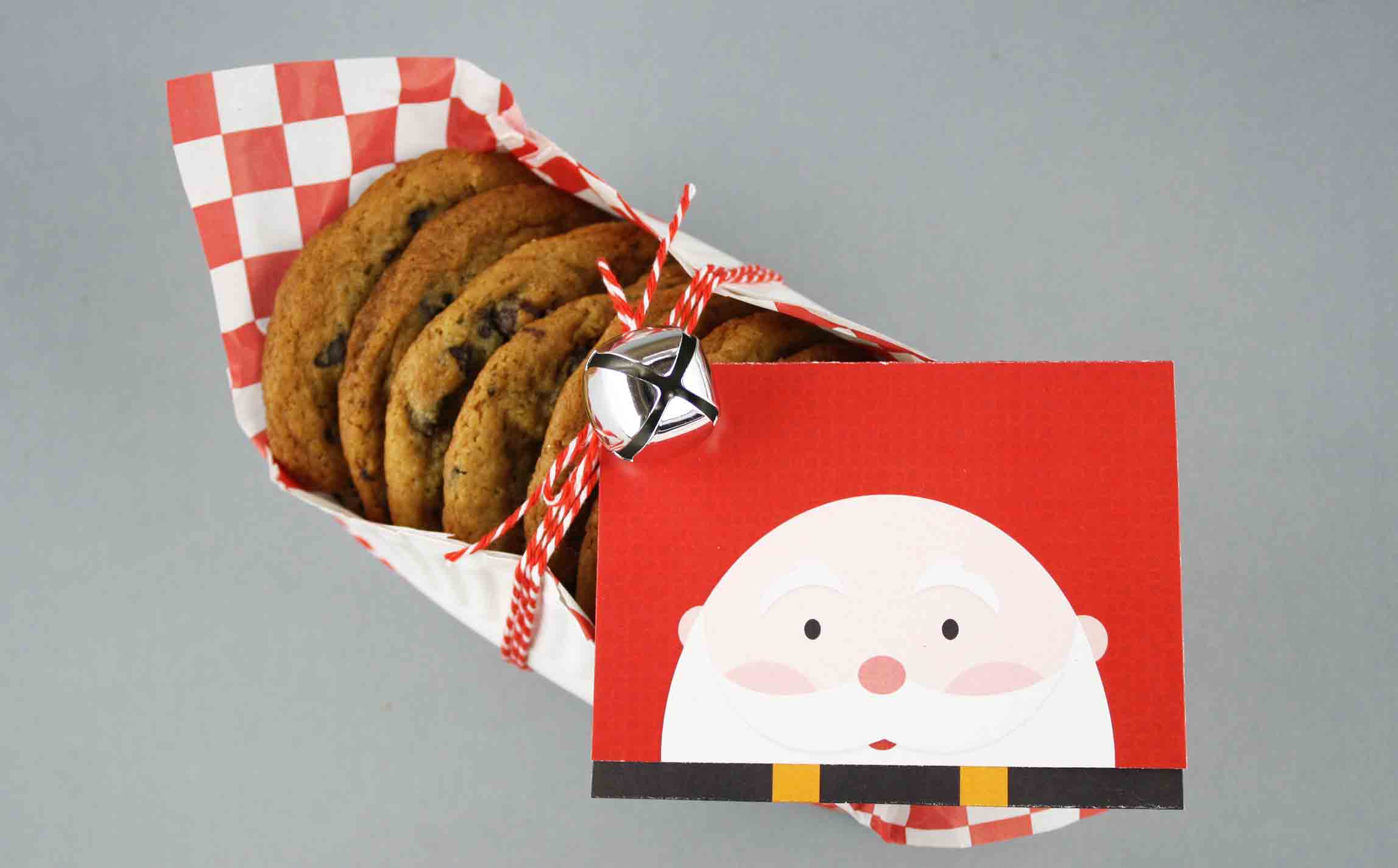 Matching Santa Greeting Card
If you don't want to make a printable gift card holder, then buy the matching greeting card on our website. When ordering the Santa Gift Card, select the Standard Greeting Card for a little over a dollar more. Add a custom embossed message line to the plastic card and add a custom message to the greeting card. We'll handle the rest. Depending on the shipping method you choose, Santa's special delivery could be on its way before the end of the day.
Get More Ideas
For more free printable gift card holders, check out the free prints page or follow Gift Card Girlfriend on Pinterest. If you use this printable, send me a link to your page in the comments below or send me a message on Twitter (@GCGirlfriend) so I can check it out!
Happy Gift Carding!
~Shelley Hunter, Gift Card Girlfriend