Super Easy gift idea for kids (of all ages). Print Santa's Nice List Certificate and add a matching gift card.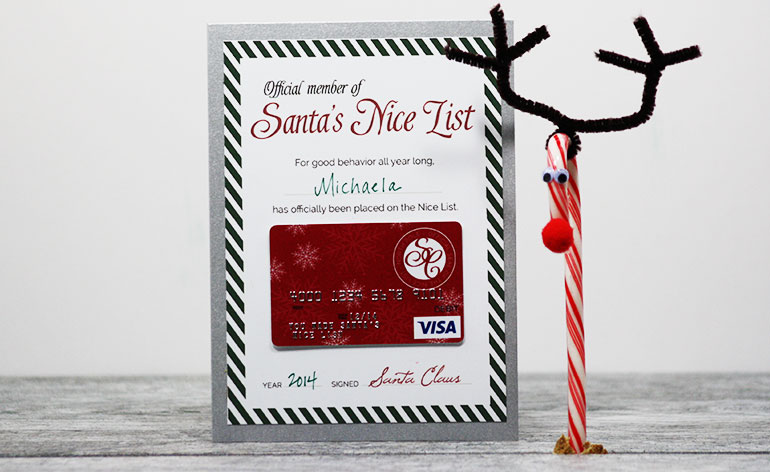 "Gifting Made Easy" by Gift Card Girlfriend
With this Christmas printable and matching Christmas gift card, you can put friends and relatives (of all ages!) on the top of Santa's Nice list! The official certificate is easy to print, has a place to write in the year and the recipient's name and is signed by the big man himself. The matching gift card bears the official stamp of the North Pole, no less! Put the two together and you can deliver the most-requested gift on holiday wish lists faster than Santa and his flying reindeer can circle the globe. Details below!
1. Order Gift Card and Download Printable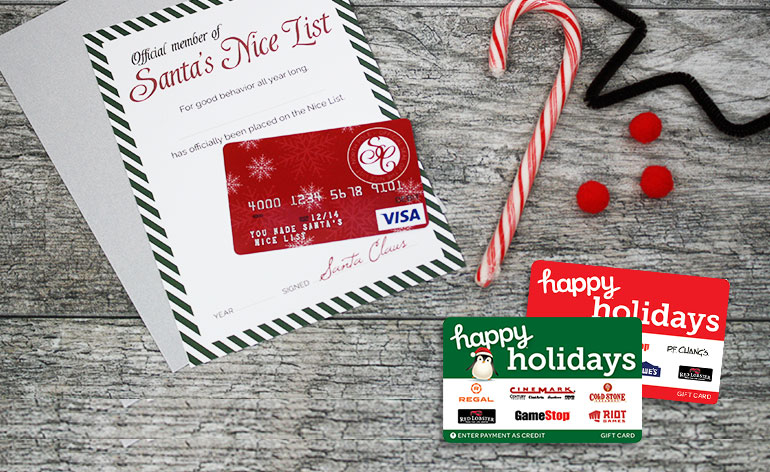 The fun thing about this Nice List certificate is that Santa could actually deliver any gift card. Of course, I prefer the matching Visa® gift card, but you could select one of the new multi-store gift cards instead. Santa wants all of his recipients to be happy, after all.
Order the Santa's Nice List Gift Card or a new Happy Card gift card.
Download the matching Nice List Certificate gift card holder
Check out my list of top gift cards for holidays for some other gift card suggestions as well.
Quick Tip! After downloading the printable Christmas certificate, print it on a color printer using "best quality" and "actual size" settings. (Do not select "shrink to fit" or any other setting that will change the size of the printed .pdf image.) White, card stock paper measuring 8-1/2″ x 11″ works best. Cut the certificate with a paper cutter using the trim marks as a guide.
To give this certificate a little more pop, I added a backing of silver card stock paper. Since the cropped card measures just below 5″ x 7″, it would fit nicely in a frame as well.
2. Add Rudolph
Unless a gift card is used to buy something electronically (e.g. download digital music, order a movie and so forth), the recipient most likely won't be able to spend it immediately. Waiting for the actual present to be purchased may be a challenge, especially for children. That's why I always deliver gift cards with small offerings that can be enjoyed in the moment. In this case, a simple Rudolph candy cane will do.
Enter "Rudolph Candy Cane Craft" in any search engine to find several ways to make candy cane reindeers. I liked the tutorial I found on Stephanie's Mommy Brain.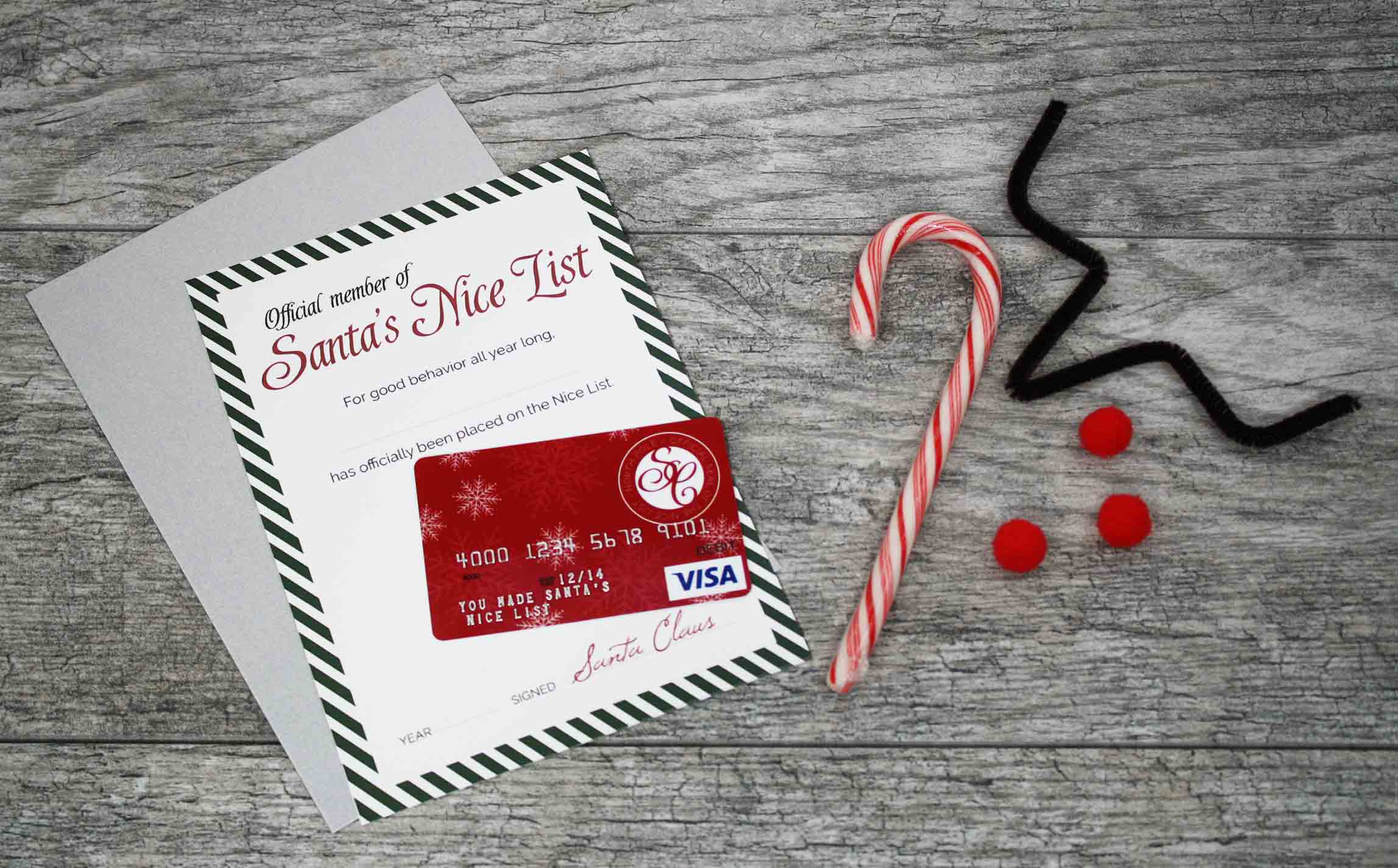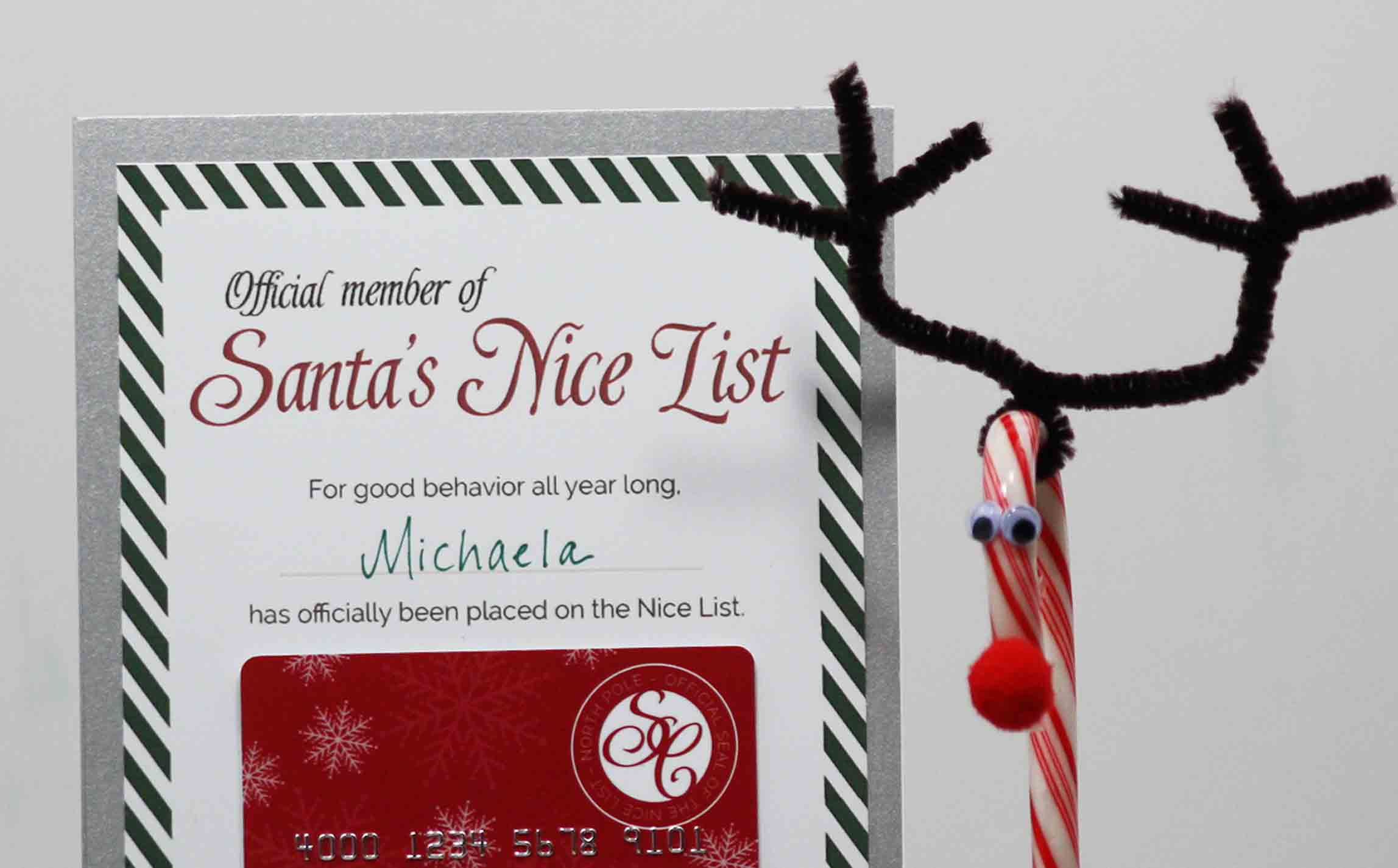 Or Send a Custom Greeting Card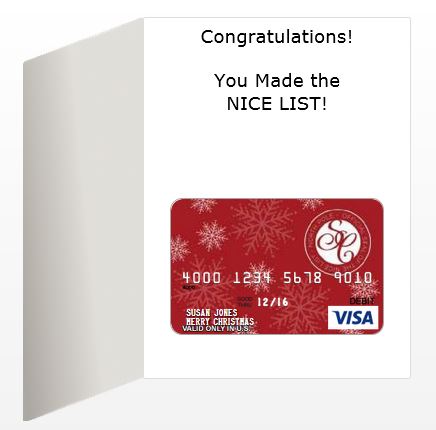 If you don't have time to make your own Santa's Nice List certificate, then let us send the gift card for you. Order the North pole stamped gift card and put it in a custom greeting card, like the one shown on the right. Add the words, "Congratulations, you made the Nice List!" to the inside of the card.
Since the greeting card can also be customized, you could add a picture of the recipient to the front of the card as well. It only costs a couple of extra dollars, but could certainly save you a lot of time and effort during this holiday season.
Get More Ideas
For more free printable holders, check out the free prints page or follow Gift Card Girlfriend on Pinterest. If you send out this certificate, send me a link to your page in the comments below or send me a message on Twitter (@GCGirlfriend) so I can check it out! I love to be inspired by the creativity of others.
Happy Gift Carding!
~Shelley Hunter, Gift Card Girlfriend