Don't go into debt on your best friend's wedding: here are 8 easy ways to spend less on bridal showers.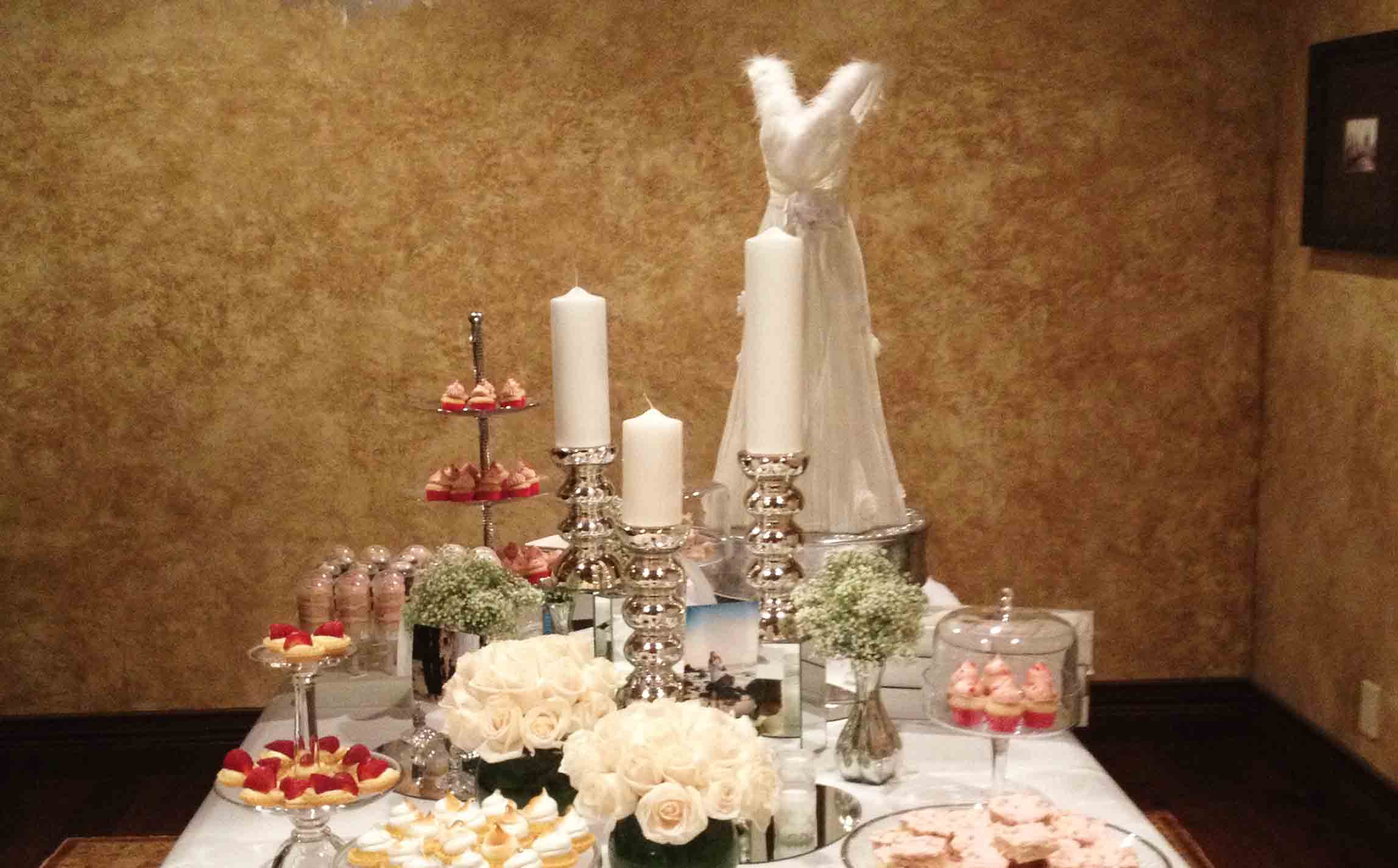 Image credit: Pink & cream bridal shower dessert table via photopin (license)
A couple of weeks ago, I sat down with the lovely and cost-conscious Alyssa at Giftcards.com. With several of her friends getting married this wedding season, Alyssa is staring at a calendar full of bridal showers and pre-wedding planning. While hosting one bridal shower can be a lot, this popular gal is pitching in on several. And she's happy to do it. She wants each of her girlfriends to have her dream wedding and is doing everything possible to make that happen. But dreams don't come cheap. So, Alyssa is looking for savings at every turn. Though using discount gift cards to save on bridal shower expenses is one of her top strategies, it's not the only one.
Below are several ways to save money on a bridal shower:
1. Change Your Search
When Alyssa first started looking for invitations, she did the typical Google search. But then she realized she could save money on bridal shower invitations if she had online coupons to use. So she adjusted her search strategy to start with vendors listed in the MyCoupons.com wedding section. That's where she found a great coupon and a great deal on bridal shower invitations from PearTree. From then on, Alyssa found the savings were easier to find if she started her search based on available discounts.
2. Enlist Crafters
Next she needed favors and had something fairly specific in mind—beautifully wrapped soaps. After trying traditional stores, Alyssa found the perfect favors on Etsy. Not only did the soaps turn out perfectly, but the Etsy shop owner took the time to match the soap labels to the bridal shower invitations. The custom soaps cost less than retail store options and had a personal touch!
3. Use Discount Gift Cards
From past experience, Alyssa found that bulk flowers ordered from Sam's Club are the best, most cost-effective, fresh flowers around. Plus, with free shipping, the warehouse flowers are more convenient than traveling to a flower mart on the big day. Still, she wanted to save even more money, so she bought a discount Sam's Club gift card to redeem on the flower order. Check out our Sam's Club gift cards page to order your own.
4. Stock up on In-Store Coupons
Of course, one of the easiest ways to save on your bridal shower is to channel your inner-DIY diva and make decorations yourself. Alyssa made the centerpieces using supplies she bought at Michaels and Pat Catan's craft stores. Both have in-store coupons posted online and Michaels will text you coupons if you sign up for their alerts. She bought frames at Kohl's using a coupon as well. As wedding season approaches, stockpile as many coupons as you can to help save on your bridal shower.
5. Check the Bridal Registry
Another win for discount gift cards. Alyssa bought discount Bed Bath & Beyond gift cards before selecting gifts from her friends' wedding registries. Stacking coupons onto that, she bought the girls what they wanted without paying full price. And no one has to know.
6. Spare the Bridesmaids
Being a bridesmaid can be costly. But you can save the ladies some cash by selecting your bridesmaid dresses or shoes from a store that also offers discounts or is one of our discount gift card vendors. We have Nordstrom, Macy's and several others to choose from. Bridesmaids who don't need the discount will pay full price. Those who do, will appreciate a way to save.
7. Order Online
In addition to saving money with online coupons and discount gift cards, Alyssa reasoned that she saved a great deal of time and gas money simply by taking care of business at the computer. Since she is involved in more that one wedding this year, being efficient with her time is as important to her as keeping costs down.
8. Stay Focused
By ordering the bridal shower cake from the same bakery that took the wedding cake order, the girls got a terrific deal. Don't hesitate to ask vendors who scored the big gig to help you save on the bridal shower festivities.
In a recent article entitled, "How to Save Money on the Wedding You Want." One of the main strategies I suggest is to start with a realistic budget and work up from there (versus starting with a dream wedding and working backwards). Alyssa seems to have mastered the course. By being resourceful, taking advantage of available discounts, ordering in bulk and using the same vendors, she's been able to make some bridal shower dreams come true without overpaying. Take her advice, and you will be able to save money on a bridal shower, too!
Got any other tips? I'd love to hear them.
Happy Gift Carding!
~Shelley Hunter, Gift Card Girlfriend