Use discount gift cards to pocket double-digit savings on clothes, backpacks, supplies and more when it's time to send the kids back to school.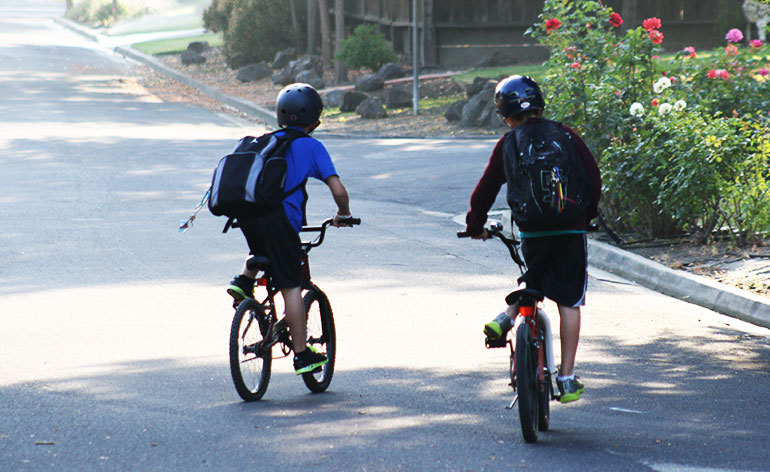 My Secret to Saving When the Kids go Back to School
Since it's past mid-July, your mailbox, doorstep and email inbox are probably flooded with back-to-school offers. If you're like me, the mailbox is crammed full of circulars from clothing stores, office supply stores, shoe stores and more. Your email inbox is equally jammed. And if you still take the newspaper, then you're probably recycling a little more paper than usual. These sales are all great, but they come before I'm actually ready to think about them. They also come with exclusions (e.g. sale does not apply to Nike or Levi's), conditions such as minimum purchase amounts and "good thru" dates. Much as I need to save money when it comes to getting three kids ready for school, I am not ready to plunk down my summer fun money down on college-ruled binder paper just because it's on sale now and I don't have the mental capacity needed to devise a shopping route that will fetch me the deals without costing me more than I'm saving in gas money. Does that mean I have to spend more to get the savings I need at a time that works for me? Definitely not!
My secret to saving on pretty much everything I need to buy to get the kids ready for school is to use discount gift cards. If you're not familiar with discount gift cards, then let me give you a short tutorial on the subject. Have you ever received a gift card that you don't want? There's nothing wrong with the card, it's just not a fit for you. Perhaps the brand isn't your style, the locations aren't convenient or you would simply rather have cash instead. When that happens, you can sell the gift card to a gift card reseller in exchange for cash. The cash value, however, will be less than the face value of the gift card. The reseller, in turn, marks the card up slightly (still less than face value) and sells it to someone else who wants the gift card and wants the discount.
Benefits of Shopping with Discount Gift Cards
The great thing about buying discount gift cards for personal use is that the decision to buy is ALL about the savings. The typical anxieties over giving a gift card (e.g. mom might think I didn't put any effort into this gift) are totally gone. There's no worry about gift cards being impersonal and no concern over what the gift card looks like. Discount gift cards are for saving you money, period. Below are all the benefits to shopping with discount gift cards:
1. There's Always a Sale
Unlike the back-to-school sales that start before I'm ready and end before I'm done shopping, discount gift cards are always available. At the time of this blog post, there are over 1,500 gift cards listed in the "Office Supplies" section on a gift card reseller site and nearly 500 gift cards listed for "Arts & Crafts." You'll find discount gift cards for your favorite clothing stores, shoe stores, department stores and more.
Here's a Tip: If you don't find a gift card for the store you want, set an alert to be notified when the gift card becomes available.
2. You Decide How Much to Save
Like any econ professor can tell you, the discount offered on gift cards is largely a matter of supply and demand. As the number of cards for a particular brand increases in inventory, so does the savings, allowing resellers to move the cards. Brands that are high in demand may only be available at a discount of 5% or less while brands that are less popular may be available for discounts of up to 30% or more. Although you can settle for the savings offered, I have found that I can save more money by being flexible.
Backpacks, for example, are sold at department stores, clothing stores, office supply stores, shoe stores, even drug stores and specialty shops during back-to-school time. Before deciding where to buy your backpacks, check which store gift cards are offered with the biggest discounts. Though the backpacks may be priced the same at multiple stores, you can decide how much to save by doing some investigative work beforehand and being flexible in where you decide to shop.
Here's a Tip: Gift cards for brands that belong to the same company are often interchangeable. For example, Baby Gap gift cards are redeemable at Old Navy, Banana Republic, Gap, Gap Outlets, and so on. During back to school time, other shoppers may look for discounts at obvious brands and miss the opportunity to save more on a gift card that can be used at the same place. Gift cards to Babies R Us are redeemable at Toys R Us. Sears gift cards are redeemable at K-Mart as well.
3. There are No Exclusions
Have you ever gotten up to the cash register with an armload of clothes and an in-store coupon only to be told that the items in your hands aren't part of the sale? It's bad enough when that happens to me as an adult, but is crushing when it happens to kids who tried everything on and picked out a "first day of school outfit" thinking it would fit the budget. With all eyes on you (the clerk, the kids and everybody waiting in line), you have to decide to put everything back or pay full price. Well that doesn't happen with discount gift cards. The only thing you have to know is where the gift card is redeemable. If it can be used in the store, then it can be used on all merchandise.
Here's a Tip: Many discount gift cards are sold as gift codes. Though I've used these codes successfully in stores, there are occasions when an egift card has been rejected at the physical cash register. Each store has different rules, so check to see if the code you're contemplating is usable in stores before you make the final purchase.
4. Stack for Extra Savings
The best thing about discount gift cards is that once you buy the gift card, you've saved money. If all you do after that is take the card to the store and buy full-priced merchandise, then you still beat the system and got more for less. The fun, however, comes in stacking discount gift cards with coupons, in-store promotions and other sales to do some extreme-couponing type moves! I even find that shopping with discount gift cards helps me to stay within my budget because I want to maximize the gift card purchased without going over. For example, if I buy a $50 gift card for $40, then I know I've saved 20% before I get to the store. If I use a 10% off coupon or get $10 off when I spend $50, then the savings can really rack up.
Here's a Tip: During back-to-school season, stores often create sales to increase the amount you'll spend such as "save $10 dollars if you spend $50, save $25 when you spend $75, save $30 when you spend $100 and so forth." To take full advantage of these incremental savings, buy discount gift cards equivalent to the amount of money needed to get the highest level discount. In this case, buying a $100 gift card will net you $30 off at the register PLUS whatever discount you got from buying the gift card in the first place.
5. Planning Not Required
Although it's best to spend a few minutes online developing a discount gift card strategy, thanks to discount gift card apps, you can actually check for savings while you're at the store. I recently did just that. I ran into a sporting goods store to buy my son a new baseball bat. While in line, I decided to check for a quick discount. Seeing I could save about 12%, I decided to pull out of the line and buy the gift card first. As soon as the transaction completed and the egift card arrived, I got back in line. If you are not in a massive rush and can afford to wait a few minutes (maybe longer) for a discount to arrive, then the savings are well worth it.
Here's a Tip: Since many people will be shopping for similar discount cards during back to school season, you can beat the rush and perhaps get even bigger discounts if you look for those same gift cards (office supplies, clothing stores, shoe stores, etc.) earlier in the summer. Doing so will also help spread back-to-school costs over a longer time period and can be like creating a little back-to-school savings account. When August rolls around and you're ready to shop, the gift cards are already in your hand and the money has already covered.
Follow #GiftCardDeals for Newest Sales
If you don't want to shop for pre-owned gift cards, then another way to buy gift cards at a discount is to follow my post on Gift Card Deals. Updated almost weekly, this is a listing of popular store brand gift cards that are being sold at a discount on other websites such as Staples, eBay, Amazon and more. Though you can't control the savings like you can by shopping gift card resellers, you can certainly save money. For example, there are often gift card discounts of 15% or more, plus opportunities to get free gift cards back with a purchase of a gift card. So bookmark this page or follow #GiftCardDeals on Twitter to see when new bargains have been added.
Worth the Effort
School year expenses hit our family budget with the same intensity as holiday shopping–perhaps even worse. During December, I decide how much to spend and what items are "needed." During August, the school tells me how much money to fork over. And since football season and soccer also kick off in the fall, I get to buy new cleats and sports gear during that time as well. So anything I can do to save money and spread back-to-school costs over a longer time period is helpful.
Though this story is about how to save on back-to-school shopping, using discount gift cards is a strategy I use whenever big expenses are on the horizon, like December holidays, Easter, and birthdays. I also use discount gift cards to save money on big purchases such as when I am planning a trip to the home improvement store or the kids have all grown out of their clothes. It takes a little more effort to buy the cards ahead of time or use an app while you're waiting in line, but there's no other way I know of to create a sale on the things I want to buy at the time that's right for me.
Give it a try and let me know what you think in the comments below or reach out to me on Twitter (@GCGirlfriend). And if you nab some serious savings, then please brag about it as well!
Happy Gift Carding!
~Shelley Hunter, Gift Card Girlfriend