You don't have to blow the budget or tell Valentine that you're broke. Here is a list of ways to MAKE and SAVE money on flowers, gifts, dinner and more.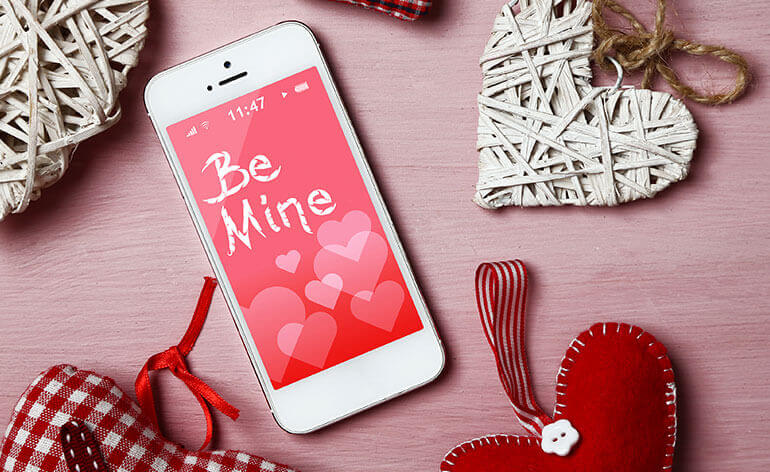 The True Cost of Valentine's Day
According to various dating websites, the average amount of money spent on a typical date is anywhere from $80 to more than $100, depending on the source, the city in which you live and the activities that make up the date. Even on the high end of that average, however, I don't think those figures are correct or at least they are not comprehensive. In other words, I don't think the full cost of courtship starts and ends with the dinner reservation. There is often prep work that goes into creating the perfect date such as buying a new outfit to wear, getting your nails done, getting a haircut and filling your car with gas.
If you have small children at home, you may also have to hire a babysitter, pick up dinner for the kids before you go out or rent a movie they can watch while you're gone. And that's just a normal Friday night.
If you're going on a date for Valentine's Day, then you probably need to buy flowers, chocolates or a gift as well.
With each gesture and arrangement to be made, the price tag of a Valentine's Day date may be more than you think your budget can handle, but don't give up on love just yet. I can help you save money on every expense your Valentine's Day may include.
Below are several ways to save big bucks on the February 14th financials–all without looking like a cheapskate.
How to Save Money for Valentine's Day
With a little creativity and some pre-planning, you can celebrate Valentine's Day for a lot less money than expected. Here are my suggestions.
1. Use Your Gift Cards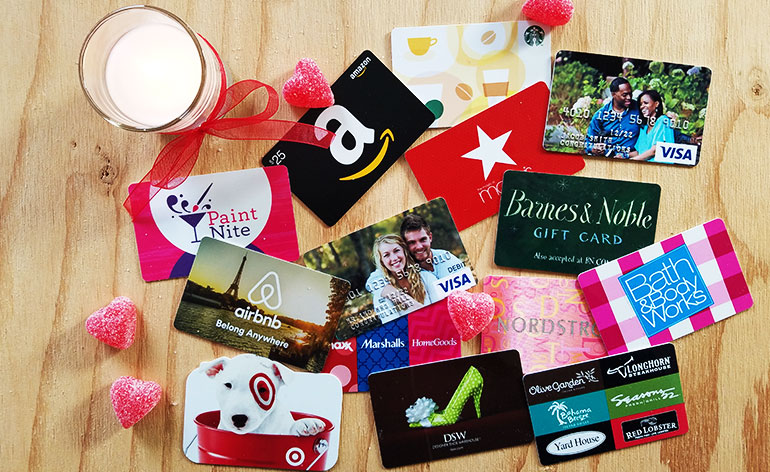 If you're reading this post for Valentine's Day, it means you probably received gift cards for Christmas, Hanukkah and other December holidays nearly two months ago. Experts say that if you haven't used a gift card within three months, chances are you never will. So step one in the Gift Card Girlfriend's guide to saving money on Valentine's Day is to use the gift cards you already own.
Here are FOUR ways to use the gift cards you have to save for Valentine's Day.
Use for Everyday Spending. Gather up your gift cards and use them for items on your shopping list. You'd be surprised how many times people save gift cards that could be used for everyday purchases. They save a gift card to Target but spend money on housewares at the grocery store. Or they save an Amazon.com gift card for something special but use their own funds to order a new phone case from the very same place. Using your gift cards for simple expenditures might not feel as gifty, but you can free up money in your bank account by using gift cards for less "special" purchases.
Regift a Gift Card. Got a gift card that's not a fit for you? Give it to someone who will use it. Whether it can be repurposed into a Valentine's Day gift or turned into a birthday present for someone in January, this is another way to activate the value on a gift card you haven't used.
Redeem on Valentine's Day. If you have a Treat Yourself gift card, for example, you can use it to treat the two of you to dinner on February 14th. Look for all of the dining options you have and see if one can be used for date night. Got movie gift cards? Add those to your date plans as well.
Buy a Valentine's Day Gift. You know that home improvement store gift card you've been saving or the electronics store gift card still in your wallet? Get them out and use the funds to buy gifts for your sweetie. I love the idea of choosing a durable plant over cut flowers that wilt within a week or a new pair of headphones that are far more functional than a stuffed animal.
If you find a gift card you want to use but are afraid you'll forget to use it, follow my advice on how to remember to use your gift cards.
2. Cash Out Small Balance Gift Cards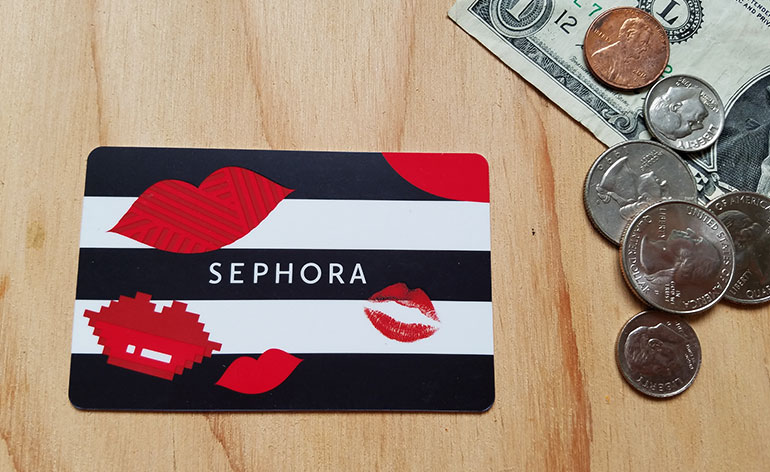 If you find some gift cards that don't have much money left on them, you might be able to get cash back for those cards. In some states, when the balance of a branded gift card (also known as a closed-loop gift card) falls below a certain amount, you can ask the merchant to cash out the remaining balance of the card. In California, for example, you can cash out a gift card when the balance falls below $10.
Check out this list of states that require merchants to cash out gift cards to see if your state can help you put a little money back in your wallet this Valentine's Day.
3. Pick Alternative Valentine's Day Presents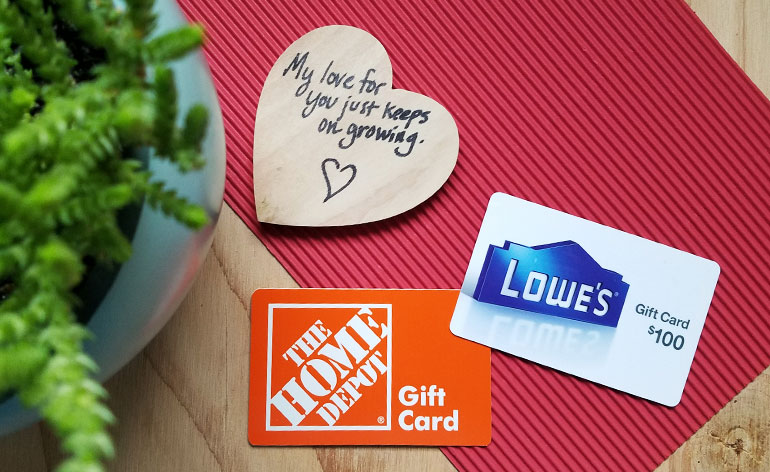 If your sweetheart likes the traditional flowers, candy and plush toys, then definitely get those. But if you think your love would appreciate more durable or trendy items, then going that direction can save you some money. Here are some alternative Valentine's Day gifts that will be less expensive than the roadside roses or boutique chocolates you normally purchase.
Romantic Plants. In lieu of traditional roses, you can save money buying a heart-shaped topiary, a potted plant or some succulents for your sweetheart. Not only will the plant last longer than fresh-cut flowers, but it can be just as romantic if you add a simple note that reads, "My love for you never stops growing."
Small Chocolates. Warehouse stores have a nice selection of high-end chocolates and other treats at better prices than you'll find at boutique shops. If you'd rather shop local, buy a few hand selected items instead of a heart-shaped box that can add up quickly.
Homemade Dinner. Make dinner together for an easy date night that doesn't require a reservation or necessitate leaving a tip. Look up recipes you'd like to try and grocery shop early so you have everything on hand. The point of Valentine's Day is to celebrate the relationship. Making a meal together accomplishes that for a lot less.
Dessert Delivery. If you want to splurge, order dessert delivery. Some cookie franchises deliver fresh baked cookies late into the evening. Grubhub and other food delivery services will be busy that night so order dessert while you're making dinner so the treats will arrive by the end of hte meal.
Entertainment. Head to the movies early to get matinee pricing and a better seat selection. With movie theaters taking reservations now, you can book your tickets in advance so there's no need to rush on the big night.
Another way to save money on Valentine's Day candy is to make it yourself. Honestly, I'm no cook, but I can melt milk chocolate chips in the microwave, stir in krispy rice cereal and spoon little balls onto wax paper for a homemade crunch bar. Dip pretzels in chocolate for another easy treat. Try these easy candy recipes for more ideas.
4. Make Your Own Gift Card Holders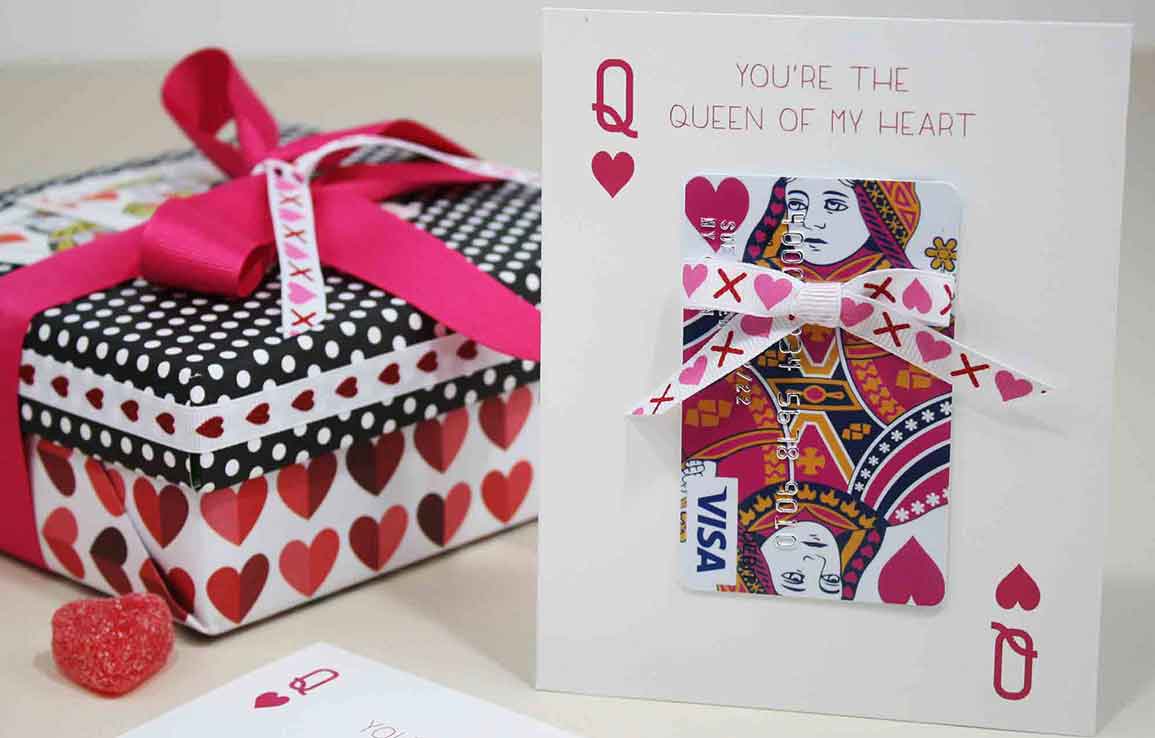 If you want to get a gift card for Valentine's Day, then check out these free Valentine gift card holders that are yours for the taking. Download the printable file for free, print it on your home printer, craft it up and insert the gift card of your choice. This is a super easy way to make a gift card more personal without spending extra money.
If you know other ways to save on Valentine's Day without looking like a cheap date, reach out to me in the comments below, on Twitter (@GCGirlfriend) or on Instagram (@Gift.Card.Girlfriend).
Happy Gift Carding!
~Shelley Hunter, Gift Card Girlfriend