You don't have to blow the budget or tell Valentine that you're broke. Here is a list of ways to MAKE and SAVE money on flowers, gifts, dinner and more.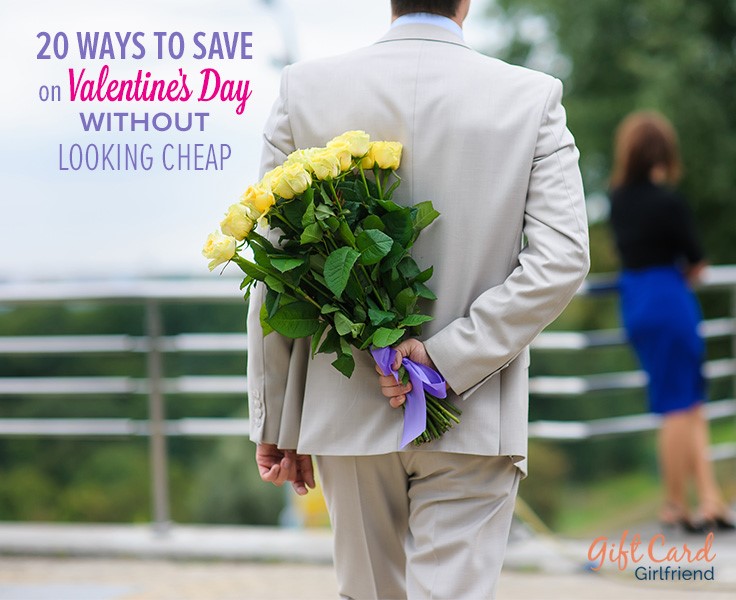 The True Cost of Valentine's Day
According to various dating websites, the average amount of money spent on a typical date is anywhere from $80 to more than $100, depending on the source, the city in which you live and the activities that make up the date. Even on the high end of that average, however, I don't think those figures are correct or at least they are not comprehensive. In other words, I don't think the full cost of courtship starts and ends with the dinner reservation. There is often prep work that goes into creating the perfect date such as buying a new outfit to wear, getting your nails done, getting a haircut and filling your car with gas.
If you have small children at home, you may also have to hire a babysitter, pick up dinner for the kids before you go out or rent a movie they can watch while you're gone. And that's just a normal Friday night.
If you're going on a date for Valentine's Day, then you probably need to buy flowers, chocolates or a gift as well.
With each gesture and arrangement to be made, the price tag of a Valentine's Day date may be more than you think your budget can handle, but don't give up on love just yet. I can help you save money on every expense your Valentine's Day may include.
From gas at a discount to flowers for less, below are 20 ways to find hidden money to spend on your date and to save big bucks on the February 14th financials–all without looking like a cheapskate.
How to Quickly Make Extra Money for Valentine's Day
With a little creativity and some pre-planning, you can celebrate Valentine's Day for a lot less money. But before we get to the savings, I want to share some easy ways to make extra money to spend on your Valentine's Day date. And you don't have to look very far to find it. My guess is a quick search of the house and rethinking the cards in your wallet could be just what you need to increase your bottom line.
1. Sell Old Gift Cards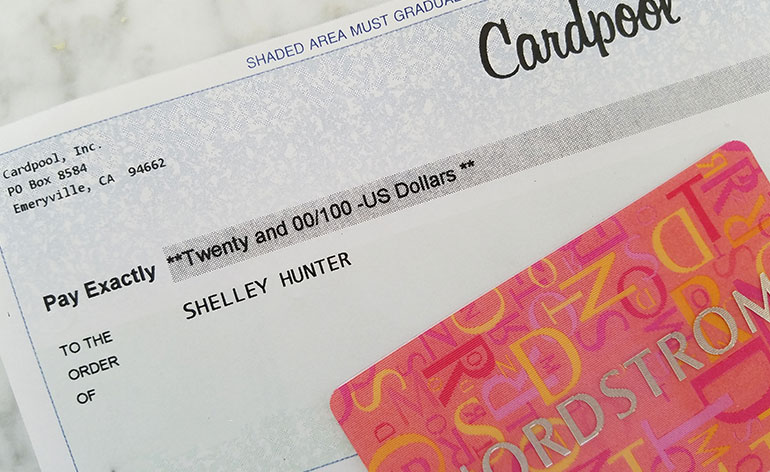 If you're reading this post for Valentine's Day, it means you received gift cards for Christmas, Hanukkah and other December holidays nearly two months ago. Experts say that if you haven't used a gift card within three months, chances are you never will. So step one in the Gift Card Girlfriend's guide to saving money on Valentine's Day is to sell unused gift cards for cash.
Open up your wallet and pull out all of the gift cards you already have. And while you're at it, go find the stack of gift cards sitting at home on your desk as well. Then look at each card and ponder these questions: Did you simply forget to use the gift card or is there a reason that spending the gift card is challenging such as the store is inconvenient or the merchant does not carry merchandise you want? Is there any possible way you can use the gift card for one of your Valentine's Day expenses? For example, could you buy a gift for someone else with the gift card? Can you go to dinner or a movie using the gift card? Can you re-gift the gift card?
If you can use a gift card, then put the gift card back in your wallet and follow my advice on how to remember to use your gift cards. If you can't (or don't think you will) use a gift card, then sell it.
Don't argue with me about losing a small percentage of the gift card's value by going through a gift card reseller because you are wasting 100% of the balance by not using the gift card at all.
Here's a Tip: The more flexible the gift card is, the higher the cash back offer will be. For example, you'll get more money for a $50 department store gift card than you will for a $50 shoe store gift card because the department store sells a wider selection of merchandise so there is a higher demand for those gift cards.
2. Trade Your Gift Cards for Amazon Gift Cards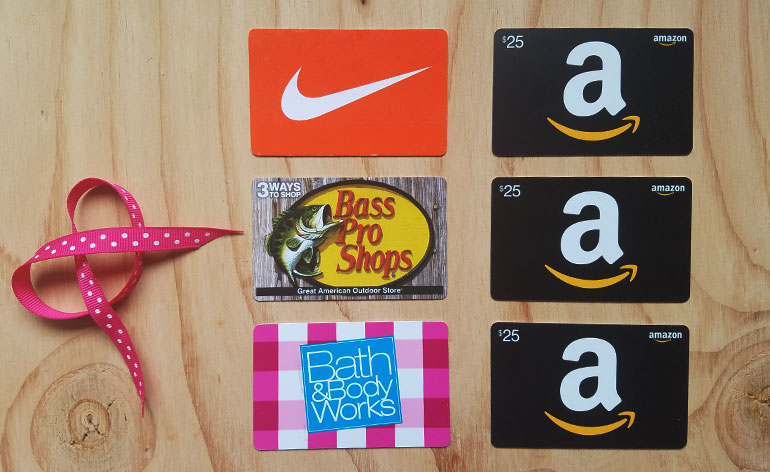 At Cardpool.com, your gift card money-back offer will be 6% higher if you select payment via an Amazon.com gift card instead of cash. So think about your upcoming Valentine's Day needs. With an Amazon.com gift card, you can buy gifts, jewelry, greeting cards, gifts for teachers, candy, clothing, make-up and more. You can even buy groceries. If any of these items are on your Valentine's Day shopping list, then move the value from a gift card you won't use to one that you will at Cardpool.com.
Here's a Tip: Check out Amazon.com's list of the perfect Valentine gifts for everyone on your list.
3. Trade Your Gift Cards for Target Gift Cards
Did you know that you can exchange gift cards at Target as well? You can. Target will buy gift cards from more than 600 brands and give you a Target gift card in return. Like the other resale options, you won't get the full face-value of the card, but you'll get a gift card that is convenient to use and redeemable for all sorts of Valentine's Day merchandise.
But what if the gift you want to buy for your Valentine isn't sold at Target? How does trading your gift card for a Target gift card help cupid's cause? Well, I'm thinking of Valentine's Day from a total-budget perspective. If you're able to buy groceries, toiletries and other household items using the traded value from an unused steakhouse gift card or shoe store gift card, for example, then doing so will free up the money in your checking account for other things.
Here's a Tip: When you get to Target, take your gift cards to guest services. Since this is a relatively new offering for the store, you may find that some employees understand the gift card exchange process better than others. Just be patient.
4. Sell Your Gift Cards at Grocery Stores for Cash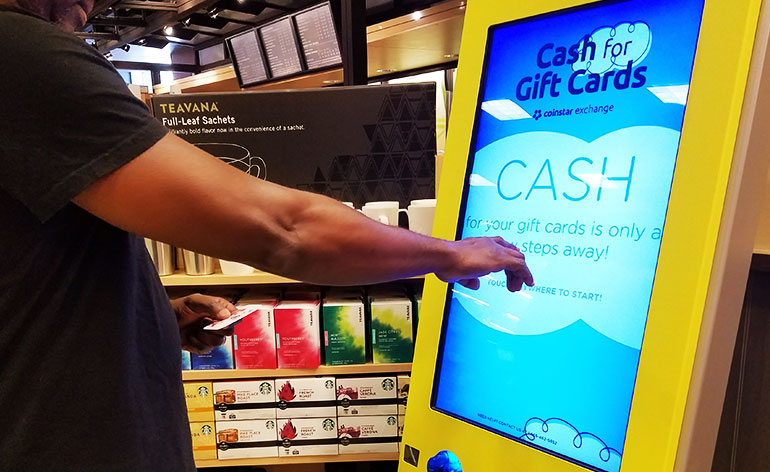 One of the fastest ways to get cash back for your gift cards is to sell gift cards at Exchange kiosks located in hundreds of grocery stores across the country. Look for a yellow machine near the front of the store, often next to the customer service booth.
In order to sell a gift card through the kiosk, you'll need to provide a form of identification and a credit card. Once the sale goes through, you'll get a receipt that you can take to either a cashier or to the customer service booth for final payment. With just a few taps on the screens, you will have more money in your pocket to spend on Valentine's Day.
Here's a Tip: Before heading to the grocery store, check for a Coinstar Exchange location near you and see if your gift card is on the list of gift card brands the kiosk will accept.
5. Cash Out Small Balance Gift Cards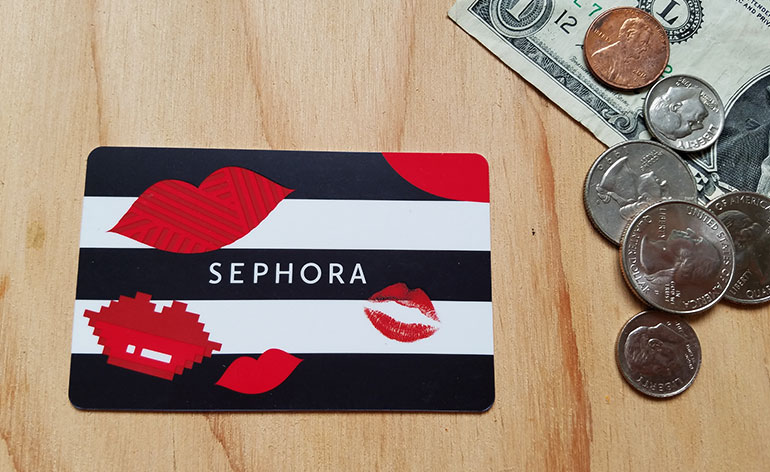 In some states, when the balance of a branded gift card (also known as a closed-loop gift card) falls below a certain amount, you can ask the merchant to cash out the remaining balance of the card. In California, for example, you can cash out a gift card when the balance falls below $10.
Here's a Tip: Check out this list of states that require merchants to cash out gift cards to see if your state can help you put a little money back in your wallet this Valentine's Day.
6. Get a Cash Back Credit Card
I'm not a "points booster" or someone who creates "manufactured spend" on multiple credit cards to get cash back bonuses or airline miles from credit card companies, but I do have a Chase Freedom card that gives me cash back rewards when I spend money at participating retailers. Frankly, I probably should work harder to game the system, but I just do my regular shopping and am pleasantly surprised each time I get a notification that I have points to redeem–typically right around December.
If you're not using a card that gives you cash back bonuses, you might want to apply for one before spending money on Valentine's Day. If the places you intend to shop or dine are on the list of qualifying merchants, you could get significant savings.
Here's a Tip: Look through this list of Best Cash Back Credit Cards for 2017 to see if there is a card that fits your needs.
7. Try the Visa® Five Back Gift Card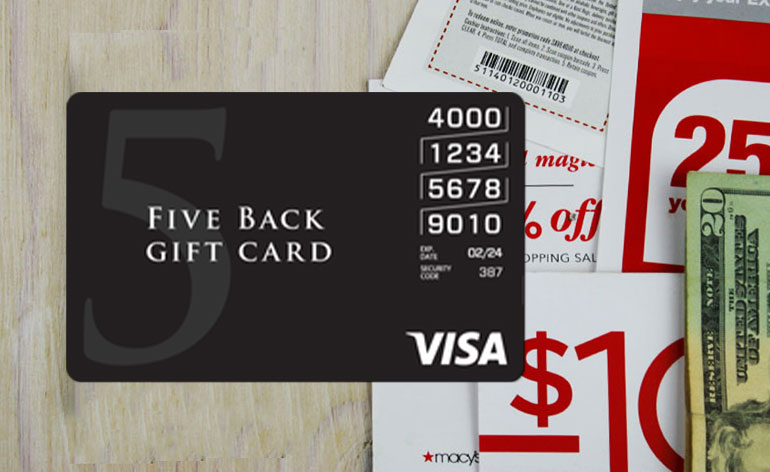 If you like the idea of earning cash back on purchases but don't want to mess with your banking relationship or credit cards, then try the new Visa Five Back Gift Card. You'll earn up to 5% back on purchases at a growing list of qualifying merchants. That list of merchants currently includes places like Fleming's, Outback Steakhouse and Regal Cinemas. You know what that sounds like to me? Valentine's Day dinner and a movie for less!
Here's a Tip: In this blog post on How to Save on Visa Gift Cards, I took the time to do a little math. Basically, if you load a Visa Five Back Gift Card with $140 and use it only at participating merchants, the cash back bonus will cover the purchase price of the card. If you load more than $140 onto the card and use it solely at participating merchants, you'll cover the purchase price and make a little coin for yourself as well. If you're making reservations at Fleming's for Valentine's Day and plan to go to a movie afterwards, for example, buy a Visa Five Back Gift Card first. Then use the card to pay for the date to get money back.
So now I'm seven tips into this list of ways to save money on Valentine's Day and all we've talked about so far is earning money by selling the gift cards you already have or getting cash back rewards for new purchases. (Here's a list of other things you can sell to get cash.) Now it's time to start buying things for less.
How to Spend Less on Valentine's Day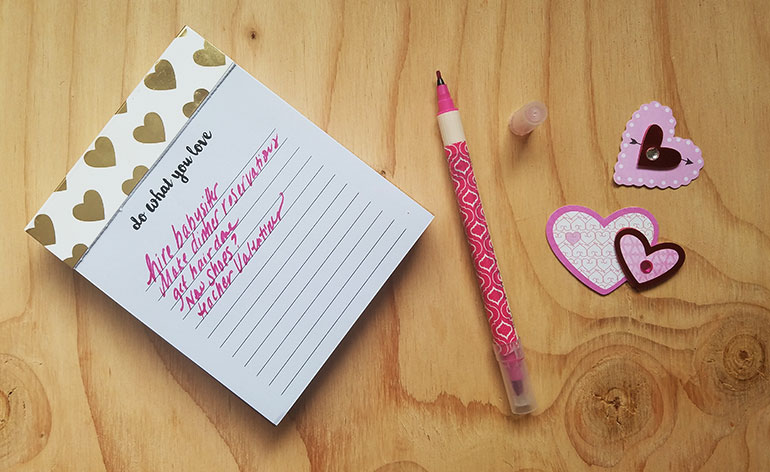 Let's think about all of the things you'll need to celebrate Valentine's Day this year and then look for ways to save on each of them. Naturally, many of the suggestions below involve using discount gift cards and I make no apologies for this. Coupons have expiration dates and restrictions that often render them useless on big days such as Valentine's Day. But gift cards don't expire and they can be used any day of the year.
So stock up ahead of time and pick brands with the deepest discounts to save up to 30% without your companion even knowing you're on a budget-friendly date.
Where to Find Discount Gift Cards
In my bag of savings tricks, there are two types of discount gift cards. The first type is a gift card previously owned by someone else, sold to a gift card exchange site for less than face value. The second type of discount gift card is a new gift card that is simply on sale at a physical retailer or an online store.
Pre-owned Discount Gift Cards
Cardpool.com is my go-to source for pre-owned discount gift cards for three reasons. The first (full disclosure) is that we are part of the Blackhawk Network family. The second reason I use this site is because they have good customer service and offer a money-back guarantee. The most important reason I buy discount gift cards from Cardpool.com, however, is that I bought gift cards from this company long before we were related, so I know it's a service I can trust and can recommend to you. (Plus, there's an app which makes life so much easier.)
New Gift Cards on Sale
Popular sites for buying new discount gift cards include daily deal sites (think Restaurant.com, Deal of the Day, Just Deals and other premium promotion sites) and places like Staples.com, eBay and Amazon.com. There is also a host of apps on which you can buy new discount gift cards such as the Verizon app, Samsung Pay and the United Mileage Plus app. Deals on new gift cards also vary. Sometimes you'll get a discount on the face value of the card, other times you'll receive a bonus such as gas perks, in-store coupons or bonus egift cards (e.g. Buy $50 gift card and receive a $10 bonus egift card).
Here's a running list of gift cards on sale.
In addition to the source, I would say that the main difference between pre-owned discount gift cards and gift cards that are on sale is that pre-owned gift cards are always available, whereas deals on new gift cards will fluctuate. During major holidays, for example, you'll find many new gift cards on sale but might not find any in the weeks that follow. Conversely, you will likely find bigger discounts on pre-owned gift cards right after the holidays because that is when inventory builds up because people are more likely selling the gift cards they just received. In any case, the pre-owned gift card marketplace is always up and running while deals on new gift cards tend to ebb and flow. To get the best deals on Valentine's Day purchases, we have to check both places.
Don't Forget to Stack Discount Gift Cards with Promo Codes and Coupons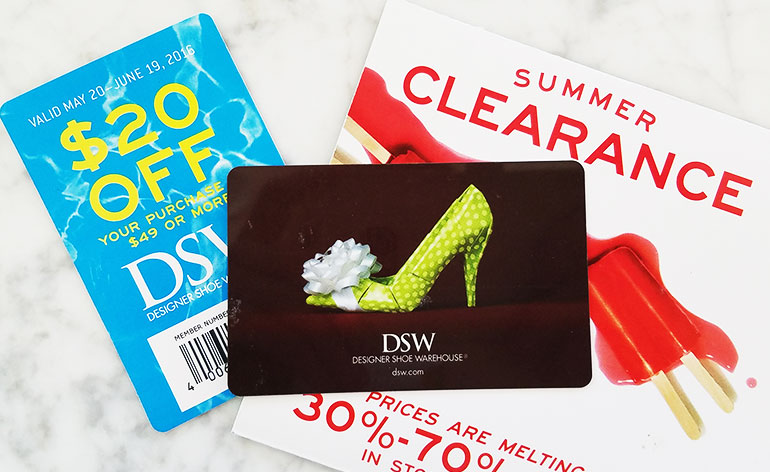 The best thing about shopping with discount gift cards is that you can stack other offers on top of the purchase. Unlike coupons and promo codes that can't be layered on top of each other or combined in any way, gift card savings are totally stackable because the store doesn't know (or care) how you got the gift card. They are simply bound to honor the balance of it.
If you already have a coupon to use on Valentine's Day, then buying a discount gift card to use on the same transaction will help you save even more.
How to SAVE on Valentine's Day without Looking Cheap
In considering your Valentine's Day budget, I'm thinking of everything you might do to prepare for the perfect Valentine's Day date. From buying something to wear to filling up your tank with gas, let's look at all of the ways you can save on Valentine's Day without looking cheap.
Please keep in mind: discounts vary according to inventory available and a variety of other factors determined by each gift card reseller. So the percentages you see below are examples of what I found today. On any given day, your savings may be a little less or a little more. You might also find that the discount gift cards are sold out. Don't worry…you can set an alert to be notified when when is available.
8. Save on Clothes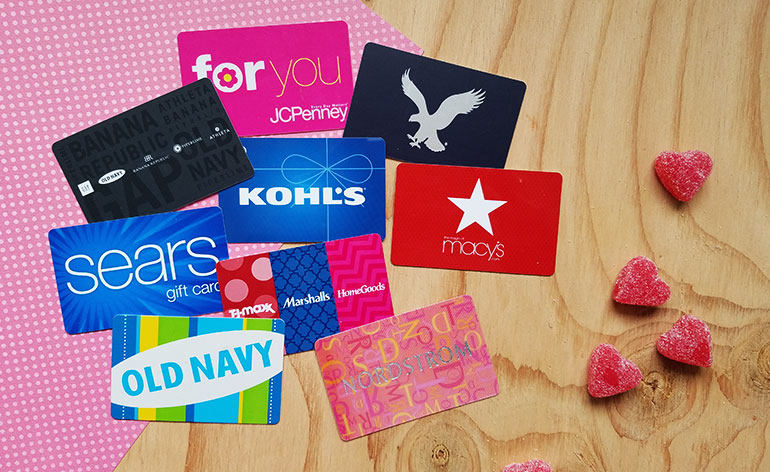 Whether you're a baseball cap kinda guy or a three-piece suit Dapper Dan, pick up some new duds before Valentine's Day to show your date that you care. But don't worry that you have to dig into your savings account to afford something stylish, a quick glance at pre-owned gift cards shows that you can save a bundle if you know where to shop.
Below are several gift cards that can be used to save on Valentine's Day clothes:
Above is a mix of gift cards sold via GiftCards.com and Cardpool.com. Find more discount gift cards for clothing stores on Cardpool.com.
Did you Know? Depending on the discount gift card selected (new or pre-owned), you can save anywhere from 13 to 20% on a gift card redeemable at Gap. (13% on the discount gift card or 20% on the new Gap gift card on sale.) You can save even more if you stack the gift card with a coupon or promo code. For example, I just received a text message from the Gap Factory store (I signed up to get sale alerts) that says I can save an extra 10% with the code they sent or I can get 15% if I sign up for their email newsletter. So if I buy a $100 Gap gift card for 20% off and use a 10% off promo code, I'm saving 30% in total when I redeem the card. THEN if I use a Cashback credit card to buy the gift card (Tip #6) AND ask for the balance of the gift card in cash once it falls below $10 (Tip #5), the discount gets even higher.
Here's a Tip: You can get deeper discounts if you are flexible in where you shop. If you want to buy a Nike sweatshirt, for example, you can pick one up at Macy's, Dillards, Dick's Sporting Goods, Nike Stores and Champs. If all five merchants carry the sweatshirt you want, check which store has the biggest discount on gift cards available. (And don't forget to factor in coupons that can be stacked onto the savings as well.)
9. Save on Makeup
When you think of buying makeup, powerhouse brands like Sephora and Ulta probably come to mind. But you can buy makeup at department stores, drug stores and even clothing stores too.
Below are several gift cards that can be used to save on Valentine's Day makeup, perfume, skin care and more.
Did You Know? JCPenney gift cards can be used on Sephora makeup. As long as you're in the JCPenney store or shopping the JCPenney website, you can use your JCPenney gift card at Sephora Inside JCPenney. So buying your Sephora makeup with a discount JCPenney gift card is an easy way to go from a 6.5% savings to double-digits!
Here's a Tip: If you redeem a gift card of $50 or more at Sephora, you can get a "complimentary 45-minute Custom Makeover with a Beauty Advisor." Maybe it's time to get a new look for less, just in time for Valentine's Day!
10. Save on Hair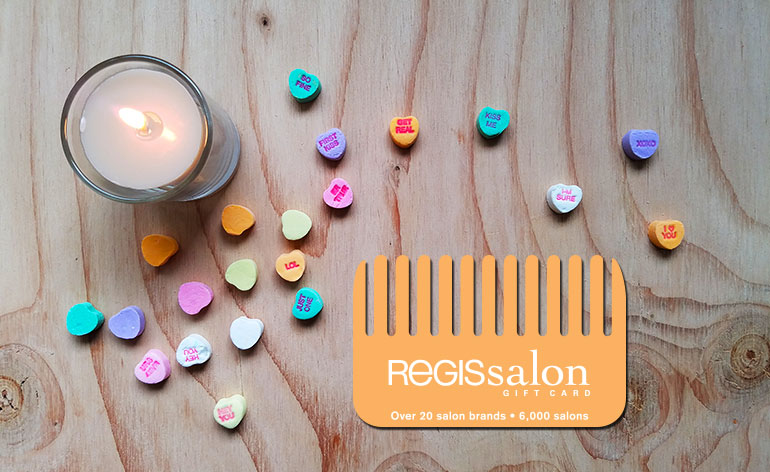 Want to get a new haircut or just freshen up your style for Valentine's Day, then try a gift card to one of many national salons to get all dolled up for a few less dollars.
Below are several gift cards that can be used to save on a Valentine's Day hair cut or new style:
Here's a Tip: Use the Spafinder services locator to see if your favorite hairstylist is in the Spafinder network. If you find your salon, then pick up a discount Spafinder gift card before booking your Valentine's Day appointment. And don't forget, you can still use a salon coupon when paying with a salon gift card.
11. Save on Shoes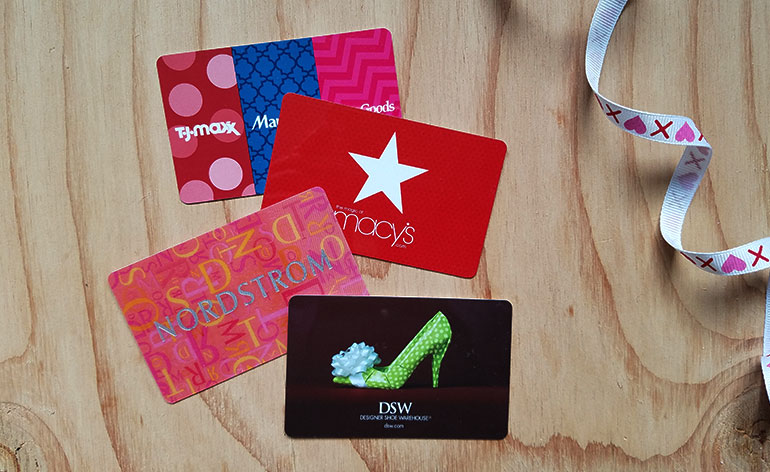 The right pair of shoes can complete an outfit perfectly, make you feel like a new person and help you get through the day in both style and comfort! What more could you want on Valentine's Day? Savings is the answer to that question.
Below are several gift cards that can be used to save on shoes for Valentine's Day:
That list is just a few shoe stores. You can also find shoes at department stores so gift cards to place like Macy's (7%) and JCPenney (14%) plus sporting goods stores like Hibbett Sports and Champs (6%) can all be used to get a deal on footwear as well.
Here's a Tip: Check to see if your department store coupon can be used in the shoe department. If so, stack the coupon onto your discount gift card for even bigger savings. (The Finish Line department within Macy's, for example, will not accept Macy's coupons.)
12. Save on Lingerie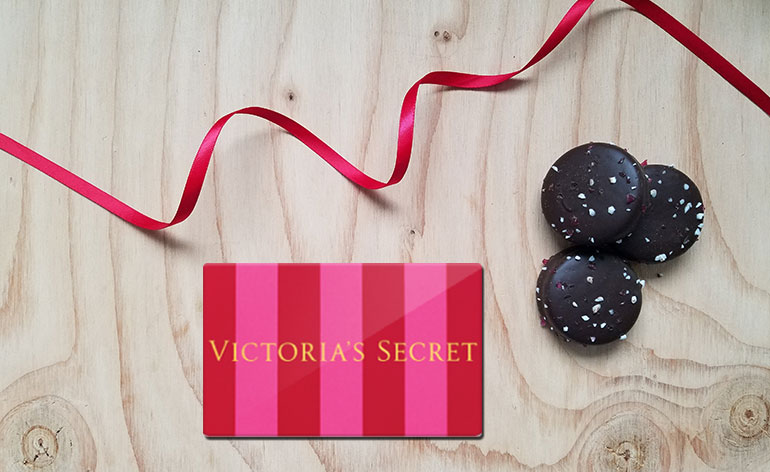 If you want to buy lingerie for Valentine's Day, then you can save on that as well. In addition to shopping at lingerie stores, however, remember that you can also buy "unmentionables" at department stores and smaller clothing stores as well. So if you're not particular about where you buy your lingerie, you can save a bundle.
Below are several gift cards that can be used to save on lingerie for Valentine's Day:
Here's a Tip: Gift cards are frequently redeemable at a variety of merchants within a brand family. American Eagle gift cards, for example are redeemable at Aerie. Baby Gap gift cards are redeemable at Gap, Old Navy, Banana Republic and Athleta. Lands' End gift cards are redeemable at Sears and Kmart. Even though the cards are redeemable across the brands, the discounts may vary. A quick check proves my point. Today, I found a Lands' End gift card for 10% off while the Sears gift card is only 6.5% off. That's an extra 3.5% you can save by choosing a different gift card within the company's list of merchants.
13. Save on Gas and Car Needs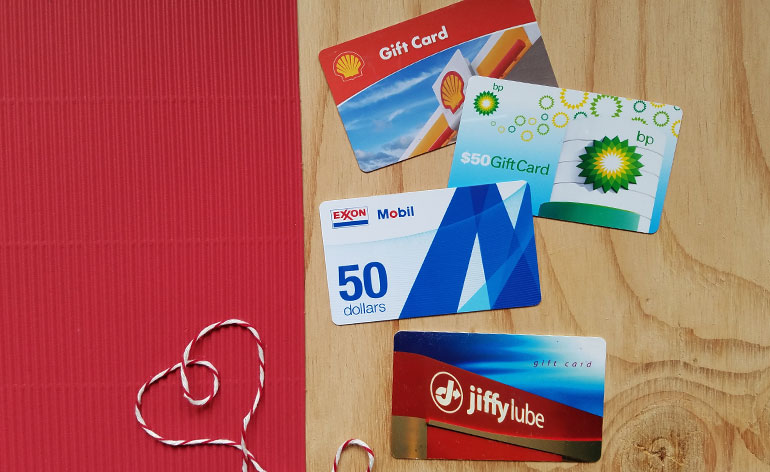 Contrary to the old idea that it might be romantic to get stranded in the dark on a date, running out of gas on Valentine's Day is not romantic, safe or advisable. Take care of your car before giving someone else a ride.
Below are several gift cards that can be used to get your car ready for Valentine's Day:
Here's a Tip: Discount gas station gift cards are in high demand, frequently selling out just as quickly as they come in. To find out when gas station gift cards are available, set an alert in Cardpool.com to be notified when your favorite brand comes in.
14. Save on Hotels and B&B's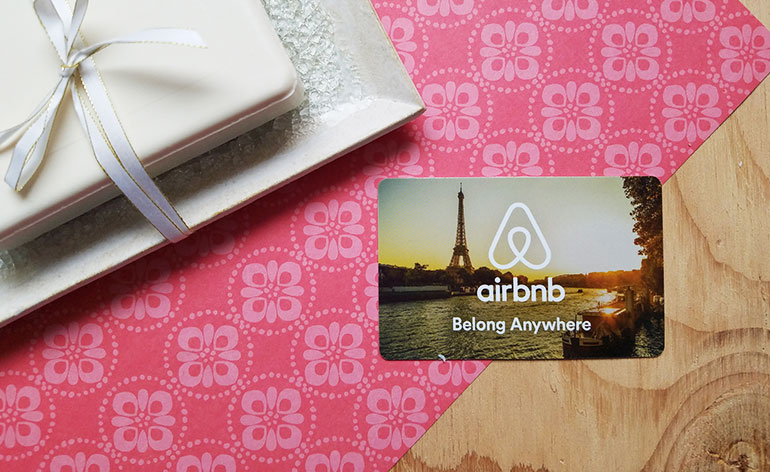 Are you planning to spend Valentine's Day away from home, then check for deals on hotel gift cards and bed and breakfast locations before making your reservation.
Below are several gift cards that can be used to save on hotels for Valentine's Day:
Marriott gift cards for 4% off
Hyatt gift cards for 7% off
BedandBreakfast.com at 15% off
New BedandBreakfast.com and Airbnb.com gift cards are frequently on my Gift Card Deals post as well, so be sure to check that list when making plans.
Here's a Tip: Hotel gift cards are one of the few types of gift cards that can be used internationally. Typically, a gift card purchased in the U.S. must be redeemed at a merchant in the U.S. But with a hotel or B&B gift card, you can book accommodations all over the world.
15. Save on Dinner
There are so many ways to save on Valentine's Day dinner that I'm almost afraid to tackle this list. Discount gift cards for popular restaurants range anywhere from a couple of digits to 30% or more. I will list a few of my top picks below and then just urge you to check out the list of discount restaurant gift cards on Cardpool.com and the list of new gift cards on my "Gift Card Deals" post.
Here is just a small sampling of the many discount gift cards you can find to save on your Valentine's Day dinner:
If you're looking to save on a local restaurant, then check for discounts on Restaurant.com. However, sometimes the offers on this website have restrictions such as the gift certificate may not be usable on weekends or holidays. Please double-check redemption instructions before booking your Valentine's Day dinner.
Here's a Tip: If the gift card you order arrives electronically, then read my tips on how to use egift cards at restaurants. It might be easier to use the egift card if you bring a paper copy of it with you.
16. Save on a Valentine Movie
I LOVE going to the movies. Seriously, it's one of my favorite ways to spend the very little free time I have. The only thing I love better than going to the movies is getting free movie tickets–or at least paying less than full price. If you plan to see a movie for Valentine's Day, then buy discount movie gift cards before you go.
Below are several gift cards that can be used to save on your Valentine's Day movies:
I frequently find discounts on movie tickets and movie gift cards on daily deals sites as well. So be sure to check your favorite Groupon, Living Social or other discount entertainment site as well.
Here's a Tip: Sign up for the loyalty program at the theaters you visit most often. I am a member of the "Regal Crown Club" which means I frequently get rewarded with free movie tickets, free popcorn and other bonuses whenever I use my card to pay for movies or concessions at Regal Cinemas.
17. Save on Dessert
If you didn't stuff yourself with popcorn like I always do, then let's talk dessert after the movie! Fancy a little ice cream or in the mood for cake? Then try these discount gift cards and get your sweet fix for less!
Below are several gift cards that can be used to save on Valentine's Day dessert:
Here's a Tip: If you can't find the discount gift card you want for a traditional dessert shop, check out the dessert menus at full-service restaurants instead. A Fleming's gift card could be up to 22% off. If you pick up that gift card before Valentine's Day, then you can fit a little chocolate lava cake into your love life with double-digit savings.
18. Save on Flowers
From bouquets to potted plants, there are many ways to save on Valentine flowers and I'll bet many of the ways aren't even on your radar. Yes, you can buy discount gift cards to a flower service. But you can also buy flowers at a hardware store, grocery store, warehouse store and mass merchant stores like Target and Walmart. So before you spend your money on full-priced flowers, let's see how we can save you a little money on this most-romantic of gestures.
Below are several gift cards that can be used to save money on Valentine's Day flowers:
Here's a Tip: In lieu of traditional roses, you can save money buying a heart-shaped topiary, a potted plant or some succulents for your sweetheart. Not only will the plant last longer than fresh-cut flowers, but it can be just as romantic if you add a simple note that reads, "My love for you never stops growing."
19. Save on Candy and Chocolate and Gifts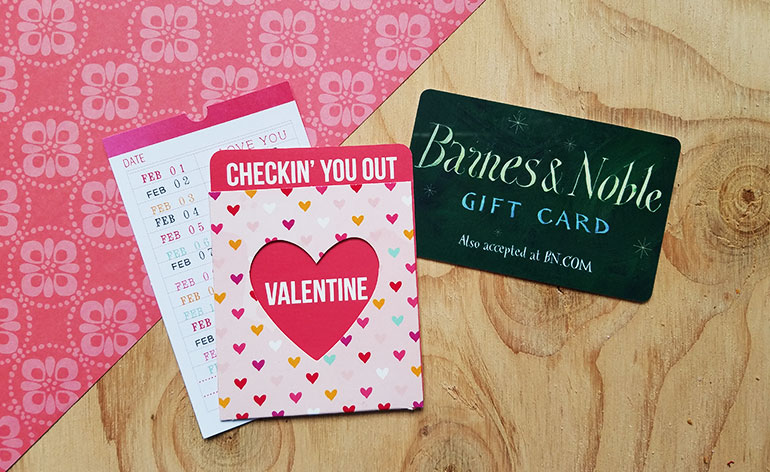 Whether you want to buy high-end chocolates or budget-friendly confections for Valentine's Day, you can save money on all types of candy if you turn to trusty discount gift cards in advance. I suggest looking for gift cards to specialty shops as well as larger merchants. Macy's, for example, sells Godiva Chocolates, among other fancy brands. Many of these places will also give you deals on small Valentine's Day gifts like a book to read, a frame or a candle.
Below are several gift cards that can be used to save money on Valentine's Day chocolates:
Here's a Tip: Another way to save money on Valentine's Day candy is to make it yourself. Honestly, I'm no cook, but I can melt milk chocolate chips in the microwave, stir in krispy rice cereal and spoon little balls onto wax paper for a homemade crunch bar. Dip pretzels in chocolate for another easy treat. Try these easy candy recipes for more ideas.
20. Save on Valentine Jewelry
If you want to go big on Valentine's Day, then jewelry is one way to do it! So let me help your bottom line by picking out some discount gift cards that can be used to save on necklaces, bracelets, rings and other heart-shaped jewelry.
Below are several gift cards that can be used to save money on Valentine's Day jewelry:
Here's a Tip: People often ask me where egift cards can be redeemed. The answer to that question actually depends on the merchant. Before selecting a discount gift card, check to see where it can be redeemed. While most egift cards are redeemable in stores and online, there are a few that require in-store redemption and some that must be used online.
I have one last freebie for you. If you want to get a gift card for Valentine's Day, then check out these free Valentine gift card holders that are yours for the taking. Download the printable file for free, print it on your home printer, craft it up and insert the gift card of your choice. This is a super easy way to make a gift card more personal without spending extra money.
If you know other ways to save on Valentine's Day without looking like a cheap date, put your tips in the comments below or hit me up on Twitter (@GCGirlfriend).
Happy Gift Carding!
~Shelley Hunter, Gift Card Girlfriend