Back-to-school shopping can be stressful and an unwanted flex on the family budget. Try these tips to be better prepared for the start of the school year.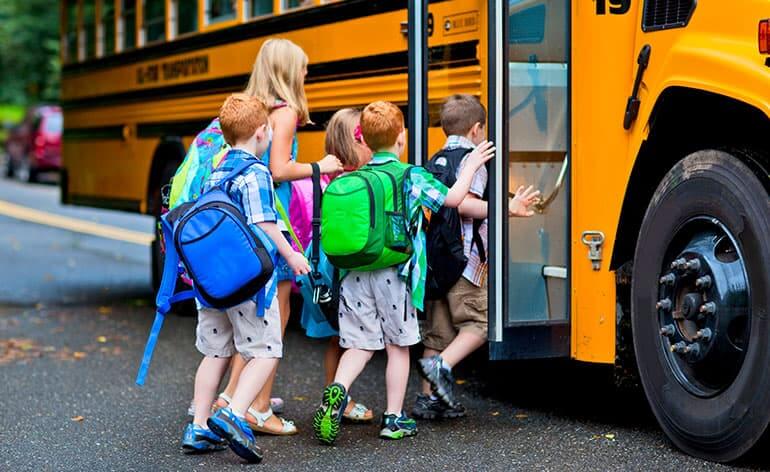 The Back-to-School Crunch
According to the National Retail Federation, back-to-school spending will be at a record high this year, totaling over $80 billion. Families with children in elementary school through high school will spend approximately $697 getting their kids off to school and families with college-age kids will spend about 30% more–$977.
As a mom, I often find this time of year more financially stressful than the holidays because I have less input on deciding how much money we spend. School supply lists, registration costs and extra-curricular requirements often dictate the cash flow more than I do. And with fall sports kicking off simultaneously, I have to wrestle with the costs of new gear, sports physical exams, team registrations and fundraisers as well.
But I'm not complaining.
After several weeks of a willy-nilly summer lifestyle, I am ready to put some order back into our chaos. It is just unfortunate that the cost of the transition comes at a time when my budget has been depleted by the aforementioned summer fun. With that in mind, I asked our guest blogger to help me think of ways to save on back-to-school expenses. Below is a list of tips we have so far.
Please let me know in the comments below if you have any other suggestions for helping parents save money sending their kids back to school.
Get Ahead of Back-to-School Shopping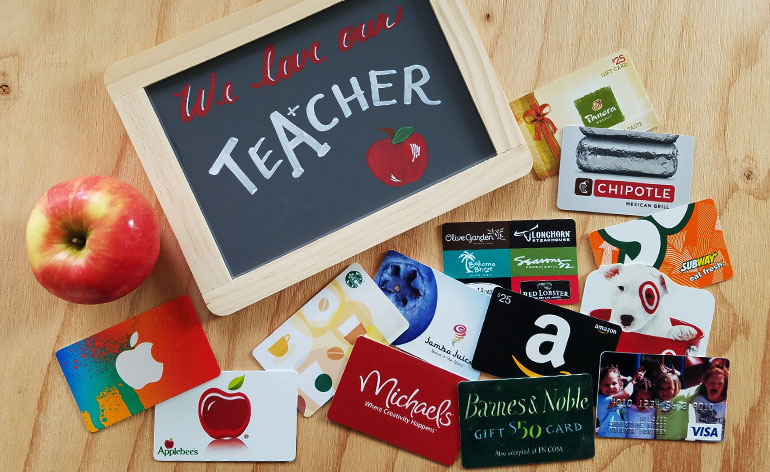 Guest Blogger: Jeanette Jaffrey
For parents, back-to-school time can be stressful. Getting back into a routine, packing lunches, signing piles and piles of paperwork…it doesn't end. The only months that are more stressful for families with school-age kids are May and June, when all the mayhem peaks with the end of school.
Ironically, when the smoke is clearing from May and June activities, that's the best time to start thinking about back-to-school and school-supply shopping.
I know, I know. Before you start groaning that you just want to relax on the beach, think about it: You can beat the crowds, get the best prices on school supplies and budget better if you start stocking up on school supplies now.
Plus, consider setting cash — or gift cards to places like Foot Locker — aside now to pay for sporting goods you'll need for the start of soccer, football, cheer and dance seasons.
Follow these tips to maximize your back-to-school savings and minimize August and September stress.
1. Use Discount Gift Cards to Order Common Items Now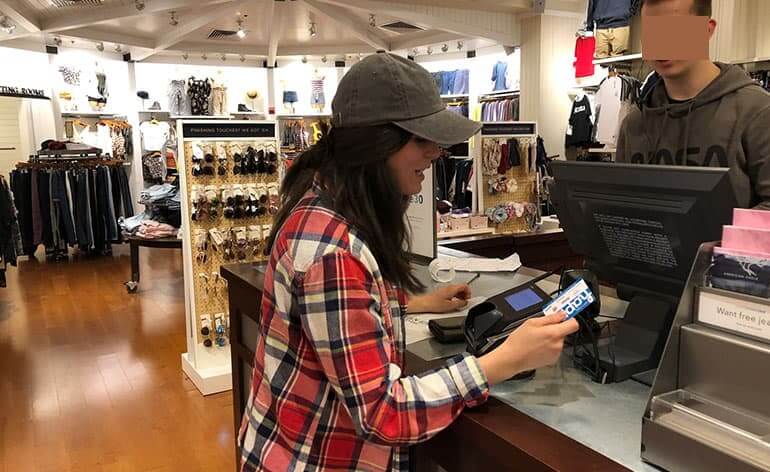 Buy discounted gift cards and set them aside for when you see sales on common school supplies you know your kids will need. Purchase gift cards to stores like Gap, American Eagle and Target to buy school clothes, water bottles, lunchboxes and backpacks. If you get these purchases out of the way early, you'll have less to worry about in the fall.
See how Gift Card Girlfriend saved big on back-to-school with discount gift cards.
2. Create a School Supply Savings Account with Gift Cards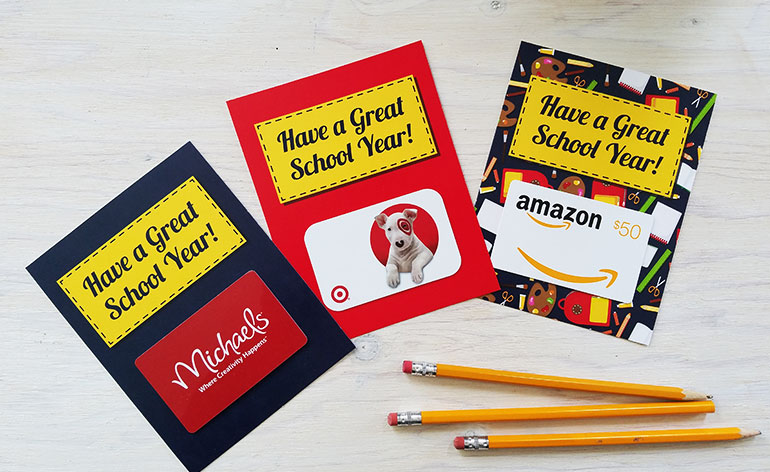 Have you heard of the envelope trick, which involves saving cash in various envelopes for different expenses? You can do the same with gift cards. Create envelopes for each kid, each store where you'll need supplies or each category of merchandise — such as classroom supplies, books, clothing, sporting goods and so forth. As you have extra cash or purchase a discounted gift card, place it in the envelope to use as needed.
You can also take all those mostly used gift cards you've collected — 50 cents on a Target gift card, $1.20 on a Crutchfield Electronics gift card, etc. — and add them to the envelope. Small change can add up when you're saving for back-to-school purchases.
3. Seek Out Sales on Gift Cards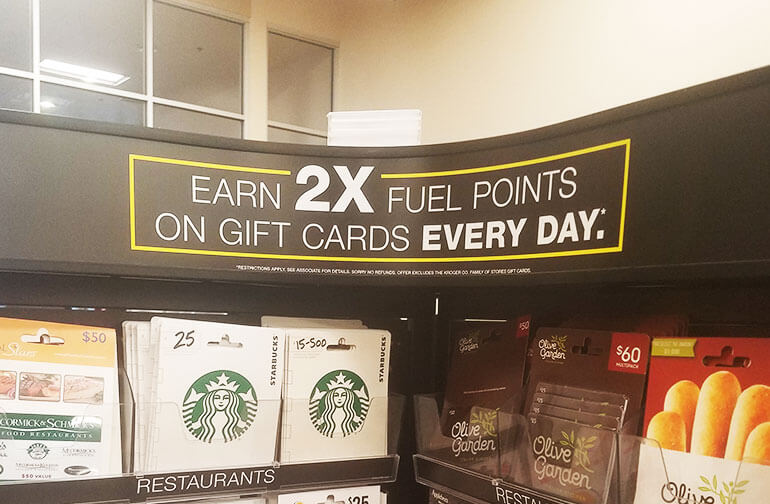 You may find promotions for summer holidays this time of year. Maybe you'll get a free $5 gift card if you buy $50 in gift cards during Father's Day, or you'll get bonus credit card rewards if you use your credit card to purchase a gift card in July. Gift Card Mall often has gift cards on sale as well.
4. Leverage Credit Cards and Banking Apps to Get the Best Deals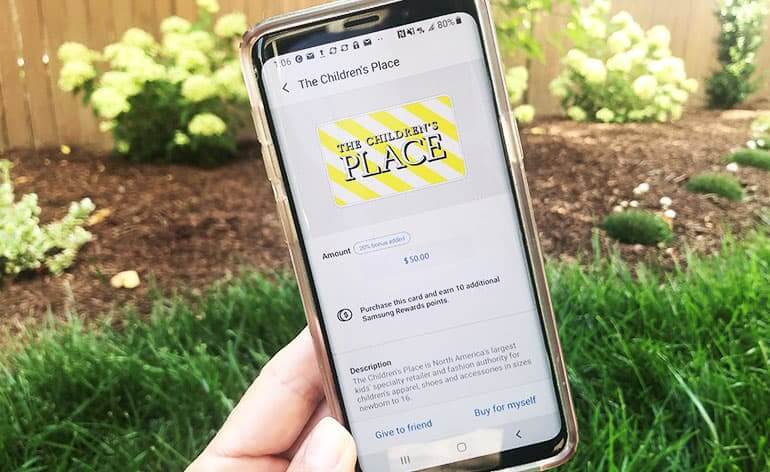 If your bank offers extra cash-back rewards when you buy gift cards through their portal, or has offers to trade in credit card reward points for gift cards, take advantage of these opportunities.
Also, make sure to track rewards offers. For instance, some credit cards offer cash back on office supplies, which is great for back-to-school shopping. You might even open a new credit card with a generous bonus offer to earn hundreds from your purchases.
Pictured above is the Samsung Pay app that regularly offers deals on gift cards plus additional reward points for certain purchases. In this example, you get an additional 20% value added to The Children's Place gift card AND you earn 10 additional Samsung Reward points when you buy the gift card. So if you're shopping The Children's Place for back-to-school supplies anyway, this is a quick way to get more for your money.
5. Stack Your Savings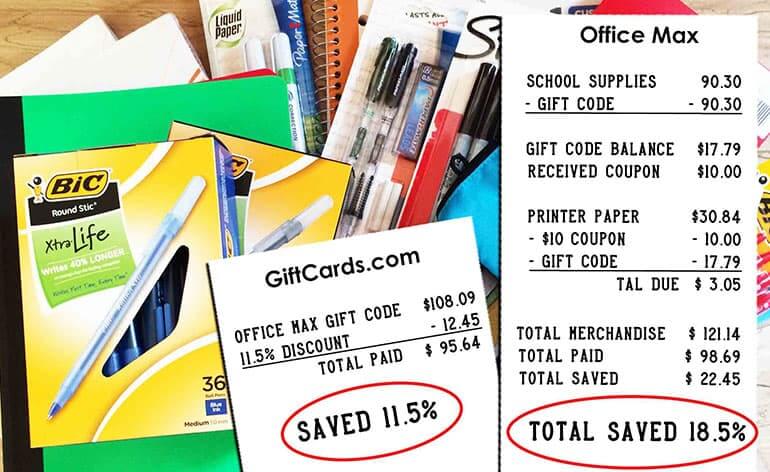 In addition to accruing credit card rewards and using gift cards you've purchased at a discount, look for store sales to maximize your savings.
If you bought a $50 gift card for $40, you've already saved 20%. Now, save another $10 when you spend $50 during a sale at your favorite retailer, and the savings really add up.
Gift Card Girlfriend is a big fan of stacking discounts to save money. See how Shelley stacked gift cards, coupon codes and Ebates (now named Rakuten) to knock full price merchandise down by more than 20%.
6. Turn Unwanted Gift Cards into Cash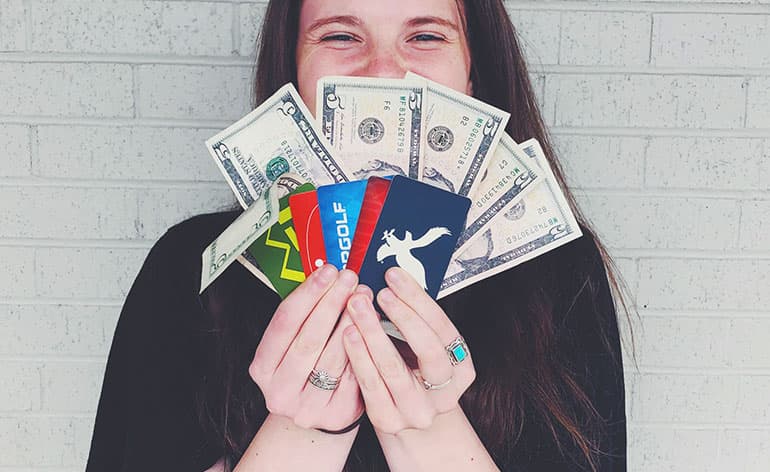 Got a gift card you know you'll never use? Sell it for cash and then put that money into savings for school supplies — or use it to buy a discounted gift card you will use.
Here's Gift Card Girlfriend's Guide to the Gift Card Reseller Market if you need tips on how to buy or sell discount gift cards.
7. Buy in Bulk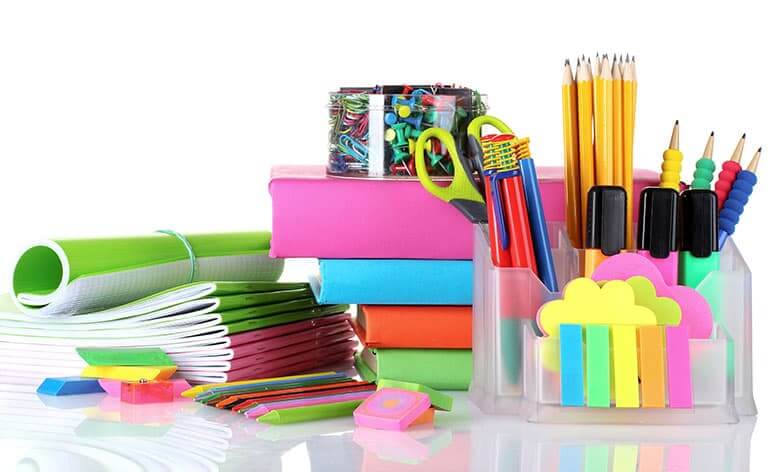 School supplies like pencils, glue sticks and folders often cost less if you can buy in bulk. This is easy for big families, but if you have one child, you may not need a gross of pencils to start the school year. Join forces with several friends who have children the same age, buy supplies in bulk and divvy them up.
8. Wait for Fall Sales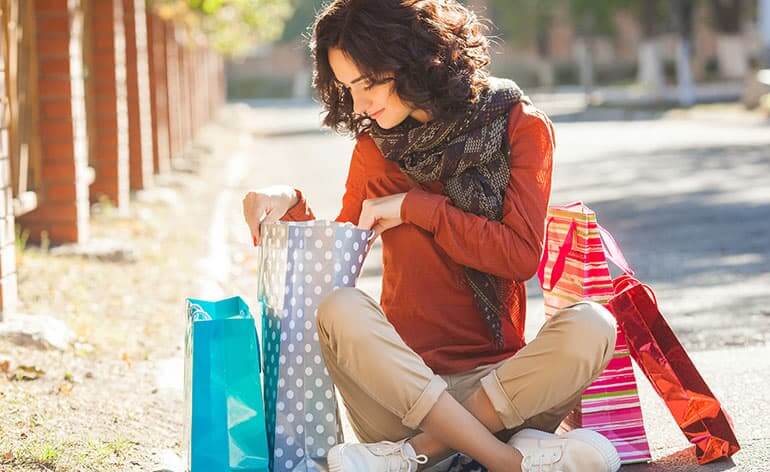 There are always a few odd requests from teachers: lined legal pads, marble notebooks without lines or green pens. It's hard to predict these purchases, so you may be better off waiting to make your back-to-school supply run after the supply lists are released. Then, use the gift cards you've been saving to pick everything up as the first day of school approaches.
And just remember, you don't have to buy jeans in August nor do you need that entire ream of binder paper on the first day of classes. Though it may seem urgent at the time, many items can be purchased throughout the fall as your time and money allow.
Back-to-school shopping doesn't have to be stressful if you are willing to get a little creative and keep your eyes open in the months leading up to the final push as well as hold off on buying everything on the supply list the minute it comes out. Pace yourself and enjoy the last few days of summer.
~ Jeanette
Back to Gift Card Girlfriend
If you're reading this post and it's already July, don't panic. There is still time to put some of these ideas into practice. Discount gift cards are available all year long, back-to-school sales will go well into August and you can always get cash back on credit card offers and sites like Ebates (Rakuten) throughout the year.
I also have a tip for you sports moms out there. Younger kids can get hand-me-down athletic wear from kids in the neighborhood. I always passed our "Mustang soccer kit" down to parents of younger kids in my area and have reached out to graduating high school seniors to see if they wanted to dump their P.E. clothes or football practice jerseys before heading off to college. So it might be worth asking around before piling those costs onto the traditional back-to-school expenses.
So what else do you suggest? If you have other ideas on how to save on back-to-school costs, let me know in the comments below or reach out to me on Twitter (@GCGirlfriend) or Instagram (@Gift.Card.Girlfriend).
Happy Gift Carding!
~Shelley Hunter, Gift Card Girlfriend