7 steps to sending the most flexible gift card available. Gift Card Girlfriend shows how to send Mastercard gift cards.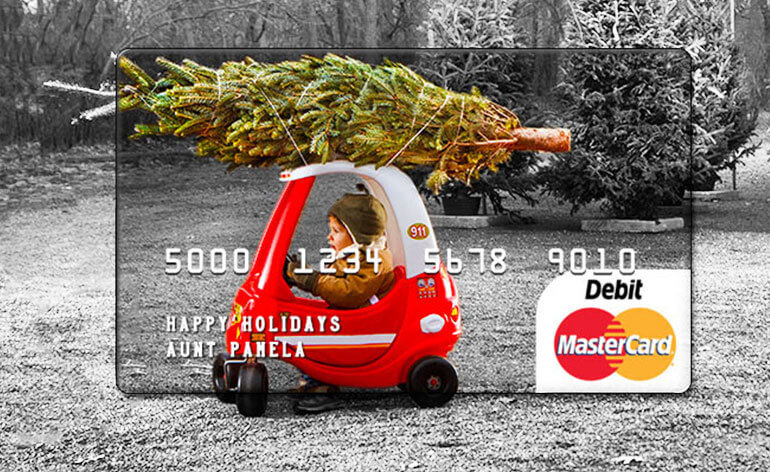 Mastercard® gift cards, though seemingly generic, are some of the most requested gifts on birthday and holiday wish lists. Why so? Because you can buy just about anything with them. Since they are redeemable wherever Mastercard is accepted, the cards can be used online, in stores and over the phone. Although you can buy these gift cards in multiple places, the fastest way is to order online. Below are seven steps to show you how to send Mastercard gift cards quickly and easily.
7 Steps to Sending an Mastercard Gift Card
When buying a Mastercard gift card, you will likely have to pay an activation fee. Merchant issued gift cards such as iTunes, Amazon or Starbucks, on other hand, are fee-free, but you have to use the cards at those stores. So I like to think of the Mastercard activation charge as the cost of convenience. With our gift cards, this nominal fee not only buys you the card, but also covers the cost of customization. (Read more about gift card fees here.) In less time than it takes to drive to the grocery store and back, you can send a Mastercard gift card as follows:
1. Select Mastercard Gift Cards
From the main menu on Giftcards.com, select "Brands" and then select Mastercard from the drop-down menu.
2. Design Your Card
Unlike gift cards found at the grocery store or the bank, you have the option to pick the image that goes on the card. At Giftcards.com, you'll pay just a dollar more to use your own photo. Select "Personalize" to add your own image. Select "Pre-Designed" to choose from images created by the Giftcards.com designers or select "Corporate Bulk" if you'd like to order multiple gift cards for your small business.
Personalize
If you select to upload your own image, select an image from the photo library on your computer, tablet or smartphone; or upload an image from those available on your social media accounts. To use an image from social media, you may need to log onto Giftcards.com with that same profile or give permission for the system to access it. When you have an image selected, upload it and resize as needed. Click "Next Step" when you're happy with how the card looks.
Pre-Designed
With thousands of gift card images to choose from, don't get overwhelmed. The more popular designs are on the first couple of pages and you can narrow the choices using the "Browse by Category" menu on the left-hand side. Select the image you'd like to use.
3. Choose an Amount
Mastercard gift cards can be purchased in any dollar amount from 10 to 500 dollars. If you're not sure what the best load value should be, read my post on determining the best gift card amount. Since these cards can be used almost anywhere, even 20 dollars can be useful. The amount you choose, however, will determine how much the activation fee will be. Review our fee schedule here.
4. Add the Embossed Name
Whether you choose to upload an image or use one of ours, the card can be further customized with an embossed name and greeting. While it is tempting to use a nickname in the "name" field, I suggest sticking to the recipient's first and last name. As a security measure, some online shopping carts will decline a gift card if the name on the card used does not match the user's name on the website.
5. Add a Personal Message
Feel free to go crazy on this line–as long as you keep it clean and under 19 characters. (Your order will be denied if this field contains inappropriate content.) Although we have canned text you can use, I like to add greetings the recipient will know came from me. For example, "LOOKIN' GOOD AT 29," "BFFS SINCE 1980" OR "LOVE YOU MIKEY." Select "Next Step" when all of the fields are filled in.
6. Select a Greeting Card
With the gift card completed, all you need to do is decide how you want it delivered. You can select a custom greeting card (which gives you the option to add another photo), choose the standard greeting card (that matches the predesign if it's available) or pick a simple, paper carrier. Various charges apply.
7. Personalize the Card Carrier
For each option, you can add a note to the recipient telling him or her who the card is from. You can also include another message. For the card options, you can play around with fonts and placement of the message. Select "Complete" when done, and the gift card will be added to your shopping cart.
Finally, pay for the card and enter shipping details. If you bought multiple Mastercard gift cards, you can ship them to different addresses or have them all delivered to one place.
It's that simple! If you need to send Mastercard gift cards to friends and family for the holidays or for birthdays, anniversaries, graduations and more, in my opinion, there is no easier way. Sure, you can grab a stack of gift cards and pay for them at the grocery store, but they won't be customized and will likely come with higher activation fees. If you have other gift card questions or need gift card help, add a note in the comments below or leave a message for @GCGirlfriend on Twitter.
Happy Gift Carding!
~Shelley Hunter, Gift Card Girlfriend