With education, samples, tips and tricks, a Sephora gift card can help everyone look better on the day of the wedding.
Knowing How to do Your Makeup Increases Confidence
A few years ago, I did some freelance work for a high-profile cosmetics company. As part of the job, I spoke with hundreds of women of various ages, all with different skill sets and lifestyles. Throughout the project, one beauty theme continually surfaced and it had to do with makeup education.
Though I cannot freely discuss all that we discovered, I can sum it up by saying that women who learned how to do their own makeup at an early age carried that "beauty confidence" into adulthood. Unlike the teens who were left to figure it out for themselves, the more confident ladies had been taught how to pick the right colors, apply various products and tailor their makeup to any occasion. Having learned basic techniques early, these women easily adapted to changing styles and routinely sought help along the way.
True beauty is, of course, on the inside. But there is value in feeling good about your outward appearance. That is why I love the Sephora experience. You don't just buy makeup at the store or shop the website in hopes that you pick the right products in the right colors. You can test cosmetics for yourself, learn how to apply them, take free classes, get free samples, watch video tutorials, get a makeover if you want it and more. Rather than being left on your own, Sephora will help you find the products that are right for you. Service like that would have made a big difference for many of the women I interviewed and it can make a big difference on a special day as well.
With a variety of products to choose from and personalized services available online and in stores, Sephora gift cards are perfect for wedding season and here is why.
1. Give the Bride a Free Makeover
If you're planning to get the bride a gift for her engagement party or bridal shower, then get her a Sephora gift card. Not only can she use it in the store or online to buy new products, but she can also use it toward a custom makeover or a personal one-on-one beauty session.
At Sephora, a 45-minute full-face makeover by a beauty advisor is complimentary with a $50 minimum purchase. A complete 90-minute customized skin care, fragrance, and beauty makeover is complimentary with $125 minimum purchase. The great news here is that the gift card can be used for that purpose. So if you give the bride a $50 gift card, you're really giving her TWO bridal gifts. The $50 you provide will pay for a product of her choice plus it entitles her to a free makeover. This is a fantastic way to give the bride a boost of beauty confidence before her big day.
2. Create a Cohesive Look for the Bridal Beauty
Obviously anybody can take advantage of Sephora's free makeover offer, so another great suggestion is for the bride to give each of the bridesmaids a Sephora gift card as a thank you gift for being in the wedding. I talked to a beauty advisor at my local Sephora store and she said bridal parties frequently come in together to get personalized makeovers both as something fun to do as a group and as a way to create a cohesive look for everyone in the bridal party. Just make sure you book the sessions in advance so everyone can be seated together.
I like this suggestion because in addition to having a bonding experience, bridesmaids who are less confident in their beauty routines, can't afford to pay for a makeover or wouldn't be inclined to ask for tips, can get the help needed to feel better about their appearance before the day arrives. Some bridal parties even schedule makeovers FOR the day of the wedding. I have to believe some careful planning would be required to pull this off, but it sounds like a great way to help everyone feel more beautiful on a special occasion.
If some of the bridesmaids are coming from out of town and you don't have time to schedule makeovers before the ceremony, send their thank you gift cards a few weeks before the festivities. That way each young woman can schedule her own Sephora makeover at a convenient time and place.
Sephora also has a list of products they suggest as bridal gifts.
3. Flawless Photographs for Mother of the Bride
When I was younger, I didn't have to put on a lot of makeup to look my best. As I've gotten older, however, I see an increasing need to pay more attention to my skin and to use makeup that provides coverage. (Save me the lecture on what I SHOULD have done for my skin 30 years ago. That boat has sailed and I'm just trying to get out of its wake.)
A beauty advisor recently suggested I use a particular type of makeup because it photographs better. I had no idea what she was talking about, but after she explained and demonstrated how "HD" makeup works, I got excited. Since the mother of the bride will most likely feel the same way I do when surrounded by a bunch of youthful faces, you might gently suggest this makeup to her as well. After all, she wants to look her best on this special occasion too.
Rather than give mom the actual makeup, however, get her a gift card as well. She can use it to join the bridal party makeover session or stop by for a free 15-minute consultation at her leisure. These are available in all stores and walk-ins are welcome.
Sephora also has a skin care recommendation tool to help pick products that will maintain and improve skin at any age.
4. Fun For the Flower Girls
When my daughter got to be a flower girl in a wedding, she wanted to be part of all the bridal party festivities–even though she was not really old enough for many of them. She felt very special, however, when the bride invited her to get her hair done with all of the other bridesmaids.
Though makeup is not really an option for younger girls (in my opinion), Sephora has a nice selection of trial size lip glosses and other sample cosmetics that could be deemed age appropriate, allowing you to invite younger bridal party members to the appointment. Another suggestion is to check out the extensive array of nail polishes available and select a color that matches the wedding. Then either use the polish when the bridal party goes to the salon for professional manicures and pedicures or purchase a home nail kit so everybody take turns applying polish themselves.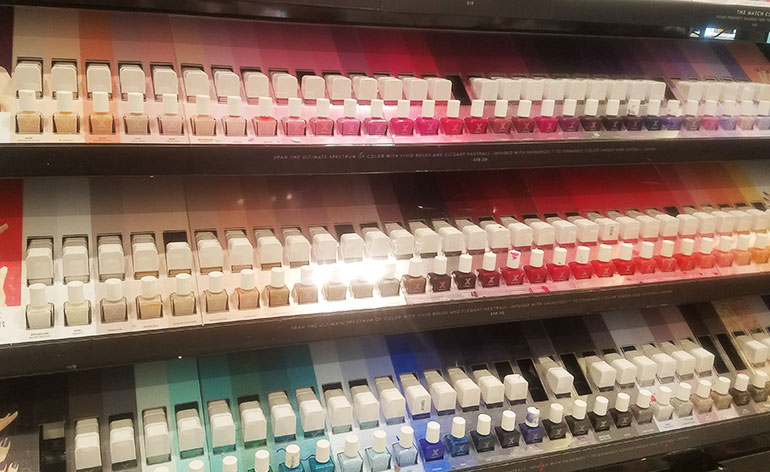 6. Online Bridal Party
If you do not have time or money to get all the girls together, but you still want to do some bridal party beauty activities. Sephora has a comprehensive online offering that includes a virtual product try-on app, an active community of Sephora fans who can answer questions for you and a place to post pictures of your new looks.
With the Sephora Virtual Artist, you can upload a picture of yourself, use live video or select a model with a face that resembles your own. Then you can toggle through various shades of lipstick and different lash options to try the products on virtually. It's not the same thing as being in the store, but is definitely better than buying products blindly.
Need help picking the right colors? If you go into the store and use Sephora's exclusive Color IQ device, you can discover your perfect lip, foundation and concealer matches. Then use those numbers to shop for products online and you don't have to worry so much about guessing which formulas will match your tones. If you don't have time to go into the store, you can reverse engineer your color match by entering a matching product that you already have. The website will return a Color IQ number that can be used to make new selections.
Below is a picture of my virtual attempt at some thicker eye lashes and a more vibrant lipstick.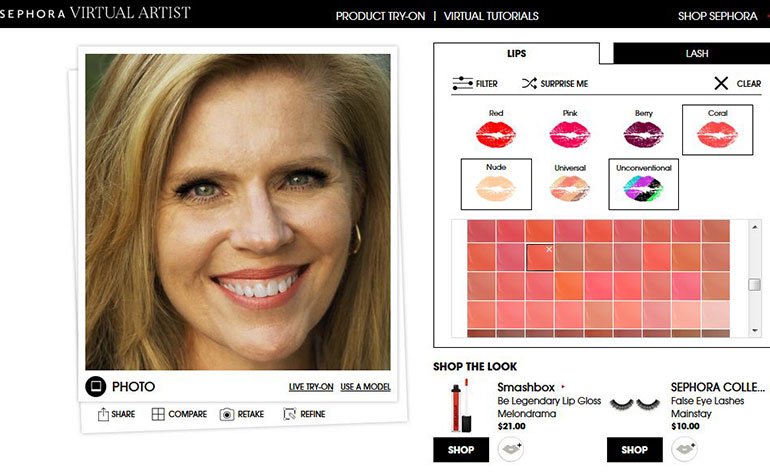 7. Personalized Sephora eGift Card Thank You Gifts
Whether you want to prep the bridal party for a more beautiful day or you want to say thank you after the wedding is over, a personalized Sephora egift card is a great choice. I love that these gift cards can be delivered quickly and cost-effectively because it takes only a couple of minutes to create one and shipping is free. Plus, it would be fun to comb through all of your pictures to pick the right photo for each recipient.
For example, you might deliver a picture of all the bridesmaids to one friend, send a picture with just you and the maid of honor to your special friend and upload a picture of your first dance to the mother of the bride. This is so easy to do, you can take care of all your thank you gifts before leaving for your honeymoon.

I am not a girly-girl but even I get swept up in the vast array of products available at Sephora and the many ways the consultants in the store are willing to help. It is like having a big sister standing next to you the entire time, helping you look and feel your best–for free!
By taking advantage of the free advice, samples, diagnostic tools, apps, tutorials and more, everyone in the bridal party is sure to look and feel more beautiful.
Did I miss anything? Do you have a favorite tip or trick for making your wedding day more beautiful? Let me know in the comments below or reach out to me on Twitter (@GCGirlfriend).
Happy Gift Carding!
~Shelley Hunter, Gift Card Girlfriend