(SOLD OUT!) With the Sephora.com Mother's Day promotion, give your Mom a $100 Sephora eGift Card and get a $20 Bonus Sephora eGift Card in return! Happy Mother's Day!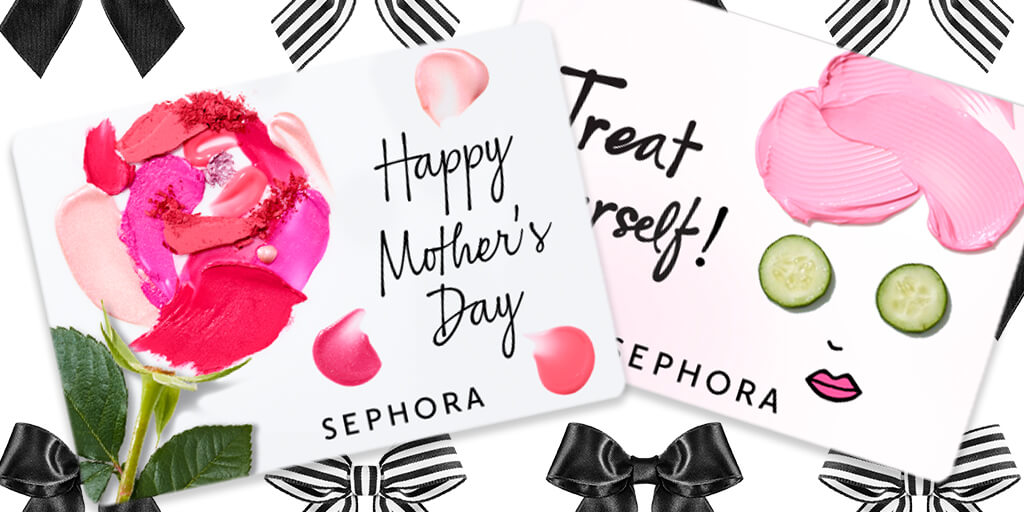 Sephora.com Mother's Day Promotion
Mother's Day is May 13, 2018.
This Deal is SOLD OUT! Look for other Free Mother's Day Gift Cards here.
SOLD OUT! Between April 24, 2018 and May 1, 2018, Sephora.com is giving you a BONUS $20 Sephora egift card when you buy a $100 Sephora egift card from their site. (This offer is not available on Giftcards.com.)
Here's all you have to do to get this Mother's Day deal:
Visit Sephora.com and select Gift Cards.
Select eGift Card. (This offer is only good on Sephora eGift Cards purchased from Sephora.com)
Customize the gift card. (Pick a design, add a photo or video, and write a personal message.)
Choose a dollar value of $100 or more.
Select delivery. You can send the egift card via email, text message or print it at home.
Choose a delivery date and complete your purchase.
When the purchase is complete, your Bonus Sephora eGift Card will be sent immediately to the email address on your account. This Bonus eGift Card does not expire. It is valid in Sephora and Sephora inside JC Penney stores and online at Sephora.com. There is a limit of one Bonus eGift Card per customer.
Make Your Sephora eGift Card More Pesronal
I love Sephora gift cards because I think makeup, perfume and other cosmetics should only be selected by the person who will wear the items. Hard as you may try to pick the perfect look for me, I prefer to shop for my own health and beauty products to ensure I get the right colors, formulas, scents and more. If your mom is the same way, then she will love Sephora gift cards as well.
Here are a few ways to personalize your Sephora egift card.
Pick a Mother's Day Design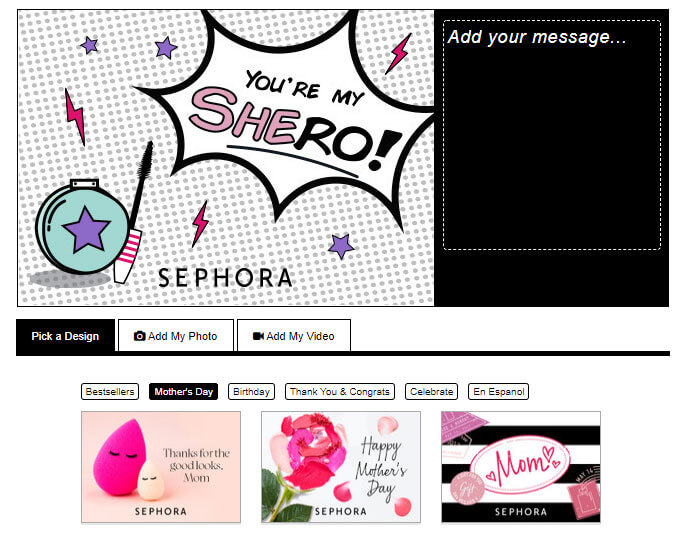 Sephora has several great Mother's Day designs to choose from. Pick the one you think mom will love best and write a personal message next to the design.
Add a Personal Photo to the Mother's Day eGift Card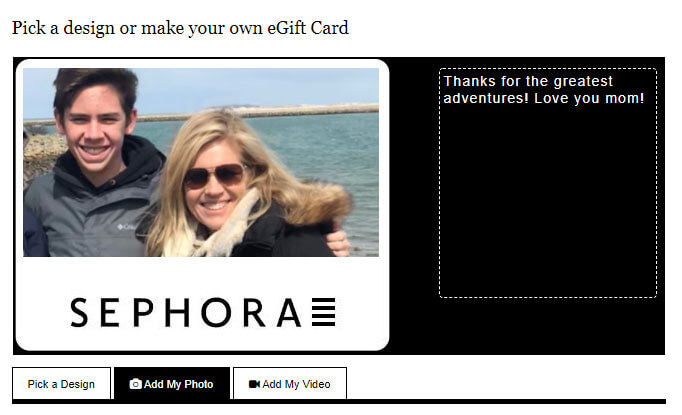 One of the easiest ways to make an egift card more personal is to add a photo to the card. If you're not sure what picture to select, think about the photos your mom likes best. Do you have a favorite picture from grade school? Do you have a picture from a trip the two of you took together? You can even use a recent selfie. Be creative and have fun.
Add a Video to the Mother's Day eGift Card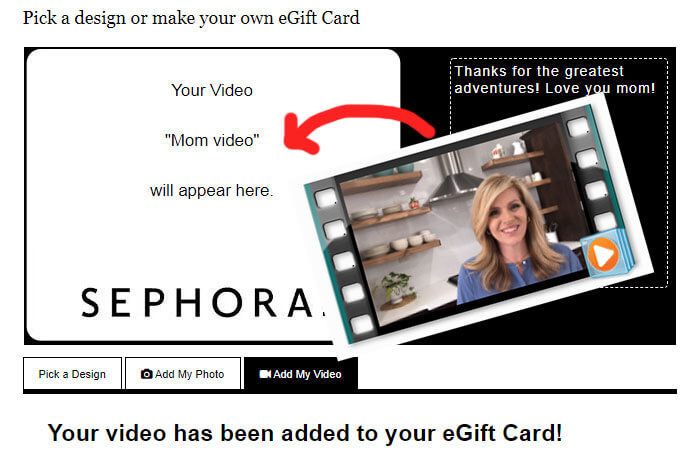 Sephora also gives you the option to add a video greeting to your egift card delivery. You can either upload a video you have already filmed or you can record one while designing the card.
Print the eGift Card and Deliver in Person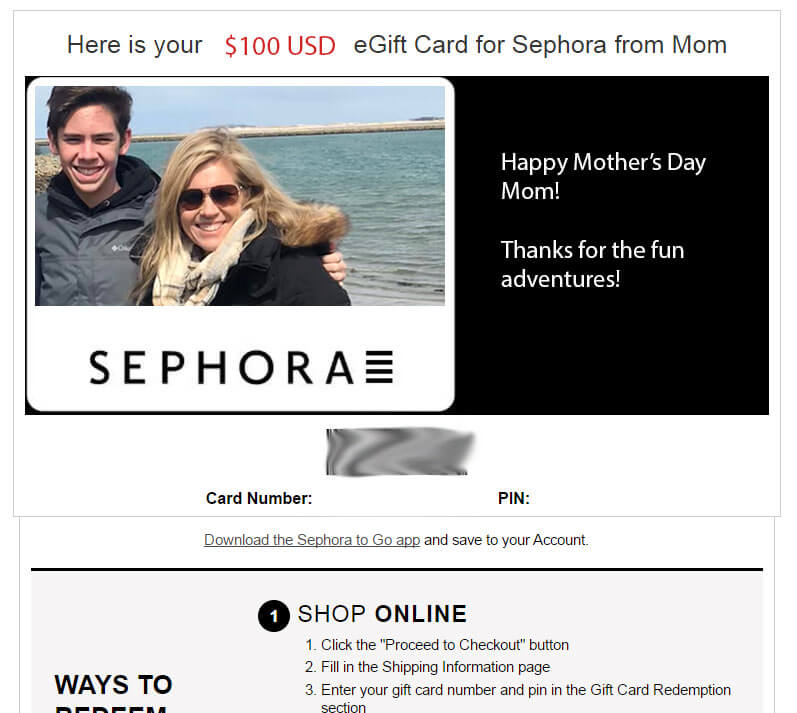 If you want to take advantage of the Sephora egift card promotion for Mother's Day but still want to give your mom the Sephora gift card in person, then select the "Print" option before adding the gift card to your online shopping cart. Enter mom's name for the "recipient name" and enter YOUR email address below that. The egift card will be sent to your email account instead of your mom's. When the egift card arrives, print it out on your home printer.
Printing egift cards at home is a great way to get fast, free gift card delivery.
Lastly, please check the Sephora.com website for additional terms and conditions regarding this promotion. If you have any other questions or want help personalizing your Mother's Day gift, leave a note in the comments below or send me a question on Twitter (@GCGirlfriend).
Happy Gift Carding!
~Shelley Hunter, Gift Card Girlfriend