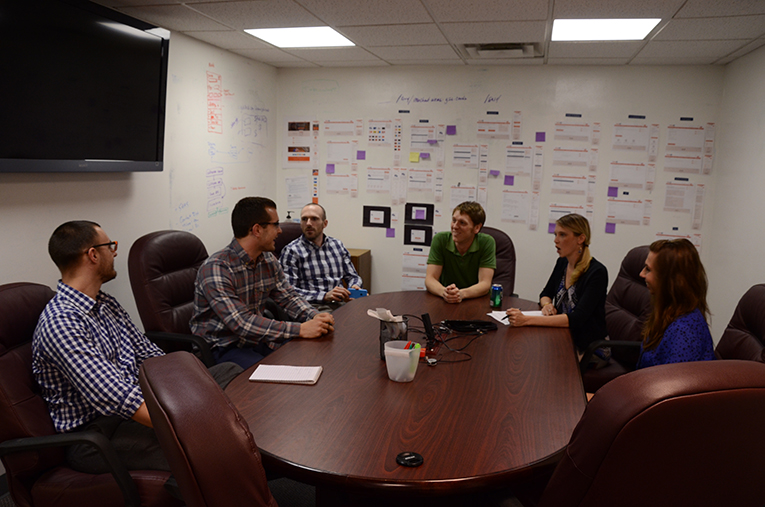 For Giftcards.com, casual Friday not only means wearing jeans to the office, it means winding down the workweek. The day's work will most likely be finished in six and a half hours instead of eight. This is because each Friday, from 3:30-5, there are set-in-stone plans–small group gatherings and social hour.
When the clock strikes 3:30, the weekend is near. All employees (except for the executives) disperse into their assigned small groups, which are sessions designed to wrap-up the work-week and keep the team happy and involved. During small groups, everyone has a chance to voice his or her opinion. Each person has the chance to talk about one positive experience as well as a negative event, pertaining to the establishment, that happened to them during the week. A suggestion for the company is also made by each employee, allowing actionable feedback to be delivered to management. These statements are recorded and then passed on to the executives, who then review everything and commit to fixing one negative issue or implement one suggestion per week. After the review, any changes, suggestions or fixes are voiced to employees. This type of employee involvement is important for business growth and well-being, since everyone is always in the loop when it comes to the company.
Once small groups conclude, around 4 pm, social hour begins. Now, if there is work that needs to be finished, it gets finished, but if no further work needs completed at the moment, the team socializes. Normally, on days when the sun is out and the weather is above 50 degrees, (GiftCards.com is in Pennsylvania, so 50 degrees is warm for us) the team gathers on the building's deck, overlooking train tracks, or in the upstairs lunch-lounge area.
Social Friday is a great time for individuals who don't typically get to work together during the week to chat about current projects, brainstorm ideas or just catch up with one another. Needless to say, Fridays at Giftcards.com are a great way to begin any weekend.
TGCIF (Thank Giftcards.com it's Friday!)