"Split Tender Transaction" is a fancy way of saying that you want to make a purchase with more than one type of payment. Read more for ways to make a split tender transaction with a gift card.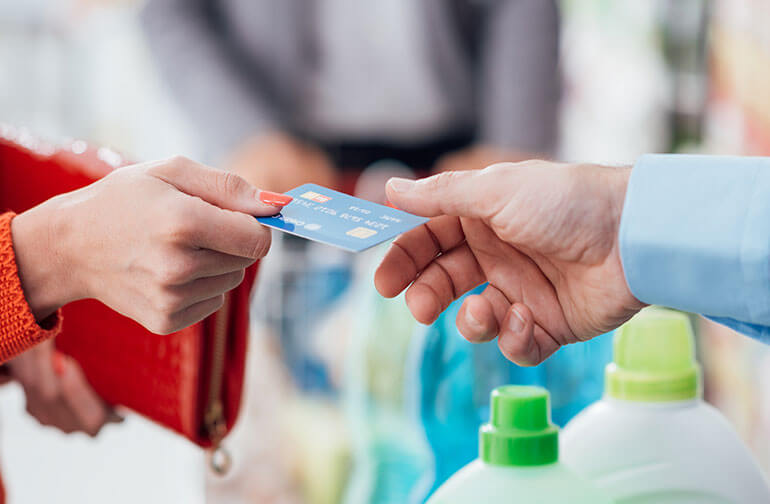 What is a Split Tender Transaction?
"The term "split-tender" refers to a transaction in which more than one form of payment is used. For example, you might tell the waitress at a restaurant that you will pay for your meal with a credit card but will pay the tip with cash. Or you might tell the cashier at the grocery store that you want to pay for part of your purchase with a gift card and pay the remaining balance with a debit card. In general, most cashiers and in-store payment processing systems can handle this type of payment with ease.
Can you Do a Split Tender Transaction with a Gift Card?
In stores, most payment processing systems are able to handle split tender transactions when one of the methods of payment is a gift card. In fact, I bet you make split tender payments all the time. Suppose you receive a store gift card for $25. When you get to the store to make a purchase, you first hand the gift card to the cashier. If the total amount due is greater than $25, the cashier will ask you for a second form of payment. At which time, you pay the balance of the bill with a credit card, debit card, cash or check. This works great in stores.
Split tender transactions, however, work differently online and here's why.
IN STORES: Payment is processed one card at a time.
At the store, split tender payment are handled one payment at a time. You hand the first card to the cashier and wait for the cash register to deduct the paid amount and give you a new total due. You then hand the cashier a second form of payment and wait for a new balance again. You can pay with more than one bank card, multiple gift cards, a wad of cash or a mix of all choices. (I have used muliple gift cards in a single purchase many times just to get rid of small balance gift cards I didn't want to carry in my wallet anymore.)
In stores, Visa gift cards rarely present a problem because the cashier just deducts the amount on the card and waits for another form of payment to complete the purchase.
ONLINE: Payment is processed all at once.
When you make a purchase on a website, you fill in the card number(s) to be charged and press the "submit payment" button. In order for the payment to be accepted, website must be able to complete the purchase without asking the customer for an additional form of payment. If the card(s) entered for payment do not have a balance high enough to cover the entire transaction amount, the entire purchase will be declined.
Many online websites now have a place to enter a debit or credit card plus a gift card. Some even allow you to enter multiple store gift cards. But currently, no websites (that I have seen) will allow you to enter more than one debit or credit card. That's a problem because a bank-issued gift card has to be entered into the debit or credit card field.
How Can I Use a Gift Card in a Split Tender Transaction?
If your online purchase totals $50, here are some split-tender examples involving gift cards that will work:
1 store gift card for $25 plus a Visa gift card for $25.
2 store gift cards totaling $20 plus a Visa gift card for $30.
1 store gift card for $15 plus a debit card payment to cover the balance.
You get the point.
You can use multiple store gift cards, but you can only use one bank card (debit, credit or gift) in a single purchase because there is only one bank card field. So the combination of store gift cards plus the bank card must cover the full amount of the transaction or the entire purchase will be declined.
Keep in mind: I am giving examples using Visa gift cards, but the same scenario exists with Mastercard gift cards, Discover gift cards and American Express (AMEX) gift cards as well. There is only one field in most online forms to accept a bank-issued gift card, so the gift card must cover the full amount of the purchase or you will have to use a debit or credit card instead.
If you need more help using a gift card online, then here are a few posts to help you out:
If you have another question about using a Visa gift card online or in stores, leave a comment below or reach out to me on Twitter (@GCGirlfriend). I will get back to you as soon as I can.
Happy Gift Carding!
~Shelley Hunter, Gift Card Girlfriend