The perfect gift for fashion lovers (and fashion strugglers). Download this FREE printable gift card holder and send a Stitch Fix gift card today!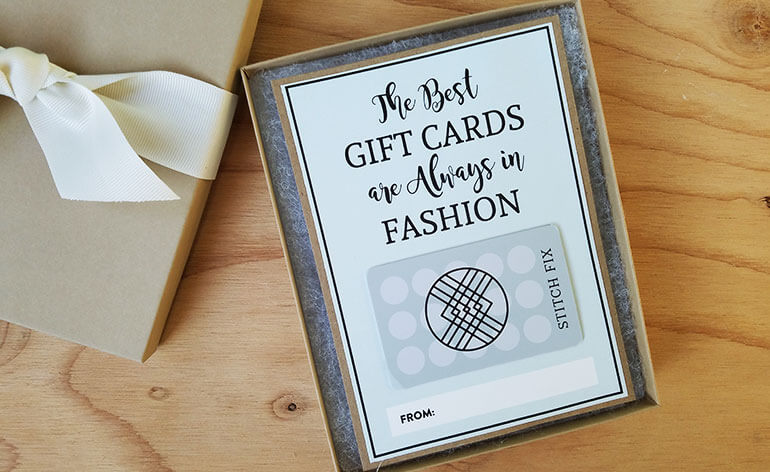 What is Stitch Fix?
Stitch Fix is a personal style service for men and women. This is how Stitch Fix works. Stylists use a "style profile" (that you fill out) to select an outfit. The entire outfit (five pieces total) is shipped to your home in one box. (How fun would that box be to open?) Then you try on the items in your Stitch Fix box, keep the ones you want and return the rest. Shipping is free both ways.
The basic cost is $20 for the styling fee which will be applied to your purchase if you decide to keep anything in the box. If you keep all of the items (jackpot!), then you will be credited both the $20 styling fee AND you will get a 25% discount off of the total purchase. Stitch Fix is a great service for busy men and women who want to stay current in their look, but do not have time to shop or put together completely new outfits–which, let's be honest–takes a lot of time.
How often do you walk into a store and come back out with a shirt, pants, shoes and accessories that all fit and all look great together? Never? Same for me. Most often, I buy clothes at the same stores I shop for groceries. Convenient? Yes. Stylish? Not always.
Why Stitch Fix Gift Cards?
I am loving Stitch Fix gift cards because we are increasingly looking for ways to give friends and family members gifts that have more meaning or can be used to create memories. (We call them experiential gifts.) Stitch Fix gift cards are experiential in a number of ways.
The recipient gets to fill out a style profile, work with a stylist, have clothes delivered to his or her door and keep the desired items. This is a completely new shopping experience for most people and I think it would also be a memorable one. With repeated use, a Stitch Fix gift card recipient could adopt a more stylish look which studies have shown can increase a person's self-confidence. And lastly, if I received a regularly wardrobe boost, I would start to develop my own sense of style in the process–learning what looks good on me, how to put an outfit together, what to expect in trends and so forth. In other words, a Stitch Fix gift card could turn into much more than a single holiday present.
How to Make Stitch Fix Gift Card Holders
Now let's get to the fun part!!! If you buy a Stitch Fix gift card directly from the Stitch Fix website, it will be delivered in an adorable Stitch Fix gift card holder, but if you buy a gift card from the grocery store, then it will look like the picture shown below. Although you can tuck that gift card into a greeting card, I want to show you a couple of other fun ways to deliver at Stitch Fix gift card. But first, you need a gift card.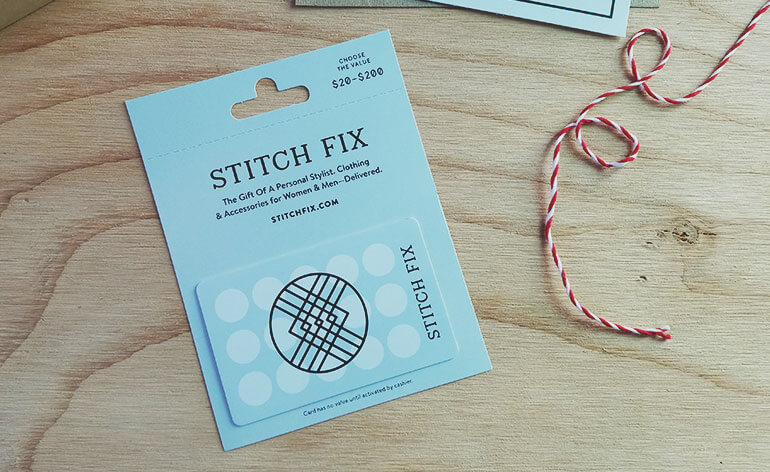 Step 1: Buy a Stitch Fix Gift Card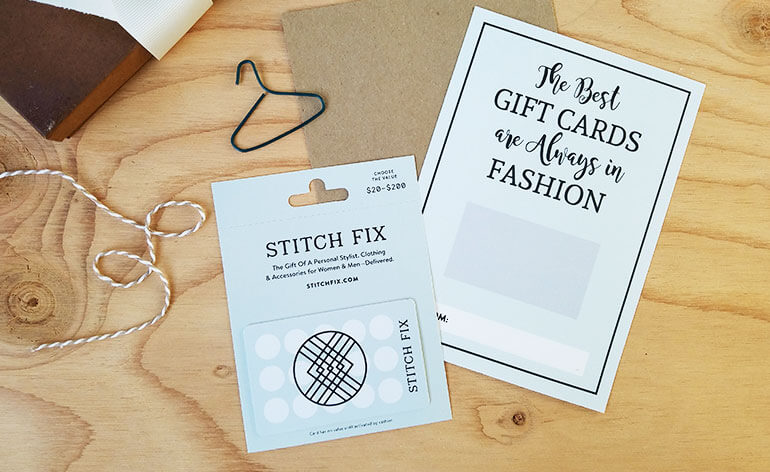 Starting this month, Stitch Fix gift cards will be sold at various grocery stores as part of the in-store Gift Card Mall. In particular, you can find Stitch Fix gift cards in select Kroger divisions and Giant Eagle. You can also order Stitch Fix Gift Cards online at the following stores:
If you order a gift card online, remember that some of the links above are to merchants selling digital gift cards as well as plastic. So if you want a plastic gift card mailed to your house or to the recipient, make sure you select "Physical" when ordering the gift card. (Of course, Stitch Fix egift cards also make great gifts. They are easy to send, shipping is free and you can schedule delivery for a day in the future.)
Step 2: Download Printable Gift Card Holder
Just like Stitch Fix, you have choices! There are two printable gift card holders to choose from. The first is a blue holder that nicely matches the Stitch Fix gift card. The second option has two pages because it comes with a white version that you can print on any color paper you like along with a second piece of paper that can be used to layer the cards. Take a look.
Download the BLUE: The Best Gift Cards are Always in FASHION
Download the LAYERS: The Best Gift Cards are Always in FASHION
Step 3: Cut, Glue and Get Crafty (if you want)
With the holidays around the corner, the key word to staying warm and staying in style is "layering." The same is true for gift card printables. Cut the printable holder out at the marks shown, layer the printable with the background paper or use a paper of your own. I printed the white printable onto kraft paper for another variation. Here are just three of the variations I made.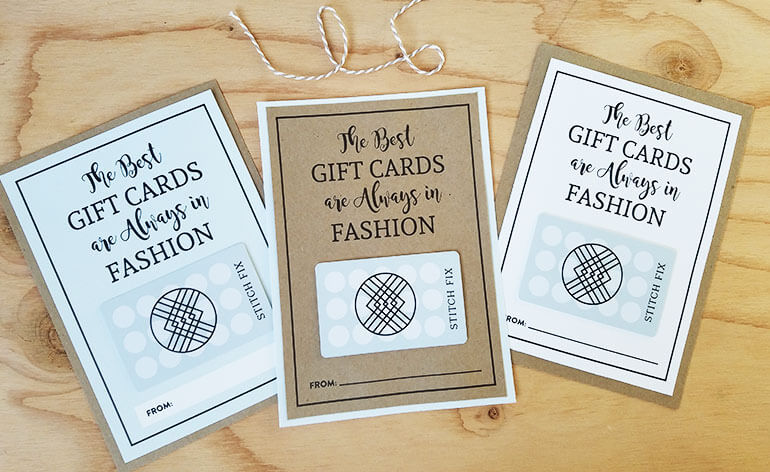 The basic printable measures 5 by 7 inches, so it will fit nicely into a standard greeting card envelope. If you decide to add layers, then you will probably have to trim the top paper down. Here is what it looks like, trimmed smaller to fit the standard 5 by 7.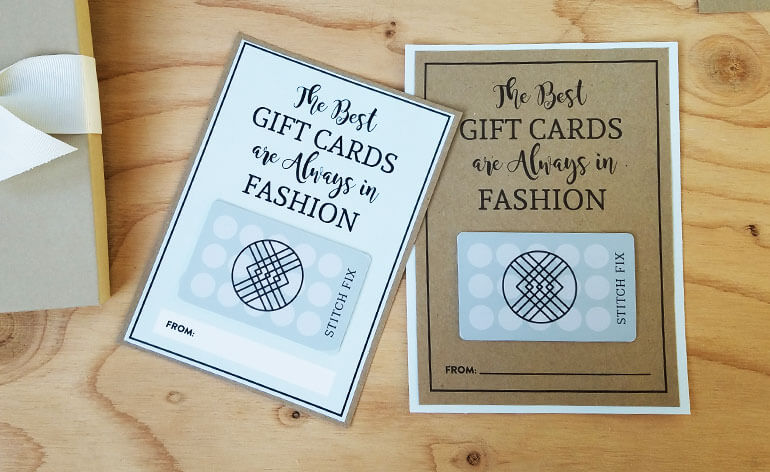 Step 4: Wrap it Up
I like the simplicity of craft paper boxes and bows. After cutting out the free printable gift card holder, I added the gift card, and placed it into this cute box. Close the box, tie the bow and you're done! (With option one!)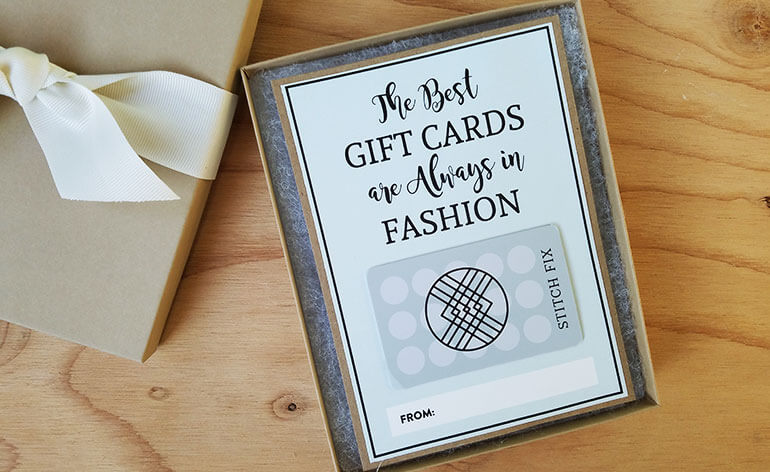 Here's Another Idea
Instead of using the free printable, I have another "go to" gift idea for clothing store gift cards. I like to hang gift cards by tiny little hangers.
Step 1: Make a Tiny Hanger
All you have to do to make a little hanger is open up a paper clip and give it a few twists. I think you can see what I did in the images below. Open the paperclip, turning the longest side into the bottom of the hanger.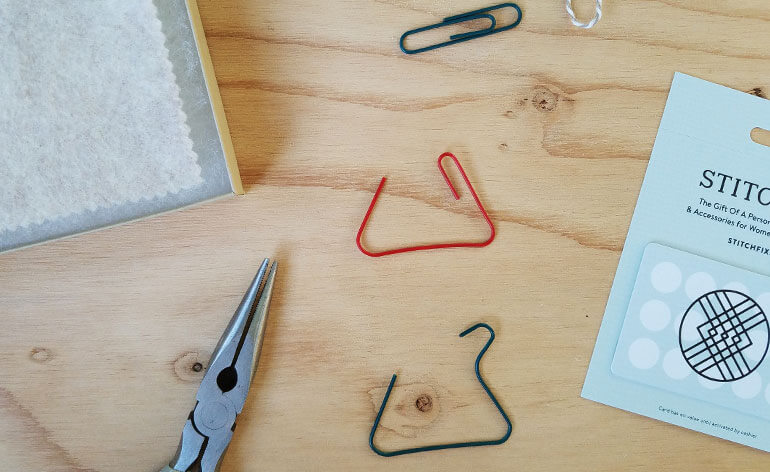 Open the small loop and bend it into more of a curve. I used a pair of pliers for help. See more detailed instructions for making tiny hangers in this other holiday printable for ugly sweaters.
Step 2: Hang the Gift Card
Once you have your hanger, all you need to do is tie the gift card to it. I removed the top piece of the grocery store gift card backer because I did not want the "choose the value" words to show. With that piece removed, you will need a hole punch to put a hole at the top of the gift card backer.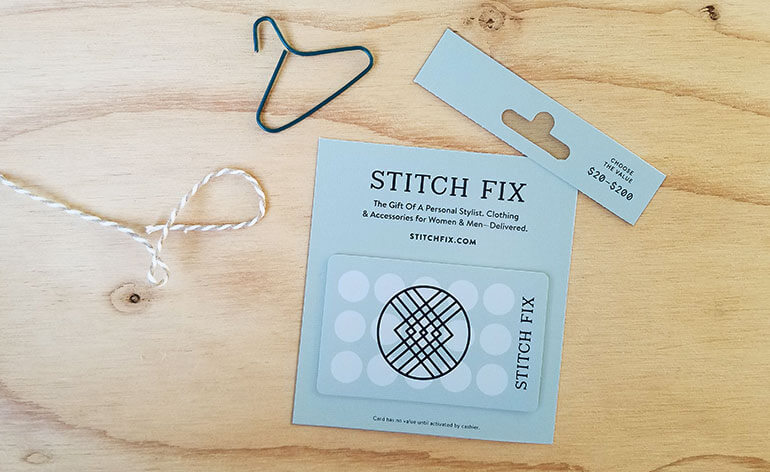 Step 3: Wrap it Up!
Tie the gift card to the hanger and "hang" it in the gift box. (I laid a piece of felt into the gift box first.)
Isn't this just the cutest gift card presentation? I love it and I especially love it for fashion-related gift cards.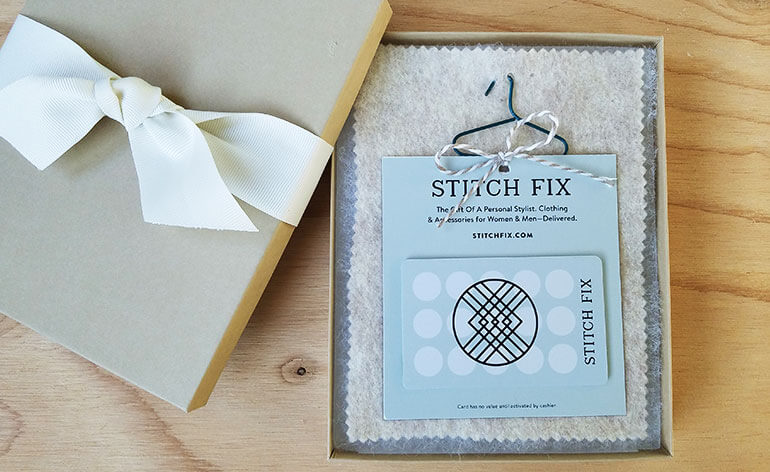 If you want to make the Stitch Fix gift card fun and festive but do not consider yourself a crafter, then pick up a pair of socks or a cute holiday scarf and tuck the gift card inside. This will give the recipient something to wear now and a fun Stitch Fix box to enjoy later!
Get Inspired
If you like turning gift cards into fun gifts, then check out the other ideas on the free printable gift card holders page or follow Gift Card Girlfriend on Pinterest.
If you use this printable, send me a link to your page in the comments below or contact me on Twitter (@GCGirlfriend). I want to see what you can come up with.
Happy Gift Carding!
~Shelley Hunter, Gift Card Girlfriend