Don't let thieves ruin your wedding. 8 Ways to stop wedding crashers from stealing gift cards at the reception.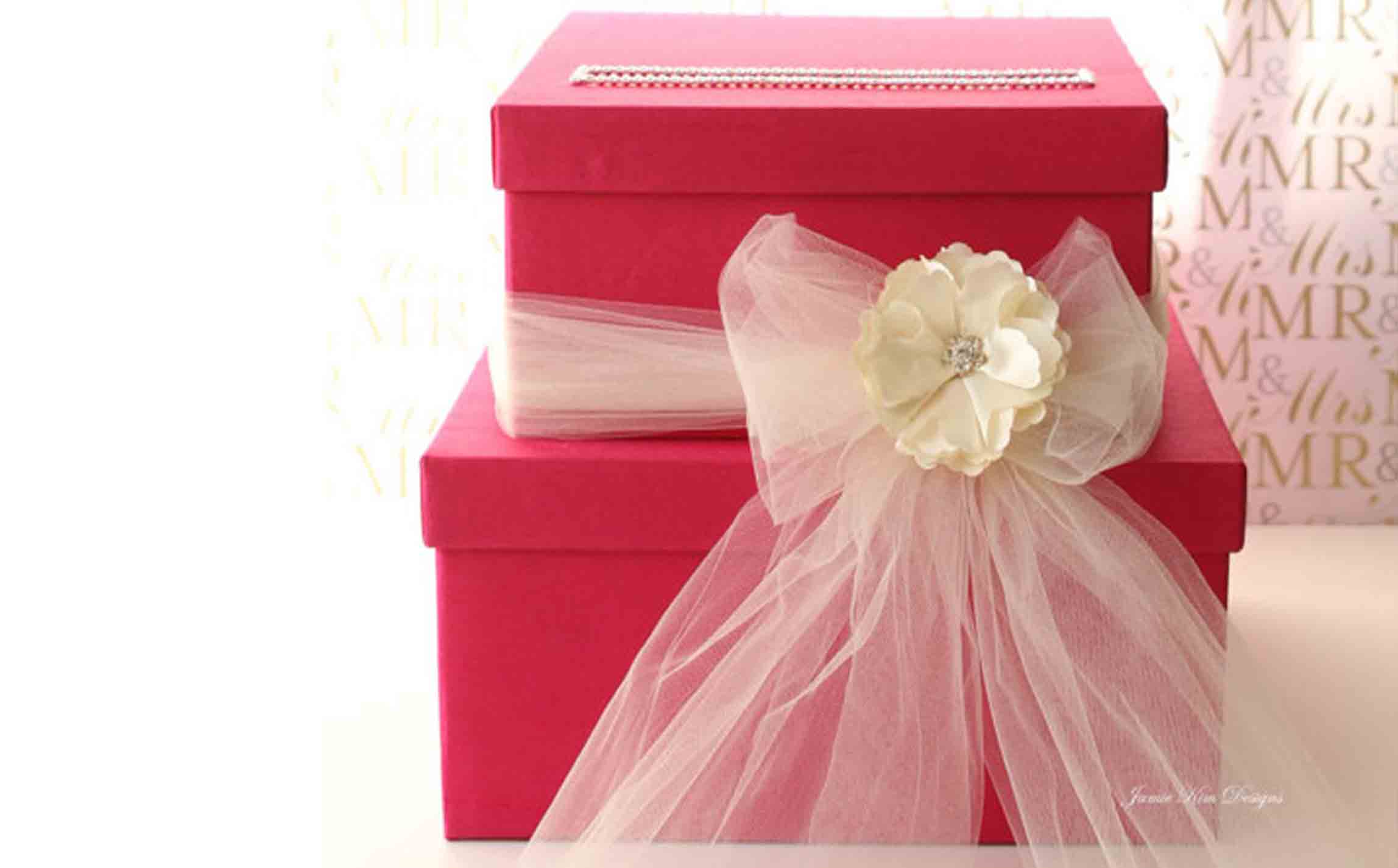 Image credit: Jamie Kim Designs
Gift cards are the most popular item on wish lists from holidays to birthdays and beyond. Gift registries are no exception. Savvy brides and grooms know to put a gift card holder on their gift table to make it easier for guests to know where gift cards are being collected. (Follow Gift Card Girlfriend on Pinterest for more ideas.)
Beware of Theft
Besides giving guests a place to put their gift cards, a large and obvious gift card display can also be a deterrent to gift card theft. I recently saw a story in the news about wedding crashers who stole the bride and groom's gift cards from their reception. Though the couple had set up a box to collect gift cards, it was only about the size of a shoebox and was left unattended while the wedding party partied. So the uninvited guest walked in, tucked the gift card box under his arm, and walked back out. Had the gift card holder been the size of a birdcage, mailbox, or wire heart frame, it would have been more difficult to swipe.
How to Deter Wedding Gift Card Theft
The key to preventing gift cards from being stolen at the wedding reception is to minimize public access, keep a watchful eye over the gift cards and remove the temptation to steal as soon as possible. Another way to stop wedding gift card theft is to simply deliver the gift card to the newlyweds before or after the party or deliver an electronic gift card instead of a physical one. Either way, wedding crashers won't even have access to the gift so you won't have to worry about them. Below are eight ways to prevent your wedding gift cards from being stolen:
1. Make the gift card display big and visible.
In addition to making it easier for guests to know where to put their gift cards, a large receptacle would be difficult to swipe without being noticed. Think bird cage, not shoebox.
2. Allow gift cards to go in, not out.
Add a level of security to the gift card box such as locking the bird cage door or cutting an envelope-sized slot into a box. This way gift cards can be dropped in easily but cannot be removed without considerably more effort.
3. Assign a gift table attendant.
At a recent wedding I attended, the couple hired a responsible family friend to stand guard at the gift table. She greeted guests, organized the presents and kept her eyes on the goods.
4. Empty the gift box periodically.
When the gift cards stack up, have the gift table attendant move the cards to a less public place such as the restaurant's safe deposit box, a locked room or the trunk of a locked car in a secure area.
5. Remove the gift card display when the party is underway.
Once all the guests have arrived and the presents are all on the table, discreetly box everything up and move it to a secure area.
6. Keep the gift table away from the door.
Rather than collecting gifts near the wedding reception entrance, move the gift table away from the door, making it more difficult for an uninvited guest to swipe gifts unnoticed. If walking to the gift table is inconvenient for all guests, have runners collect gifts and deliver them as needed.
7. Send gifts ahead of time.
If you're worried about having your gift stolen at the reception, then deliver it before or after the party instead. Send it in the mail with tracking and insurance just to be sure the gift arrives safely or the value can be recovered if something happens in transit.
8. Send a digital gift card.
To save on delivery and to avoid mail theft as well, send the happy couple a digital gift card. Shipping is free, delivery can oftentimes be scheduled and the gift card is easy to recover if it gets lost. Plus you can send an egift card to either the bride or groom's email address, a smartphone or a social media page. With egift cards, delivery is easy and security is tight.
Whether you're worried about having gift cards stolen or not, putting a gift card holder on the gift table will help guests know where to put the cards when they arrive at the reception. Having a nice display also ensures the cards won't get misplaced amid the boxes of place settings, goblets, and toasters other guests purchased from the registry. Just be sure to take a few extra precautions so uninvited guests aren't tempted to make off with more than a free meal and a party favor.
If you have other suggestions on stopping gift cards from being stolen at a wedding, let me know in the comments below or connect with @GCGirlfriend on Twitter.
Happy Gift Carding!
~Shelley Hunter, Gift Card Girlfriend