Great gift ideas for summer birthdays, including the best gift cards to buy, creative ways to deliver them and fun ways to celebrate the summer months.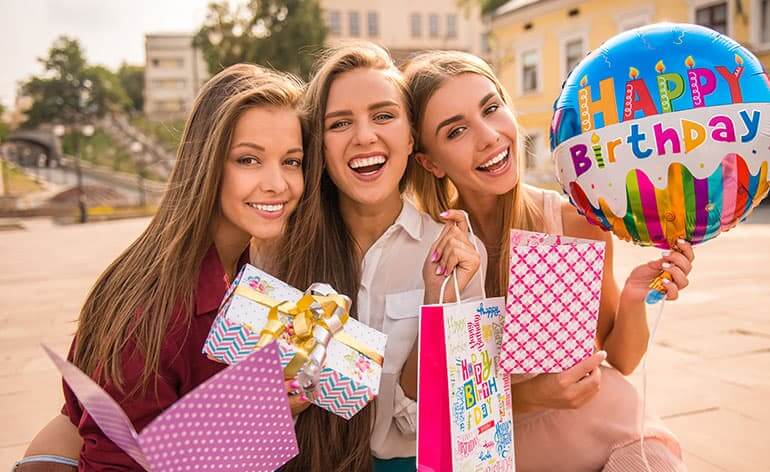 My son has a summer birthday. He loves that he never has to go to school on his birthday, but he never gets to have a class birthday celebration either. He loves that the sun is always shining on his birthday and that his parties often involve water activities, but twice he has been away at scout camp on his birthday which is more work than fun. So there are pluses and minuses for being born during the summer months.
One thing I have noticed over the years is that the gifts my summer birthday boy receives are totally different from the gifts my other children receive. Ally and Matthew, born during the school year, receive new school clothes, shoes, jackets, and sports stuff. Michael, on the other hand, often receives beach towels, squirt guns, pool toys, and swimsuits. While these are nice gifts, they are less personal, and I am guilty of buying similar presents myself. (I don't want to buy new tennis shoes or clothes that may be too small by the time school starts.)
With summer coming up (can't wait!), I wanted to create a list of gift cards that make great gifts for people with summer birthdays. Unlike tennis shoes and t-shirts, these gifts will still be the perfect size, even if you wait a couple of months to use them.
10 Best Gift Cards for Summer Birthdays
Summer birthdays are the best, aren't they? Cookouts, pool parties, beach gatherings, and bonfires. Even better is getting (or giving) a gift card you can use to quell the summer heat. Take a look at these top-selling summer birthday gift cards, along with some creative gift-giving suggestions to help someone special celebrate.
1. Happy Dining Gift Card or Happy Eats Gift Card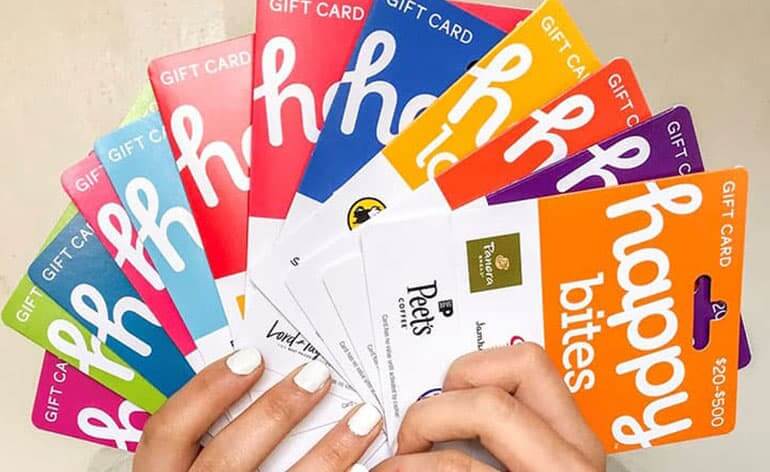 When it's too hot to cook, a Happy Dining gift card or Happy Eats gift card can bring delicious, air-conditioned relief. Celebrate with summer beverages and dinner prepared by someone else.
Here are some other Happy Card gift cards to consider as well.
And NEW in 2021, is the Happy Birthday gift card! Obviously, it's perfect! You can learn more about it here: Meet the NEW Happy Birthday Gift Cards
2. Target Gift Card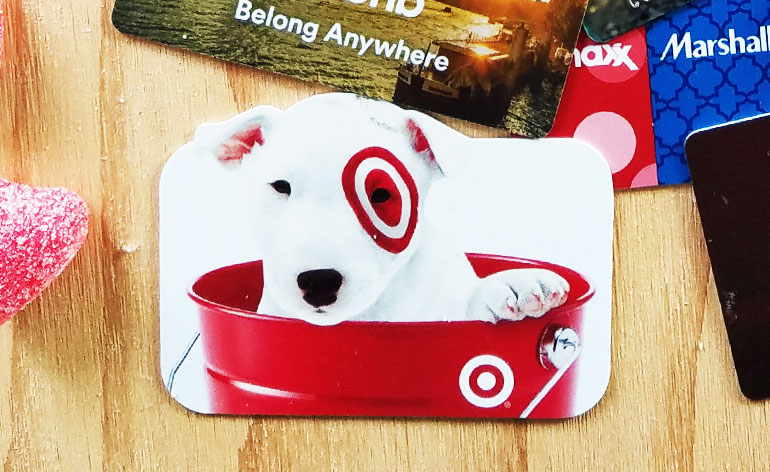 Did the birthday girl outgrow all of last year's short sets? Summer clothes are always appreciated — but buying the right size and style can be tricky. I mean, not everyone loves the short-alls look that's everywhere this year. You can't go wrong with a Target gift card for cute clothes, summer accessories, or patio goods to party outdoors all season long.
3. Southwest Airlines Gift Card (or another travel gift card)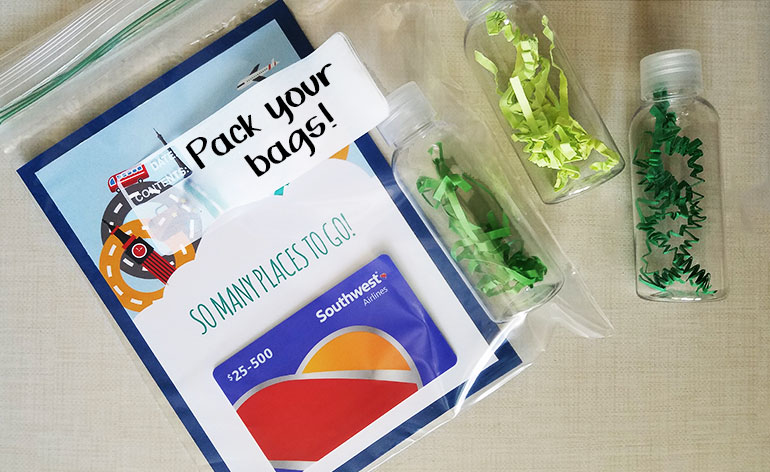 If you know the guest of honor has a vacation planned, a Southwest Airlines gift card might be one of the best summer birthday gifts. Although Southwest is a popular airline that travels to many warm-weather destinations, it's safer to ask around and see what frequent flyer program the recipient belongs to. You can even consider transferring your own miles — or other credit card rewards — to the recipient account to supplement your gift card to help your gift go even further.
Here are some other travel gift cards to consider and a link to the gift card printable shown.
4. Spafinder.com Gift Card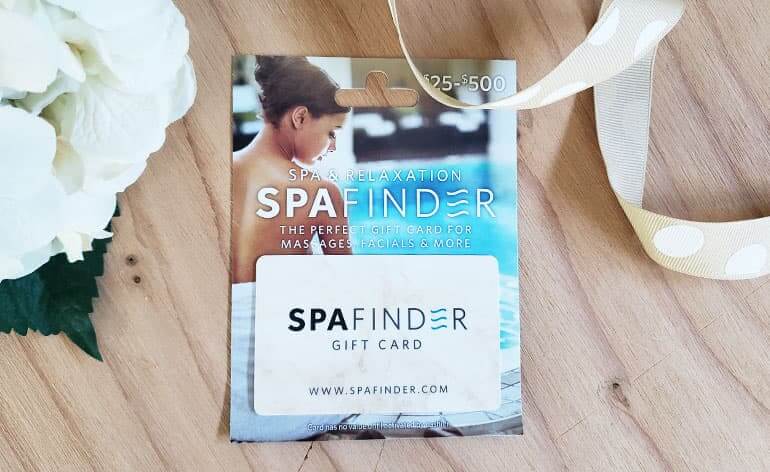 Whether the recipient is taking a vacation or opting for a staycation instead this year — maybe because he or she was hit with a bad tax bill — a Spafinder.com gift card can be used for spa treatments across the world. Who wouldn't want to kick off summer with a nice mani/pedi?
5. Home Depot or Lowe's Gift Card
Many people take the summer to tackle home renovation projects, spruce up their yard, or perhaps install a home security system to remotely monitor their home while they're away. A Home Depot gift card or Lowe's gift card makes any of these endeavors easier.
6. Best Buy Gift Card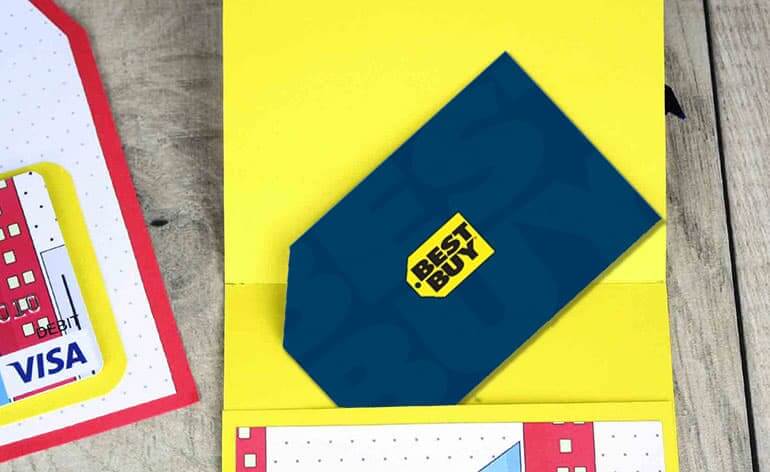 Bluetooth speakers for the yard can make any summer celebration special. Teens, tweens, and grown-ups alike are all sure to appreciate high-tech summer birthday gifts. If the recipient is a video game enthusiast, consider a game for the Xbox, PlayStation, or Nintendo Switch. Not sure which game system he or she has? A Best Buy gift card will fit any taste — with no danger of duplicate gifts! This is great because video games can't be returned after they're bought. Don't let the recipient get stuck with a game they won't play – give a gift card instead.
7. Jamba Gift Card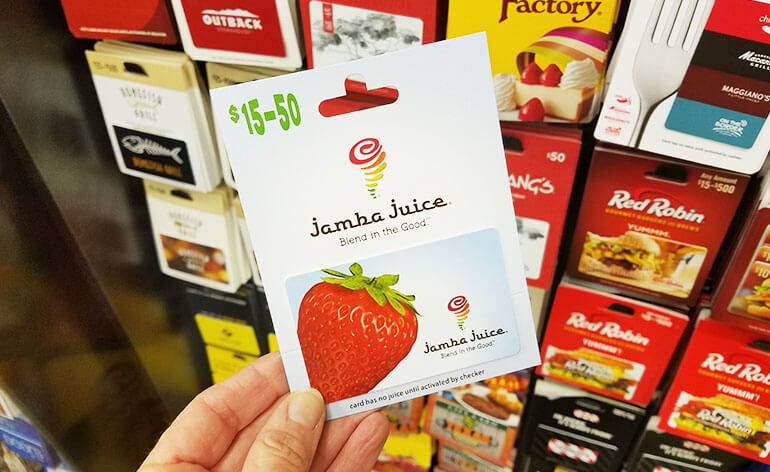 If your recipient is health-conscious, consider a Jamba gift card — or even a gift card to a local smoothie shop. It's hard to think of a cooler summer birthday gift.
8. Cold Stone Creamery Gift Card
The only thing better than iced drinks and smoothies is gourmet ice cream. Cold Stone Creamery offers hand-blended ice cream. The employees stir up the mixings right in front of you, singing as they do it. Dessert and a show — it's what summer dreams are made of. Buy a Cold Stone Creamery gift card for the perfect summer treat.
9. Spotify, Netflix, or Hulu Gift Card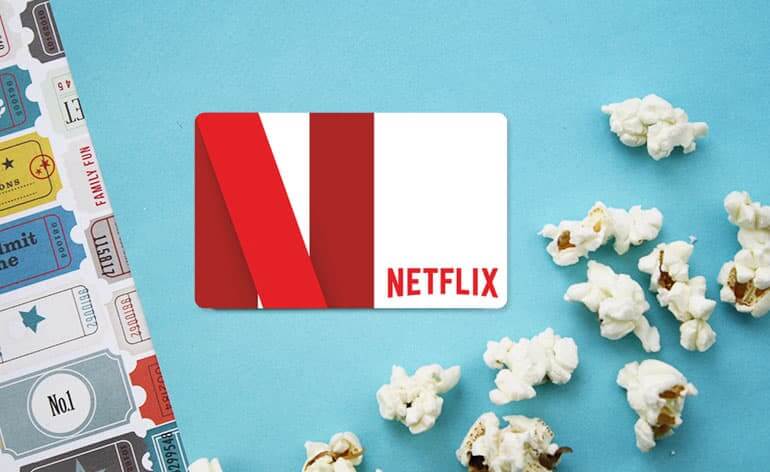 Much as us moms would rather our kids be off their screens when school is out, realistically, there will be plenty of binge-watching over the summer. Get birthday teenagers a Netflix gift card or Hulu gift card so they can catch up on their favorite shows. Get a Spotify gift card for teens who can't wait to put together that summer playlist.
10. Custom Visa Gift Card or Mastercard Gift Card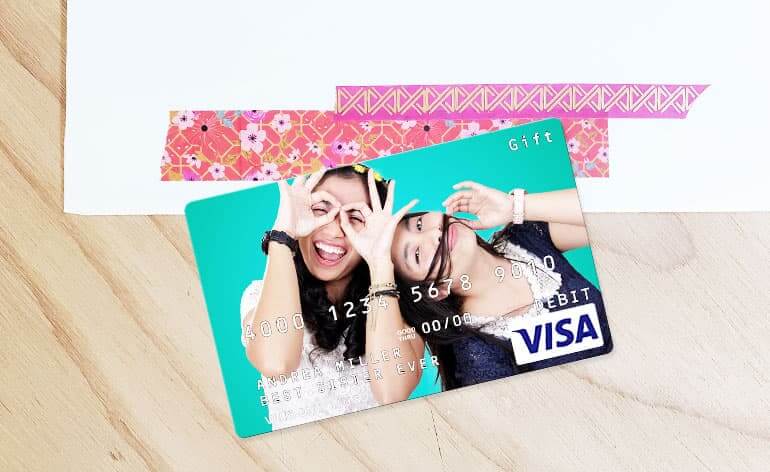 When you don't know what to get for a summer birthday gift, a custom Visa gift card or custom Mastercard gift card is perfect. Get creative and go for the laughs by uploading a photo of the recipient in their 1950s swimsuit or customize the card with a favorite beach scene. At home or on vacation, your recipient can buy whatever he or she desires.
If you're out of ideas for summer birthday gifts, keep in mind that gift cards are easy, fun, and flexible. They are always the right size, never go out of style, and if the recipient is going on vacation, these gifts are also easy to pack.
Brighten someone's day with one of these carefully chosen summer birthday gift cards — or keep a stack in your house so you always have one ready for all those summer birthdays.
~ Gwen
Back to Gift Card Girlfriend
To be honest, sitting here writing this blog post is making me want to grab a beach towel and head for the lake. Maybe summer birthday babies have the best birthdays after all! People are more relaxed, the days are longer, and there is always something fun to do outside. So here's a quick suggestion. To make summer birthday gifts more festive, tuck one of the gift cards above into a new re-usable cup that the recipient can drink from throughout the summer. Quick and easy–just like summer.
If you need more gift card help or have other questions about gift cards, let me know in the comments below or reach out to me on Twitter (@GCGirlfriend) or Instagram (@Gift.Card.Girlfriend).
Happy Gift Carding!
~Shelley Hunter, Gift Card Girlfriend