Enjoy a no-stress holiday with gifts that won't be delayed by supply chain issues. The best gifts this year may be digital or in your own backyard.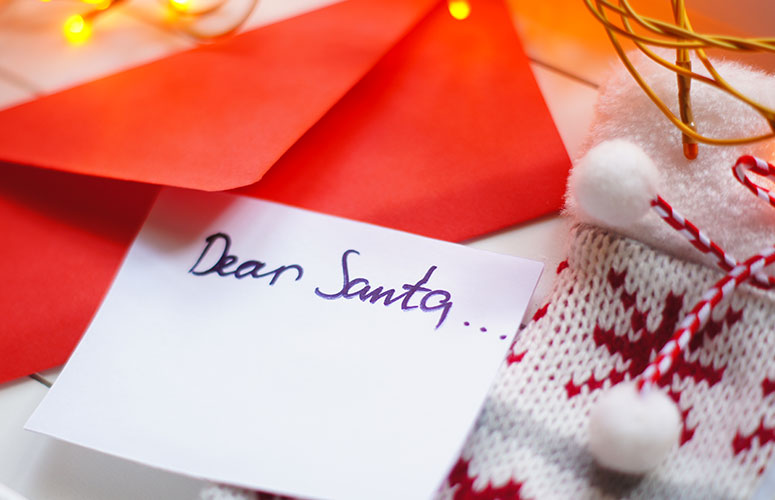 Supply Chain Got You Down…or a little confused?
You can't listen to the news these days without hearing more than you ever wanted to know about supply chain delays that might affect your gift-giving this holiday season. I'll leave answers to the where, why and how the heck this happened questions to the experts and simply sum it up by saying that an unpredictable amount of consumer products (and other items) aren't going to make it to store shelves in time for you to buy some of the gifts on your Santa Wish Lists.
No one is on the naughty list, it's just that the elves in the workshop couldn't keep up with production, and many of the toys they did finish are sitting in Santa's Sleigh with only a skeleton crew of reindeer available to fly.
But we can't let that ruin Christmas!
Below are several holiday gifts you can give that won't be subject to supply chain issues:
1. Send eGift Cards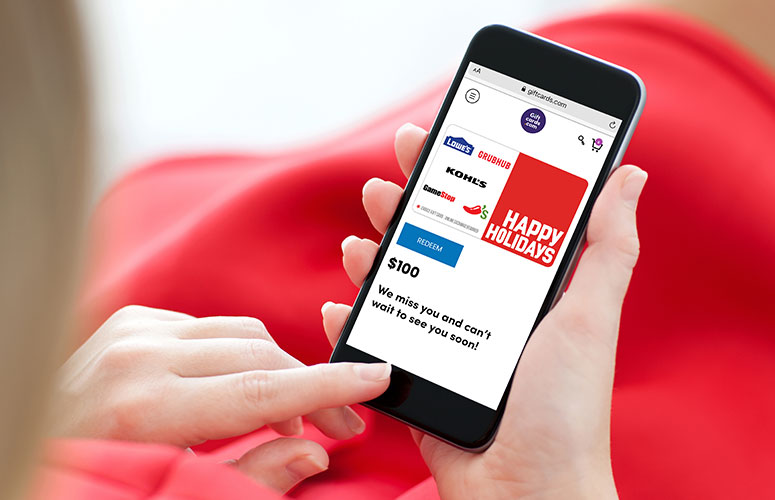 I have long been a fan of giving people "experiences" instead of products. For the 2021 holiday season, when the hottest toys, the latest video games and those new light-up trikes aren't going to be available, I suggest sending egift cards instead. But hear me out.
Yes, they're convenient. eGift cards can be sent via email (and sometimes text) from 80% of the stores and restaurants in the country, so there is sure to be one that works for your recipient. Since delivery is digital, you don't have to worry about shipping issues or pay for expedited shipping. You can even schedule egift card delivery for a specific date.
Yes, they're personal. You can personalize egifts with photos, videos, custom messages and more. I just got done reviewing the personalization features of nearly 200 egift card programs from top stores and restaurants and it's pretty easy to turn a digital gift card into a fun gift to open Christmas morning.
Yes, they're a shipping hack. Sending placeholder gifts is a great way to buy time. While the gift your kiddo wants may, in fact, be sitting on the port as I write this post, the additional month+ may be just enough time for the pop-its and puppets to make it to stores near you. Little shoppers can head to the store or "buy now" when the day comes.
But the REAL reason I like eGift Cards for the holidays is because you can truly give people experiences.
Whether it's an egift card to GameStop for a video game download Christmas morning or an egift card to Athleta for those fleece-lined leggings you wanted, I argue that any gift card gives you the ability to select exactly what you want–and that is a joyful experience.
But you can go a step further with your egifting this year and send egift cards for travel, food delivery, music, apps, streaming services and more.
The gift may arrive quickly, but using it doesn't have to be a blur. In a couple of clicks, you can put something on the calendar that will be memorable all year long.
2. Give a Gift Card Bundle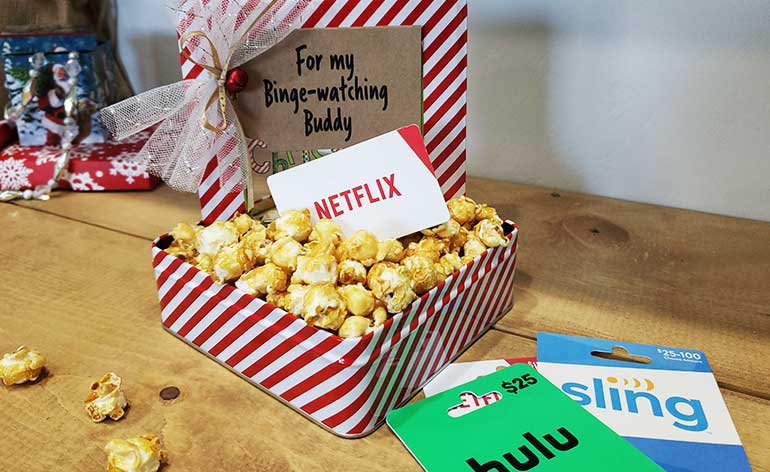 One trip to the grocery store will confirm that physical gift cards are on store shelves and ready for the taking. I love to pair physical gift cards with small items that turn gift cards into thoughtful gifts. For example, I'll tuck a movie theater gift card into a bucket of movie snacks or a bowling alley gift card into a pair of crazy socks. I like shoe store gift cards with a simple pedicure set. I love giving teenagers the gifts they want (gas and food) in the form of gift cards tucked into the garbage snacks we hate to buy but know they love.
Here are a few more ideas. Deliver a Treat Yourself gift card with a scented candle and a bath bomb. Deliver dinner and dessert with a Grubhub gift card, a Bundt pan and the ingredients for Mom's famous chocolate cake. Or give an electronics gift card with a spare phone charger or a t-shirt from "The Office."
I could go on, but this is the point I'm trying to make. Gift cards are available. Small accessory items are also available. Bundled together, you have the perfect gift that has nothing to do with supply chain issues, ports or docks. This is my go-to gift for literally every holiday, birthday or other celebration. Supply chain what now?
3. Sign Up for a Class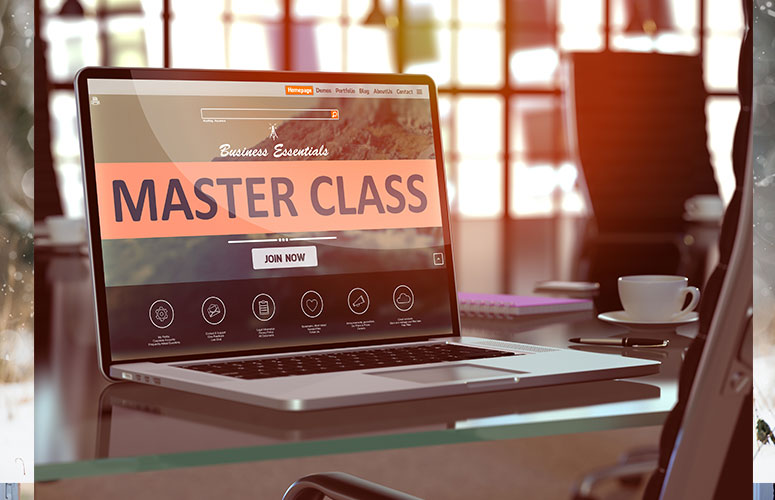 From an online masterclass taught by a famous person to the seminar on succulents taught at the local nursery, I think it's fun to learn, and people often resolve to try new things at the start of the new year. If you have ever heard mention of a secret desire to learn Spanish, learn how to roll raviolis or learn how to play pickleball, then now is your chance to turn that longing into a reality. Research options and deliver the enrollment form (or a complete registration) with something needed for the class.
A couple of years ago, my sister enrolled herself and my mom in a tap dance class at the community center and "gifted" Mom the course along with a pair of tap shoes for Christmas. They laughed every week as they went to class and practiced their moves in between. A simple class turned into months of good times.
If you're not sure which class to select, give a gift certificate instead.
4. Capture a Memory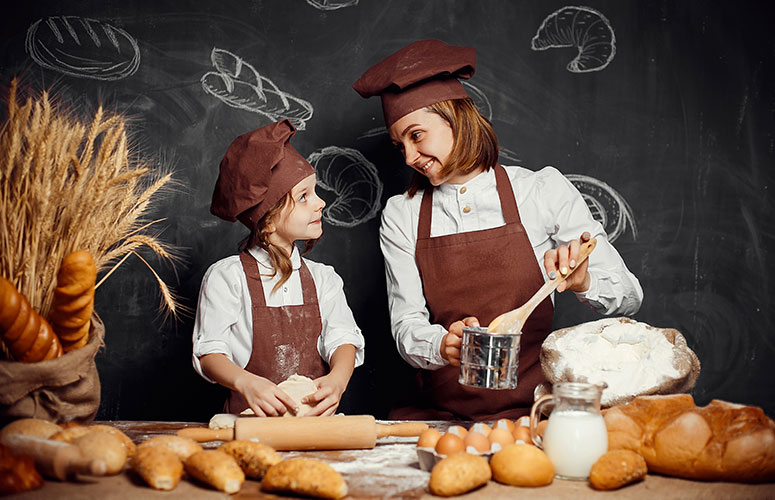 As the Grinch says, "Maybe Christmas doesn't come from a store. Maybe Christmas means a little bit more."
My former mother-in-law is an excellent cook. The problem is that most of her recipes are only written in her head. Over the years, I have taken the time to cook with her, write copious notes and learn how to cook some of her most famous meals. I will never match her culinary skills, but I try.
One of her most treasured dishes is lemon meringue pie. It's so good that people who don't like lemon meringue pie will eat hers and ask for seconds. One year I videotaped Grandma making the pie. I documented the process, asked lots of questions ("why are you adding more flour?") and filmed her dancing around the kitchen to Christmas music as she worked. Then I gave each of her kids and grandkids a copy of the recording, the recipe and a glass pie plate with, "Grandma's Famous Lemon Meringue Pie" etched in the bottom. (I did the etching with a kit from the craft store.)
I'm not always a crafter, but I do like to make gifts memorable and there are plenty of ways to do that. Does your grandma like to knit? Videotape Grandma knitting or make her give you all a virtual tutorial. Is Grandpa a master in the garden? Document how he plants pumpkins every year and deliver the instructions along with his favorite garden tool or miracle fertilizer.
Tools of any trade may be around for a long time, but the people who know how to use them might not be. Capture a memory this holiday season and deliver it with love that will last much longer than toys and trinkets ever will.
If you aren't the crafty type, try a gift like Storyworth or get a Shutterfly gift card.
5. Hit the Road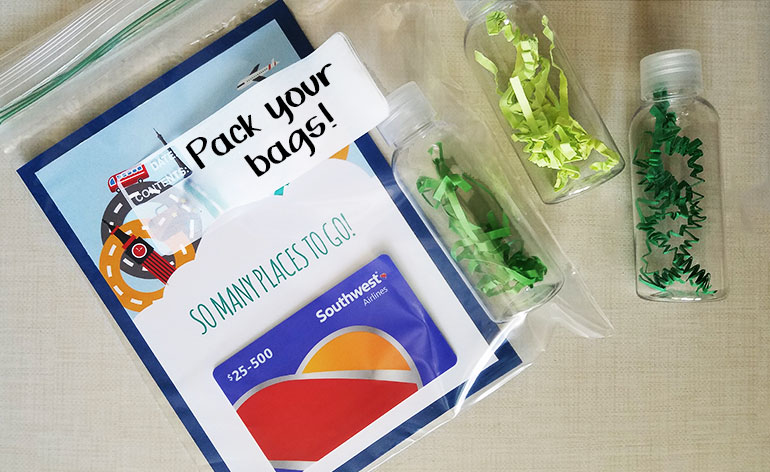 Stuff might be stuck at the docks this year, but you don't have to be.
There are many families who tell the kids, "Gifts will be light this year because we are taking a family trip." If you're finding items on Santa's wish list are unlikely to be available and you don't want to explain why the tree is a little bare, then reroute and go on a holiday vacation instead. From what I hear, kids don't complain about getting fewer toys when they are dipping their toes in the water at the beach or making snowballs up in the mountains.
If you stayed in isolation last year, get in the car and visit friends and family this holiday season instead. Bring gifts if you want, but it's not necessary. Throw puzzles and board games into the trunk, bring plenty of cozy jammies and prepare to spend quality time together. Get the family band back together and call it your own "reunion tour."
6. Have Local Adventures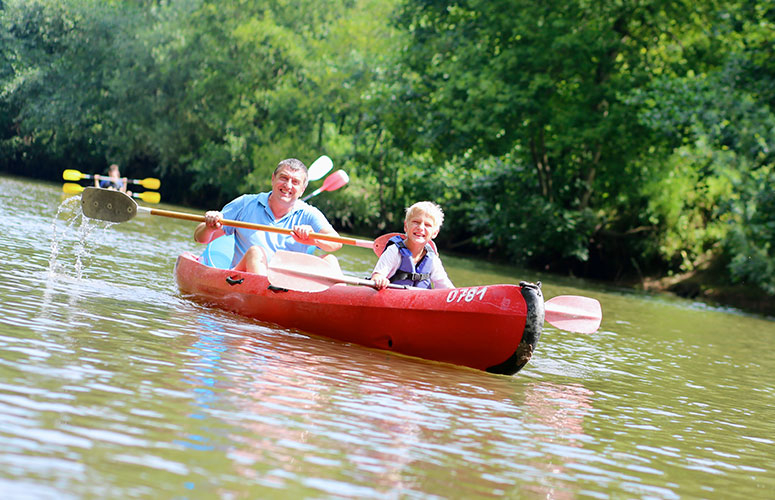 A common parenting tip is to spend more time WITH your kids and less money ON your kids. If the toys won't arrive in time and you aren't able to travel, then give the gift of local experiences. My kids were all born in the San Francisco Bay Area, but we didn't visit Alcatraz until the year before we moved out of state. I'm not saying we didn't do other things, but there is always more to experience in your own backyard than we generally make time for amid the hustle and bustle of daily life.
Make a scavenger hunt or give little items to go with each of the adventures. You'll need new socks for that bounce house place, a new hoodie for ice skating, travel snacks for a trip to the lake or a swimsuit for a hike to the hot springs. By focusing less on the latest and greatest toys, you should be able to find all the products you need.
7. Get Concert or Sporting Event Tickets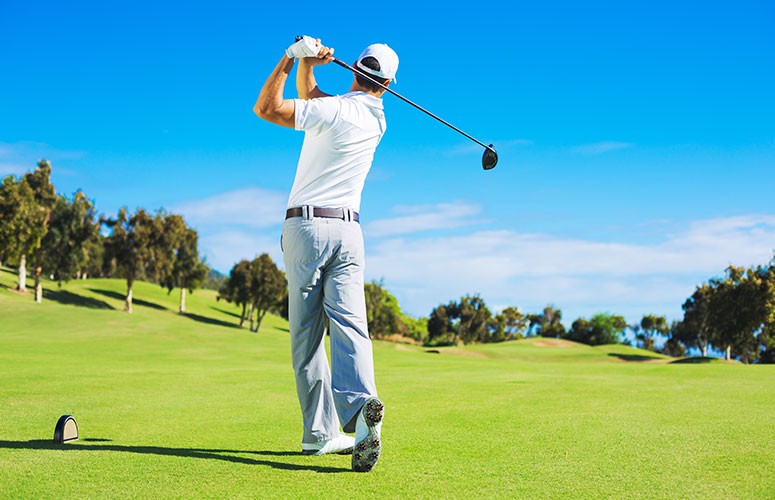 A few years ago, I gave my daughter tickets to the Taylor Swift concert. To be clear, I gave her the tickets in December. She attended the concert in July. She didn't mind waiting.
If you're worried about supply chain delays affecting your Christmas, then look for upcoming sporting events and concerts your friends and family members will be excited to see. In addition to big name concerts and professional sports, you might also explore legendary locations like the Grand Ole Opry, Wrigley Field or The Fillmore in San Francisco. Or book a tee time at that golf course that's a splurge.
I promise, these are the gifts people are more likely to remember anyway.
8. Shop American Made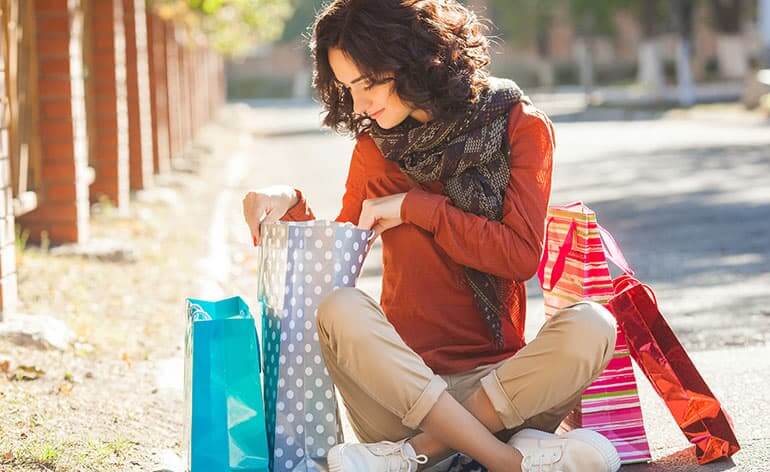 Shipping anywhere in the country is likely to be delayed, but if the gifts on your list are made in the U.S.A., then you can eliminate supply chain issues that stem from containers stuck offshore. Look for clothing, jewelry and other accessories in local boutiques and local artisan websites for ideas.
Visa gift cards can be used almost anywhere, and that includes local shops.
9. Give Live Gifts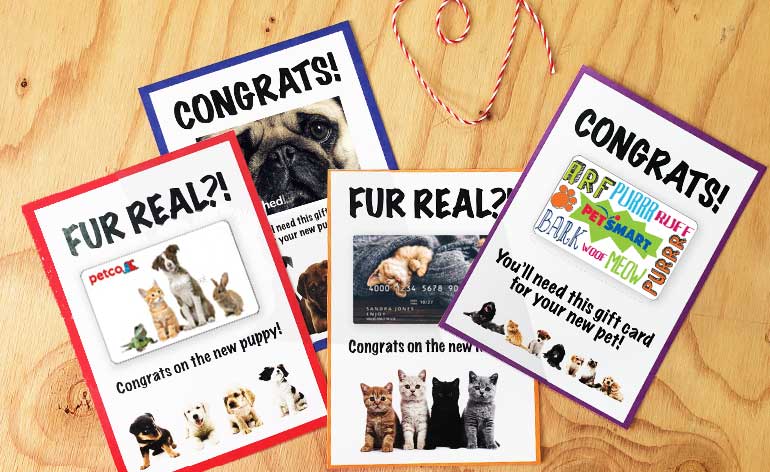 I'm not suggesting you buy a puppy to avoid supply chain delays, but if you're planning to add to your household anyway, then this is a gift problem that solves itself. If a pet is too much, then give plants instead. Visit a local nursery to get advice on the best plants to give in your area. I think it would be fun to give a money tree (Pachira aquatica), a friendship plant (Pilea involucrate) or a jade plant (Crassula ovata) for good luck.
A couple of years ago, I gave each of my neighbors a small friendship plant for the holidays.
If you want to give someone a pet but don't want to try to wrap it (and really, you shouldn't), then check out these printable gift card holders that make it easy to give a surprise without the actual pet in a box move.
BUY HOME DEPOT GIFT CARDS or PET STORE GIFT CARDS
10. Make a Difference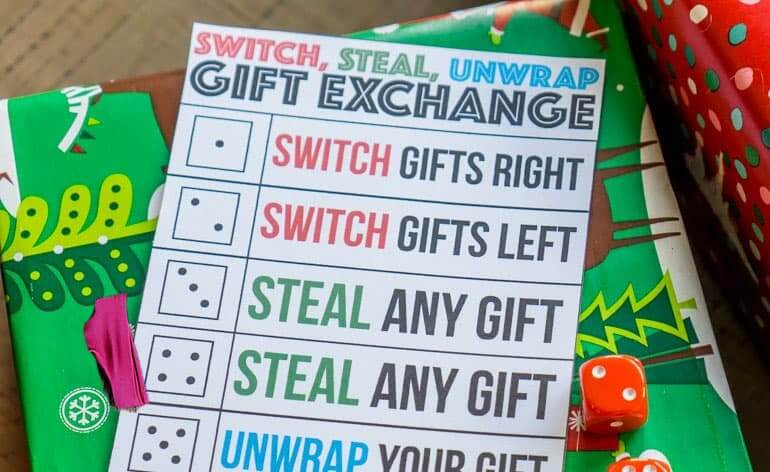 In my opinion, one of the best things about the holiday season is that there is an increase of love and charity towards one another. As people turn their hearts toward family and the things that really matter, there is less of a need to emphasize the commercial aspects of the season. So maybe this is the year you decide to do a gift exchange instead of everybody buying for everybody. Maybe this is the year you scale back and donate the money you would have spent to families in need. Maybe this is the year you buy a table that everyone can sit around instead of hundreds of little toys that will be forgotten in January.
Maybe this is the year you reevaluate and make a new tradition.
Last year, I told my kids that I don't need gifts. They are old enough to feel like they need to buy me something, but not old enough to have stable incomes. (Two are in college and one is a senior in high school.) I don't want them to worry about me in that way. So I made a request that heretofore, whenever my birthday or a holiday comes up, they should do something nice for someone else as a gift to me. I'd love to know what they do, but it isn't necessary.
Supply Chain Issues Don't have to be YOUR Issue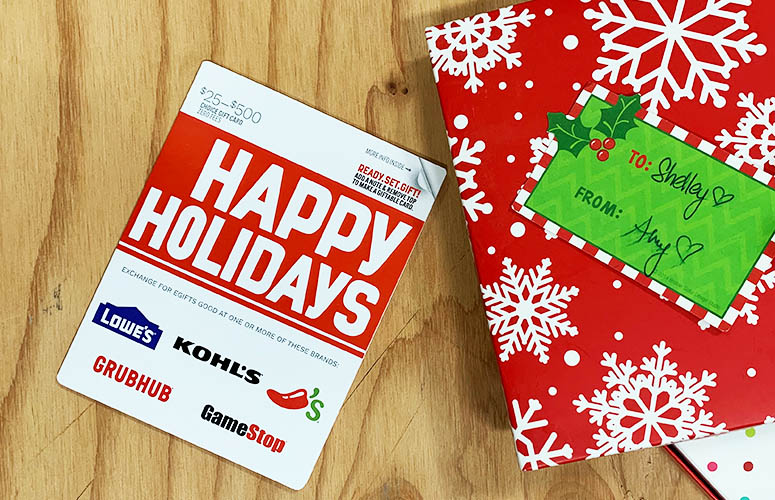 As much as we talk about supply chain delays, I don't think the gifts sitting on the docks will make or break the holiday season. If you are a parent of young kids, I understand the need to deliver everything the kids asked Santa for, but you can also tell the kids that the elves hit a snag. 50+ years ago, my mom told me that a doll I circled in the Gemco catalog couldn't make it out of the workshop. I flipped back through the pages and circled another one instead. No questions asked. No worries. And to be honest, I have no recollection of what I received instead, so there is no emotional damage either.
And if sentiment isn't enough to make you feel better about Christmas gift delays, consider the fact that once those toys and video game consoles finally make it to the store shelves, there's a pretty good chance we'll see some amazing post-Christmas sales as stores are gonna have to do something big to move the inventory we gave up on. If you happen to have gift cards to spend when those sales hit, then this may be your best year yet!
So I say relax and enjoy alternative gifts this year or at least don't let the shipping delays stress you out. That is definitely NOT what the Christmas season is supposed to be about.
What other questions do you have about the new Happy Holidays gift cards? Let me know in the comments below or reach out to me on Twitter (@GCGirlfriend) or Instagram (@Gift.Card.Girlfriend) so I can help you out.
Happy Gift Carding!
~Shelley Hunter, Gift Card Girlfriend