Move to the head of the class with this easy group gift for teacher. Comes with a free printable! Easy for parents!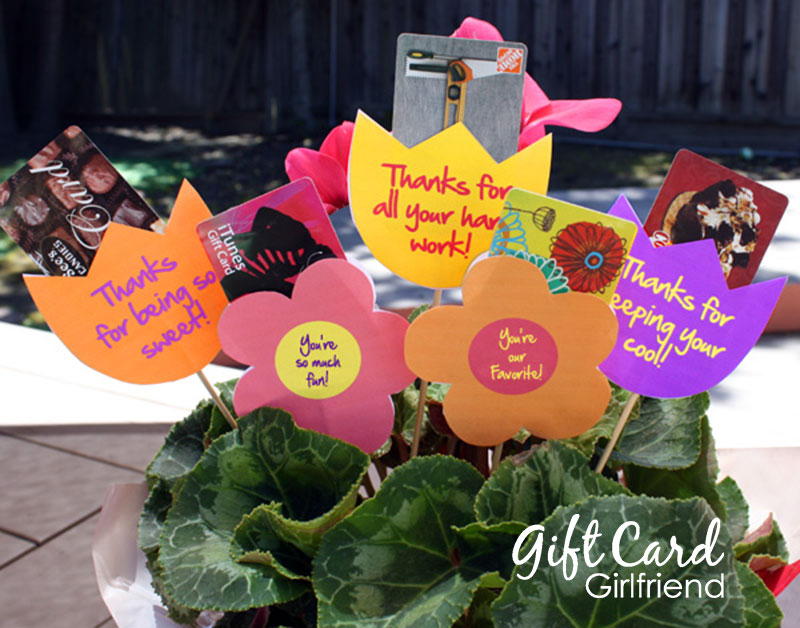 "Gifting Made Easy" by Gift Card Girlfriend
At my son's elementary school, teacher appreciation week is celebrated in the spring. In addition to this particular week, the room mom also collects money for a teacher holiday gift and for a teacher birthday gift. Although I do believe our teachers deserve as many accolades as possible, I often get overwhelmed with the sheer number of gifts I'm asked to contribute to–times three–for each of my kids. I bow down to room moms who simply handle everything by asking for one donation at the beginning of the year to cover all teacher gifts. Praise you!
Teacher Appreciation Group Gift Inspiration
I saw a teacher appreciation group gift in Family Fun magazine that inspired me. What I liked about this teacher gift is that it is a collection of gift cards (always a favorite), delivered in a plant that the teacher can take home or keep in the classroom (love good deliveries), with a sweet message added (making it personal). I liked what they did, but wanted to take the idea UP a notch in thoughtfulness and DOWN a notch in effort. Here's what I did differently:
Printable. First, I simplified the crafting of the teacher appreciation flowers by creating a downloadable set of colorful flower gift card holders. All you have to do is print, cut, and glue. (See below).
Easy Holders. Second, I taped each flower pocket to a bamboo skewer. It's a little less artistic than the wire bending recommended by Family Fun, but a lot less work.
Added Words. Lastly, I added expressions that match possible gift cards. For example, I created a flower that reads, "Thanks for beings so sweet!" that you can put with a gift card to the local candy shop.
Teacher Appreciation Gift Card Suggestions
Tell parents they can contribute gift cards of their choice (within these categories) or they can donate cash that you will use to buy the gift cards you prefer. You can always order a
predesigned teacher appreciation gift card
or create your own gift card using pictures of the students in class. The options are endless. In addition to the gift cards listed below, you'll find other suggestions on the free printable:
"Thanks for being so sweet" = gift card to candy store, dessert store, pie shop, etc.
"Thanks for all your hard work" = gift card to Home Depot, Staples, etc.
"You're so much fun" = gift card to the movies or video store.
"You're our favorite" = gift card to teacher's favorite place
"Thanks for keeping your cool" = gift card to the ice cream store or smoothie shop.
I think it turned out pretty cute! This doesn't have to be just a teacher appreciation group gift, by the way. The gift card plant or gift card tree can also be a group housewarming gift, a group wedding present, group bridal shower gift, or group gift for a new baby. That's why I also included a blank set of flowers–just in case you want to write your own expressions. You'll find this idea plus several others on my blog post entitled, "
Best Gift Card Trees and Gift Card Wreaths Ever!
."
Supplies and Instructions
Here's what you need to make this idea happen:
Potted plant
Sticks from the craft store or bamboo skewers
Glue stick and tape
Free Flower Printables
Gift cards

Store or Restaurant Gift Cards
Predesigned Teacher Appreciation Gift Card: Order here
You'll find directions on the printables, but basically all you have to do is cut out the front and back of the flowers, match the front flower to it's corresponding back, put a skewer between front and back, and glue the sides together to make little gift card holder pockets with a "stem." When dry, insert gift cards and stick skewers into the potted plant. Makes sense?
Need More Teacher Gift Ideas?
For more ideas, check out the
teacher appreciation group gift blog post
I did for the holidays. It's full of gift card trees and gift card wreaths to inspire you. Plus, you can find other teacher gift ideas when you follow
Gift Card Girlfriend on Pinterest
. You'll find everything from "Thanks a Latte" and "Helping Hands" tags to the classic pencil vase. Enjoy!
Happy Gift Carding!
~Shelley Hunter, Gift Card Girlfriend