When it comes to gifts for the ballet teacher or dance coach, this ballet gift card is on fleek!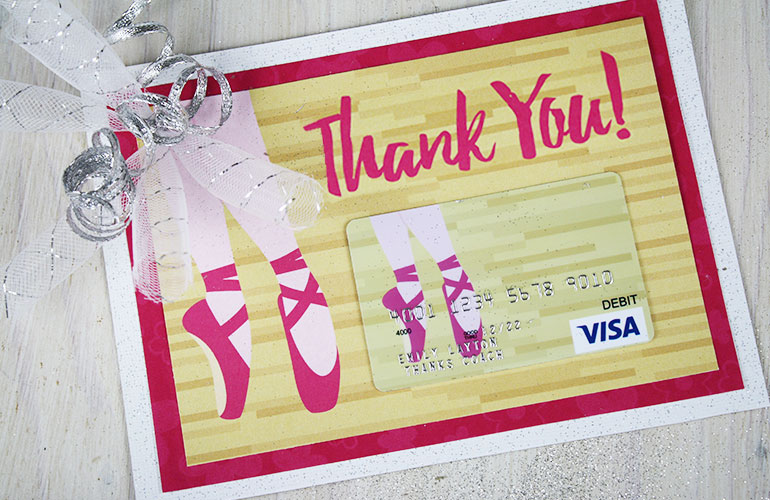 "Gifting Made Easy" by Gift Card Girlfriend
It's been a long time since we've had a dancer in our home. I took the obligatory "ballet and tap" lessons as a little girl and enrolled my daughter in the same. She liked wearing the tights and tutu, enjoyed circle time at the beginning of class and didn't mind walking toe to heel across the floor as a group. However, when the teacher asked the kids to line up and dance across the floor one at a time, she scurried to the back of the line and started searching for the exit door. Group work she could handle. Solos ended all aspirations of becoming a ballerina.
Not all children turn into wallflowers when given the chance to be center stage. If your little ballerina made it across the floor and has a ballet teacher to thank for it, then this gift card may be the perfect fit. Deliver the card as-is or take a few minutes to add some personalization and a little bling. Unlike a ballet class, the steps below are so easy that nearly anyone can do them.

Order Gift Card and Download Ballet Printable
In ballet, when a dancer moves on her tip toes, she is said to be dancing "en pointe." When something looks sharp and put together, we say it is "on point." I think the Visa® gift card that matches the printable gift card holder is both en pointe and on point. The ballerina on the card is en pointe (literally) and the larger ballerina on the printable (meant to signify the teacher) is also en pointe. A ballet-themed thank you gift that can be used to buy nearly anything you desire, is on point. You get the point. Below are the steps below to make this simple gift for a ballet teacher.
Download the Thank You Ballet Teacher Gift Card Holder
Gift Card Suggestions:
Matching Ballet Gift Card
Picture of your dancer or the teacher on a Personalized Gift Card
Music gift card like iTunes
Department store gift card like Kohl's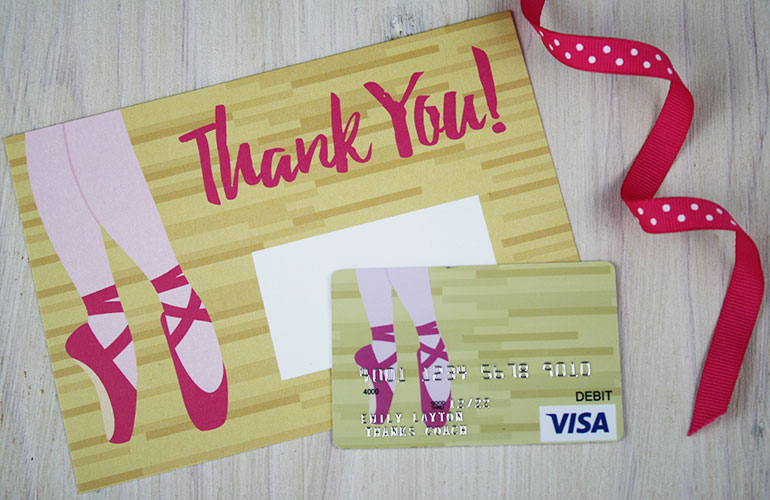 After downloading the gift card holder, print it on a color printer using "best quality" and "actual size" settings. (Do not select "shrink to fit" or any other setting that will change the size of the printed .pdf image.) White, card stock paper measuring 8-1/2 x 11 inches works best. Once printed, use the guide marks and a straight-edge paper cutter to trim the gift card holder.

Crafty Touches
The only thing needed at this point is to attach the gift card to the holder with double-sided tape or some glue dots. I couldn't resist getting a little creative so first experimented with adding some glitter to the "thank you" words.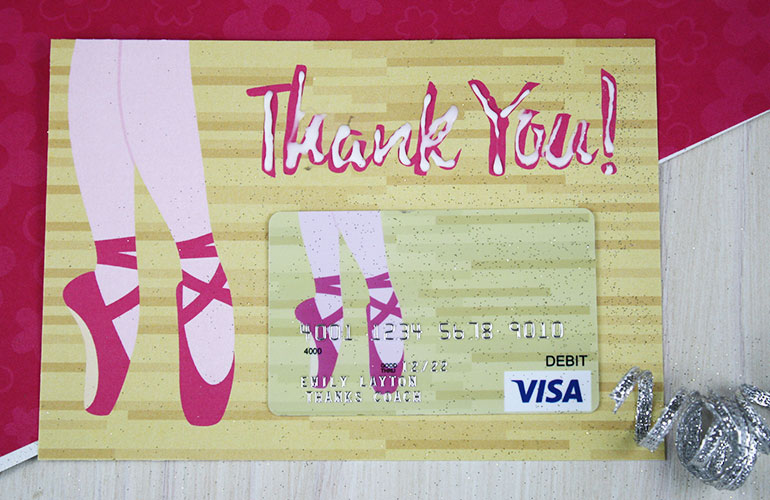 After gluing the letters, I poured glitter onto the card and rotated the card back and forth until glitter covered the glue.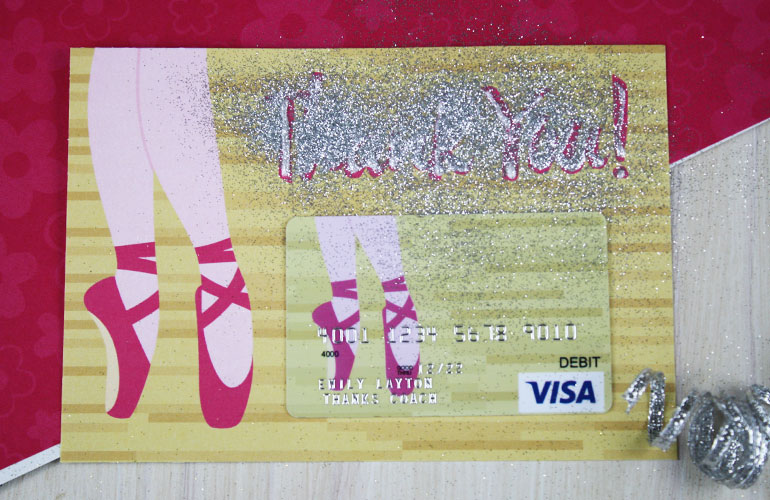 Then I dusted off the excess glitter. All done!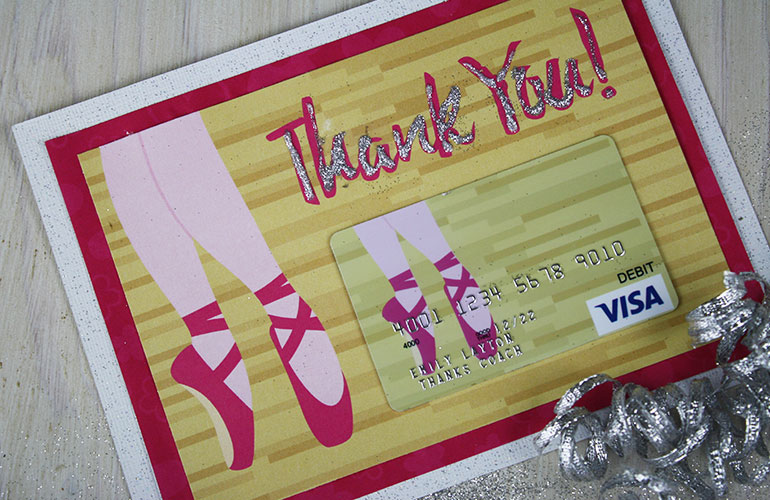 Next, I wanted to add a sparkly ribbon to the gift card holder. I played around with different ways to integrate a pink ribbon into the printed laces on the pointe shoes. I think it would have worked nice, but I needed smaller (thinner) ribbon to really do it right. Instead, I added some stretchy tulle ribbon with silver spiral ribbon. Though I didn't originally intend it to look like a tutu…that's exactly what happened. The ribbon turned into a tutu and I love it! To make this ballet teacher thank you gift more personal, add colors from a recent dance recital to the tutu. Super easy.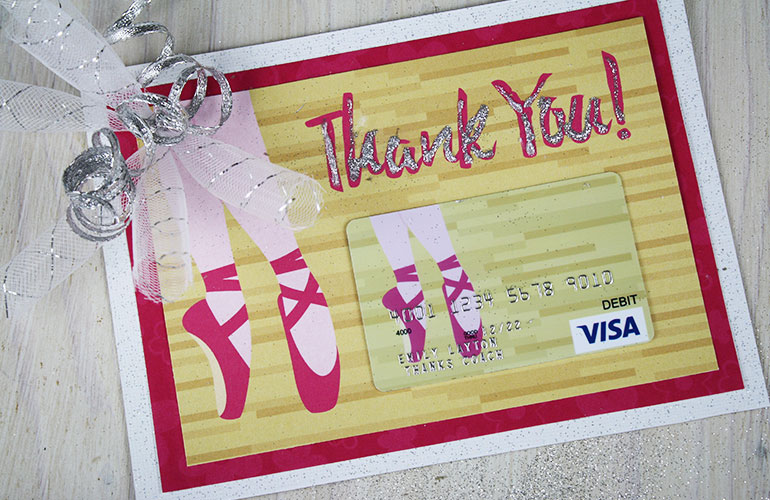 Once I got that darling tutu in place, I decided the glittery letters took away from the sparkle on the tutu so I made the card both ways. With and without glitter. You decide which is best. If you prefer to get your ballet teacher a favorite restaurant or retailer gift card, then go for it. I thought an iTunes gift card would be fun because dancers of all sorts need music to move to!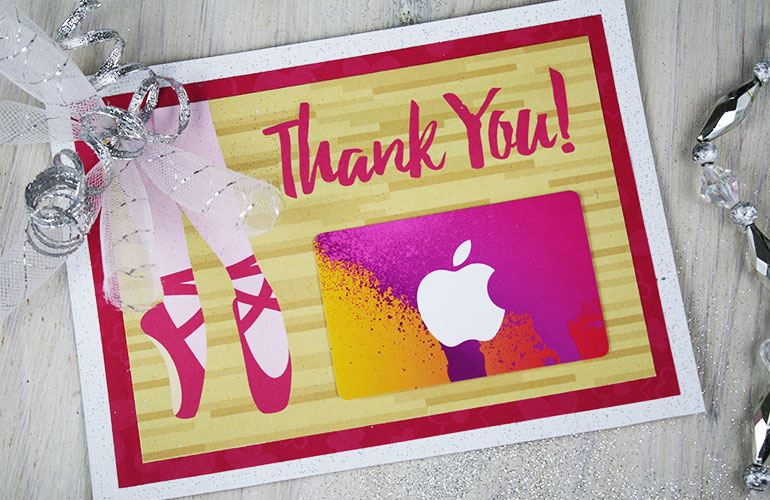 The Nordstrom gift card looks nice with the silver tutu and the store carries a wide range of merchandise–certain to please even the pickiest of ballet teachers. Links for ordering either card are listed above.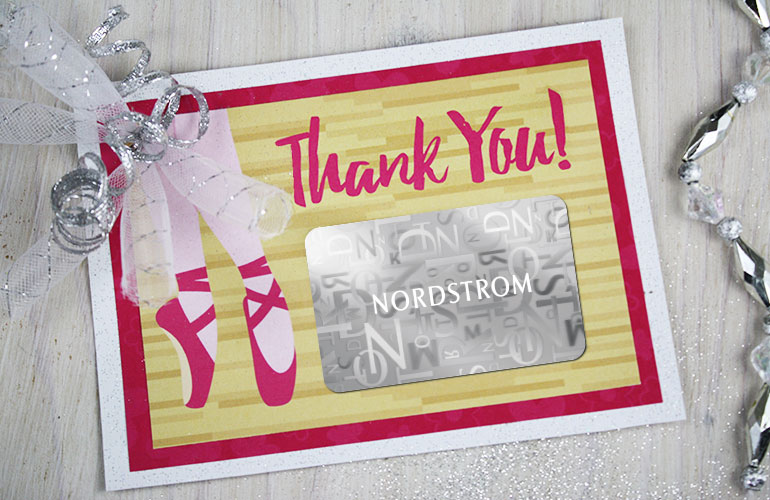 Send in a Greeting Card Instead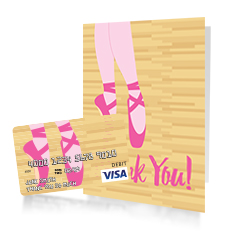 If you want to send a thank you gift to your ballet teacher or someone who helps behind the scenes, another way to present this gift is to order it online and pay a couple dollars more to have it delivered in a matching, personalized greeting card. You won't get a hand-crafted tutu, but the beautifully designed card will come right to your mailbox or you can have it shipped directly to your teacher.
Simply choose the "ballet Visa gift card" and select the standard greeting card option. Take a couple of seconds to personalize the gift card and add a note to the greeting card. Making this gift for your ballet teacher is so easy you can take care of the entire process during intermission.
More on Pinterest
If this holder isn't exactly what you're looking for, then check out the other coach thank you gift ideas on the
free prints page
or follow
Gift Card Girlfriend on Pinterest
. If you use this printable, send me a link to your page in the comments below or contact me on Twitter
(@GCGirlfriend)
. I want to see what inspires you.
Happy Gift Carding!
~Shelley Hunter, Gift Card Girlfriend