Easy Thank You Gift for the Basketball Coach, Team Parent, Cheerleaders and anybody else who supports the basketball team.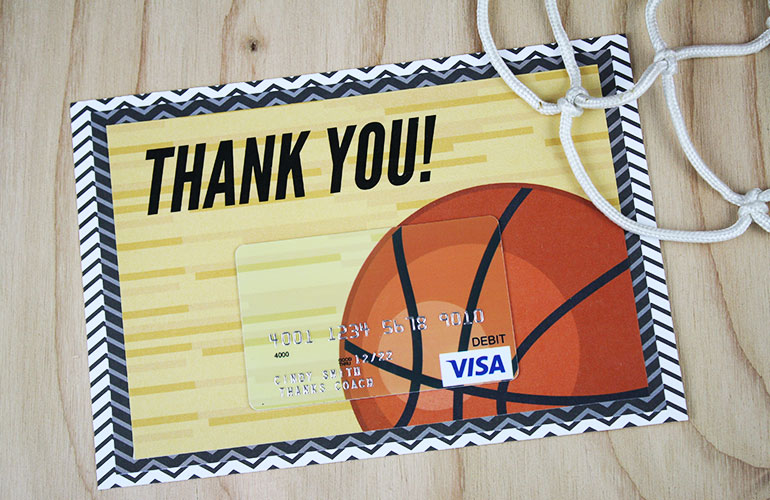 "Gifting Made Easy" by Gift Card Girlfriend
My son is about to wrap up another basketball season so it's time to start collecting money from parents to give the coach a thank you gift. Obviously I'm a fan of gift cards in general, but I am particularly fond of giving gift cards to coaches at the end of a long season. Whether it's a gift card to a favorite restaurant so he can enjoy a night out (instead of running another practice) or a gift card to the sporting goods store so he can buy a new sweatsuit, this is a perfect way to say thank you to someone who spends countless hours helping your child improve his or her game. In fact, most coaches I know spend even more hours than necessary working out practice plans, looking for new drills, trying to adapt plays to players' strengths and more. So while there is no way to really repay a coach for all the time and effort given to the team, a gift card is a nice gesture. A gift card that can be personalized is even better.
Below is a basketball-themed gift card printable that can be given to the coach, the team parent, the equipment manager or anyone else who supports the team:

Order Gift Card and Download Basketball Printable
Like a good basketball play, this printable comes with several options. You can drive the lane with the Visa® gift card that matches the printable, run the give-and-go with a personalized Visa gift card featuring a picture of the team or go baseline with a gift card to coach's favorite restaurant or retail store. Whatever gift card you add, this free printable is a triple threat because it gives you so many options. Here are the links to download the printable and order the card.
Download the Thank You Basketball Gift Card Holder
Order one of these gift cards:
Matching Basketball Gift Card
Picture of the team on a Personalized Gift Card
Sporting goods gift card like Foot Locker
Coach's favorite restaurant like Chipotle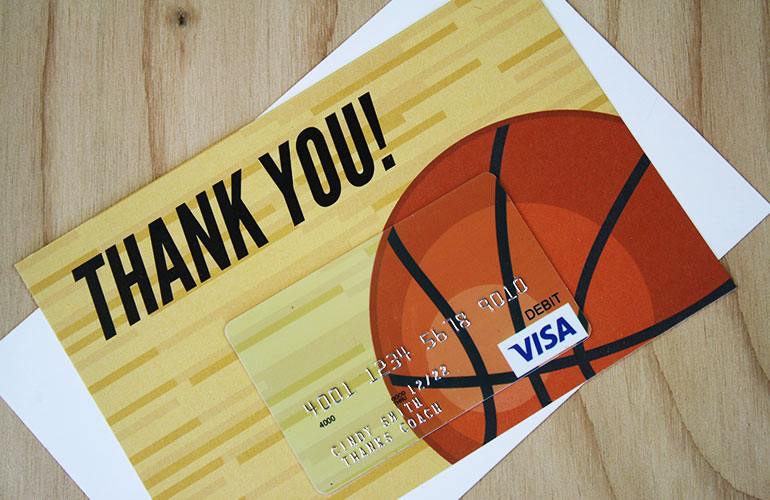 After downloading the gift card holder, print it on a color printer using "best quality" and "actual size" settings. (Do not select "shrink to fit" or any other setting that will change the size of the printed .pdf image.) White, card stock paper measuring 8-1/2 x 11 inches works best. Once printed, use the guide marks and a straight-edge paper cutter to trim the gift card holder.

Crafty Touches
After you trim the printable gift card holder, all you really have to do is attach the card with double-sided tape or glue dots. I like adding layers of scrapbook paper to build the card's interest and to add a personal touch. For this holder, I added two different colors of chevron-striped paper to the back of this basketball printable. Once it's put together, you can tuck the completed card into an envelope and deliver it like a regular greeting card or you can punch a hole in top and attach the gift card to a smaller gift. Something simple like a new pair of socks or a sports bottle would be perfect.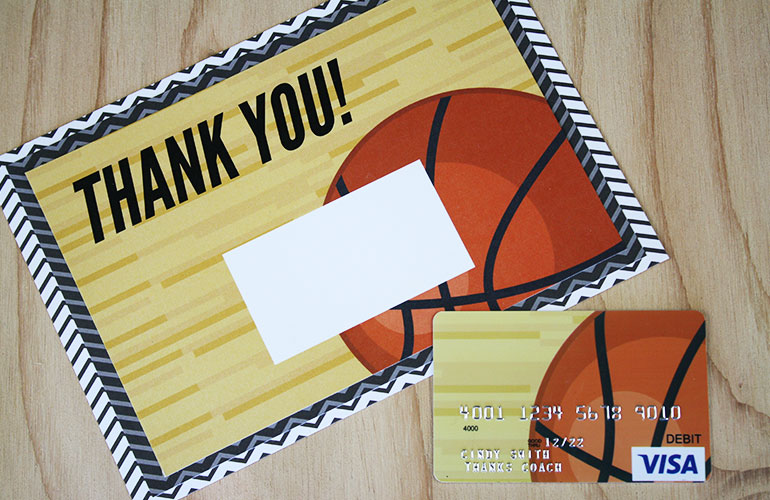 If coach has a favorite restaurant, then put that gift card on the holder instead. There are links provided above for the ones pictured here, but nearly any gift card will work. Simply buy the card and attach it to the free holder.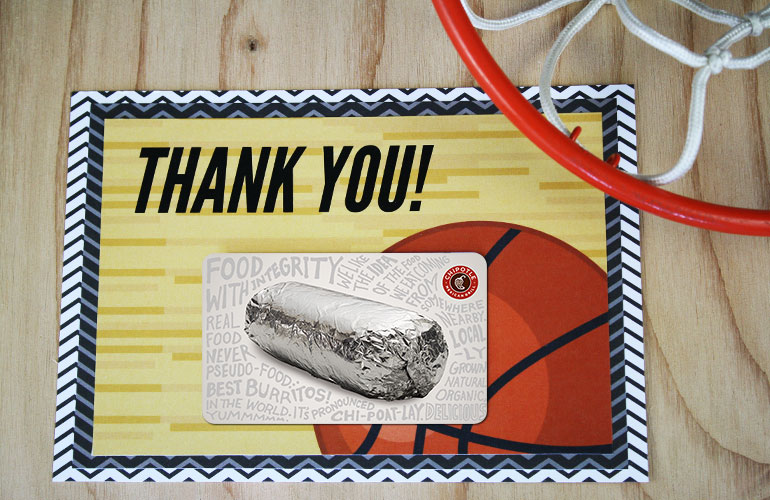 The Nike gift card really makes this basketball printable pop! I love how the card looks on the holder, but I'm guessing the holder of the actual card would like it even more! So gift away and enjoy!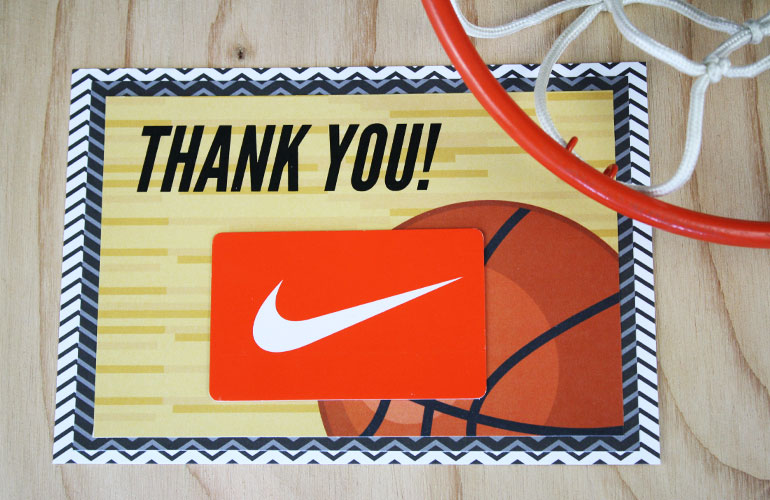 Click and Send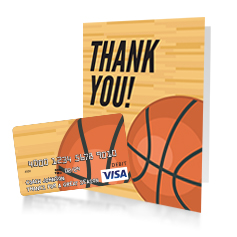 If you want to send a thank you gift to the basketball coach or team parent but don't have time to download, print and craft up the free printable gift card holder, order the matching greeting card online and let us do the work for you.
Simply choose the "basketball Visa gift card" and select the standard greeting card option. Take a couple of seconds to personalize the gift card and add a note to the greeting card. It's a slam dunk! Making this gift for coach is so easy you can take care of the entire process during halftime and still have time to buy some nachos at the snack bar.
More on Pinterest
If this holder isn't exactly what you're looking for, then check out the other coach thank you gift ideas on the
free prints page
or follow
Gift Card Girlfriend on Pinterest
. If you use this printable, send me a link to your page in the comments below or contact me on Twitter
(@GCGirlfriend)
. I want to see what inspires you.
Happy Gift Carding!
~Shelley Hunter, Gift Card Girlfriend