An easy thank you gift to make for your cheer coach, pom mom and other team fans!"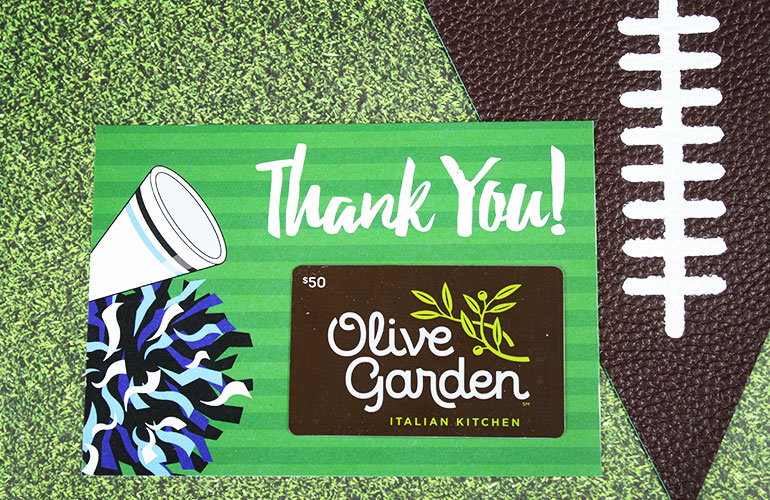 "Gifting Made Easy" by Gift Card Girlfriend
Though we need to thank our cheerleading coaches, pom moms and other people who support the team throughout the year, it's especially important to show gratitude at the end of the season. One of the best ways to thank a cheer coach is with a gift card. Now before you throw your hands in the air and wave 'em like you just don't care because I told you something you already knew (which is that gift cards make the best thank you gifts), hold that beat and let me show you a new move called "printable gift card holders." Print a free gift card holder at home, add a gift card of your choice, add a few embellishments and present coach with a pom-worthy gift card in less time than it takes to choreograph another 8-count.
Ready? O-KAY! Here is how to make this thank you gift for your cheerleading coach, pom mom or another team fan.

Order Gift Card and Download Cheerleading Printable
I'm a fan of the Visa® gift card that matches the printable, but in this case, I think you could also consider buying a gift card that matches your team colors–as long as you think the coach will be able to use the card. If your team colors are green and gold, for example, then a Subway gift card would be cute. If your colors are black and gold, then an Amazon.com card is perfect. Of course, the easiest way to get a gift card in your team colors is to make one of your own! Upload a picture of the cheerleaders and make a Personalized Gift Card that will get everybody on their feet!
Here are the links to download the printable and order a matching gift card.
Download the Thank You Cheer Coach Gift Card Holder
Matching Cheerleading Gift Card
Gift Card Color Combinations:
Green and Gold:Subway, Bass Pro Shops
Green and White:Barnes & Noble, Xbox
Black and Yellow: Amazon, California Pizza Kitchen
Black and Red:Footlocker, Sephora
Blue and Red:Bubba Gump
Blue and White:American Eagle Outfitters, Lowe's, Under Armour, Kohl's
Blue and Yellow: Best Buy
Purple and Gold:Athleta, Sur La Table
Red and Yellow:BJ's Restaurant
Red and White:Michaels, The Cheesecake Factory, Target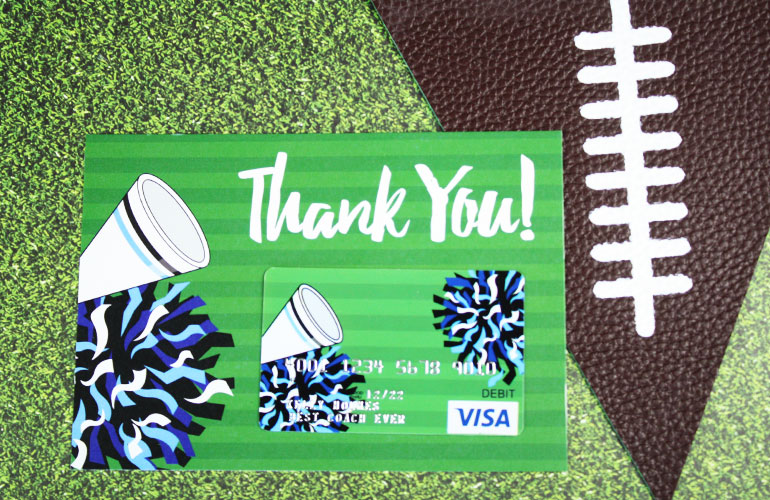 Add Your Team Colors
After downloading the gift card holder, print it on a color printer using "best quality" and "actual size" settings. (Do not select "shrink to fit" or any other setting that will change the size of the printed .pdf image.) White, card stock paper measuring 8-1/2 x 11 inches works best. Once printed, use the guide marks and a straight-edge paper cutter to trim the gift card holder. Don't worry that it's not in your team colors. I have ways of fixing that.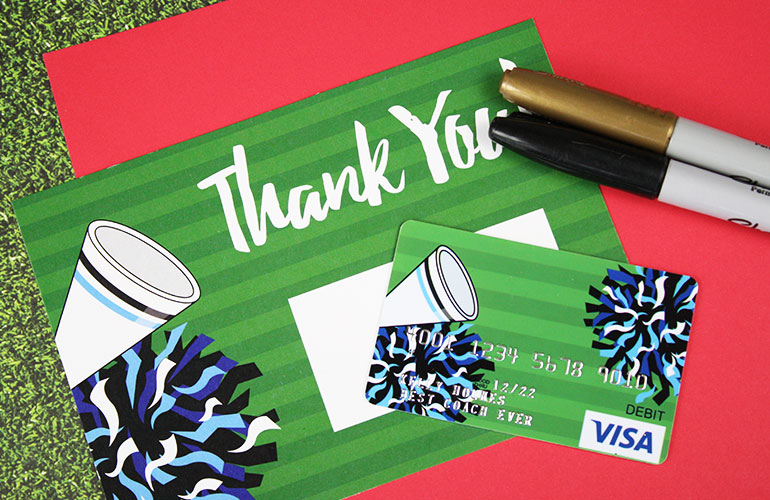 Using a black permanent marker, you can change the blue and black stripes on the megaphone to two black stripes. Simply draw over the blue stripe and you're done. And yes, it's okay to draw on the front of the gift card.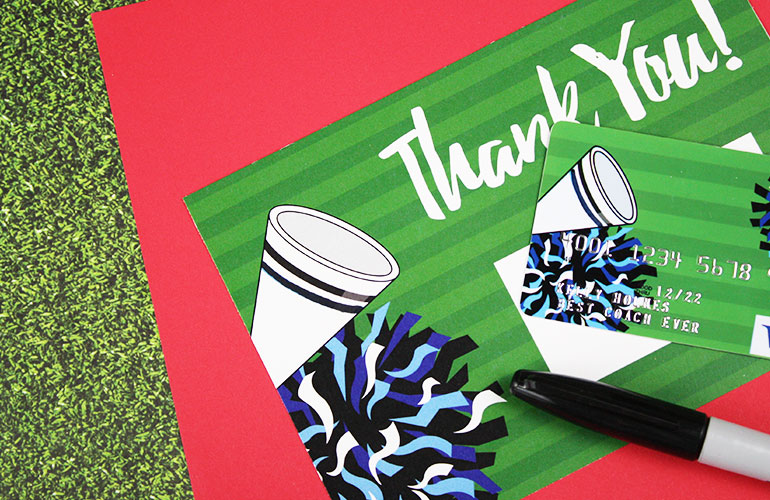 Next we need to change the pom-pom the gift card holder to your team colors. To be clear, you don't have to change the colors. The gift card works no matter what the design is, but since cheerleading is about having team spirit (Yes, we do!), I think we should turn the black and blue pom-pom into colors that match your team. (How 'bout you?)
The first option is to make a pom-pom out of yarn, embroidery thread, tissue paper, cellophane or even a few strands from your actual pom-poms. Glue or tape the new three-dimensional pom-pom on top of the printed ones.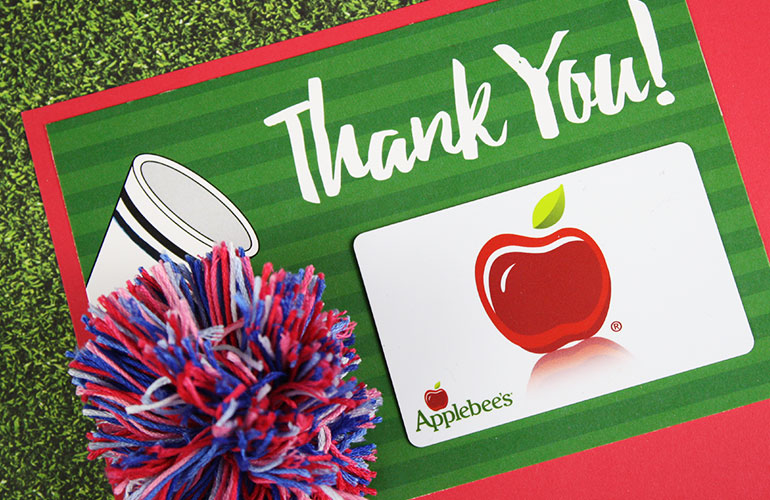 The second choice requires a cutting tool and some patience. Using a small crafting knife, I cut the light blue pieces out of the printed pom-poms. Then I put a piece of construction paper behind the printable gift card holder. The new team colors show right through. Add the matching gift card and you're done! Below are some examples: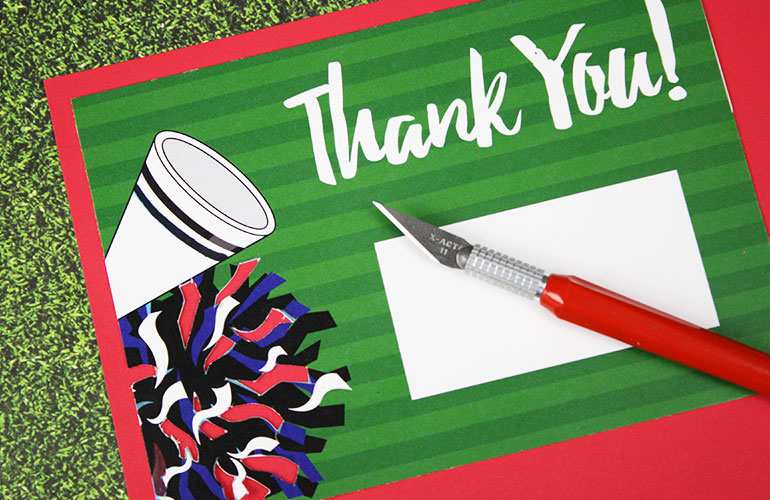 Adding a red background to the printable gift card holder makes it perfect for an Applebee's gift card.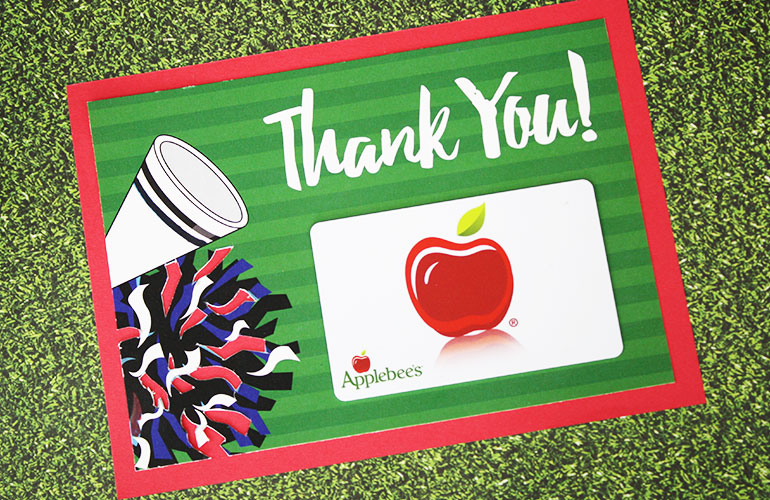 Yellow turns this Thanks Cheer Coach gift card holder into the perfect backdrop for an Amazon.com gift card.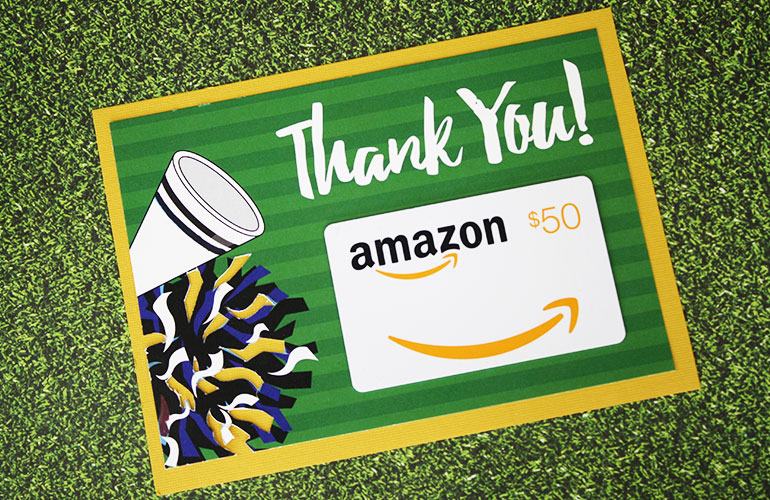 Even the football-matching Olive Garden gift card gets a little more pop when school colors are dropped in next to it.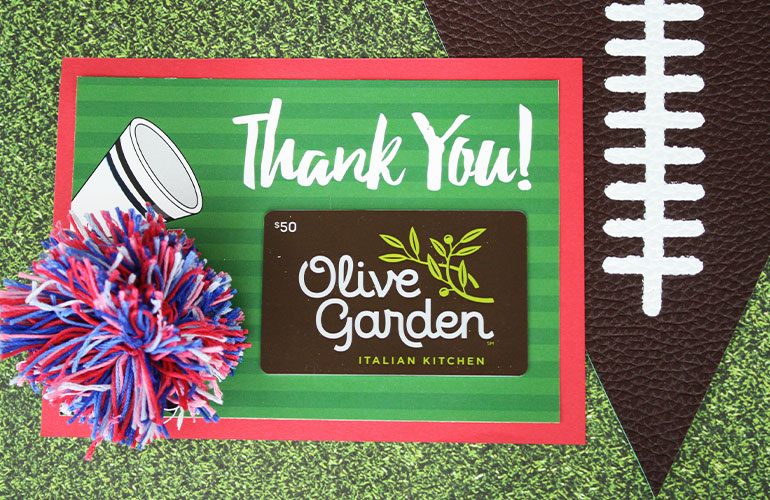 And don't forget the original gift card as well. The card doesn't have to match the Thanks Cheer Coach gift card holder exactly to be the perfect pair.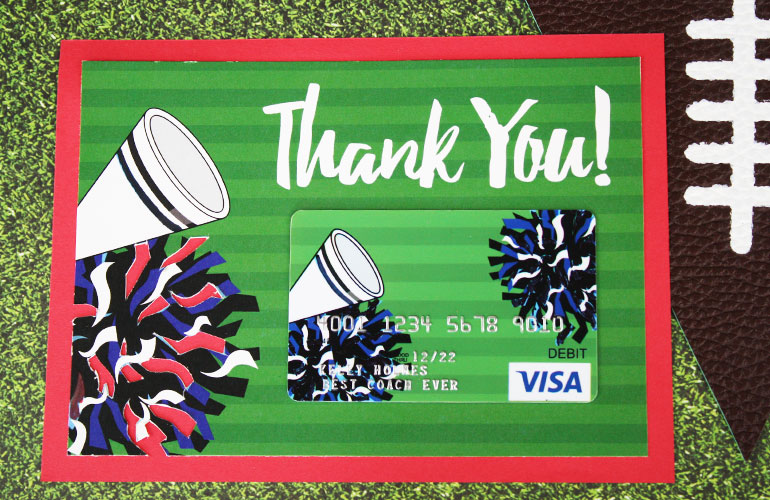 Order Greeting Card Instead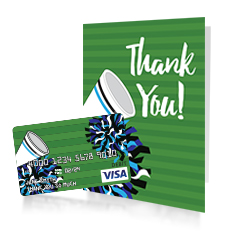 If you want to send a thank you gift to the cheerleading coach or team mom but don't have time to download, print and craft up the free printable gift card holder, order the matching greeting card online and let us do the work for you.
Simply choose the "Cheer Coach Visa gift card" and select the standard greeting card option. Take a couple of seconds to personalize the gift card and add a note to the greeting card. You won't be able to change the colors on the gift card or the greeting card, but the process will be faster than a flyer in a basket toss.
More on Pinterest
You can also check out the other coach thank you gift ideas on the
free prints page
or follow
Gift Card Girlfriend on Pinterest
. If you use this printable, send me a link to your page in the comments below or contact me on Twitter
(@GCGirlfriend)
. I want to see what inspires you.
Happy Gift Carding!
~Shelley Hunter, Gift Card Girlfriend