Here's an easy thank you gift for the soccer coach that can be delivered with a personalized gift card or a popular merchant card.
"Gifting Made Easy" by Gift Card Girlfriend
Thank you gifts for coaches are important to me because my kids have had some tremendous coaches over the years. I've been a coach myself as well so I know how much time and energy goes into running a team. I'm not just talking about the time spent at practices and games (which is considerable). There is additional time spent off the field doing things like researching practice drills, designing plays, analyzing post-game film, thinking about individual player improvement and more. (Plus, I doubt any coach makes it through a season without also having to occasionally carpool players to games or practices when parents are in a pinch.)
Even the "dud" coaches are amazing. You know who I'm talking about. These are the parents who only agree to coach because the league has a shortage of coaches or the coaches who are really (really, really, SUPER) positive, but don't know much about soccer. And don't forget the coach who took the job mainly to make sure his or her own kid gets the most playing time. Trust me, we've had all of those too.
At the end of the season, however, it doesn't matter how good the coach is or how well the team performed. No matter what the win-loss record says, all coaches deserve appreciation for giving so much time and for making an effort.
Luckily, this thank you gift for a soccer coach requires almost no time or effort. The basic soccer gift card can be ordered online, personalized and delivered with a matching greeting card in less than a minute. If you have time to get creative, then order the gift card and download the matching printable to craft up while waiting for the gift card to arrive. And finally, you can kick it up a level by making a cute clipboard to hold the soccer gift card. The delivery you choose all depends on how much time and effort you want to spend.

Order Gift Card and Download Soccer Printable
I'm a fan of the Visa® gift card that matches the printable, but I'm also aware that ordering a card means you have to wait for delivery. If you have time to order the card before the team party sneaks up on you, then this gift card is my first choice. It matches perfectly and Visa gift cards can be used wherever Visa debit cards are accepted. Another favorite of mine is the personalized gift card. Take a picture of the team or an action shot of the coach's kid and turn either one into a gift card. Every coach I've ever given a personalized gift card has thanked me enthusiastically. (This personalized gift card I made for my son's
baseball coach
is one of my most popular Pinterest pins.) No time or energy for that? No worries. Get a store or restaurant gift card instead. Coach will love anything you get. Here are the links to download the printable and order some of the card choices.
Download the Thank You Soccer Ball Gift Card Holder
Order one of these gift cards:
Matching Soccer Ball Gift Card
Picture of the Soccer Team on a Personalized Gift Card
Casual Dining gift card like Subway
Restaurant gift card like Darden Restaurants
Shopping gift card like eBay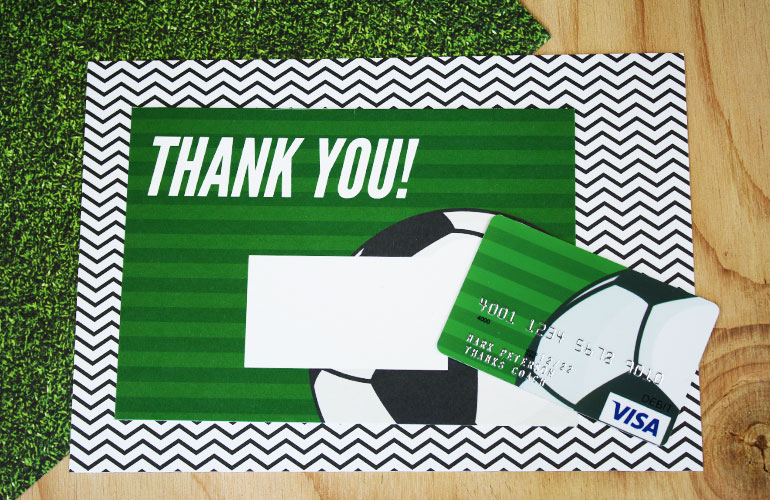 After downloading the gift card holder, print it on a color printer using "best quality" and "actual size" settings. (Do not select "shrink to fit" or any other setting that will change the size of the printed .pdf image.) White, card stock paper measuring 8-1/2 x 11 inches works best. Once printed, use the guide marks and a straight-edge paper cutter to trim the gift card holder.

Crafty Touches
An easy way to add some texture and to put a personal touch on a gift card for the coach is to layer the gift card holder with scrapbook paper and add ribbons matching the team's colors.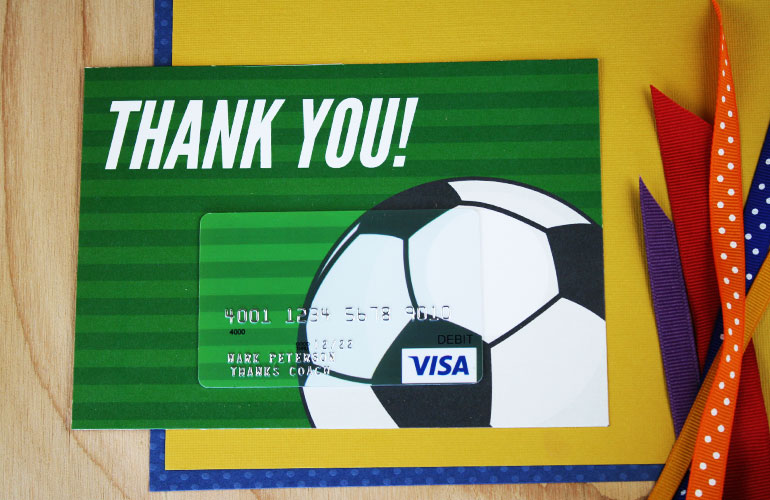 In the attached example, I first did a little blue and gold combination with a black and yellow ribbon. This looks really great with the soccer ball gift card. The blue on the edge of the card makes the Visa logo pop out.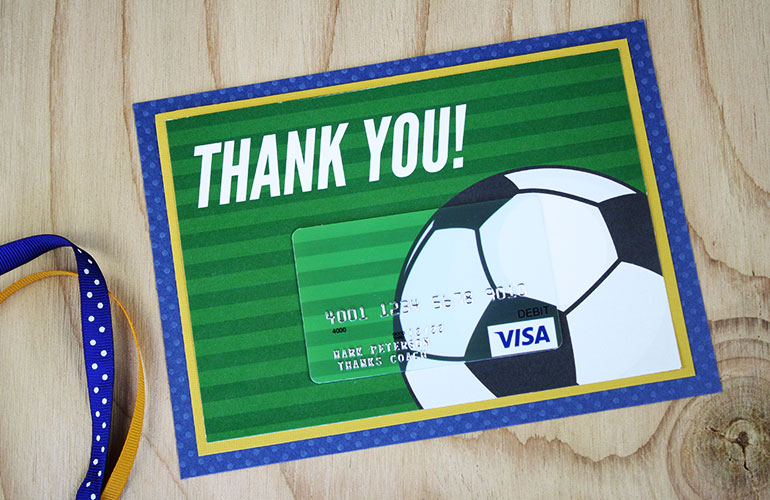 The colors are also complementary when I attach the Subway gift card. Of course, the gift card doesn't have to match the team's colors, but it looks a little extra awesome when it does.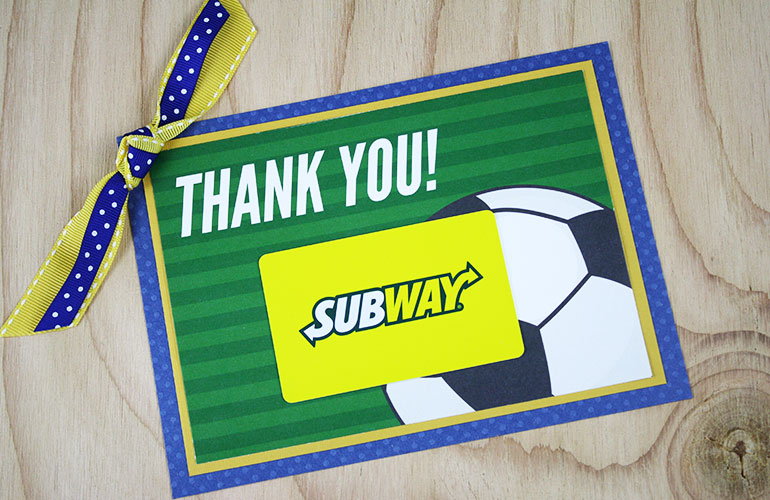 I switched the team colors to blue and red before adding the eBay gift card. That creates a nice pop of color.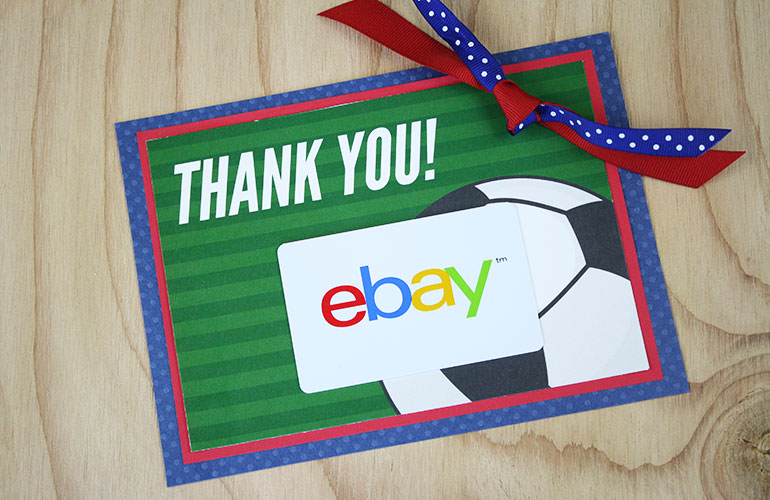 Black and red goes great with the Darden restaurants gift card.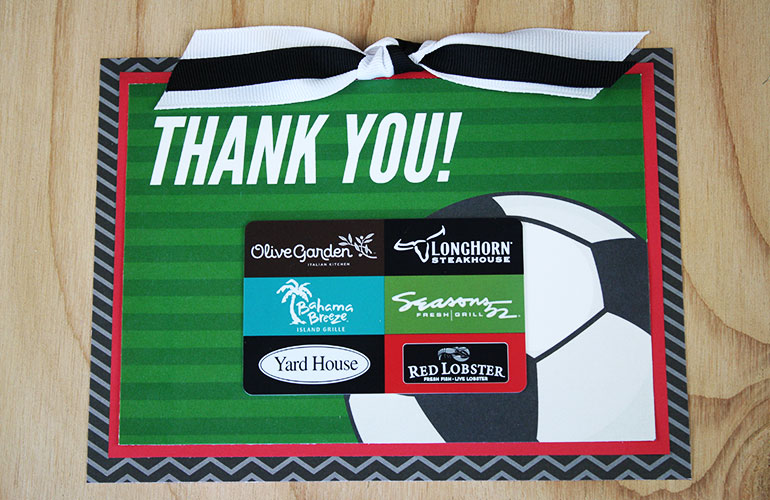 There are no rules here. Just pick the colors you want, attach the gift card with double-sided tape or a couple of glue dots and you're ready to give.

Make a Clipboard
One of my favorite ways to give a gift card to the coach is to clip the card to a clipboard. A basic clipboard will work as would a fancy soccer coach clipboard that can be used to draw up plays from the sidelines. For my gift, I used decorative glue to adhere a soccer print to an inexpensive clipboard. I think it turned out pretty cute.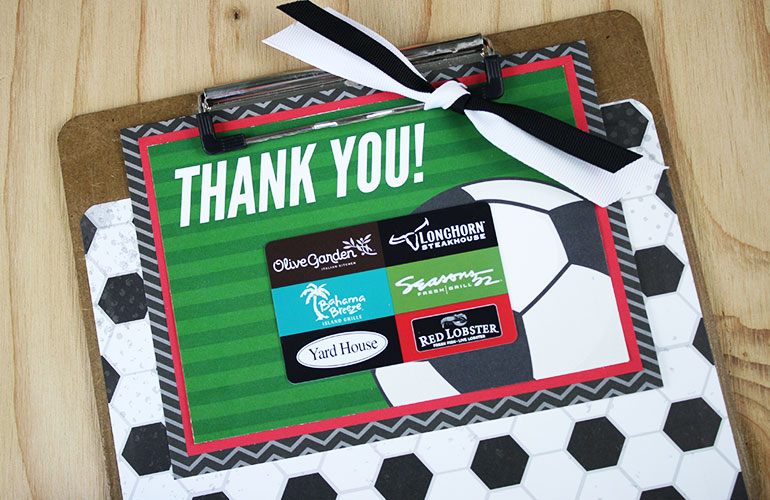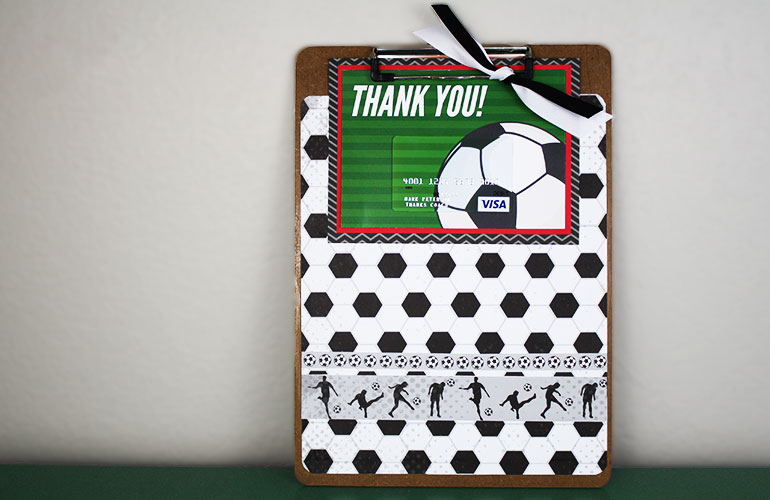 Order Greeting Card Instead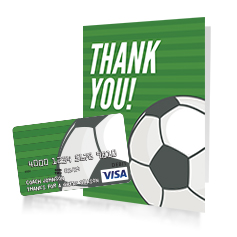 If you want to send a thank you gift to the soccer coach or team parent but don't have time to download, print and craft up the free printable gift card holder, order the matching greeting card online and let us do the work for you.
Simply choose the "soccer Visa gift card" and select the standard greeting card option. Take a couple of seconds to personalize the gift card and add a note to the greeting card. Making this gift for coach is so easy you can take care of the entire process during penalty kicks!
More on Pinterest
If this holder isn't exactly what you're looking for, then check out the other coach thank you gift ideas on the
free prints page
or follow
Gift Card Girlfriend on Pinterest
. If you use this printable, send me a link to your page in the comments below or contact me on Twitter
(@GCGirlfriend)
. I want to see what inspires you.
Happy Gift Carding!
~Shelley Hunter, Gift Card Girlfriend