Before you head to the store to buy new Easter clothes, check out this quick tip for saving on kids' clothes.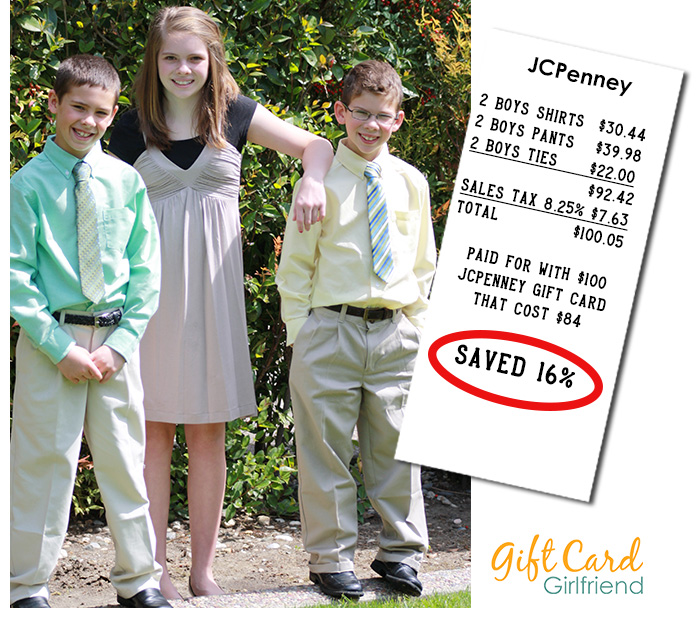 Spring is a semi-expensive time of year for our family. We have several birthdays, Easter, spring break, teacher appreciation, end-of-season gifts for coaches and so forth. With the warm California weather emerging as well, this is also when we discover that last year's shorts, swimsuits, and t-shirts need to be replaced. I'm not complaining, mind you. Spring is one of my most favorite times of the year. I just know that the expenses are going to rise right along with the temperature, so I need to keep costs down. That's why I frequently use discount gift cards to make my own sale on the things I need to buy.
My Secret – Discount Gift Cards!
Although we go to church year-round, I typically buy new church clothes for my kids to wear on Easter Sunday. To shop for the boys, I decided we would most likely go to JCPenney. (Until Nike starts making church clothes, my boys won't care about name brands on the Sabbath.) So I bought $100 worth of JCPenney discount gift cards for $84. (That's a 16 percent savings.)
Shopping with my daughter is an entirely different story. She wants to see all the dresses in the mall so we can argue over each one. (Me: "too short," "too low-cut," "you can't be serious." Her: "what do you mean?" "everybody is wearing it" eye-roll.) I opted not to buy a discount gift card for her dress because limiting her to one store would just be one more source of conflict.
Discount Gift Cards Ease the Budget in Two Ways
With savings already in hand and just enough options to choose from, the boys each selected an outfit from JCPenney for a total of two pair of khaki pants, two pastel dress shirts and two coordinating ties. The grand total of these six items came to $100.05 (after sales tax). I handed over the discount gift cards and owed just a nickle more.
Spread the Cost Out
I find that shopping with discount gift cards helps me stay in budget two ways. The first, is that I can buy the discount gift cards I need ahead of anticipated shopping. I can even check discount gift card inventory or set up an alert to be notified when the cards I want are available. Since money is tight in April, I can buy the discount cards in March to spread out the expenditures.
Stay Under Goal Amount
The second way discount gift cards help me stay in budget is that I go to the store with a dollar value in mind. Of course, I always have extra cash or a debit card in case I go over, but I honestly find myself looking to hit the dollar amount exactly. I guess it's a little game I play to see if I can get the full value and maximum discount.
I'm no extreme couponer, but it does feel pretty good to spread the shopping out and create the deal I want using a little smarts.
Plan Ahead or Use an App
Because I planned to shop JCPenney for Easter clothes, taking a few minutes to order JCPenney's gift cards ahead of time is like flipping through the sale ad before walking out the door. The process is simple. And if you order electronic discount gift codes, the codes should arrive the same day. Though it takes an extra step, once you get used to buying discount gift cards before you shop, it becomes easier and easier to use this strategy for daily saving. Got birthday parties on the calendar? Got a family vacation coming up? Whatever the expense, saving with discount gift cards can lower prices to something you can afford.
If you don't have time to check for discount gift cards before going to the store or you spontaneously find yourself at the cash register, use a discount gift card app to find a discount before completing your purchase. And finally, if you don't find the the gift card you need, check out the inventory at Gift Card Granny–a site that shows discount gift cards from various resellers.
Let me know how it works for you, I'm curious.
Happy Gift Carding!
~Shelley Hunter, Gift Card Girlfriend