Can Secret Santa deliver gift cards? This family has two different opinions. Here are some fun gift card ideas to end the Secret Santa gift card debate.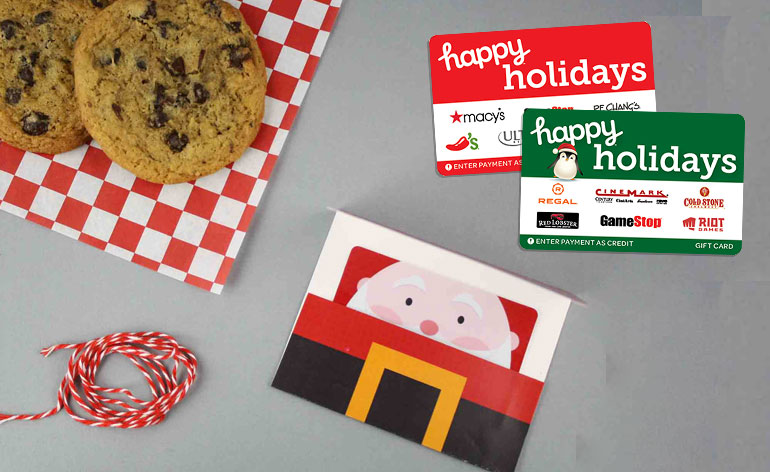 Secret Santa Ground Rules
My family is gearing up for our annual Secret Santa Christmas tradition. With several siblings, nieces and nephews, we decided long ago that the only way to financially survive the holidays is to do a gift exchange. While the lower cost is nice, I actually miss the ritual of thinking about and giving something to each of the members of my family. But alas, Secret Santa, here we come!
Along with choosing names, a good Secret Santa gift exchange requires some ground rules. For example, you will want to set a dollar amount that everyone can afford. Decide if family members within a household can be Secret Santas to each other or everyone should get a name from a different household. And I suggest setting shipping dates as well for family members who will not be present at the Secret Santa exchange. (It would be a dud holiday to not have a gift to open during the exchange.) Lastly, decide if gift cards are allowed.
Secret Santa Gift Card Debate
My brother Lane and I are having a bit of a debate. When asked for clues as to what he might like to get from his Secret Santa, he responded with a list of suggestions, all under the 25 dollar limit. Then he said that he absolutely did not want a gift card. Lane explained, "If you only get one gift, it's not super fun to just open a gift card."
My feeling is the exact opposite. If I'm only getting one gift, then I'd rather get something that I truly need or want. But see that's me–always a practical gal. While Lane is a little more jazz hands and embellishments.
The last thing I want is a gadget that might not work or a funny gag gift that gets a laugh during the exchange. Joke gifts often sit in the back of my closet or get donated within a month. If you are thinking of getting someone a gadget for your Secret Santa gift, read through this list of the "Worst Gadgets of 2017" before making a selection.
Secret Santa Solution
"It's okay to give a gift card for a Secret Santa gift exchange as long as you give the recipient a little something to open at the big reveal."
With my signature Gift Card Girlfriend approach to giving gift cards, I have the perfect solution for both of us: always give a gift card along with a small present. This way, the recipient gets the satisfaction of having something to open during the gift exchange and the later benefit of being able to pick out a gift he or she really wants.
Below are some examples of a few Secret Santa gift card "gifts" that my family would enjoy. Now you don't have the same family members as me, but I hope you'll see that you can deliver a gift card that gives the recipient some flexibility while still making the "opening" ceremony fun and festive.
Pregnant Sister
Get a pedicure gift card and a crossword puzzle book, magazine or adult coloring book. She's pregnant and I think her toes should look nice when she sees them for the last time. Crossword puzzles, magazines and other time-killers will be much-needed zen activities to fill time when she gets to the hospital.
Teacher Sibling
Teachers often spend their own money on school supplies. If you have a teacher in the family, get a bookstore gift card that can be used to buy books for the kids or buy a book for her own personal enjoyment. Then laminate a bunch of old family photos and turn them into homemade bookmarks. Everyone will get a good laugh looking at the bookmarks immediately and your brother or sister will enjoy them again when they are tucked into the pages of the book purchased with the gift card.
Computer Geek
Computer geeks may actually love to get gadgets, but the $25 limit makes it hard to pick out a good one. An electronics gift card can be used towards that next doohickey for the computer or charger for the phone. To make the gift more fun to open during the Secret Santa gift exchange, deliver it with your siblings favorite candy.
Gardener
If anyone likes to garden, then a hardware or garden center gift card is a perfect gift. Just be sure to deliver it without a few packets of seeds, a new potted plant or a box of Miracle Grow. Write a note on the card that says, "It's a miracle we survived growing up together" or some other play on words.
That is just four examples of pairing gift cards with something simple to make the entire Secret Santa gift feel special. I think all would agree that it is okay to give a gift card for a Secret Santa gift exchange as long as you give the recipient a little something to open during the big reveal–even if that something is as simple as malt balls and a bookmark.
Have you received any Secret Santa gifts that I should know about? Are you a fan of giving or receiving a gift card for the big exchange? Let me know in the comments below. I'm always looking for new ideas.
Happy Gift Carding!
~Shelley Hunter, Gift Card Girlfriend