The hottest gift cards of the season plus 10 gift cards to please just about everyone!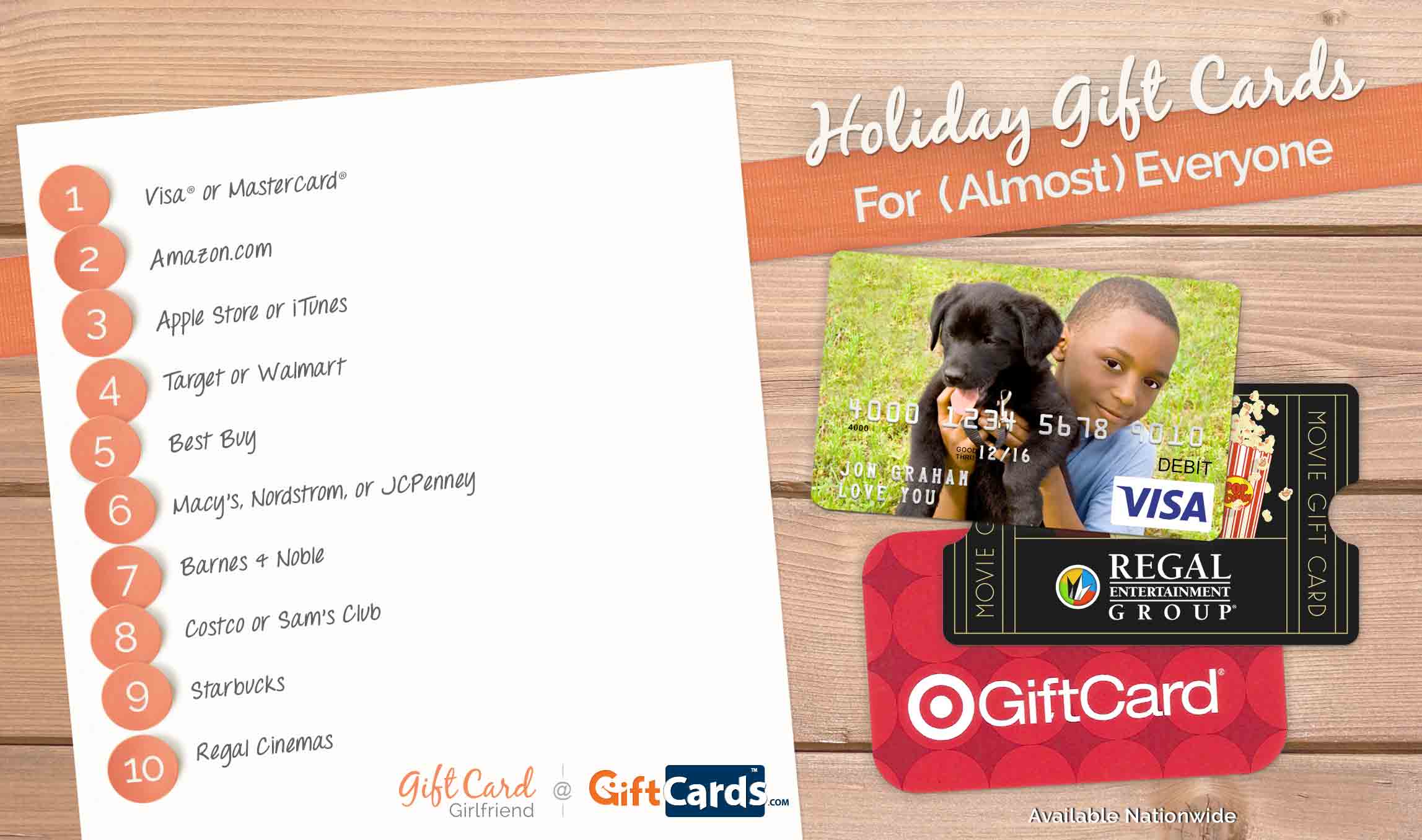 Since gift cards were first introduced nearly two decades ago, they've only grown in popularity. What started as a simple replacement for paper gift certificates has morphed into a multi-billion dollar gifting industry that includes gift cards, gift card holders, gift credits, and more.
Until recently, the only changes I saw year after year came in the form of gift card designs—running the gamut from clever images (think Home Depot) to creative packaging (think Target) on up to unique composition (think Starbucks' wooden gift card). But holiday gift card talk this season will be about five things: experiences, personalization, mobile access, fee-free, and new gifting technology.
Below are five of the hottest types of gift cards you'll find this holiday season:
1. Experience gift cards
Thanks to social media, people no longer brag about the things they buy or have. They boast about their experiences—the family vacation they are on, the charity mud run they entered, or the gourmet dinner they just ate. Unique gift cards this holiday season will be experienced-based ranging from the actual event (e.g. Segway tour gift card, chocolatier school gift card, theme park gift card, etc.) to gift cards that set the stage for adventure (e.g. new restaurant gift card, sporting goods gift card, specialty apparel gift card, etc.) In other words, surprise someone with a gift card they'll want to tweet about.
2. Personalized gift cards
From personalization of the gift card itself to personal gift card deliveries, consumers are looking for more and more ways to bridge the gap between the convenience and flexibility of gift cards and the perceived lack of effort put into choosing one. With personalized Visa® gift cards at Giftcards.com, customers can turn a photo into a gift card plus add a custom message and create a unique, personalized gift card holder to go with it. Stores like Home Depot and Amazon also allow customized virtual gift cards. The more personality you can add to a gift card, the better both the giver and the receiver feel about the exchange.
3. Mobile gift cards
With just-in-time delivery, egift cards are becoming increasingly popular. But mobile gift cards—those that can be purchased and delivered via Smartphone apps or social media—will be hot topics this holiday season. Mobile gift cards meet the needs of younger generations who crave instant gratification, don't have long-term planning horizons, and enjoy do-it-yourself technologies versus handcrafting. These digital gift cards are also most successful when both the giver and the receiver are technically savvy. Though usable in-store with a mobile wallet app, digital gift cards are easiest to use online.
4. Fee-free gift cards
Thanks to the CARD Act of 2009, most merchant gift cards are fee-free–no activation or non-use fees are charged. Retailers do this because they want gift cards in the hands of their customers. (Studies show that people almost always overspend the value of their gift cards.) Bank-issued gift cards, on the other hand, often charge fees because they can't make money beyond the value of the gift card. With our low activation fees, savvy shoppers who want to deliver a flexible gift card without paying too much money, will turn to GiftCards.com's Visa® and Mastercard® gift cards this holiday season.
5. Gift Credits.
One criticism of gift cards is that they sometimes go unused—that hard-earned money put onto gift cards never gets redeemed for a gift as originally intended. To solve this problem, relatively new technology, often referred to as gift credits, is being experimented with this holiday season. With a gift credit, the money doesn't leave the giver's bank account until the gift is used. Though a great idea in theory, the practice has yet to be fully adopted. Gift credits will be most successful if both the giver and the receiver are early adopters.
Over time, the various shapes, forms, and technologies that deliver the gift of choice may change. How it will transform, I don't know. But I do know that this holiday season consumers are looking for alternatives to the same old holiday gift cards they've always given. Though not willing to regress back to traditional presents, they just want new options. ("I've given him the same movie gift card for the past three years.") Personalized gift cards that help the recipient create a boast-worthy experience are the answer—whether it's delivered in person, via a smart phone, or as gift credit.
Happy Gift Carding!
~Shelley Hunter, Gift Card Girlfriend