The ten best gift cards to include in your customer appreciation program.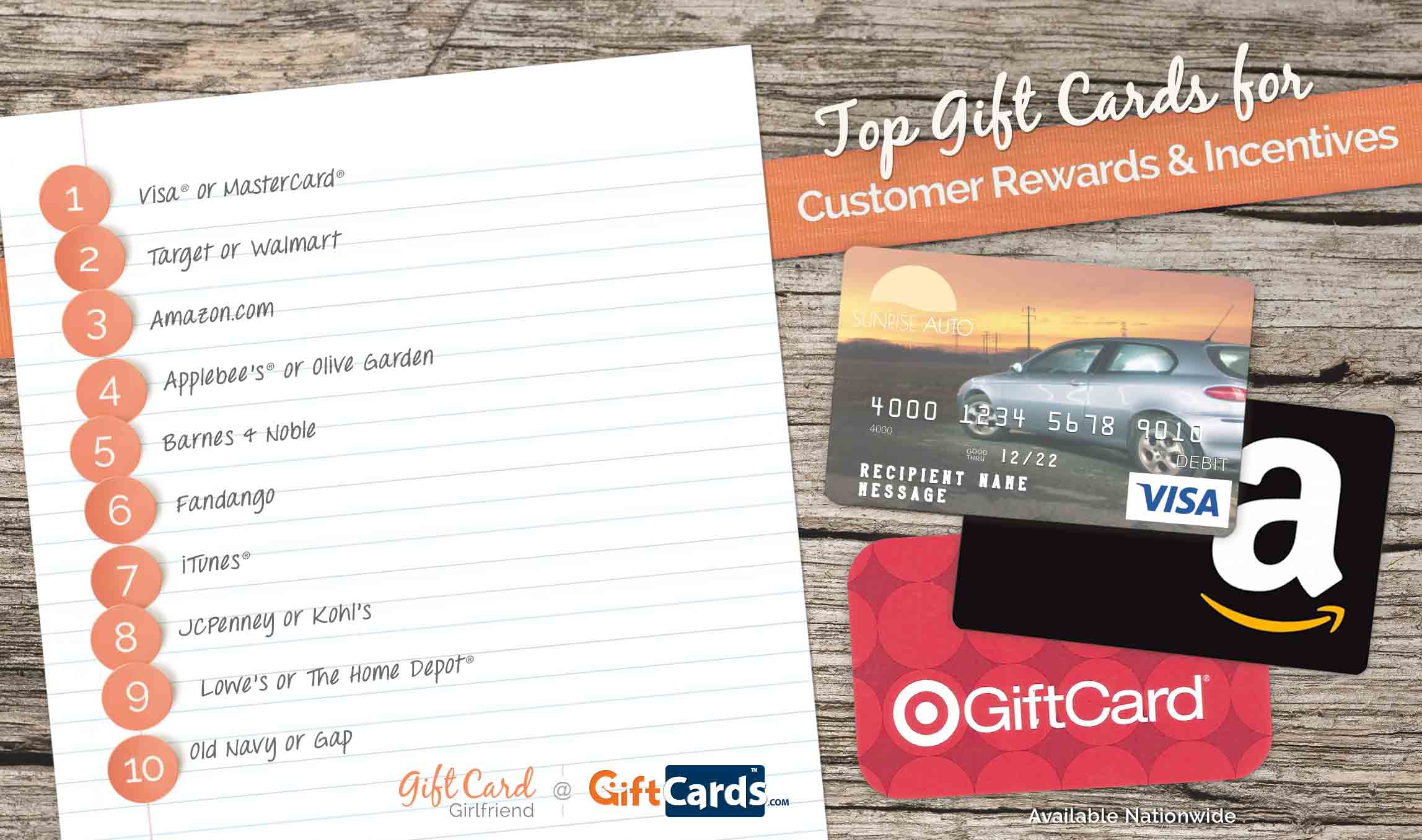 A couple of weeks ago, at a local pharmacy, I received a free first aid kit as a customer loyalty reward. Since the kids and I were headed to the beach when the "prize" eligibility popped up on my receipt, I got excited. "Perfect timing," I thought. A first aid kit will come in handy on our upcoming outdoor adventure. When the clerk handed over the reward, however, I discovered that I hadn't been awarded a first aid kit after all. Instead I received a first aid kit BAG to fill with first aid supplies that I could purchase separately. Not nearly as exciting.
Compare that bag blunder (and how it made me feel as a loyal customer) to receiving a free five dollar gift card at the end of my transaction instead. That's happened to me too. The bag is a tchotchke. The other is darn-near cash. One made me roll my eyes while the other made me squeal…just a little bit. Whether given at checkout, in the mail or via email, I think gift cards are the best customer appreciation gift of all because I get to choose how my loyalty is rewarded. So save the tchotchkes and just show me the money. In that spirit, below are my Top 10 Customer Appreciation Gift Cards.
1. Visa Gift Card or Mastercard Gift Card
Second only to cash or a check, the most versatile reward you can give to loyal customers is a Prepaid Visa® card or a custom Mastercard® gift card. Because these cards are accepted almost anywhere, customers can use the dollar value to buy dinner at a restaurant, buy milk at the grocery store or even pay for a visit to the doctor. In addition to being flexible, these cards can also be customized with your brand so the recipients will know who to thank for one less bill to pay.
2. Target or Walmart
Speaking of flexible gift cards, Target gift cards and Walmart gift cards can be redeemed for a wide variety of merchandise including clothing, housewares, electronics, groceries and more. If you want to reward customers with a gift card that is both useful and convenient, then these two stores are a top choice.
3. Amazon.com
The great thing about an Amazon.com gift card is that the recipient can receive the card and start shopping with it in a matter of seconds–no driving to the mall or standing in line at the checkout to use that incentive card. With digital Amazon.com gift cards, you can shorten the delivery process as well by sending gift cards electronically. In just a few clicks, customers can choose from thousands (or is it millions?) of items to decide just how they want their loyalty rewarded.
4. Applebee's or Olive Garden
If you want to reward customers with a restaurant gift card but aren't sure which one to select, an Applebee's gift card or an Olive Garden gift card are two tasty choices. Both restaurants have a wide variety of foods on their menu (chicken, beef or seafood) plus they have locations all over the country. Additionally, Olive Garden gift cards can be redeemed at participating Darden restaurants such as LongHorn Steakhouse, Bahama Breeze, Seasons 52 or Yard House. That gives your loyal customers even more dining options.
5. Barnes & Noble
One of the reasons gift cards are so popular to begin with is that the giver doesn't always know what products or services a recipient would like to get for his or her birthday. So they select a gift card instead. I would guess the lack of knowledge about personal likes and interests is even more glaring in the case of customer rewards and incentives. How do you pick a gift card that will appeal to the masses? Well a Barnes & Noble gift card is a good start because this store carries a wide selection of entertainment options–everything from books and magazines to music and personal electronics. With an easy online ordering system, your loyal customers can redeem their rewards right from the comfort of their own homes, or with the convenience of their smartphones.
6. Fandango
Last Christmas, I wanted to get my inlaws a gift card to the movie theater as a gift. On our way to their house, we stopped at a grocery store to buy a gift card off the rack. Despite there being three different movie theater gift cards to choose from, none of the theater chains available had locations in our area. (Surprising, I know!) So I bought a restaurant gift card instead. To treat customers to a movie as a thank you for loyalty, for a recent purchase or for reaching a milestone, get Fandango gift cards that can be used at nearly all movie theaters in the United States.
7. iTunes
One of the most popular gift cards across all age groups and categories is the iTunes gift card. Recipients can use it to download apps (if they have a smartphone) and books or music on a variety of devices. Like the Amazon.com gift card, an iTunes egift card can also be delivered and redeemed digitally, plus the merchandise purchased can be downloaded almost immediately. Talk about instant gratification in the world of customer rewards and incentives!
8. JCPenney or Kohl's
I like the idea of rewarding customers with a department store gift card during back to school time, change of seasons, the end-of-year holidays and pretty much every other time of year. Since a JCPenney gift card or a Kohl's gift card can be redeemed for new clothes, shoes, bedding, towels, dishes and other living essentials, there's sure to be something your loyal customers need.
9. Lowe's or The Home Depot®
Although we often think of home improvement stores as the best place to buy lumber and tools, both Lowe's and The Home Depot carry a wide selection of everyday items as well such as lightbulbs, batteries, lawn furniture, barbeques and more. You don't need to be working on a home improvement project to make use of a home improvement store gift card. Depending on why you're giving the customer a thank you card, however, I would be tempted to add a note such as "Thanks for helping us BUILD a better future together," or something else appropriate to the occasion.
10. Old Navy or Gap
Like the department store gift card, a good clothing store gift card that can be redeemed for just about anybody (men, women, teenagers, kids, babies, pregnant women, etc.) can be a welcome thank you gift. The nice thing about these brand cards is that they can be used at other stores within the same family such as Banana Republic and Athleta plus the company's outlet and clearance stores. So although the recipient is limited to clothing options, the gift card can still be used in more than one store.
Did I miss any of your favorite customer appreciation gift cards? If you tell me the circumstances in which you're thanking shoppers or rewarding subscribers, I would be happy to come up with something specific to your needs. For example, if you want to give a reward card to new customers who just switched to your service, I would suggest a Target egift card with a note that says, "Glad you made the switch. Your instincts are right on TARGET." If you want to give a loyalty card to long-time partners who have been with the company since the early days, then a Lowe's gift card with a note that says, "Thanks for helping us grow" would also be appropriate. Trust me, I can come up with a gift card for every situation.
If you have another suggestion for this Top 10 Customer Appreciation Gift Cards list, then let me know in the comments below or reach out to me on Twitter (
@GCGirlfriend
).
Happy Gift Carding!
~Shelley Hunter, Gift Card Girlfriend