The best gift cards to give your employees to recognize a job well done!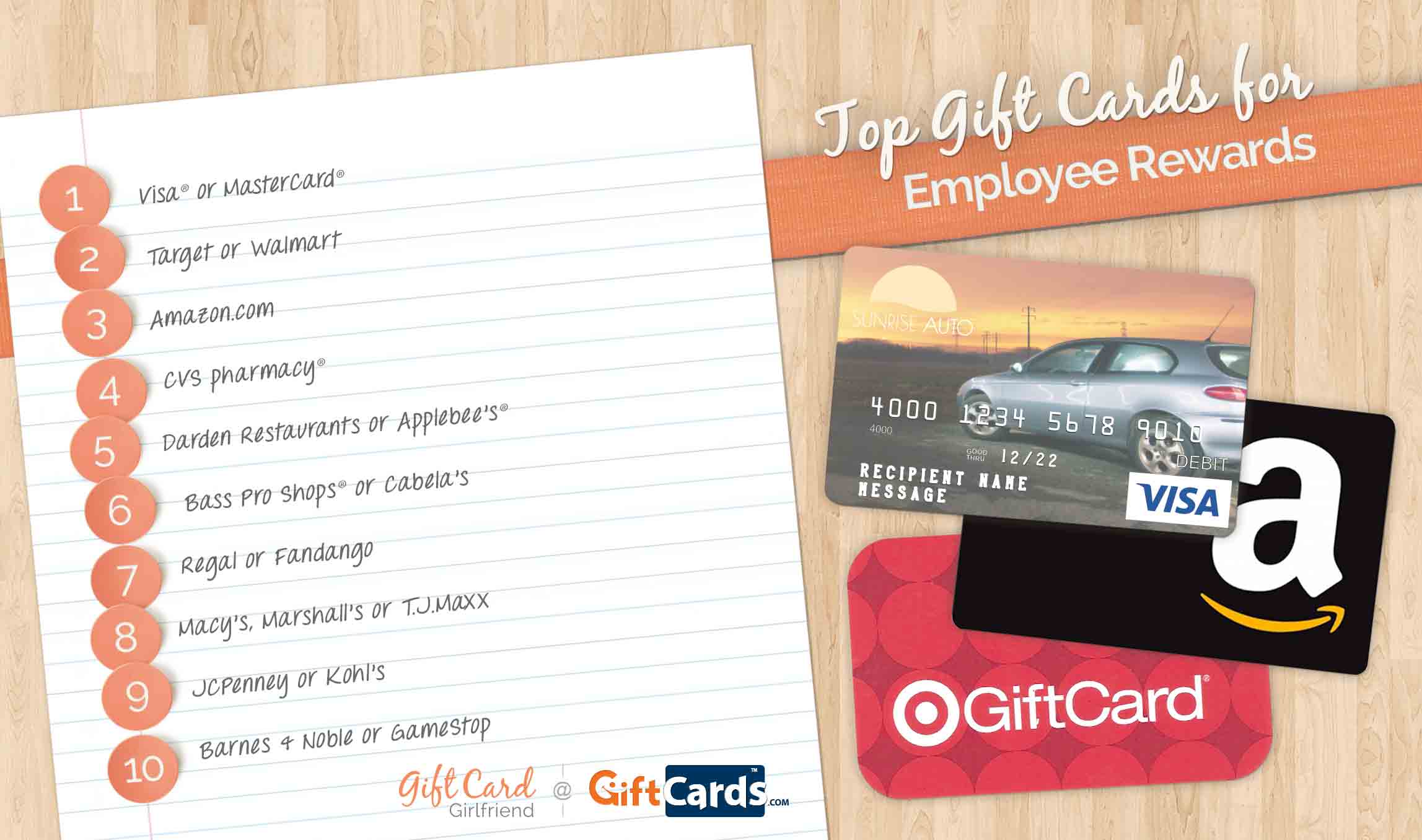 According to an article in Entrepreneur Magazine, "Every company needs a strategic reward system for employees that addresses these four areas: compensation, benefits, recognition and appreciation." The author goes on to say that while many companies adequately provide compensation and benefits, they often struggle to provide proper employee recognition and appreciation. One of the oversights is not rewarding behaviors they want to foster within the company or expressing adequate appreciation for a significant contribution. Having been an employee for more than a handful of companies, I have to agree that I've felt more valued by some employers than others, despite a consistent performance level.
From personal handwritten notes of thanks to public commendations for a job well done, there are many ways to let the people who work for you know that they are on the right track. Gift cards, of course, are one of the most popular ways to give staff a little bump without too much expense. If you are planning to give gift cards to employees as holiday bonuses, thank you gifts, gifts of appreciation and so forth, check out my list of Top 10 Employee Reward Gift Cards below. There's a little something for everyone with a few suggestions on how to make these awards even more meaningful.
1. Visa® Gift Card or Mastercard® Gift Card
Besides cash or a check, the most versatile reward you can give to employees is a Prepaid Visa card or a custom Mastercard gift card. These bank-issued gift cards are accepted online, in stores and over the phone at literally millions of establishments so employees can use them to buy treats such as dinner at a nice restaurant, tickets to a cultural performance or a new laptop. These cards can also be used for more mundane purchases such as gas, groceries and housewares. With a Visa reward card, employees get the recognition they deserve, but get to spend it however they want.
To really do employee reward cards right, put the company logo, brand logo or team picture on the card. Add custom messages like "Great job" or "Thank you" to the embossed message line as well.
2. Target or Walmart
When flexibility is important (and it usually is), I like to steer clients towards Target and Walmart gift cards because they can be redeemed for a variety of merchandise. Want new patio furniture? You can get that. Need a new phone? Easy. Got milk? You can get that too. Employees can spend their reward cards on just about anything they need at these two stores.
Quick tip! Go digital. Imagine your top employee getting a surprise Target egift card in his email inbox with a note that reads "Thanks for helping us hit our TARGET goals this month!" No big ceremony or public display needed. Just instant, immediate rewards. Order individual egift cards here or place a larger corporate order here.
3. Amazon.com
When it comes to giving employees choices, few stores rival the amount of available merchandise at Amazon.com and few gift cards match the ease of use as well. This is especially true when sending digital gift cards because they can be sent almost instantaneously, the recipient can virtually "click and redeem" the cards within seconds and merchandise is shipped in no time. I also like that Amazon.com gift cards can be "redeemed" without being spent–in other words, you can redeem an Amazon.com gift card by adding it to your account. The company then saves the card value and reminds you to use the credit on your next purchase. That's pretty convenient.
4. CVS Pharmacy
CVS Pharmacy gift cards are some of our more popular Employee reward cards. While a pharmacy or drug store doesn't carry the variety of merchandise other stores have, this card can still be used to take care of personal and household needs. Health-related cards also suggest the company cares about employee well-being. If I were going to reward employees with a CVS Pharmacy gift card, I'd probably deliver the cards along with a travel size bottle of sunscreen and write, "Thanks to you, the future looks BRIGHT" or I'd deliver the cards with some paper towels and say, "Thanks for helping us clean up that mess." You get the picture. With the right words, a health-related gift card could be the morale booster your company workers never forget.
5. Darden Restaurants or Applebee's
If you want to reward employees with a restaurant gift card but aren't sure which one to select, an Applebee's gift card or a Darden Restaurants gift card are two delicious choices. Applebee's restaurant has a versatile menu so the card can be redeemed for a family dinner or lunch on the go. Darden Restaurants include Olive Garden, LongHorn Steakhouse, Yard House and several other establishments that will meet most everyone's needs. Hardworking employees sometimes need a chance to be served by others and this is a great way to do it.
6. Bass Pro Shops or Cabela's
Gift cards that represent the exact opposite of work are some of my favorite employee reward cards to give because the gesture shows that the company encourages work-life balance. (All work and no play makes Jack a dull boy, as I recall.) So, send the team out river rafting, book a laser tag party and challenge another department to a contest or get everyone in the group a gift card to a local sporting goods store and you'll see that teamwork likely improves. (I can't resist adding that you should say, "Glad we're on the same team" when presenting the sporting goods gift cards.)
7. Regal Cinemas or Fandango
Along that same line, a gift card to Regal Cinemas or Fandango could be just the boost your employees need to get through a stressful work period or to celebrate the completion of a project. To make the reward even sweeter, I challenge you (I triple dog dare you!) to give employees a floating half day vacation to use the movie gift card for a matinee, if they choose. Of course, they don't have to use the time off in that way, but some will and many more will simply appreciate the gesture. As a working mom, I would jump at the chance to take the kids to the movies during the daytime and would tell the kids exactly who gifted us the opportunity to do so. That's goodwill at it's best.
8. Macy's, Marshall's or T.J.Maxx
I like the idea of rewarding employees with gift cards that are redeemable for merchandise sold at various price points so recipients can choose to splurge on one item (or experience) or spread the dollar value across several. Macy's, Marshall's and T.J.Maxx provide those options because each store carries clothing and housewares ranging from budget-friendly prices to designer-label costs. I know many companies are shifting dress codes away from traditional professional attire to business casual. When these announcements are made, I'd love to see employers capitalize on the morale boost by giving each employee a clothing store gift card to celebrate the occasion. Add a note that says, "Success looks good on you!"
9. JCPenney or Kohl's
Department store gift cards, while not as flexible as Visa gift cards or a superstore gift cards, can still be used to purchase apparel, housewares, small appliances, luggage and even some furniture. So if you want to give staff an award that works for just about everyone, JCPenney and Kohl's gift cards are good choices.
10. Barnes & Noble or GameStop
Have you ever sat in a cubicle at work and daydreamed about sitting on the beach, reading a book? I have…many times. Like the sporting goods gift cards and the movie theater gift cards already listed, I think bookstore gift cards or game store gift cards are a welcome sight to hardworking individuals. While the dollar amount given may be only a gesture, the recognition of needing work-life balance will still be noted. Parents may additionally choose to use these gift cards to purchase upcoming holiday or birthday presents which frees up the family budget for other spending.
Did I miss any of your favorite employee reward gift cards? This is an area that I'm hugely passionate about because I've seen it done wrong too many times–the same pair of sunglasses for everyone in the office, t-shirts that are only distributed in large or extra large sizes, crystal vases inscribed with a project name so they can't be used at home and many other employee initiatives that turned into morale busters instead of morale boosters. So if you have any doubts about what makes the perfect employee gift or want my stamp of approval on a gift card selected, feel free to reach out to me directly.
If you have another suggestion for this list of Top 10 Employee Reward Gift Cards, then let me know in the comments below or reach out to me on Twitter (
@GCGirlfriend
).
Happy Gift Carding!
~Shelley Hunter, Gift Card Girlfriend