Best gift cards for kids graduating middle school or junior high school and moving up to high school, plus ideas on how to make gift cards more personal.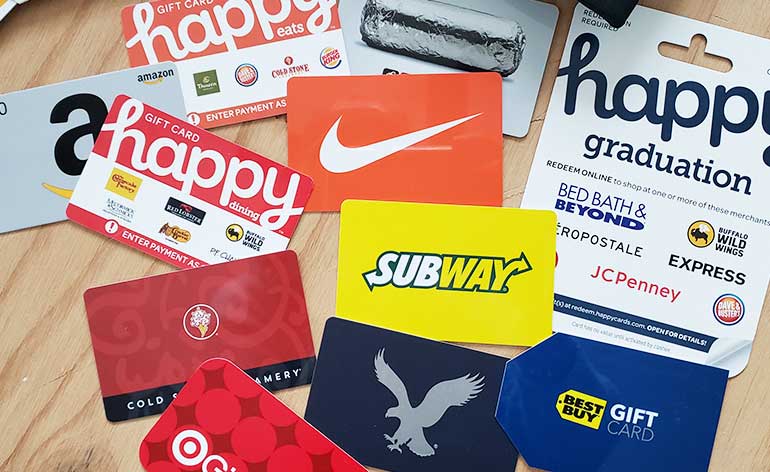 Best Gift Cards for Middle School and Junior High School Graduates
My daughter graduated from middle school (some call it Junior High School) last year and I have another one who will graduate this spring. I can't say that I love middle school, but I love when the kids finish it. I find that teens emerging out of eighth grade, ready for high school, are starting to figure out who they really are. Rather than run in big packs of people, they settle into like-minded friend groups. The drama isn't over by a long-shot, but some of these kids are heading for calmer waters. For this list of top gift cards for middle school and junior high school graduates, I'm thinking about ways to celebrate the past while gearing up for the future.
Below are my Top 10 Gift Cards for Middle School Graduates, selected mostly from stores and merchants on the National Retail Federation's list of Top 100 Retailers.
1. Happy Grad eGift Card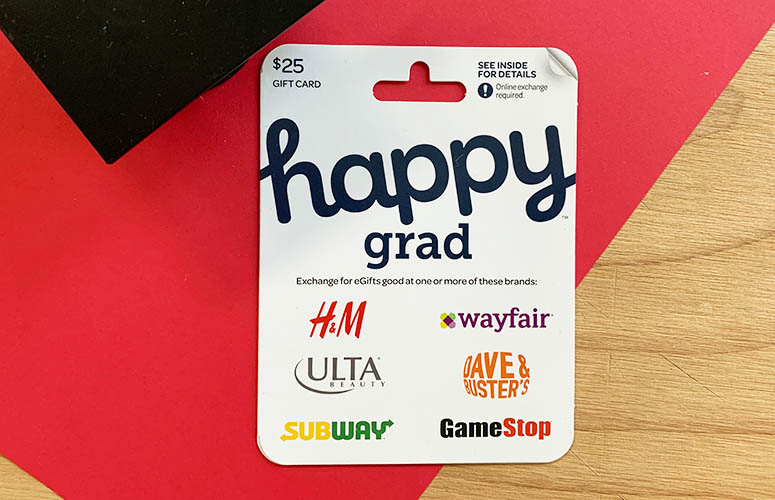 The perfect gift card for any graduate is the Happy Grad gift card from the Happy Card collection. Recipients can choose to redeem the gift card at any of the stores or restaurants listed on the card. Just remember, the recipient must swap the Happy Graduation egift card for the store or restaurant egift cards they want before trying to use the card.
Here's an explainer video on how the Happy Graduation gift card words.
2. Visa Gift Card or Mastercard Gift Card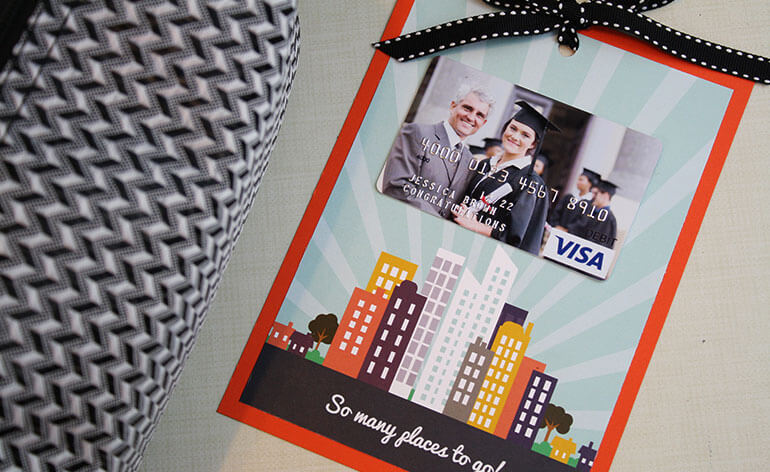 Though you probably wouldn't give a junior high school kid a credit card, a personalized Visa gift card or a custom Mastercard gift card is totally appropriate. In fact, these bank-issued gift cards provide kids with great opportunities to learn how paying with plastic works. Redeemable wherever credit cards are accepted, this card can be used to buy anything from a new Xbox game to a chocolate frappuccino at Starbucks.

3. Target or Walmart
If there is one gift card that my kids universally agree is the best one to get, it's a Target gift card. My teenage daughter will use it to buy clothes and makeup, my teenage son will use the same gift card to buy electronics and my tweenager will redeem a Target gift card for sporting goods–the store truly has something for nearly every kid and every interest. Walmart is great too, we just don't happen to have a Walmart store nearby. Pick the most convenient merchant for the recipient to shop and you can't go wrong with either.
4. iTunes, Google Play or Xbox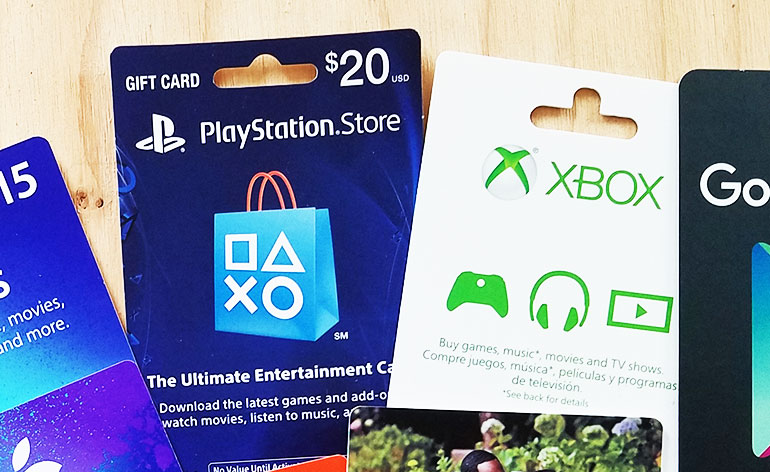 As a mom, I'm constantly monitoring the amount of screen time my kids get, so it might seem counterproductive to give an iTunes, Google Play or Xbox gift card to kids for graduation, but summer is here and they are allowed a fair amount of free time–even if that means using technology more than I'd like. Technology is not all bad. There are games to keep kids active, music that is uplifting and movies with a positive message. I like to think that's how these gift cards will get used. (Don't ruin it for me with a reality check.)
Also, since kids in middle school or junior high can't drive themselves to the store, sometimes retailer gift cards can be a little frustrating if mom isn't willing to get in the car and go. With an Amazon.com gift card, however, kids can shop at their leisure and mom can simply review the cart before the final purchase is made. With so many products to choose from, this activity could take hours.
5. Crutchfield Electronics or Apple Stores
Middle schoolers are just as into technology as the older kids, perhaps even more so. Getting this age group a gift card to a store like Crutchfield Electronics or Apple Stores is a great way to pitch in on something the kids might be saving for. Just be sure to give a dollar amount that will allow the recipient to use the gift card without spending too much (or any) additional money. (Read more on the best dollar amount to put on a gift card here.
6. Gap or Old Navy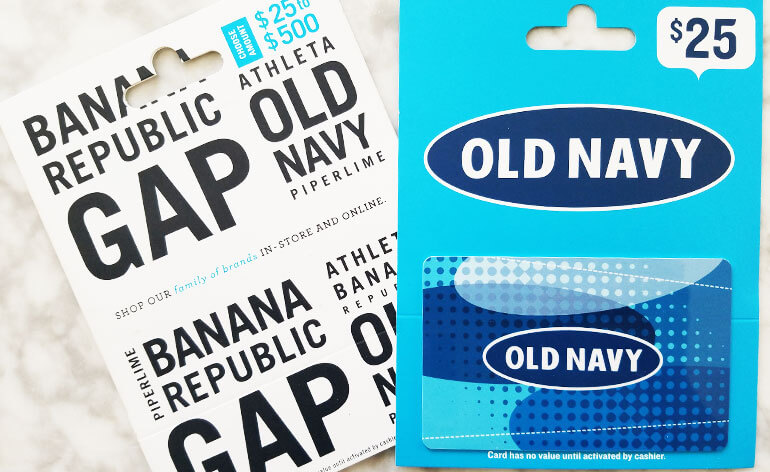 My kids tend to reinvent themselves a little when graduating from one school and moving on to the next. Like it or not, wearing the "right" clothes can be important to kids going off to high school. Help your junior high school graduate get ready for the big move with a gift card that can be used to buy some new duds. If you're not sure which clothing store is best, ask around. Kids can be fickle, so you want to pick the card that best matches what's "in" at the moment.
7. Office Depot or Staples
Office supply stores have some good deals on electronics plus they also carry chairs, desks and other things your young teenager may want to upgrade before going to school with all those older kids. Deliver this gift card inside a new backpack filled with other goodies needed to step into the big grades.
8. JCPenney or Kohl's
JCPenney and Kohl's offer trendy clothes at wallet-friendly prices so kids can get more for their money when they shop these department stores, and so can you. With a gift card to either place, kids can get shoes, clothes, room decorations and more. They can even use the gift to gear up for a summer of adventure complete with swimsuits, rash guards and board shorts.
9. Tilly's, PacSun or Zumiez
If you've got a surfer or a skater in your household, then rip into Tilly's, PacSun or Zumiez for some trendsetting clothes for fall or shorts and flip flops for the summer. With a gift card to one of these stores, your teen will be ready to hit the books or hit the beach in style.
10. Starbucks, Jamba or Subway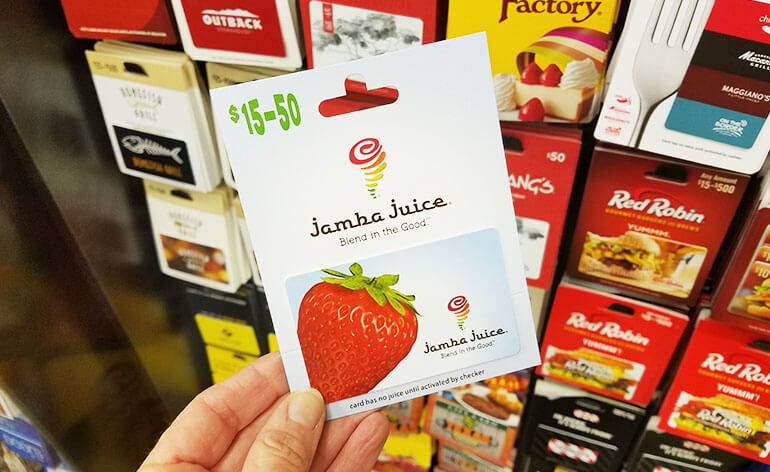 Moms in yoga pants and dads in business suits don't have a lock on caffeinated drinks and fruit smoothies. I've got a Starbucks behind my house and it is regularly filled with kids from the nearby middle school. If your teen likes acting like a big person, then get a gift card to either store to celebrate completing middle school.
I like Subway gift cards for this group as well.
As you consider which gift card to buy for middle school graduation, keep in mind that this age group can't drive yet so redeeming the gift card should be easy and convenient for the entire family, meaning a place either mom or dad is willing to drive. If you can pick a destination within walking or biking distance, all the better. That way graduate can do the shopping all alone. Might as well get used to the independence that comes with the next level of education.
If you have another suggestion for this Top 10 Gift Cards for Middle School Graduates, let me know in the comments below, on Twitter (@GCGirlfriend) or on Instagram (@Gift.Card.Girlfriend).
Happy Gift Carding!
~Shelley Hunter, Gift Card Girlfriend