Everything you need to know about the Treat Yourself gift card. Where to buy it, how to use it, tips for gifting and MORE!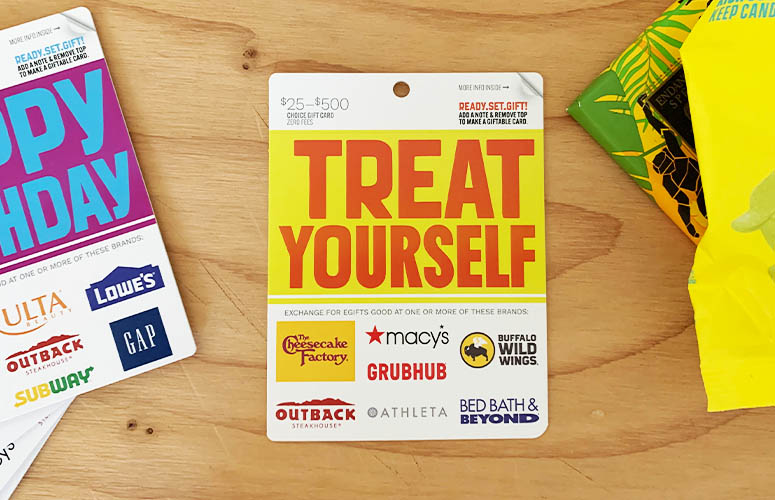 In 2021, Blackhawk Network launched a new line of multi-store gift cards with greetings suitable for almost any occasion. Like other multi-store gift cards previously launched, each one is usable at a curated set of stores and restaurants listed on the card. Points of difference between these cards and their predecessors are the messaging, graphics and wider selection of top-brand merchants.
In the blog post below, I'll introduce you to the Treat Yourself gift card along with instructions on how to use this gift card and some possible gift card pairing suggestions.
Introducing the Treat Yourself Gift Card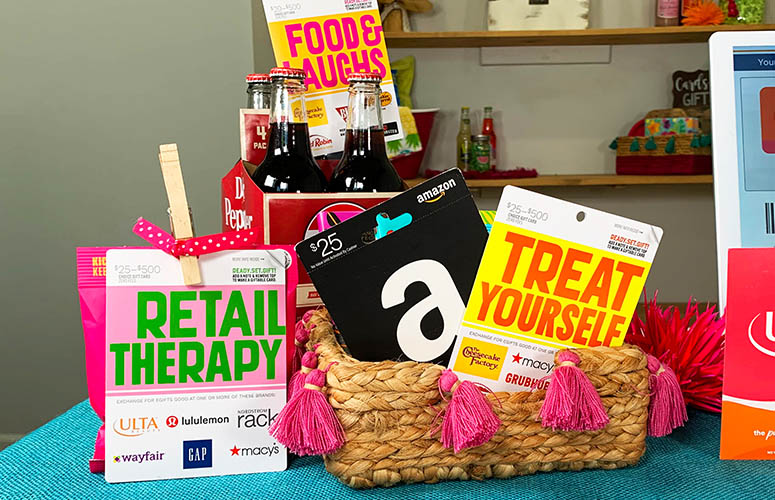 The Treat Yourself gift card is a great new gift card for a variety of people and purposes. It's usable at any of the retailers listed on the card which currently includes the following:
The Cheesecake Factory
Macy's
Buffalo Wild Wings
Grubhub
Outback Steakhouse
Athleta
Bed Bath & Beyond
Here's a Tip:
To redeem a Treat Yourself gift card, you first swap it for an egift card to one (or more) of the merchants listed on the Treat Yourself gift card. You cannot take the card directly to one of the stores listed and expect to use it. It must be swapped first. But the process is easy and when the egift card(s) selected arrives, it can be used both in stores and online at the any of locations within the brand family.
For example, you can use an Athleta egift card at any Gap, Old Navy, Banana Republic or Athleta store. So, you may see 7 options listed on the Treat Yourself gift card, but you can actually "treat yourself" at those places plus at least 3 other stores. If you count the websites and factory stores, there are even more. And if you consider Grubhub is on the card, then the options are endless.
Where to Buy Treat Yourself Gift Card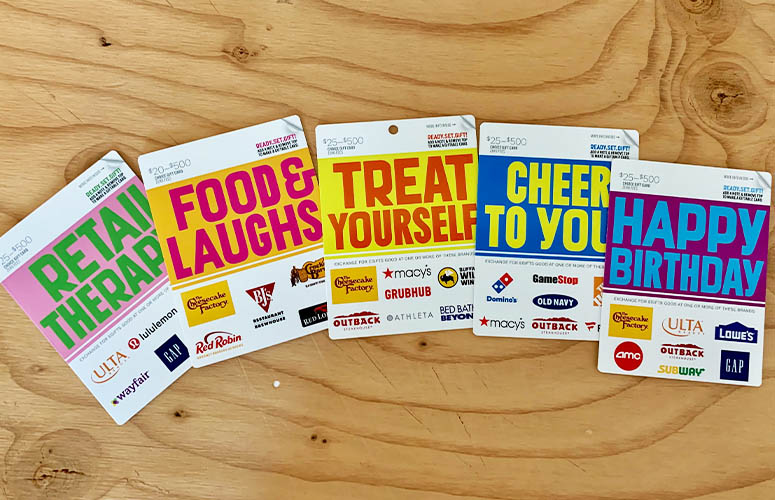 Treat Yourself gift cards are available at most major grocery stores and online here at Giftcards.com.
Physical Cards: If you want a physical gift card like the one shown above, purchase it in stores.
Digital Cards: If you want to send an egift card to save time and money (and get the shopping started quickly!), order it here: Treat Yourself Choice eGift Card.
How to Use Treat Yourself Gift Card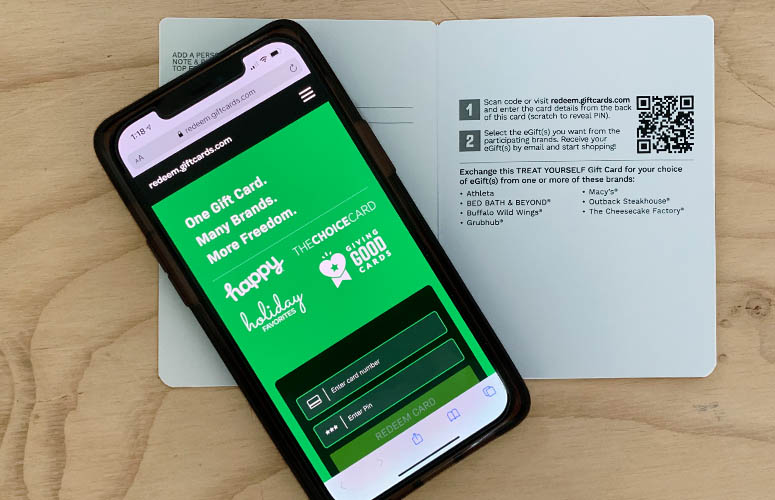 Because stores and restaurants each have their own online shopping carts and in-store cash register systems, to redeem a Treat Yourself gift card, you first have to convert it to the store's gift card currency.
For example, if I want to use a Treat Yourself gift card at Athleta, I would first redeem the Treat Yourself gift card and select an Athleta egift card in exchange. You can select as many gift cards as the balance of your multi-store gift card allows.
Below are the detailed steps to follow:
Go Online. Go to redeem.giftcards.com. Do not do a search, but rather type the URL directly into your browser's address bar or scan the QR code from your phone. If you received the Treat Yourself gift card via email, just click the link.
Enter the Card Number. Enter the card number and personal identification number (PIN) from the back of the Treat Yourself gift card.
Choose Your eGift Card(s). Once accepted, you'll see a screen full of gift cards to select. You can choose to put the entire balance of your Treat Yourself gift card onto a single egift card or you can split the value across multiple cards if your gift card balance allows.
Complete Check Out. Once you have made your selections, complete the redemption process by checking out.
Check Your Email. Once the transaction is complete, you should be presented with the egift cards in the same window, but a copy will also be sent to the email address you entered at checkout.
Now you have egift cards to redeem at the merchants you selected either in stores or online.
If you have any trouble with the redemption process, contact customer service.
Pairing Suggestions for Treat Yourself Gift Card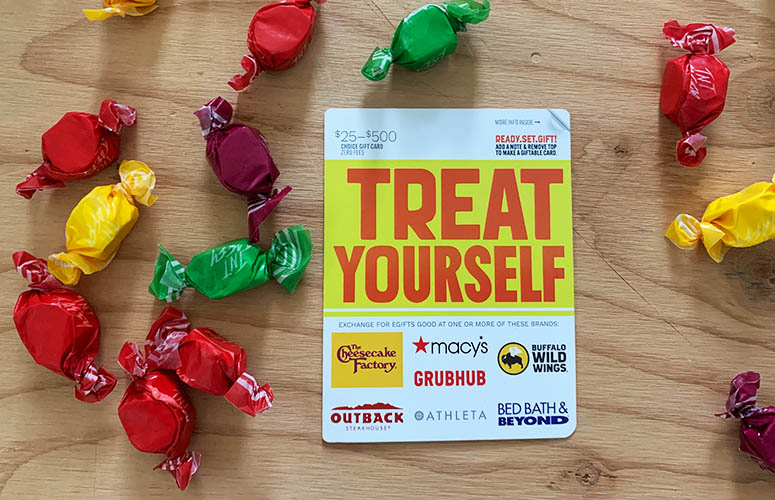 Pair a Treat Yourself gift card with a homemade treat, a favorite candy, or a non-edible treat like a foot bath or luxury lotion. If the recipient has a favorite item from one of the stores listed, that would be a fun treat too. For example, you could tie a Treat Yourself gift card to a reusable and inexpensive shopping bag from Athleta, a candle from Bed Bath & Beyond or six pack of soda to pair with that Grubhub delivery.
Here's a YouTube video where I explain more:
What other questions do you have about the new Treat Yourself gift cards? Let me know in the comments below or reach out to me on Twitter (@GCGirlfriend) or Instagram (@Gift.Card.Girlfriend) so I can help you out.
Happy Gift Carding!
~Shelley Hunter, Gift Card Girlfriend