The 2016 Summer Olympics in Rio are about to begin. Get these U.S.A. gifts to show your team pride.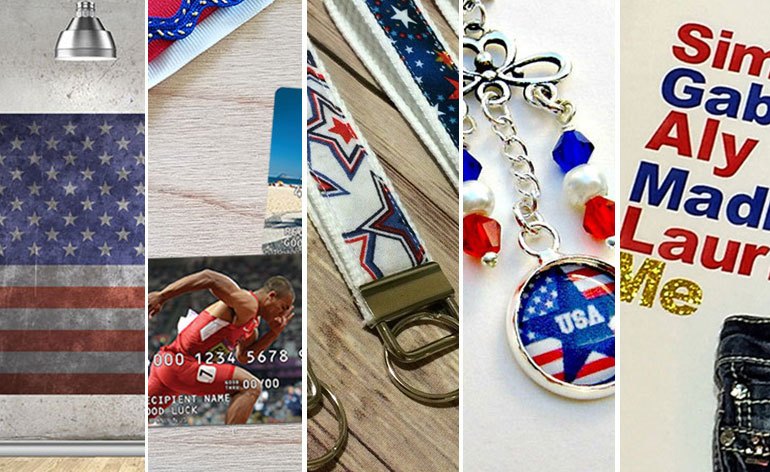 Got a summer birthday to celebrate or a wedding in the works? Then combine your gifting needs with your Team U.S.A. pride and get into the Olympic spirit! We've got Visa gift cards to make, home decor to buy, accessories to wear and a few things for the kids and pets as well. Order today and you'll be ready to go by the time they light the Olympic torch.
1. USA "Road to Rio" Keychains
For a simple USA-inspired gift, order this collection of "Road to Rio" keychains. Each one is handmade and beautifully stitched. Buy one or pick up the entire set for the whole family. They're handy to use, fun to give, and can be used well after the games are over.
Order Rio Keychain from Sew Loved Accessories.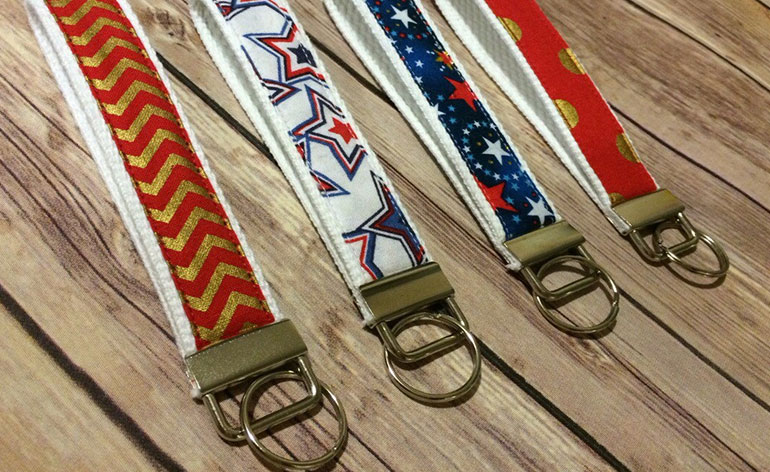 2. USA Olympic Phone Case
In the market for a new phone case? Then check out this customized Team USA case featuring the Rio Olympics flag plus the United States flag. It's artfully designed to show your team spirit while protecting your phone from the elements.
Order an Olympic Phone Case from TakilaArt.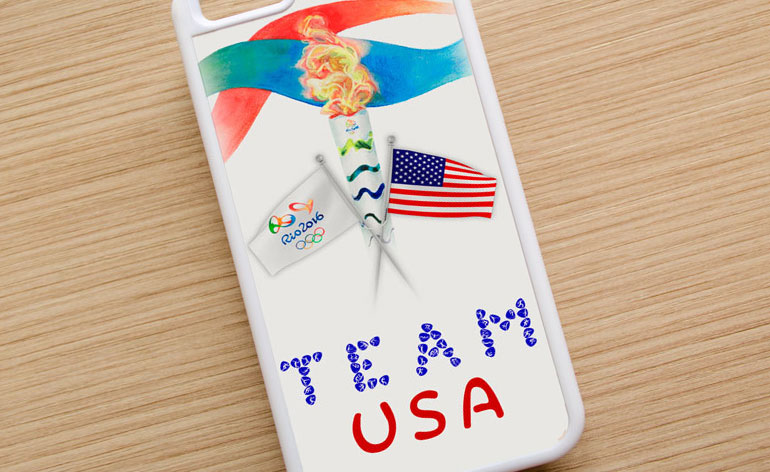 3. USA Dog Collar
Need a gift for a pet lover? Then check out these handmade U.S.A. dog collars. They're adjustable, durable and perfect for getting little pups into the Olympic spirit right along with you.
Order U.S.A. Dog Collars from Cupcake Pups.
4. Medal Tracker
I just love this little medal tracker for kids. I remember doing something similar with my siblings during the summer Olympics about a million years ago. We kept lists on binder paper and diligently updated our medal counts after each event. Of course, the Internet gives up-to-date statistics now, but I love the idea of getting kids involved in watching the games and keeping track of our athletes.
Order Olympic Medal Tracker from The Pier Market.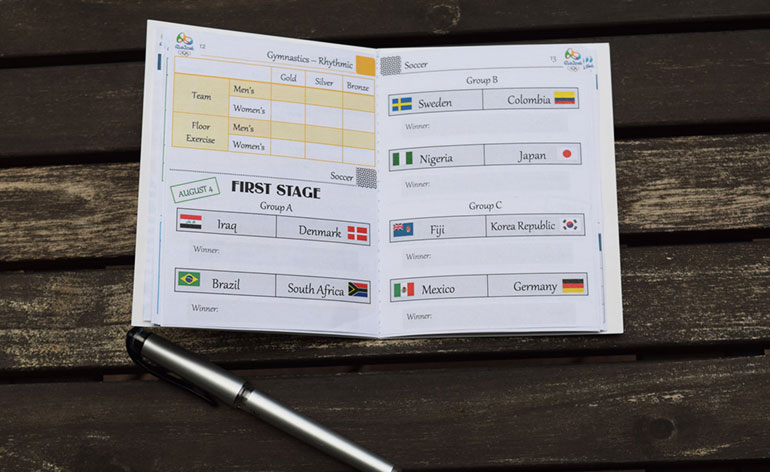 5. USA and Rio Banner
Planning an Olympic Opening Ceremony of your own? Then you can't get the house or the backyard ready without ordering this Team USA "Road to Rio" banner. String it on the front door, the back patio or right above the TV set where you will be watching the games for the next two weeks.
Order Olympic Banner from Fiesta Supplies.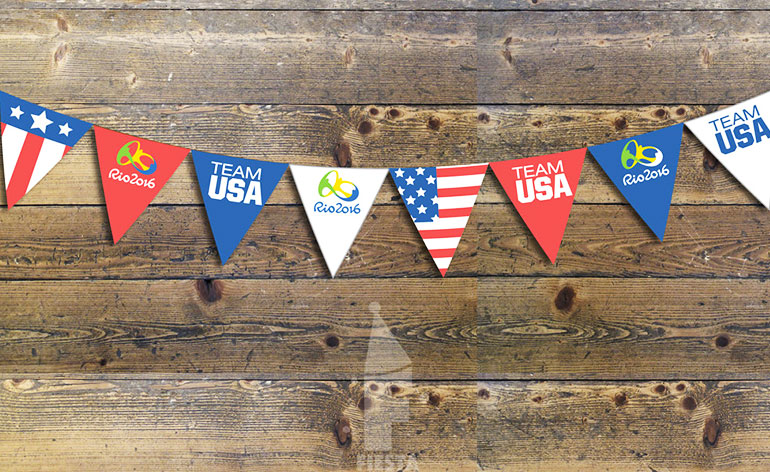 6. Watercolor Torch
This watercolor picture featuring the Olympic Torch is pretty enough to be hung on the wall everyday of the year, but it is especially appropriate for these summer games. It comes with an instant download so as you soon as you order it, you can print it and put it up on the wall.
Order Olympic Watercolor from Renata's Sunny Studio.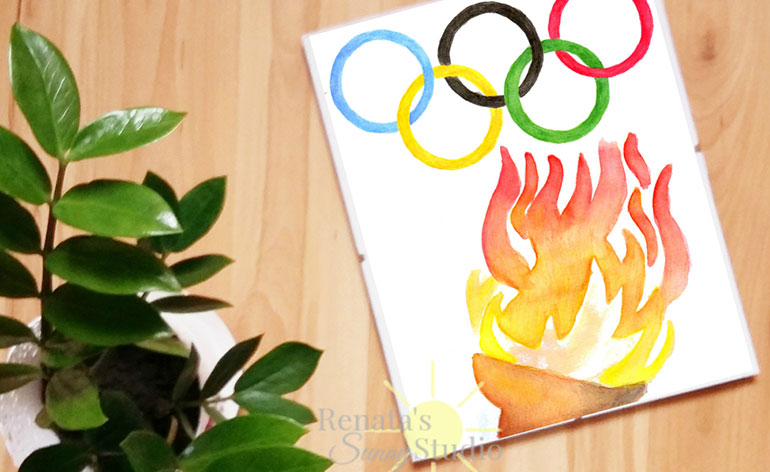 7. Canvas American Flag
To make a bigger statement, look at this beautiful American Flag print stretched canvas. I love the vintage antique look the artist put into his work. It can be ordered either as multi-panelled art or as a single canvas. Put it up for the Olympics or design an entire room around it for a continual show of patriotism.
Order the American Flag Art from Printed on Canvas.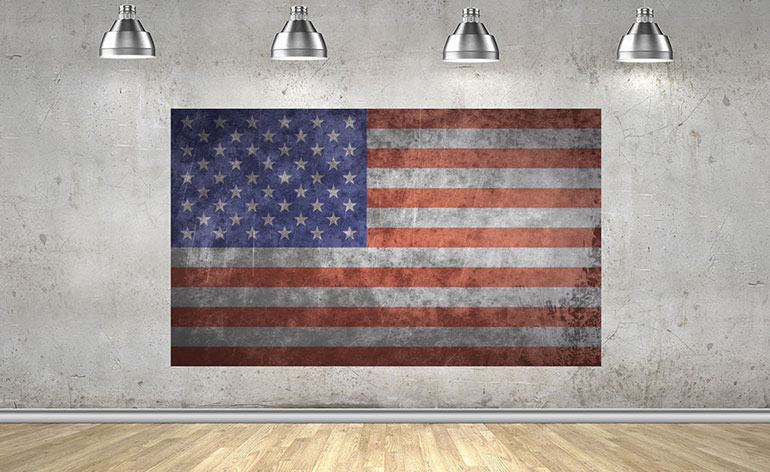 8. Olympic Gymnast Bead Pattern
If you're a serious crafter or a dedicated beader, then perhaps this Olympic Gymnast Bead Pattern is just what you need to make a homemade gift for a fellow gymnastic enthusiast. It looks like a lot of work, but you have time to get it done before the games begin if you download it now and get to work!
Order Olympic Gymnast Beading from BeadsBeadingBeaded.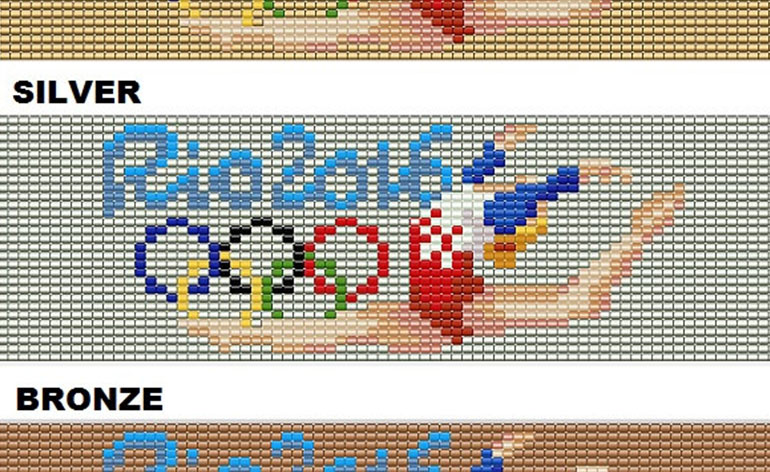 9. Medal Washi Tape
One of the great perks about designing gift card holders is that I get to indulge in buying washi tape whenever it's appropriate. So, naturally, I love this Olympic option. If you're wrapping up a Team USA gift for a friend or have some Olympic crafting to do, then buy this medal washi tape to add a first place touch!
Order Olympic Washi Tape from Washi Supply Company.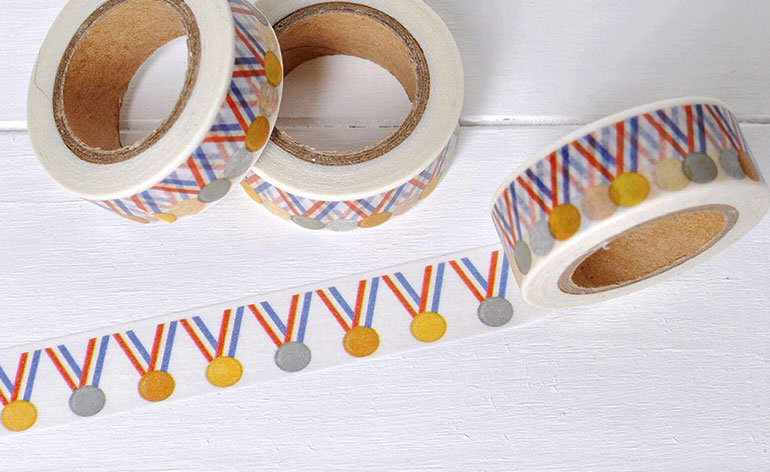 10. American Headbands
One of the easiest ways to show your Team USA pride is to don the old red, white and blue colors. This American headband will top your outfit perfectly. Got a summer birthday party coming up? Order headbands for the party favor and let everyone get into the spirit of the games.
Order American Headbands from Raceday Hairbands.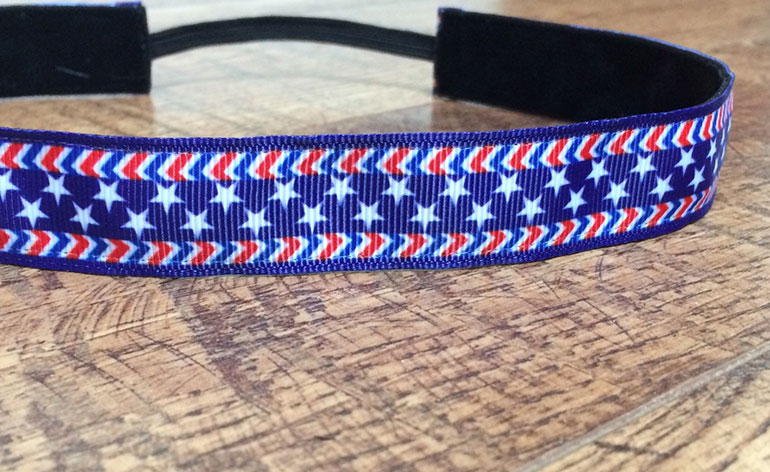 11. Olympic Earrings
If you're looking for a great way to add a little pizzazz to your Team USA outfit, then check out these dangling earrings, complete with red, white and blue faceted crystals and white luster pearls. The USA star charm in the middle makes these earrings the perfect compliment to your Olympic outfit and you can wear them again and again for the 4th of July, Memorial Day, Veteran's Day and Labor Day holidays as well.
Order Olympic Earrings from Sports Jewelry Studio.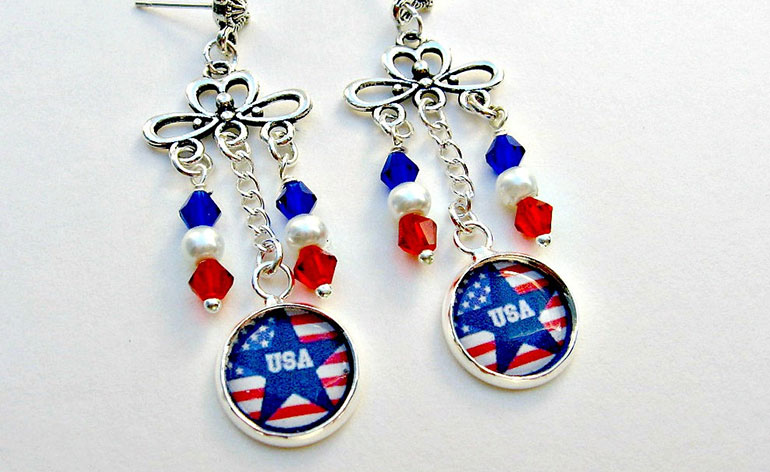 12. Your Olympian on the Team
It's hard to imagine, but one day your little gymnast could actually be on the Olympic Team and this t-shirt proves it. Add your little one's name to the 2016 Team USA Roster and get ready to cheer as the ladies compete on the floor, beam, uneven parallel bars and vault. These are certainly some of the more exciting events in the Olympic games and your little gymnast will want to be part of the team.
Order Olympic Gymnast T-shirt from Little Bird Paper Shop.
13. Olympic Baby Onesie
Unlike other onesies featuring the standard Olympic rings, this darling baby onesie has a few creative touches to make this one of the more unique Team USA gifts in the bunch. If a friend or family member is expecting a new baby this month or recently delivered, then get this onesie for their future Olympic hopeful.
Order Olympic Onesie from Beutique Creations.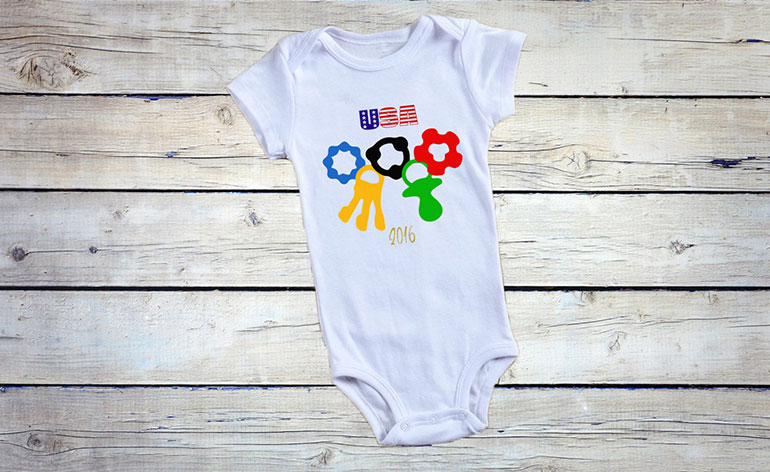 14. Rio Wall Clock
Here's another Olympic gift that may be inspired by Rio but can be used to decorate the house all year long. It's a wall clock made out of an upcycled vinyl LP record so it's a terrific gift for someone who loves sports and music.
Order Rio Wall Clock from Crop Shop.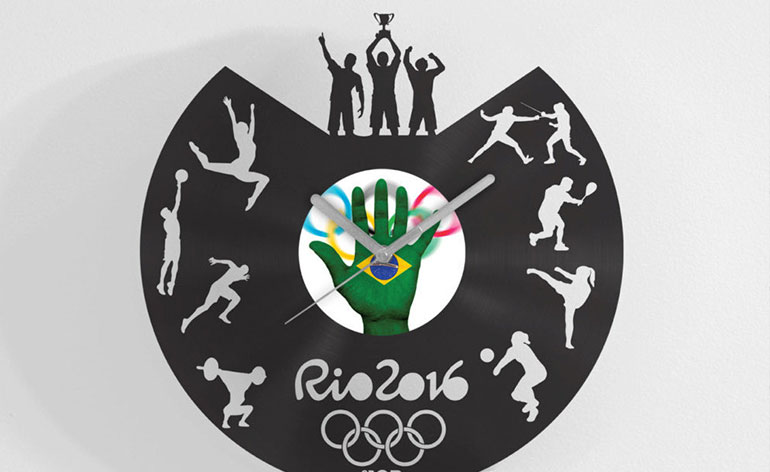 15. American Flag Wreath
The games are about to begin and it's time to let the neighbors know which team you're cheering for! Buy this American Flag Wreath and put it on the front door or deliver it to a friend who has a celebration coming up. This would also make a nice housewarming gift or a bridal shower gift–perfect to hang on the front door for the Olympics and other American holidays.
Order the American Flag Wreath from Glitter Glass and Sass.
16. Your Future Olympian Visa Card
Lastly, make a Visa gift card using a picture of your own little athlete. If your son or daughter likes to play sports and he or she has a birthday coming up, then this is the perfect present. If your child has a birthday party to attend, then you're all set with this gift as well. I have given these personalized gift cards many times and I can honestly say that kids love to receive them. They show their gift cards to everyone who comes to the party and keep the cards long after the money has been redeemed. Trust me. This gift is gold-medal worthy!
Order Personalized Visa Gift Cards right here at Giftcards.com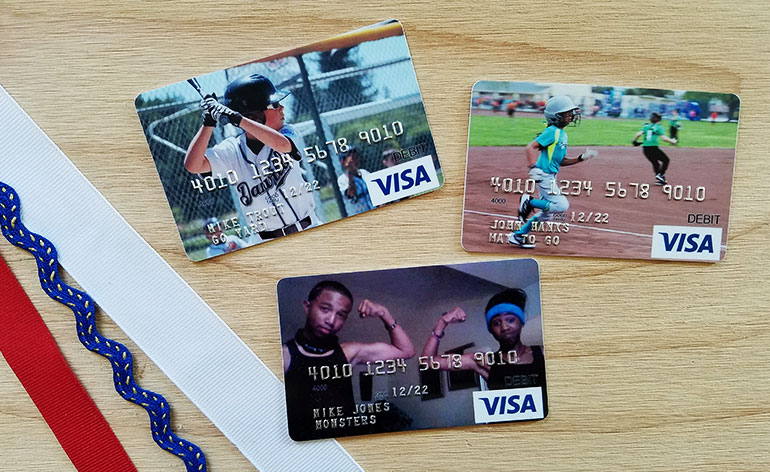 Did I miss any of your favorite Team U.S.A. finds? Let me know what you find in the comments below or reach out to me at @GCGirlfriend on Twitter and I'll get back to you shortly.
Happy Gift Carding!
~Shelley Hunter, Gift Card Girlfriend