Real-life examples of how I used discount egift cards in stores and online to rack up the savings!
UPDATE 1/8/2021 – The gift card app I used in this demonstration is no longer available. However, the ability to buy and save with discount gift cards is still very much an option. Though each reseller may work slightly differntly, the guiding principles and tips in this post can still be used to help you save money on the things you're already planning to buy. Read more about Gift Card Resellers.
Check out Happy Card Gift Cards for a gift card that can be used many places without fees or expiration.
Two Ways to Save with Discount Gift Cards
An easy way to save on everyday expenses is to shop with pre-owned discount gift cards. Here is how it works.
People who receive gift cards they do not want can sell their gift cards for cash. The amount received varies depending on the popularity of the card, the number of cards already in inventory and the gift card reseller selected, but is always less than face value. The gift cards purchased by resellers are then marked up slightly (but still less than face value) and sold to people who either want to find a deal on gift cards or want to use discounted gift cards to save money on other purchases.
Sample Case: Suppose I want to give my son a GameStop gift card for his birthday. To save money, I check to see if I can buy a pre-owned GameStop gift card from a gift card reseller. At this writing, GameStop gift cards are selling for 11.5% less than face value. So I can either buy the GameStop gift card and give it to him directly or I can buy it, take it to GameStop myself and then use the card to purchase the game I know he is likely to buy anyway. Whether I give the discount gift card to my son or spend it myself, I could save nearly 11.5% on his birthday present with very little effort.
And don't forget this lifestyle hack: you can stack coupon codes and promos onto discount gift cards to save even more. See two examples below.
How to Get Discount Gift Cards Quickly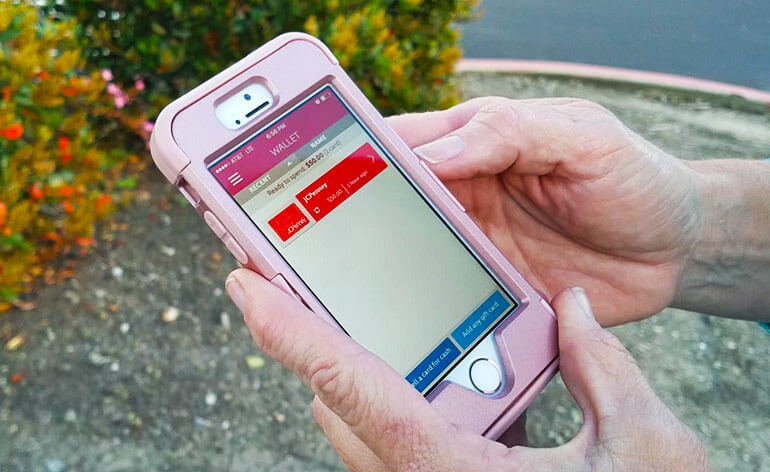 In the early days of the gift card reseller business, you had to order plastic cards and then wait about a week for them to arrive in the mail before you could go shopping. Now "there's an app for that" and resellers transact with gift card codes (the combined gift card number and personal identification number (PIN) printed on each card) instead of the actual plastic. This switch to digital makes it possible to sell gift cards for cash quickly and have discount egift cards available to redeem even faster.
So how exactly does this work? What is the actual process for using a discount egift card at the store? What does the egift card look like and what am I supposed to tell the cashier? Can I use an egift card online? These are some of the gift card questions I get asked the most.
In the examples below (and in the video above), I will walk you through two real-life examples of how I used discount egift cards to save on recent purchases and I will give you a few tips on how to make the process easier. If you follow along and do the math, I think you will find that the process is simple and the savings are worth the effort.
And by the way, it does not matter if you are using a discount egift card or a full-priced egift card, the process of presenting a digital version of a gift card at a physical location is the same. You just need a way to show the card to the cashier. How much you paid for the card is irrelevant.
EXAMPLE 1: Using Discount eGift Cards in Stores
In the images on this page and in the video, you will see several screenshots from a discount gift card app and website. Please remember that technology gets updated all the time. I am showing you the current interfaces so you will understand how the process works today and will get more comfortable using egift cards in general. Whether the app changes, you buy discount gift cards from a desktop or you use a different reseller's tools, the basic process of how to use egift cards at the store should be the same. I just want you to see how easy it is to save money with discount gift cards and not be afraid to take an electronic version of the gift card to the store. So let's start saving!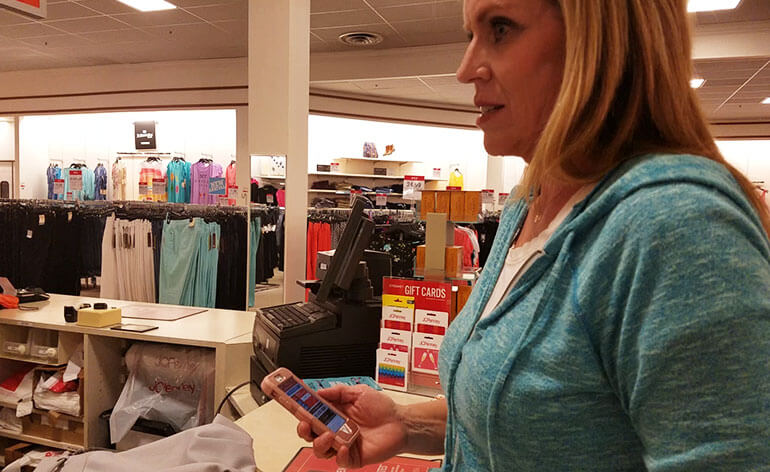 In order to use discount egift cards in stores, you have to buy the discount egift cards first. I know that is pretty obvious, but I am pointing it out because you may have to allow some time between ordering the codes and using them. I'll explain below. The steps needed to redeem egift cards in stores are as follows:
1. Find the Discount eGift Card(s) You Need
Once you know which store you will shop at, look for discount egift cards to help you save. I like to do some exploratory shopping first and then buy the discount egift cards I want after I decide what I am going to buy.
My Experience: I needed some new skirts for church and for work, but did not want to spend too much money. I chose JCPenney because I had a coupon and because I checked discounts and found that I could get a JCPenney gift card for 11.5% off of face value. Combining both on top of potential sale prices helped me stay in budget.
Here's a Tip: When you look for discount gift cards, reputable apps and websites will tell you if the gift cards can be used in stores, online or both. Make sure to select a gift card that can be used where you want to shop. In the screenshot on the left in the image below, you will see that the app allows you to filter the options by gift card type.
2. Estimate the Face Value Needed to Cover Your Purchase
When you have an idea of how much you will spend, buy the discount egift card (or cards) you need to cover the total transaction (including sales tax) in order to maximize your savings. It is okay to buy more than one gift card since stores can take multiple gift cards at the cash register.
I tend to buy discount gift cards that are valued slightly below what I think my final purchase price will be so that I do not get left holding onto a gift card that I might not use again for a while. If you are a regular shopper at the store and know that any gift card purchased will eventually get used, then I suggest buying a little more than you need to ensure you save as much as you can. If I buy a $50 gift card for $40, for example, then I will save the full 20% when I buy something for exactly $50. If I use the $50 gift card to buy something that costs $60, then my net savings is more like 17% because the $10 difference is not discounted.
My Experience: I planned to spend about $50 at JCPenney. I also had a coupon to use, so I purchased an egift card with a $50 face value for $44.25 which is an 11.5% savings.
Here's a Tip: In some states, you can cash out the remaining balance on a gift card if it falls below a specific threshold. If you live in one of those states, then you can buy discount gift cards slightly over the expected transaction and potentially get the extra value back in cash. Read this post on which states give cash back for gift cards to see if you have that option.
3. Buy the Discounted Gift Cards
Once you find the egift cards you need, complete your purchase and wait for the gift cards to arrive. Another benefit to shopping with a discount gift card app is that the egift cards go right into the app wallet upon delivery. Please allow a little extra time, however, if this is your first time using discount gift cards in stores. Although I buy egift cards while I'm shopping, I do not get in line at the cash register until I have the egift cards. Though delivery is generally quick, most resellers put new orders through security screening processes that could take a few minutes or more.
My Experience: If you look at the time shown on the screenshots below, you will see that I started my search for egift cards at 1:57 and had the discount egift card in my app wallet by 2:01.
Here's a Tip: I believe the speed at which I regularly receive my egift cards is partly due to being a repeat customer. The more comfortable I am with using the app, the more proficient I am at using it. My shopping history also demonstrates that I am not a fraud risk so I pass through the screening process fairly fast too. Staying with a consistent set of gift card resellers or using the same app all the time can build your profile and efficiency as well.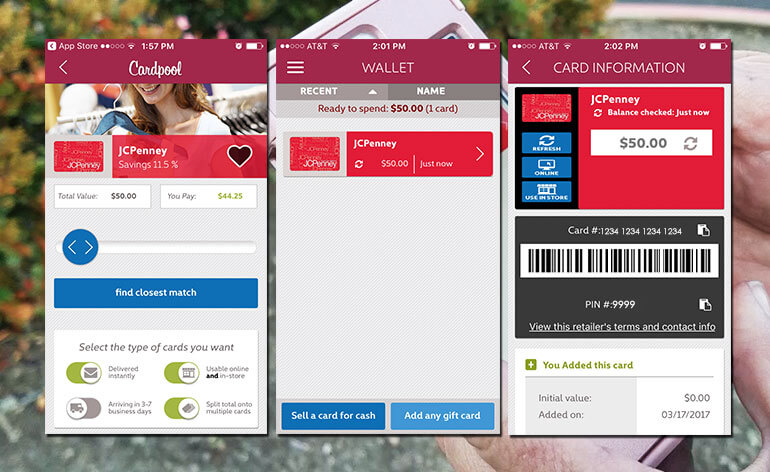 As you can see in the image above, I paid $44.25 for a $50 egift card to JCPenney. In four minutes or less, I paid for the card and had it added to my wallet app. The egift card in my wallet app has a gift card number, PIN and barcode–all of which I modified for this post, of course. I now have everything I need to use the egift card in the store.
4. Redeem your eGift Cards in the Store
When you get to the cash register, tell the cashier that you will be paying with an egift card on your phone. This helps the cashier know what payment method to expect and to set up the transaction accordingly, if necessary.
My Experience: When I got to the cash register, I explained to the cashier that I would be paying with an egift card on my phone. First she rang up the skirts at reduced sale prices, then she accepted my coupon, and finally, she asked for my egift card. Although she tried to scan the barcode, from past experience, I knew that would not work. So instead I entered the gift card number and PIN into the customer keypad. (JCPenney used to have cashiers enter digital gift card numbers themselves, but I noticed that this process changed about a year ago. I like the change because I keep my phone in my hands and it is my responsibility to enter the egift card number correctly.)
Here's a Tip: If you are not comfortable using the app or are worried that you will forget your logon credentials when you get to the register (or that the store's wifi will be slow), take a screenshot of the egift card. Then, rather than logging into the app to use the egift cards in your wallet, simply show the image to the cashier.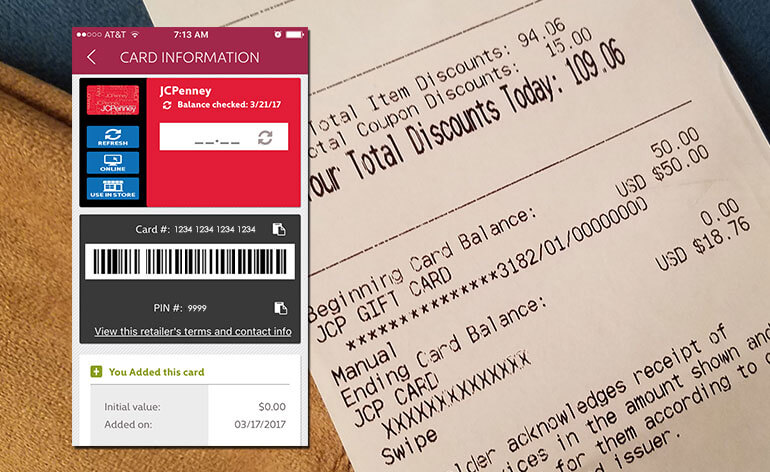 And there you go. In the image above, you can see that the point-of-sale system accepted the egift card, my coupon and a final form of payment to complete the purchase. Also, notice that the gift card balance in my app wallet dropped to zero as soon as the transaction completed.
The Savings Add Up! If you are interested in the breakdown of how much I saved, the full price of the merchandise was $172. After applying the sale price discounts, I owed $77.94. Then I used a $15 coupon to drop the balance to $62.94, which is a total of 63% off. Adding sales tax brought the final balance due to $68.76.
After paying with the $50 discount egift card (that I bought for $44.25), I owed $18.76. Total out-of-pocket expense was $63.01 for $172 worth of merchandise. If you only count the stacking of the coupon and the discount gift card, then the savings is STILL 19%. Had I bought another gift card to cover the total cost, I would have saved even more.
And that's the truth.
EXAMPLE 2: Using Discount eGift Cards Online
Now let me show you another real-life example of shopping with discount egift cards. This time, however, I will buy egift cards from the website on my desktop computer instead of the app, and I will redeem the egift cards online.
The steps needed to buy discount egift cards online and use them online are as follows:
1. Order the Discount eGift Card(s) Online
A few days ago, my son told me that he had outgrown all of his shorts. The next day, I received an email from Old Navy saying that shorts would be on sale for 50% off for one day only. So that night we logged into OldNavy.com and put some items into the online shopping cart. Before completing the purchase, I decided to check a gift card reseller site and pleasantly discovered that I could save an additional 18.5% if I bought discount Old Navy gift cards first. Stacking discount gift cards onto sale prices is as simple as that.
My Experience: Thinking I would spend about $50, we bought 2 egift cards with a total value of $50 for $40.74. In choosing the amount to spend, I should have considered that I would be charged sales tax as well. Had I done that, I would have purchased $60 worth of gift cards instead.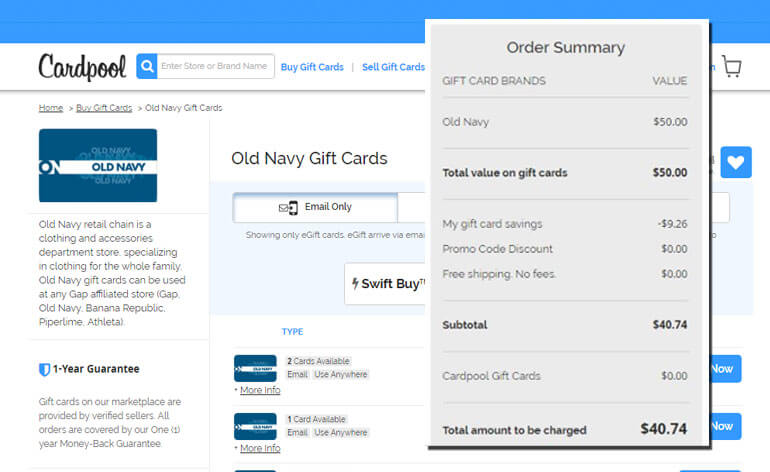 2. Check Your Email for Delivery
After completing the purchase, check your email. Depending on the website you ordered the gift cards from, you may get more than one email for each egift card ordered or you might receive a confirmation email separate from the actual delivery. In general, you are looking for an email similar to the one pictured below that most likely contains links to claim the actual egift cards. (It is rare that the email itself has the egift card details.)
My Experience: I ordered two egift cards and the email containing the links to each egift card arrived about 30 minutes later.
Here's a Tip: If you do not receive your email in a timely manner, check your spam or junk folder to see if the email got accidentally rerouted. Also, make sure you are checking the correct email address. Sometimes I order stuff online using an email address that is different from the email account I check most often.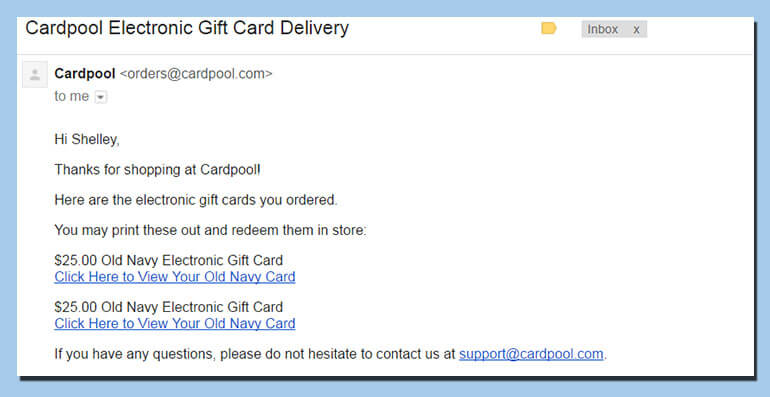 3. Open the eGift Cards
Once the email containing a link to the egift card arrives, click the link to find the gift card number, PIN and a barcode.
My Experience: I clicked the two egift cards received and kept the windows active while I finished shopping on the Old Navy website.
Here's a Tip: If you want to use an egift card at a store, you can print the egift card details, take a screenshot of it on your phone or enter the egift card into a mobile wallet or gift card app like I did in the example above. If you are planning to use the egift card online, then just keep the details popped up in a browser window until you are ready to enter them into the online shopping cart.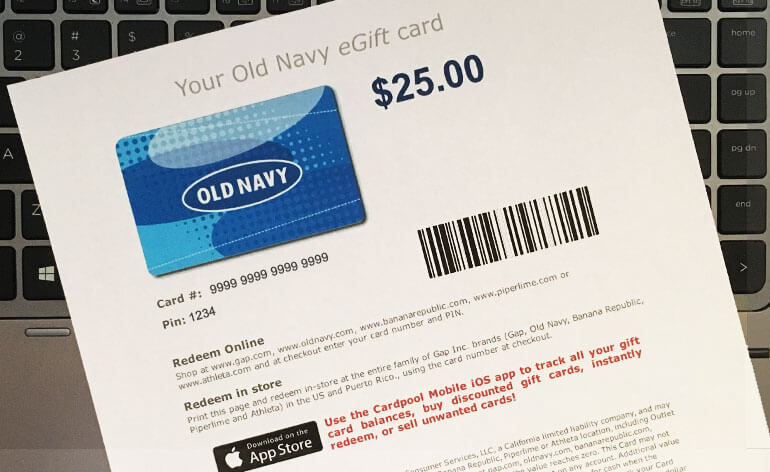 4. Check out using the Discount eGift Cards
Now all that is left to do is use the discount egift cards to complete your purchase. Enter the gift card number and PIN at check-out. Pay any remaining balance with another form of payment and you are done!
My Experience: I bought 4 pairs of shorts and used two discount egift cards plus a credit card to complete the purchase. You can see this in the order summary below.
Here's a Tip: Most online shopping carts will allow you to enter multiple store gift cards during checkout. Before buying multiple gift cards, however, you should check to see what the limit is on the website you will be using. Some sites will accept three or four cards. I have even seen a website that accepted six. If you cannot enter all of the egift cards you have, call the store and place your order by telephone.
The Savings Add Up AGAIN! The full price of 4 pairs of shorts totaled $117.46. With the flash sale, the shorts came to $57.30. Because of the sale prices, I was not able to use a coupon as well, so my initial savings were about 50%. Then I had to add 9.25% sales tax to make the total balance equal $62.03.
After paying with the $50 discount egift cards (that I bought for $40.74), I had a balance due of $12.03. Total out-of-pocket expense was $52.77 for $117 worth of merchandise. That's a combined 54% savings. If you only count the stacking of the sale price and the discount gift cards, then the savings work out to 15%. Had I bought a couple of higher-valued gift cards, I could have saved even more by covering the full cost of the transaction.
The more I shop with discount gift cards, the more comfortable I am with the process and the more I learn what works best and what does not. So let me know what other gift card questions you have or what gift card help you need. Leave a note for me in the comments below or reach out to me on Twitter (@GCGirlfriend). I never get tired of answering your gift card questions and really want to help you make the most of discount gift cards and egift cards in general.
Happy Gift Carding!
~Shelley Hunter, Gift Card Girlfriend