Taking conversation hearts to the next level, this gift card will be the Valentine talk of the town.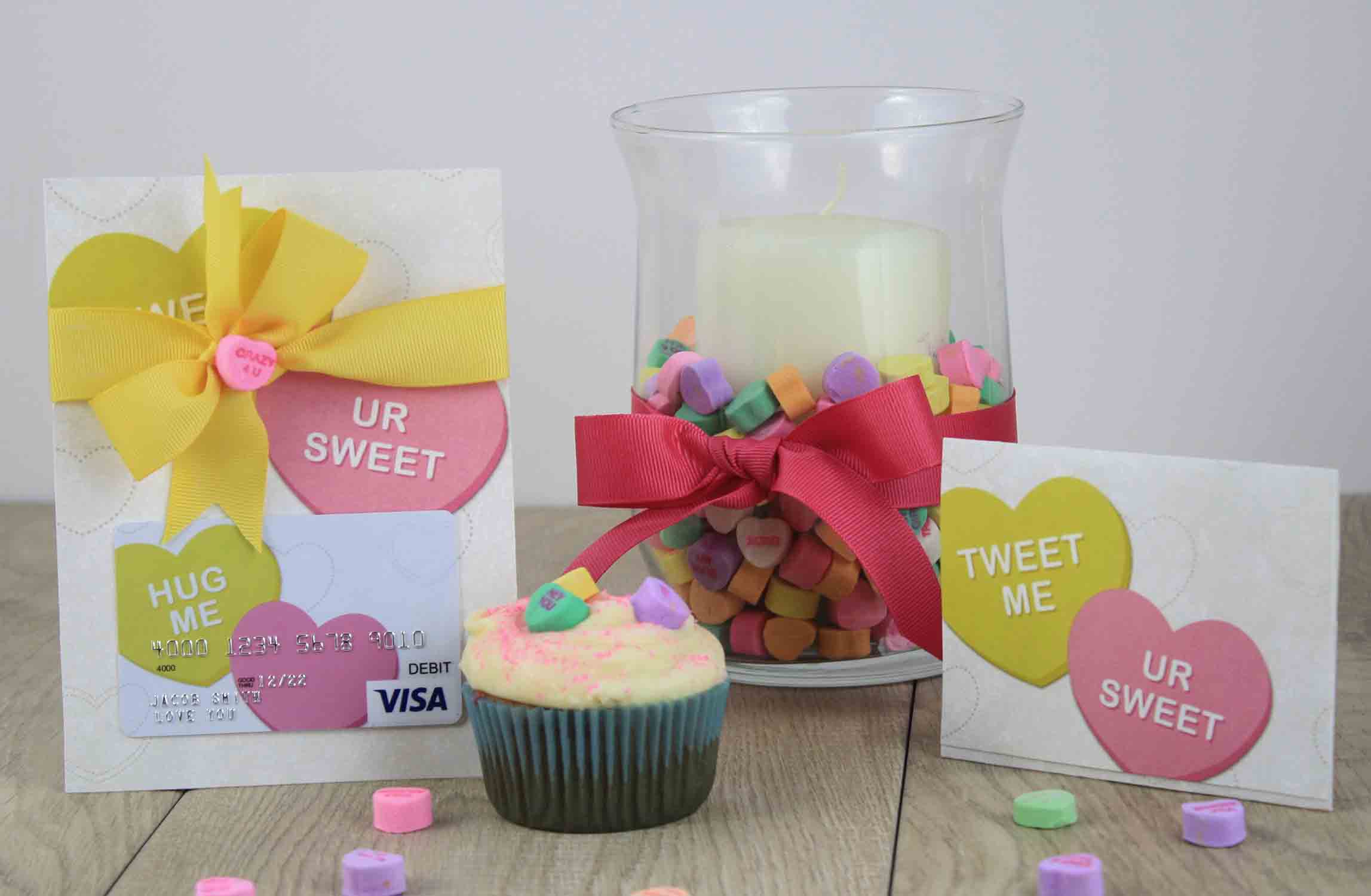 "Gifting Made Easy" by Gift Card Girlfriend
My 10-year-old son does not like Valentine's Day. The whole business of LOVE is too much for him and he thinks it incredible that anybody his age would deliver something that says, "you're cute" to another classmate. Each year, he makes me buy multiple classroom packs of Valentine cards so he can discard the mushy ones and only deliver the cards that say, "Happy Valentine's Day." Conversation hearts, with so many sentimental sayings, are a definite thumbs down for him. But as my fellow "pinners" will attest, this old-fashioned favorite is a definite "yes," when it comes to Valentine's Day crafting. With the help of our talented gift card designers, below you'll find conversation heart Visa® gift cards that Valentines of all ages will enjoy.

Order Gift Card and Download Printable
To get started, order the "Conversation Hearts" gift card and download the matching gift card holder you want to use. Our Visa gift card perfectly matches both the flat gift card holder and the folded one, but the folded one allows for a store brand gift card to be used instead. So if you buy a gift card to your sweetheart's favorite clothing store, for example, you can still download the free printble gift card holder and keep on crafting!
Order "Conversation Hearts" Visa Gift Card
Download free matching "Conversation Hearts" Flat Gift Card Holder
Download free matching "Conversation Hearts" Folded Gift Card Holder

Print and Cut
After downloading the holder, print it on a color printer using "best quality" and "actual size" settings. (Do not select "shrink to fit" or any other setting that will change the size of the printed .pdf image.) White, card stock paper measuring 8-1/2″ x 11″ works best. To get the best quality printing, I often take the printables to Staples or Office Depot. They do a great job and the professional quality is worth the dollar it costs me. Cut the holder with a paper cutter using the trim marks as a guide.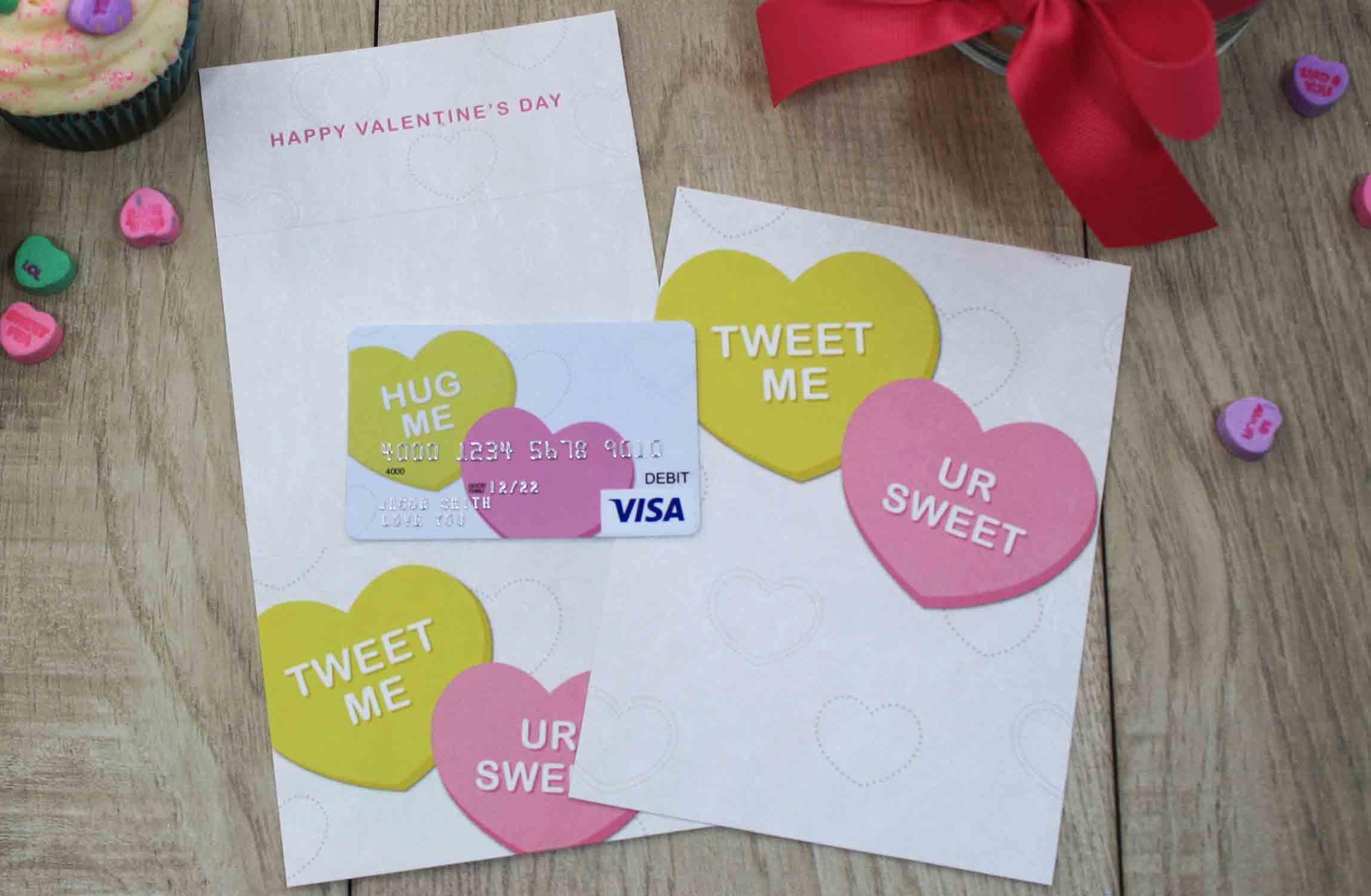 Craft the Flat Holder
An easy way to add a little flare to the flat gift card holder is to add ribbon, tie it in a bow and glue an actual conversation heart to the middle of the bow. Pick the sentiment or colors that work best for your design.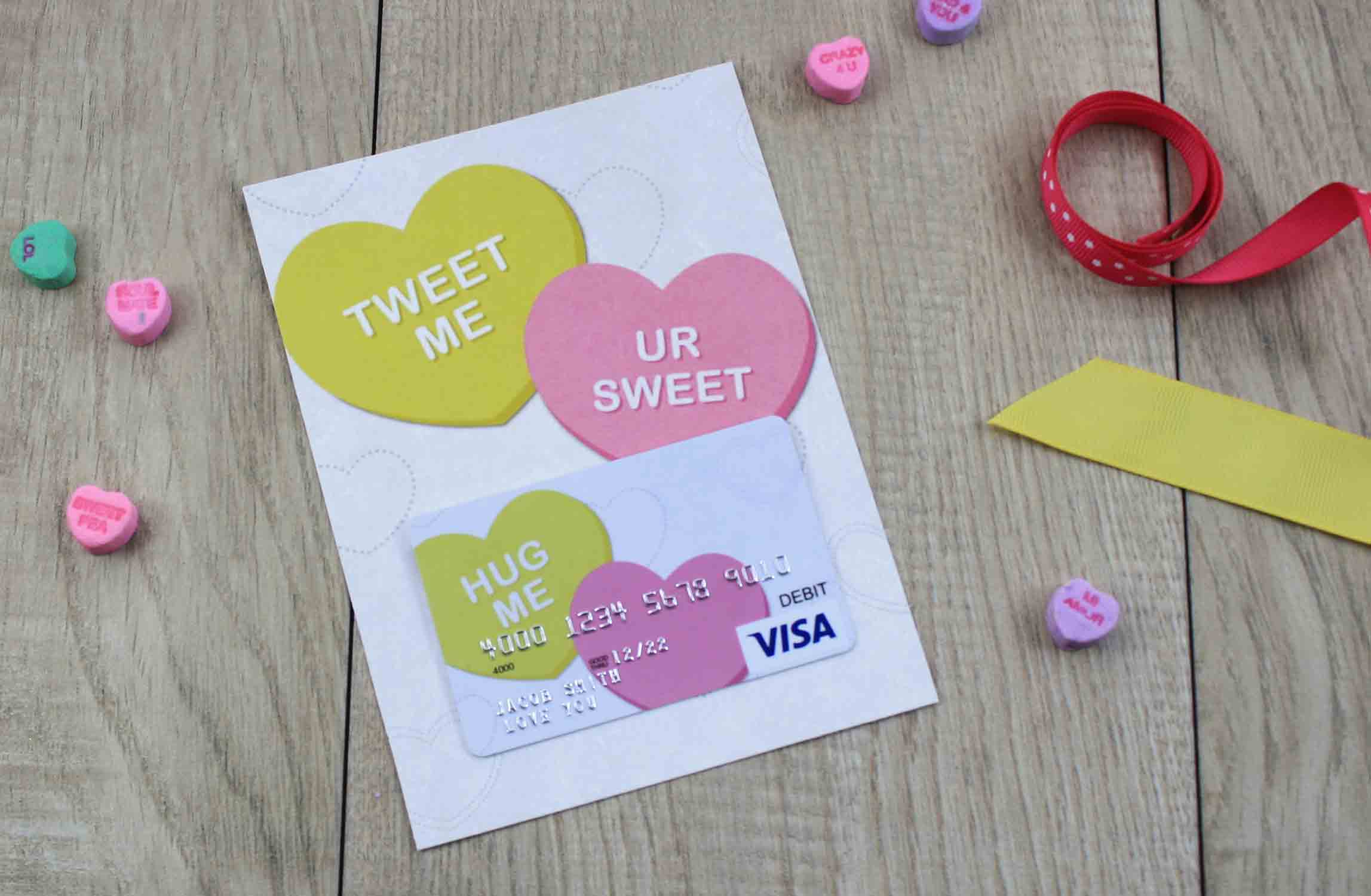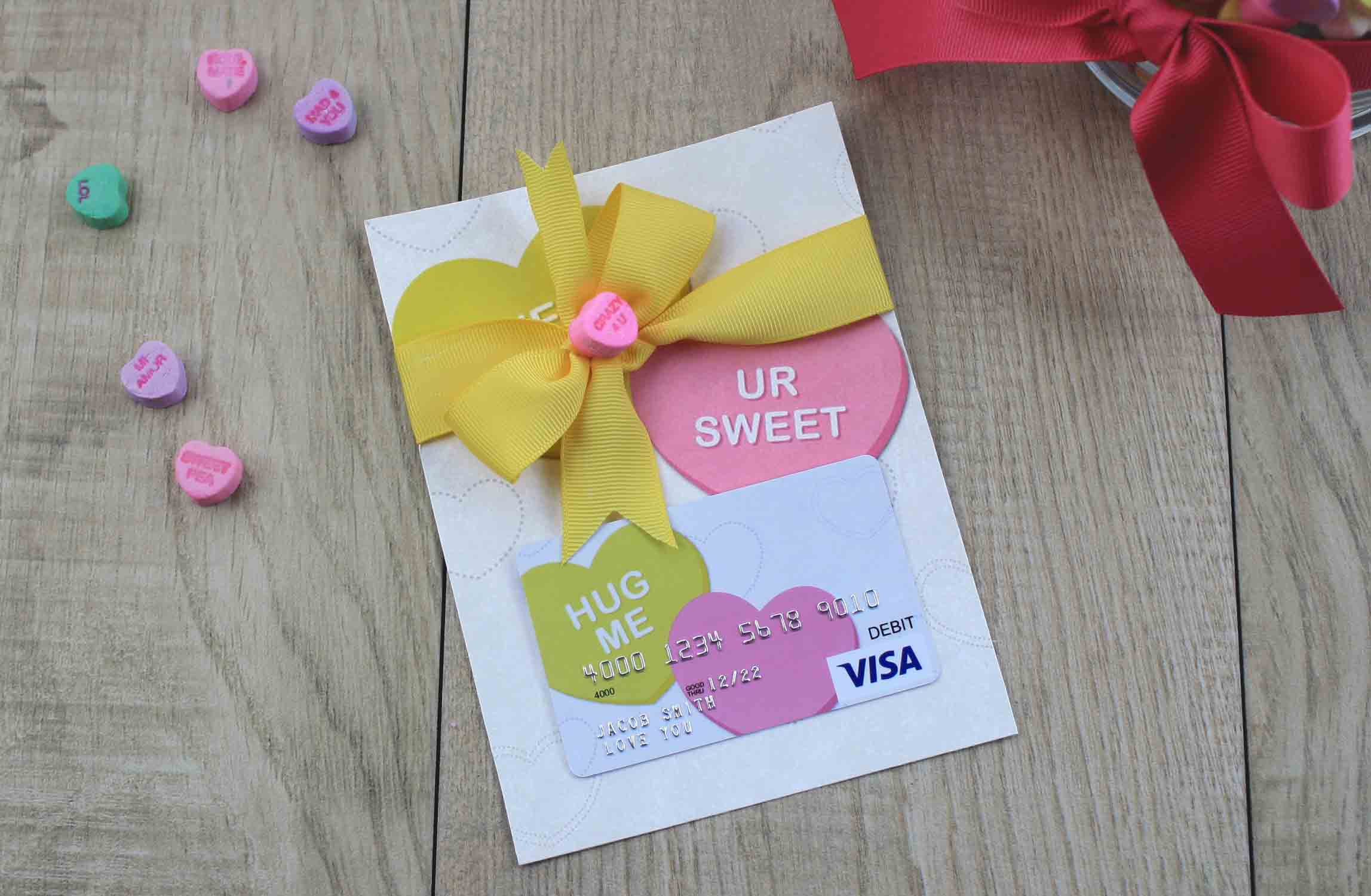 Make the Folded Holder
If you look at the printed side of the folded gift card holder, you'll see "fold" indicators and a faint line that shows where to fold the card. Even though I can see those lines on the printed side, I need to know where they are when I flip the card over so I can score the card along those same lines. The lines are at the 3″ and 6-1/4″ marks.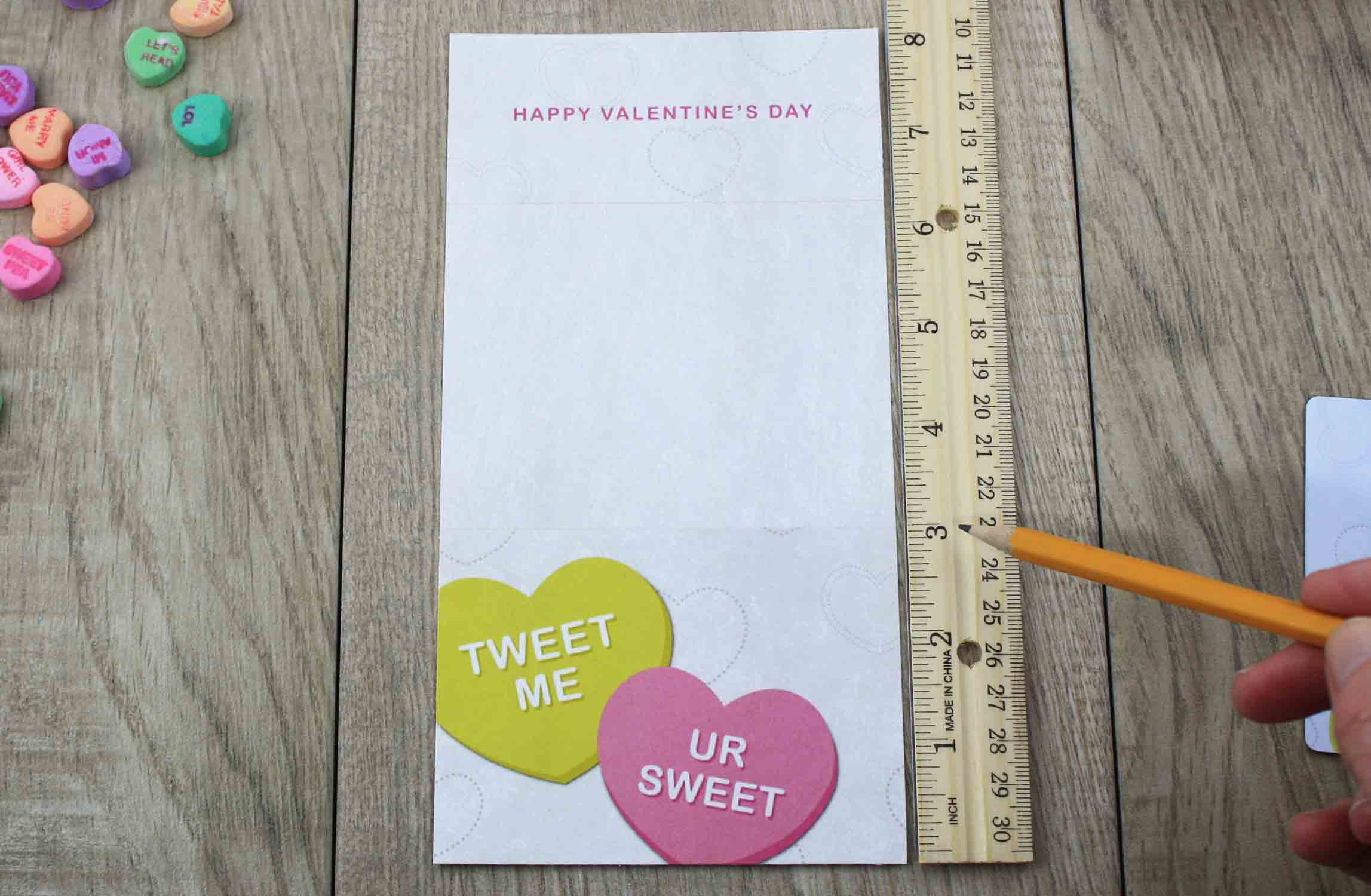 Using a pencil, mark the back side (white side) of the carrier at those measurements.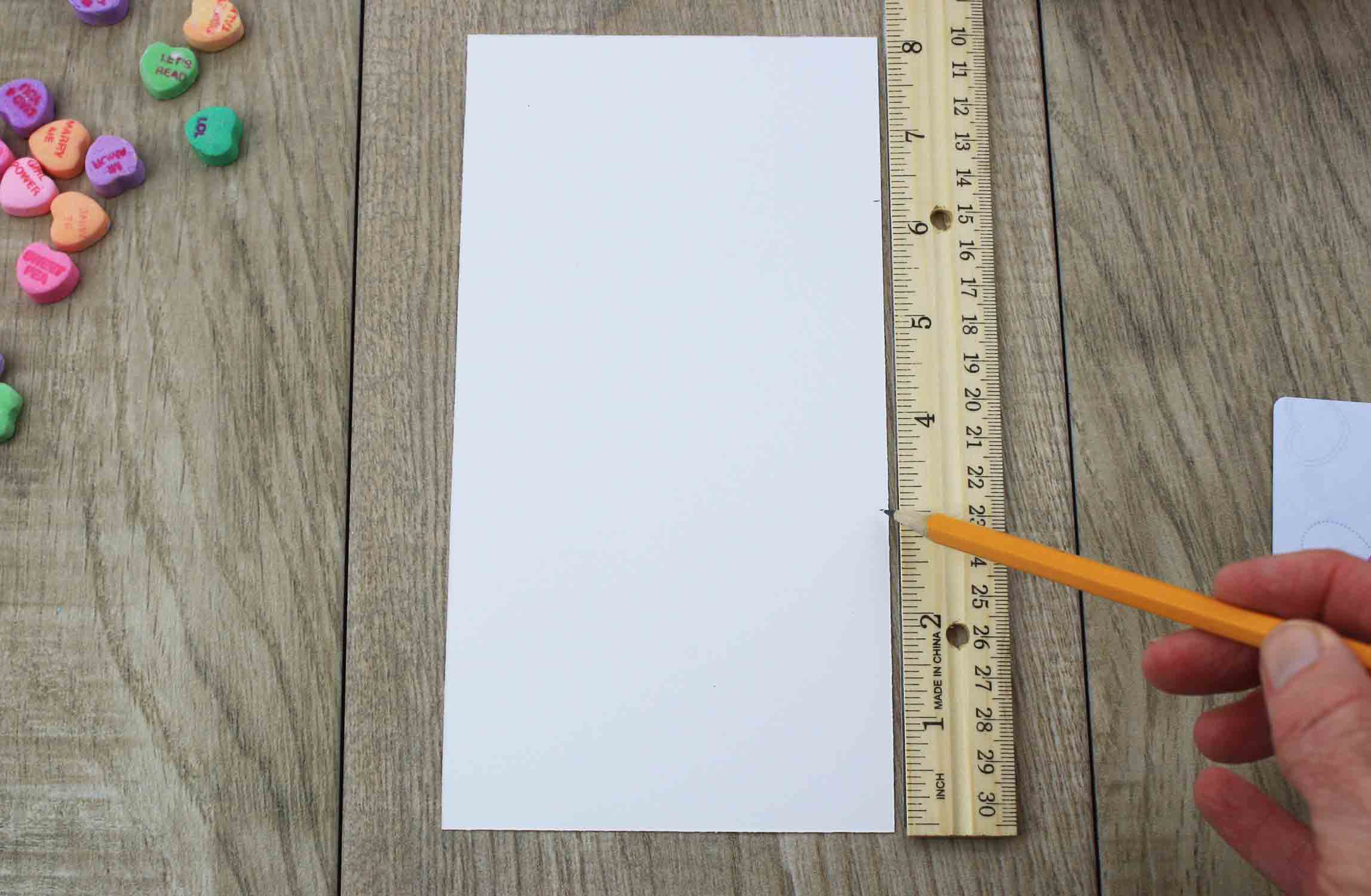 The easiest way to fold card stock is to score it first. For this step, I run the end of a blunt-pointy object along the fold lines. Using a ruler and the measured marks, score the paper on the fold lines.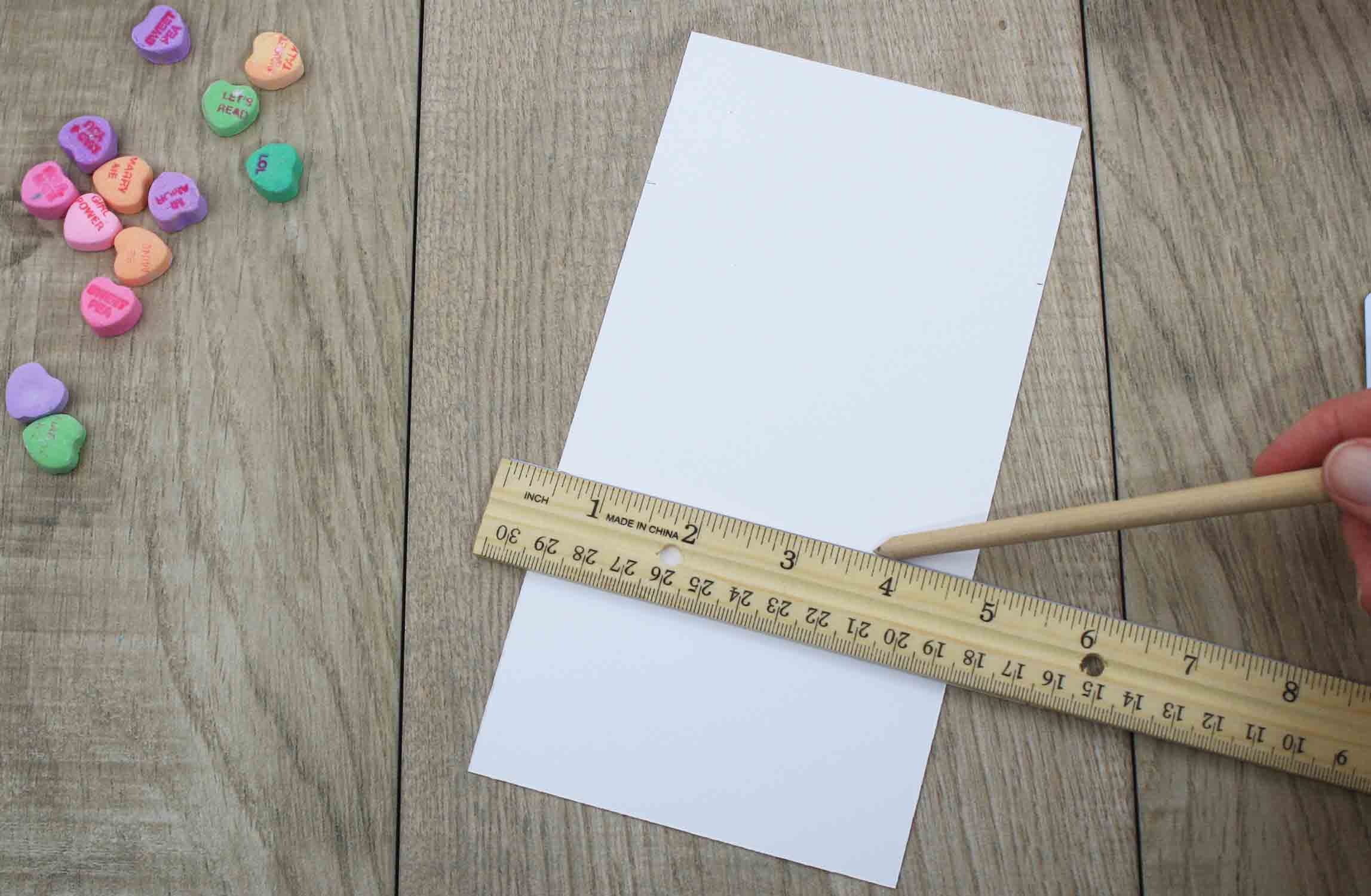 Add the Gift Card
Fold up the gift card holder as shown. Using double-sided tape or a glue stick, seal the edges of the gift card pocket, then put the gift card inside. Write a personal note in the white space above the card. You can add other embellishments here if you'd like, such as washi tape, stickers, glitter or other creative objects.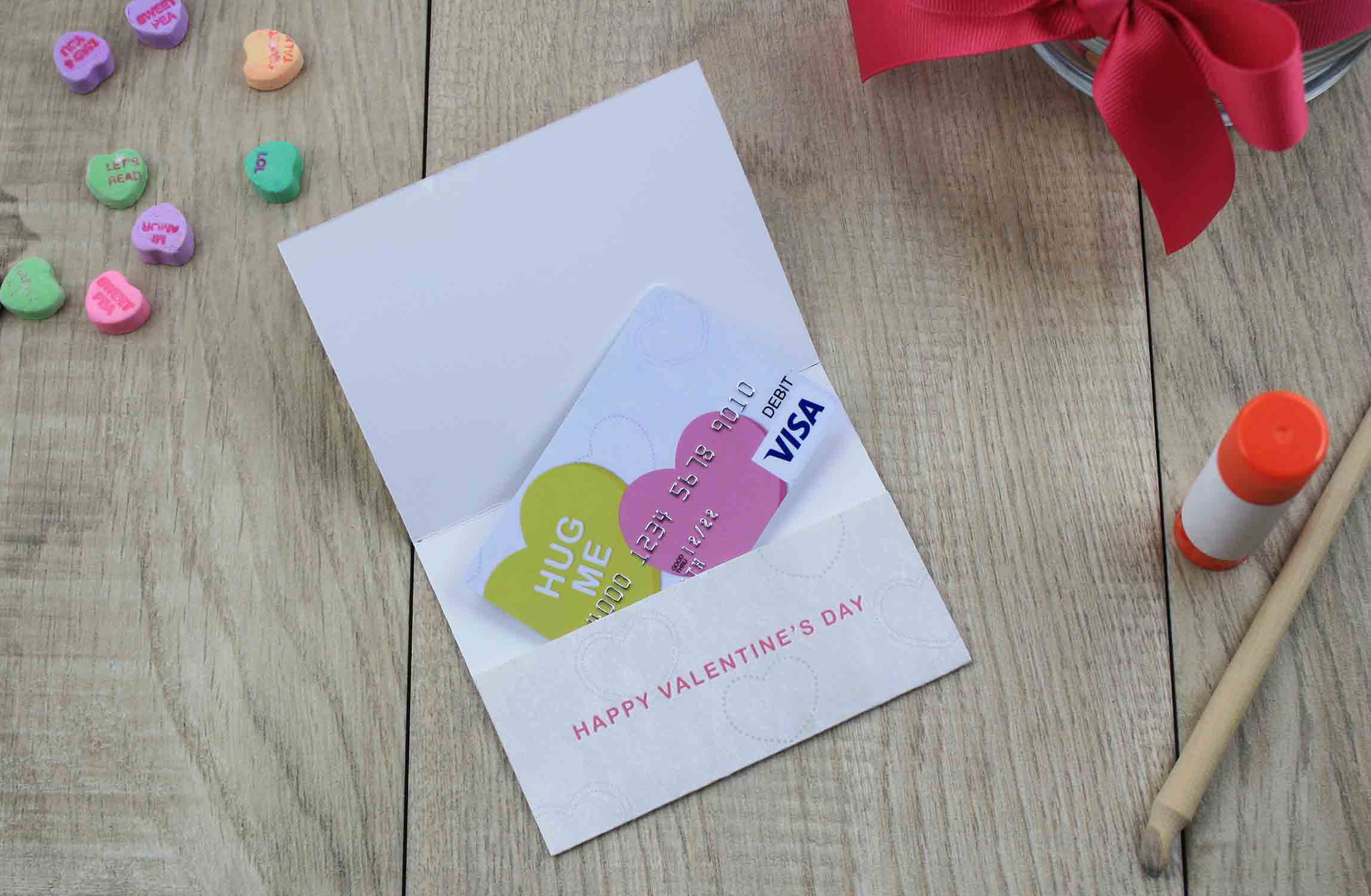 Wrap it Up
With the gift card holders ready to roll, all you have left to do is decide how you want to present them. I saw this cute conversation hearts in a vase craft on Pinterest and thought it matched perfectly.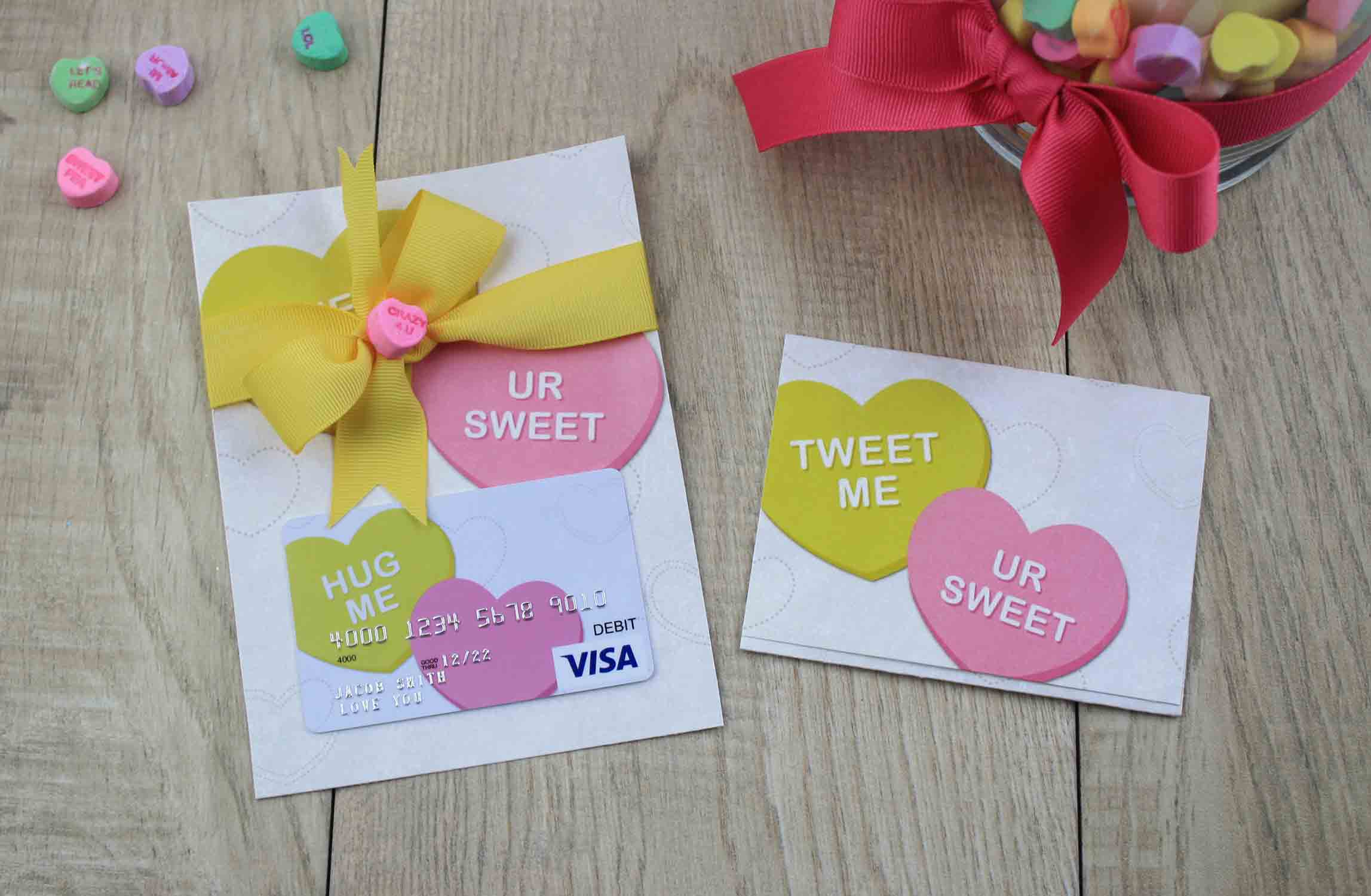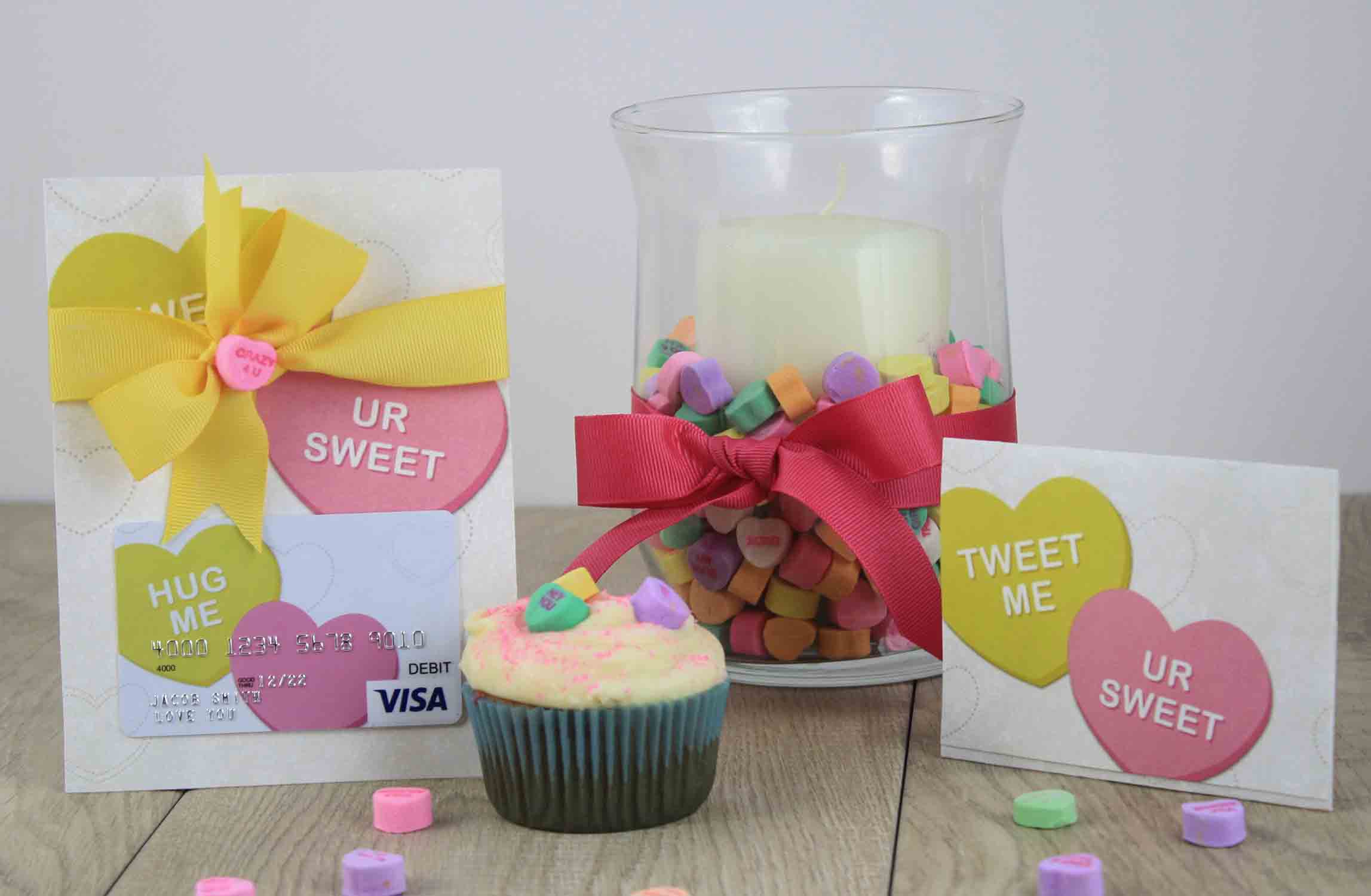 Pop Quiz!
What fits perfectly inside and perfectly matches a box of conversation hearts? You guessed it. A conversation heart gift card. Surprise Sweetie with a Visa gift card inside of a box of those traditional little candies or one of the newer versions of this old-fashioned favorite.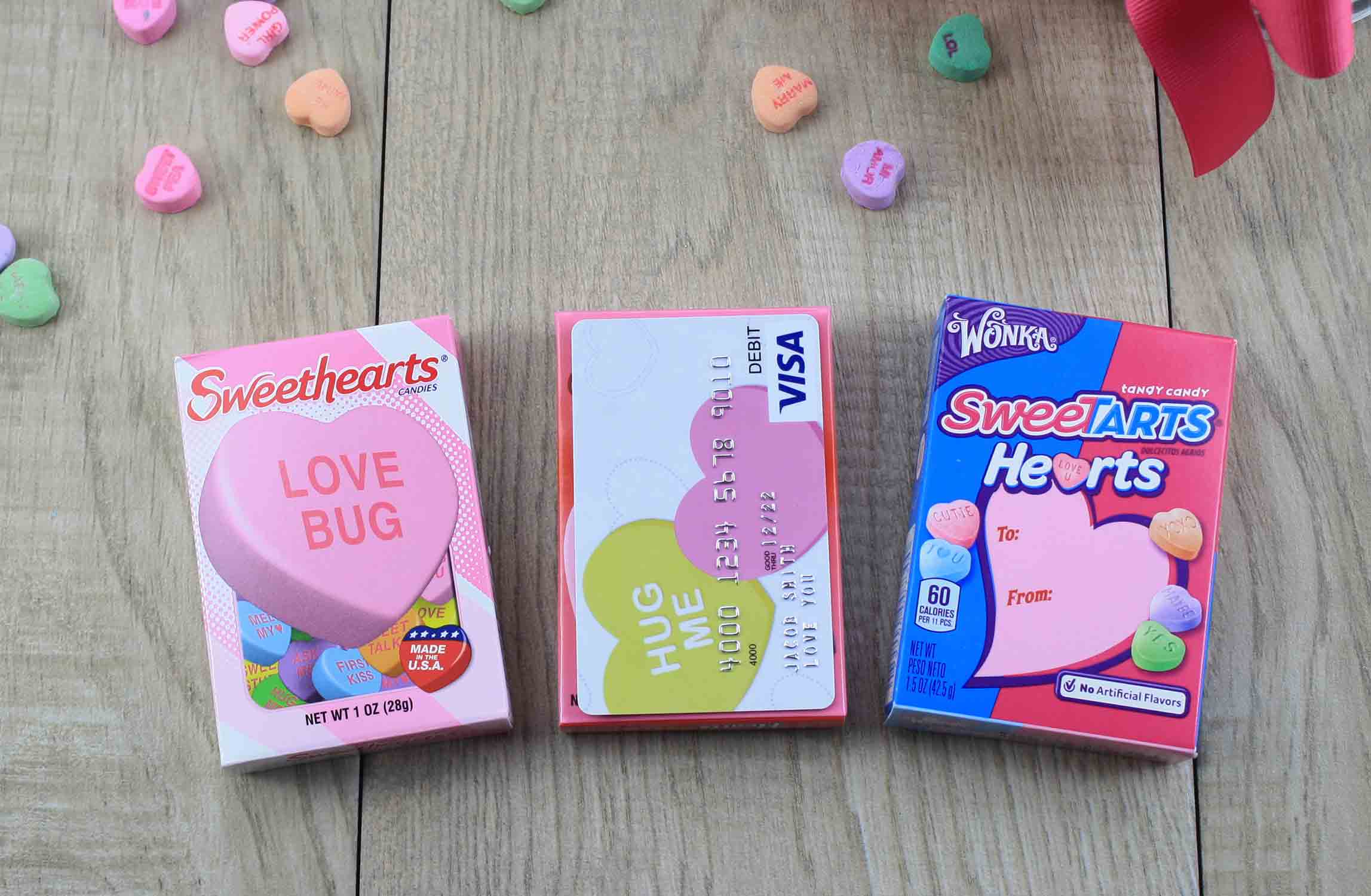 Bonus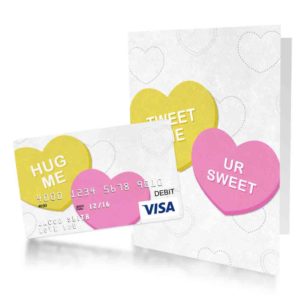 If you want to send your sweetheart a conversation heart gift card but don't have time to order and deliver it yourself, then let us do the talking for you. Order the "Conversation Heart" Visa gift card and select the standard greeting card option. Take a moment to personalize the gift card and greeting card combo. You can write "U R CUTE" on the card's embossed message line and another classic one-liner inside the greeting card as well. When you're done making the gift card, send it directly to your loved one to arrive just in time for Valentine's Day.
More on Pinterest
For more free printable gift card holders, check out the free prints page or follow Gift Card Girlfriend on Pinterest. If you use this printable, send me a link to your page in the comments below or contact me on Twitter (@GCGirlfriend). I want to see what inspires you.
Happy Gift Carding!
~Shelley Hunter, Gift Card Girlfriend