This list of the 11 Best Valentine Gift Cards for Teens has a little something for everyone. Clothing, food, gaming, sports, gas and a ride to the mall!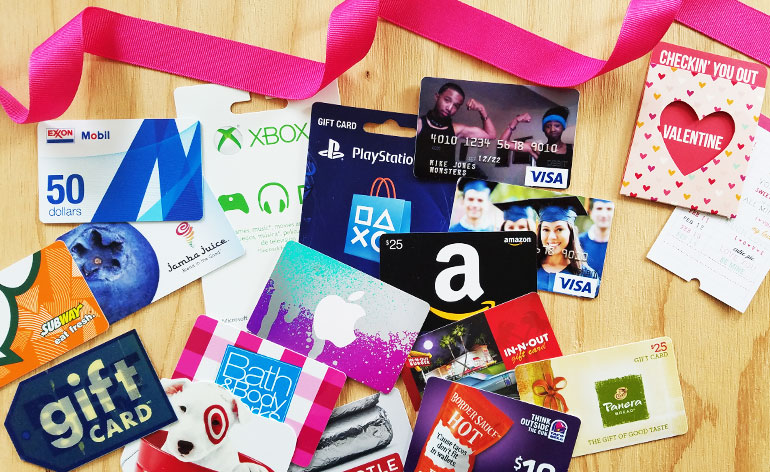 Top Valentine Gift Cards for Teens and Older Kids
Because I have three kids in this age range, gift cards for teens and older kids is my favorite group to talk about. Tweens and teenagers have very specific ideas (plus wants and needs), they think they know more than they do and they are highly independent while still being quite dependent, for the most part. Also, the kids I see in middle school (or junior high school) and high school these days are also pretty heavily influenced by their peers. Though I wish it weren't so, I often watch my own kids conform, observe, copy, stretch a little, try to be a little different, buck the norm and be the norm, all at the same time. Watching kids navigate the world they live in can be a little painful. So when I think about getting gift cards for teens and older kids, I like to put myself in their awkward little shoes and try to imagine which gift cards they would want to make their lives a little easier.
Below is my list of the top Valentine's Day gift cards for teens, tweens and older kids.
1. Visa® or Mastercard®
Though adults might primarily shop traditional stores and mainstream websites, many teens shop online at gaming sites (like Steam), consignment clothing sites (like Poshmark), affordable fashion sites (like Pixie Market) and other places that I never visit. Many of these websites sell their own gift cards, but that locks the teen into having to use the gift card there. In an effort to give teens the freedom to shop wherever they want (or wherever mom or dad will allow), get a Visa gift card because it is redeemable almost everywhere Visa debit cards are accepted. Though I can't guarantee it will work on every website, Visa gift cards give kids plenty of options for redemption.
If you want to make the Visa gift card more fun for Valentine's Day, create a personalized gift card using a photo from your library (or phone) or use one of the pre-designed Valentine's Day cards. There's no reason practical can't be personable at the same time.
BUY IT HERE: Personalized Visa Gift Cards, Personalized Mastercard Gift Cards or Valentine Visa® gift cards.
2. Amazon
When it comes to providing a wide selection of merchandise and giving kids the freedom to buy the things they really want or need, you have to put Amazon gift cards at the heart of the conversation. With so many things to choose from, teens can redeem Amazon gift cards for makeup, clothing, sports equipment, backpacks, school supplies, hair accessories, shoes and so much more.
Another reason I love Amazon for kids is that the gift cards can be redeemed as long as there is Internet access. Kids don't need to coax mom or dad into taking them to the store to redeem their gift cards and teens don't have to use their own gas to drive anywhere in order to cash in that Valentine's Day present. I do suggest, however, that you gift an amount that will most likely cover shipping charges in addition to any item purchased. (It's kind of a bummer when you have to use your own money to complete a gift card transaction.)
BUY IT HERE: Amazon Gift Cards
3. Target or Walmart
My kids L-O-V-E Target gift cards. If Target sold Nike brand stuff, they'd never shop anywhere else. Teens and older kids generally like to shop Target because it has a variety of merchandise (from food to electronics) and the clothing is trendy and affordable. I'm sure my kids would enjoy Walmart just as much, but we don't live near a Walmart store, so Target is their top choice. If you're getting a Valentine's Day gift card for a teen, then make one of these large department stores a top choice. Just be sure to pick the store most convenient for the recipient so it's easy to redeem the gift card.
BUY IT HERE: Target Gift Cards or Walmart Gift Cards
4. Google Play or iTunes
According to a 2015 survey, 37 percent of teenagers have a smartphone. In my area, the percentage of teens with smartphones seems more like 100. If you want to get a Valentine's Day gift for a teenager, then gift cards redeemable for downloadable music, videos, podcasts, mobile apps and more will be a big hit. Plus, with this type of gift card, you don't have to spend a lot of money to make the gift card usable. An iTunes gift card for $20 can buy about 16 songs. A $10 gift card for Google Play can be used to download new apps or upgrade existing apps to the paid version instead of the free one. Before buying a smartphone gift card, however, check which technology platform the child uses. iTunes gift cards are redeemable on Apple products. Google Play gift cards are redeemable on Android devices.
BUY IT HERE: Google Play Gift Cards
5. Xbox, PlayStation or Nintendo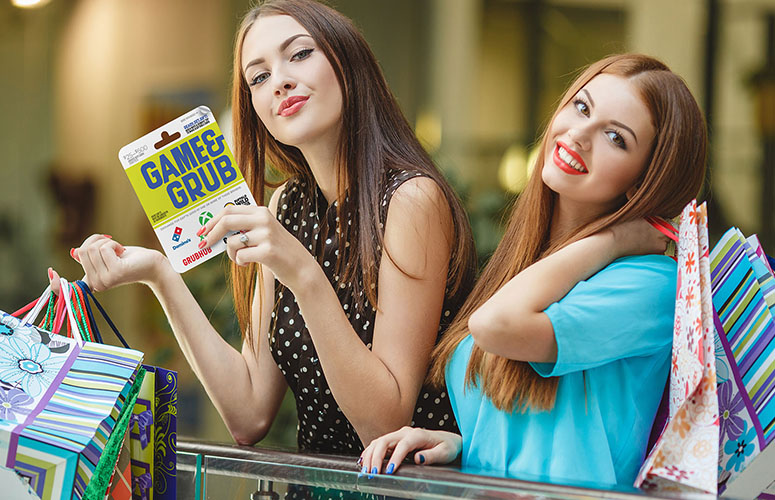 Speaking of technology, many teens have at least one gaming console. Though there is much debate over which video gaming platform is best, the big (or only?) players in the space are Sony Playstation, Microsoft Xbox and Nintendo. So in order to pick the right gift card, you just have to know which brand console they use. (And don't ask moms. Ask the kids directly. Moms have a tendency to answer that question wrong.)
A great thing about gaming gift cards is that they can often be redeemed immediately since the gift cards are redeemed through the gaming console. So kids can receive, redeem and start downloading new games, packs or bundles before Valentine's Day is over.
BUY IT HERE: Game & Grub Gift Cards, Xbox Gift Cards, PlayStation Gift Cards or Nintendo
6. GameStop or Best Buy
If you don't want to guess which smartphone your teenager has or which gaming console he or she uses, then get a gift card to an electronics store such as GameStop or Best Buy. Both brand gift cards are redeemable for downloads, but they can also be used in-stores and online for other products and services as well. Kids can even save a little money at either of these stores by buying pre-owned merchandise. Since both GameStop and Best Buy stand behind their products with satisfaction guarantees, buying used might be a good way to help teens make their gift card dollars go further.
BUY IT HERE: GameStop Gift Cards or Best Buy Gift Card
7. Subway, Burger King or other Fast Casual Restaurants
Some of you might not agree with me, but I let my kids eat fast food in moderation. My daughter and all her teenage friends are obsessed with Taco Bell at the moment. They give each other Taco Bell gift cards on birthdays and other special occasions. Other teens I know frequent Chipotle and Subway for lunch, and they hang out at In-N-Out Burger on weekend nights. The most popular restaurants are, not surprisingly, located near the high school. Since it's Valentine's Day, get your son or daughter a gift card to a place you know they love–even if you don't let them eat there on a regular basis.
In addition to stops for lunch or dinner, teens enjoy treats too. Gift cards to places like Jamba and Coldstone Creamery are fun gift cards for teens because a little money goes a long way. A $20 gift card, for example, might take 3 or 4 trips to the merchant before the full value is used.
BUY IT HERE:
Subway Gift Cards
Chipotle Gift Cards
Burger King Gift Cards
Cold Stone Gift Cards
Jamba Gift Cards
8. H&M, Forever 21 or other Teen Clothing Stores
Although some teen retailers have been struggling lately, those that keep fashion affordable for teens are still in the black and doing quite well. With fashion trends continually changing, stores like H&M, Forever21, Zara and good old Target are succeeding by keeping on trend and churning out what the industry calls "fast fashion." So if you're got a teen to surprise this Valentine's Day, then try a gift card to one of these top teen shops and be prepared to hear a high-pitched squeal when your present is opened.
BUY IT HERE: Forever21 Gift Cards, H&M Gift Cards or Old Navy Gift Cards
9. Finish Line, DSW and other Shoe Stores
You can't dress on trend without a fresh pair of boots, skateboard shoes or other fashionable footwear. Like the clothing stores mentioned above, teen footwear stores such as DSW and Famous Footwear are pretty affordable. Sportswear gift cards like Finish Line and Under Armour are a little more pricey, but with a gift card and a few hard-earned dollars, many teens would be able to redeem these gift cards as well. Whether your teen Valentine is a baller or a fashionista, a shoe store gift card will fit just right.
BUY IT HERE:
DSW Gift Cards
Famous Footwear Gift Cards
Finish Line
Under Armour
10. Gas Gift Cards or Uber Gift Cards
I pay my daughter a small stipend each month to pay for the gas she needs to drive to and from school. (She takes her little brother with her as well.) Beyond that, she has to pay for her own fuel. She doesn't like that arrangement very much. She often complains that many of her friends have gas cards and an unlimited fuel supply, but even if I thought that was a good idea for her, I simply could not afford it. So if I want to put a smile on her face, the easiest way to do that these days is to give her extra gas money.
If you want to help a teen out, then get a gas station gift card. If the teen isn't old enough to drive (and mom says it's okay), then you can get an Uber gift card instead! You're thinking Valentine's Day. The teenage recipient will be thinking freedom!
BUY IT HERE: BP, Chevron, Exxon Mobil or Uber
11. Multi-Store Gift Cards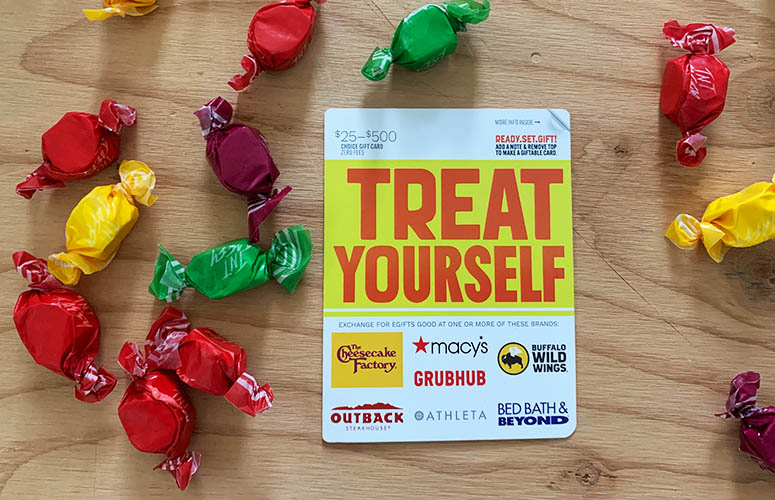 If you're not sure which gift card to get, check out the new multi-store gift cards. Each gift card offers a collection of brands around a particular theme. I love the Treat Yourself gift card because it has so many fun options for people of all ages. But you can see the others by clicking the link below.
BUY IT HERE: Multi-store Gift Cards.
A Last Word on Gift Cards for Teenagers
I know every teenager is different and not all of these gift cards will make the best Valentine gift cards for all teens, but I'm hoping that some of the gift cards in this list hit a nerve. If you've got a gamer, there's a gift card for him or her. If you have an athlete, there's a gift card for that. If you aren't sure what interests your teen has, then get a Visa gift card or the new Choices gift cards so you don't have to worry about picking the right card.
Whatever you do, just be sure to deliver the gift card with lots of love and not a lot of expectations. In my experience, teens spend at least 50 percent of their days trying to fit in, blend in and be cool. Giving you a big thank you hug for the perfect gift card might not happen publicly. But I'm sure it will be appreciated privately. Best of luck on that.
Happy Valentine's Day and Happy Gift Carding!
~Shelley Hunter, Gift Card Girlfriend