Move to the head of the class during Teacher Appreciation Week when you give Teacher this gift card. Great for Valentine's Day too!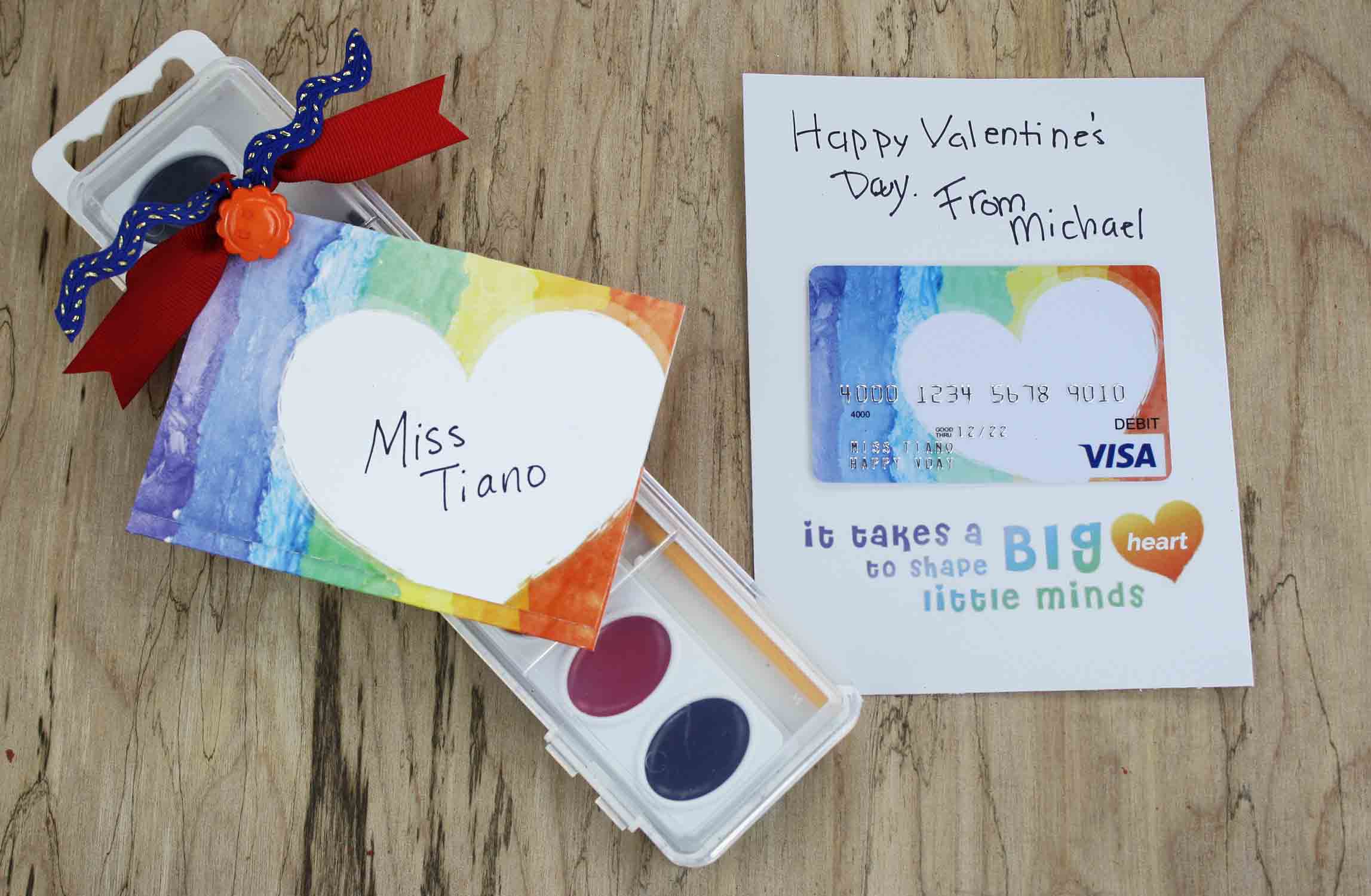 "Gifting Made Easy" by Gift Card Girlfriend
Valentine's Day is a popular gift-giving occasion in classrooms all across the country. In addition to kids exchanging simple candies and handmade notes, parents often band together to give teachers gifts of gratitude. This teacher Valentine is especially versatile because it can be given for teacher appreciation week, the teacher's birthday and other times you simply want to say thank you to the educators who give so much to your children. Below is a simple way to make this teacher Valentine more personal.

Order Gift Card and Download Printable
The first thing to do is order the gift card that has a big heart surrounded by watercolor painting. This gift card matches the printable gift card holders with the same design. Although you can use these holders for any store or restaurant gift card, teachers love the versatility of Visa® or Mastercard® gift cards because they can be used to buy anything from teaching supplies to something more personal.
The printable gift card holders read "It takes a big heart to shape little minds."
Order "Teacher Heart" Visa Gift Card
Download free matching "Teacher Heart" Flat Gift Card Holder
Download free matching "Teacher Heart" Folded Gift Card Holder

Print and Cut
After downloading the holder, print it on a color printer using "best quality" and "actual size" settings. (Do not select "shrink to fit" or any other setting that will change the size of the printed .pdf image.) White, card stock paper measuring 8-1/2″ x 11″ works best. Cut the holder with a paper cutter using the trim marks as a guide.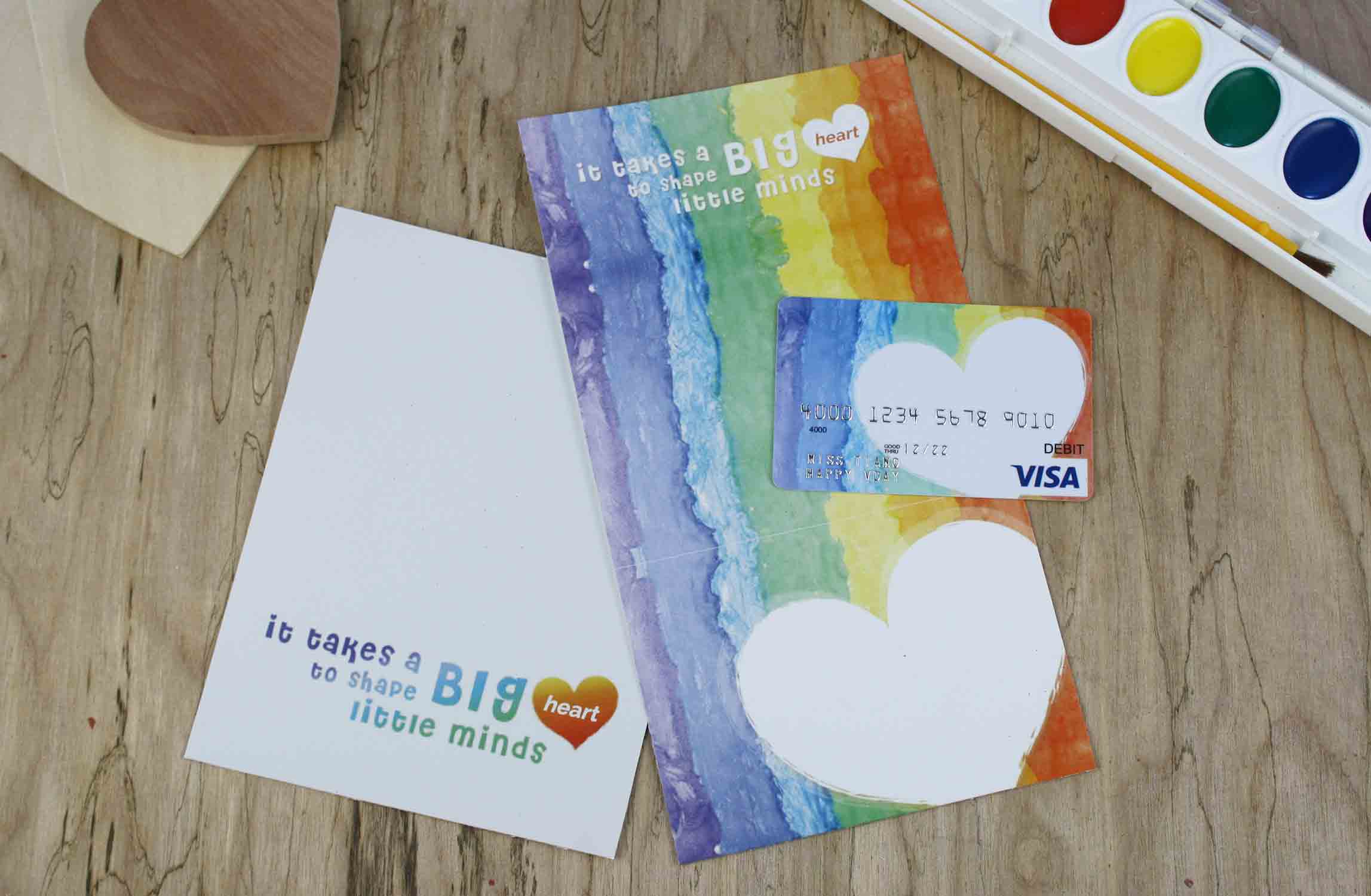 Add Child's "Resist" Artwork
With the flat printable gift card holder that reads "It takes a big heart to shape little minds," all you have to do is attach the matching gift card and present it to the teacher. However, since teachers (especially those with big hearts) love to see the efforts of their students, I think you should give this gift card with your child's personal artwork.
Enter the terms "watercolor resist art" into your favorite online search tool and you'll find all sorts of ways to make paintings similar to the "resist" style of the gift card design. For the card pictured here, I cut out a piece of contact paper in the shape of a heart, placed it on the art paper, and painted stripes over the top of it. My son, who happened to be home sick that day, joined right in–making several pictures himself. If the gift card is from the entire class, see if you can get the kids together one day to each make a "resist watercolor" card for the teacher.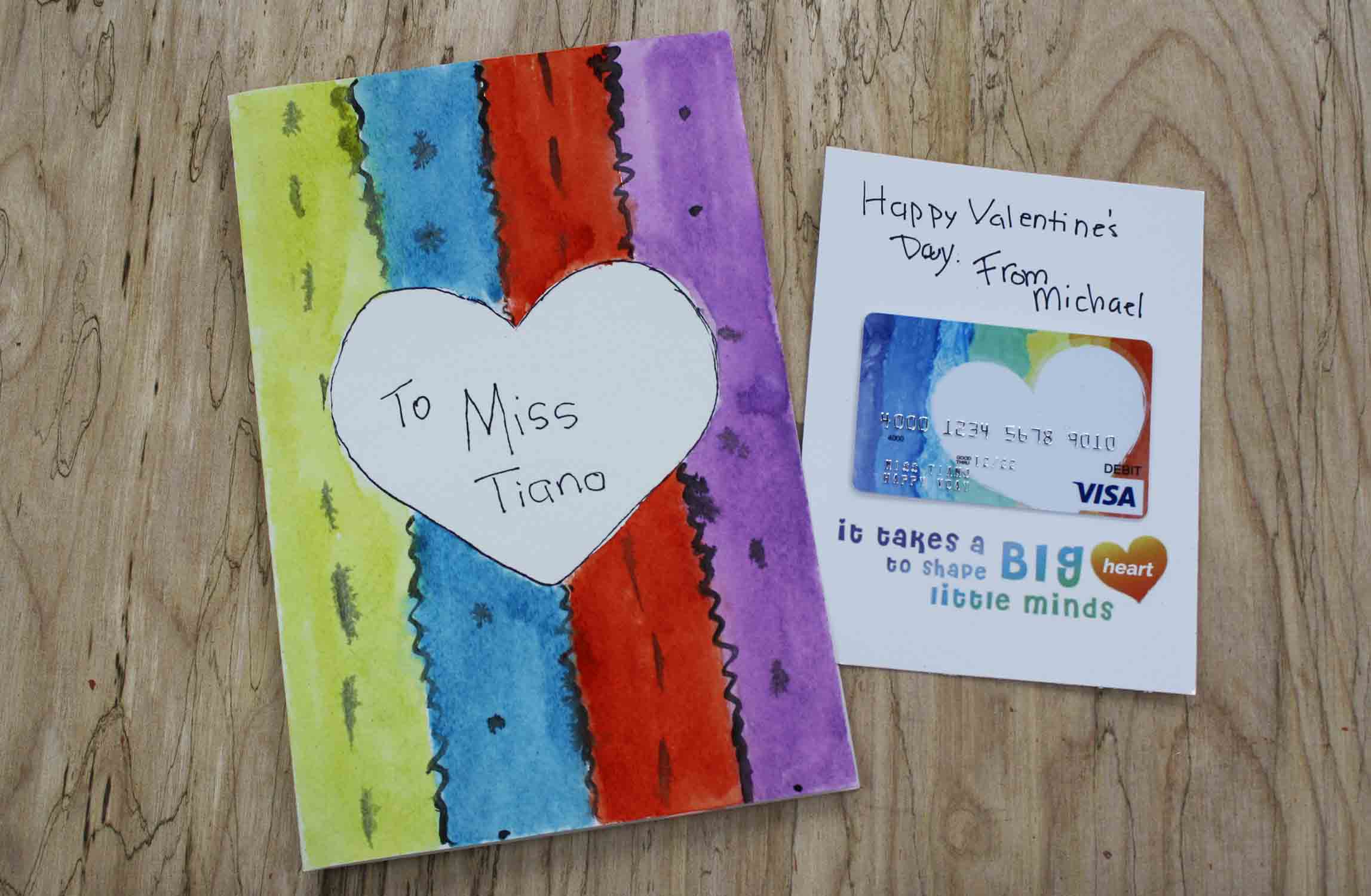 Make the Folded Holder
If you look at the printed side of the folded teacher Valentine gift card holder, you'll see faint lines indicating where the gift card holder should be folded. Since I flip the card over to score it before folding, however, I always measure the card to be sure I fold it in the correct place. The fold lines are at the 3″ and 6-1/4″ marks.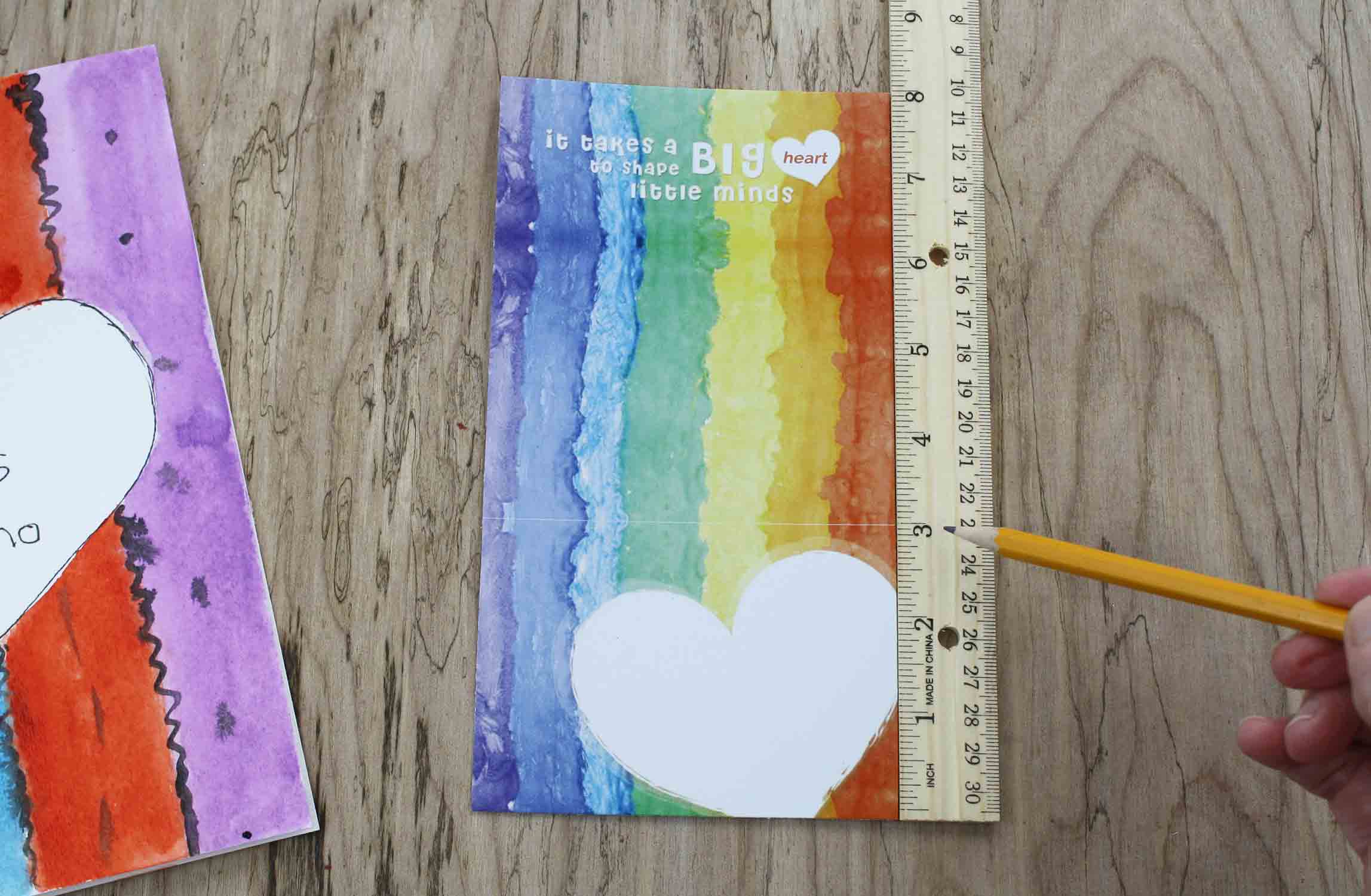 Using a pencil, mark the back side (white side) of the holder at those measurements.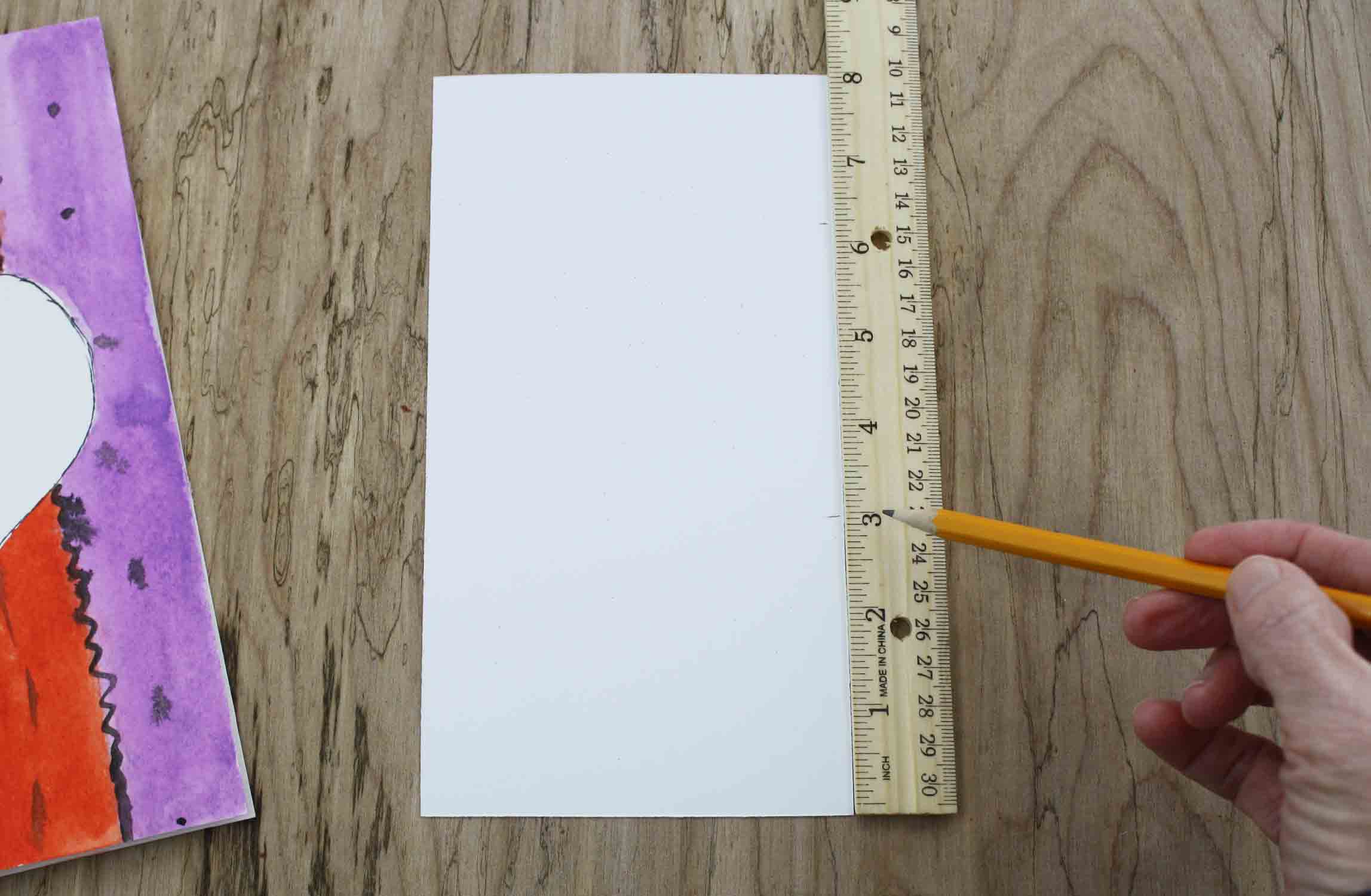 The easiest way to fold card stock is to score it first. Although I have used everything from a kitchen knife to the unsharpened end of a pencil, I now use a bone folder to make scoring the heavy paper even easier. Using a ruler and the measured marks, score the paper on the fold lines.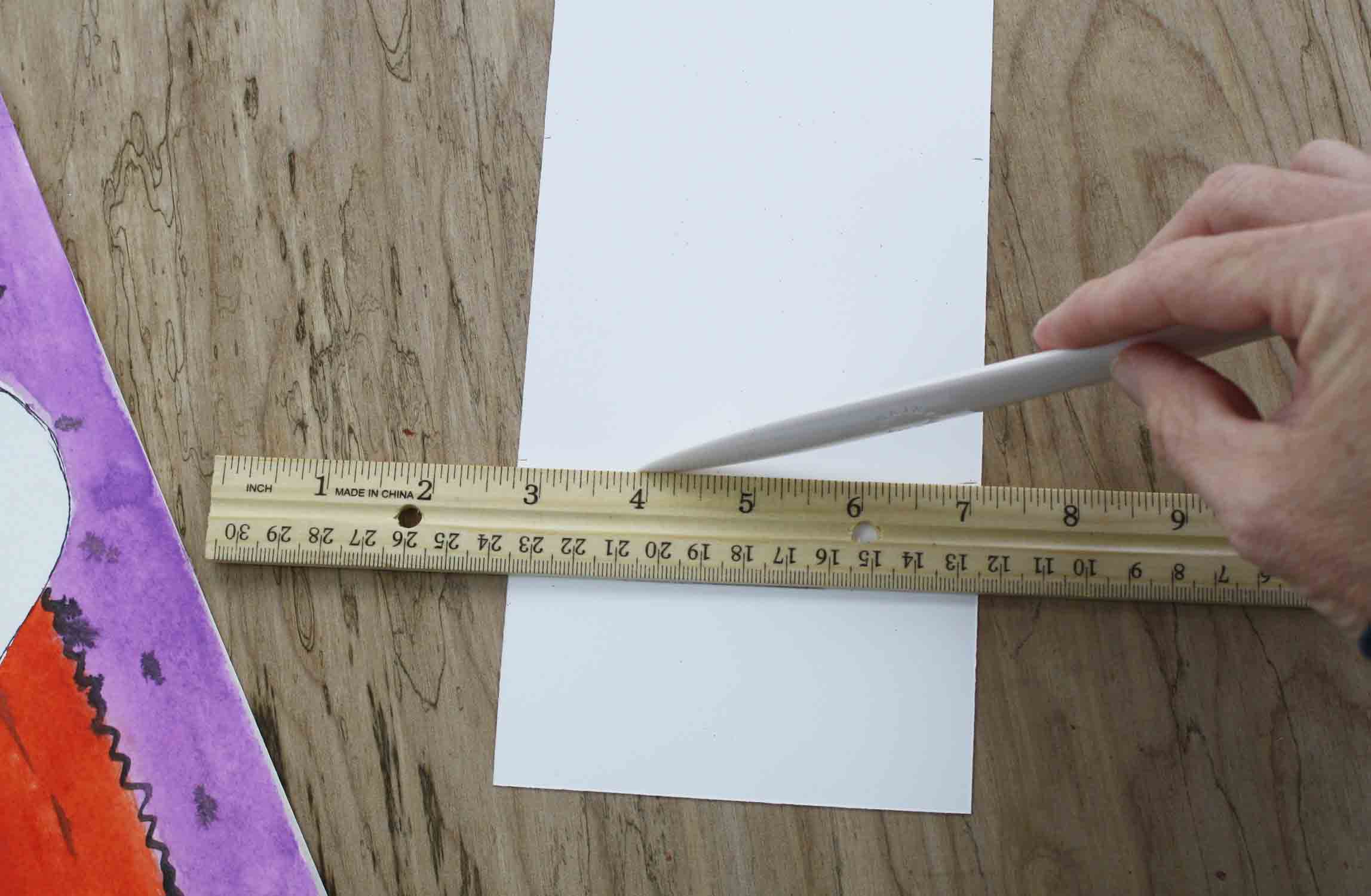 Add the Gift Card
Fold the gift card holder as shown so it makes a little pocket, perfectly sized to hold this Valentine gift card. Using double-sided tape or a glue stick, seal the edges of the gift card pocket, then put the gift card inside. Write a personal note in the white space above the card.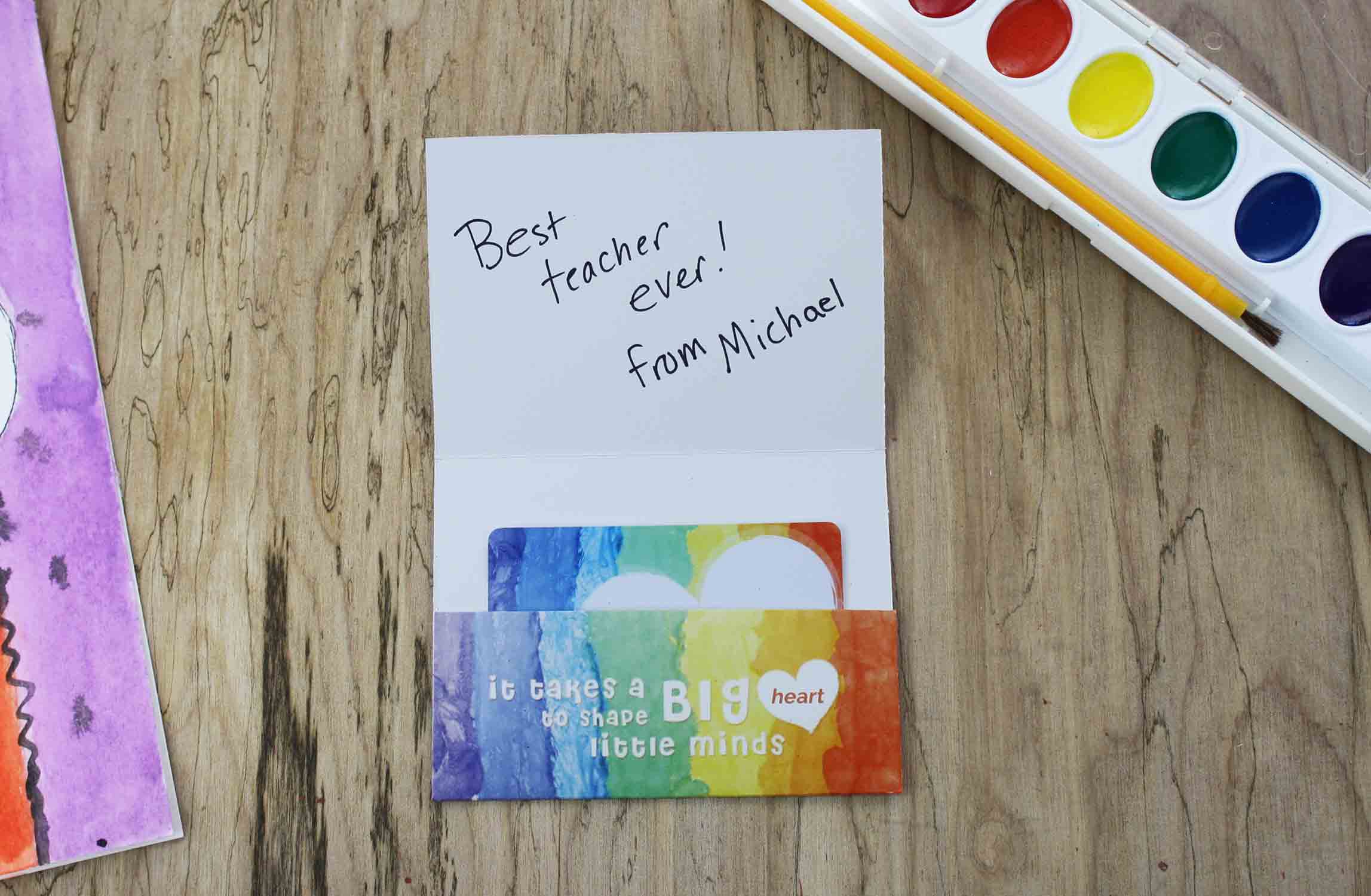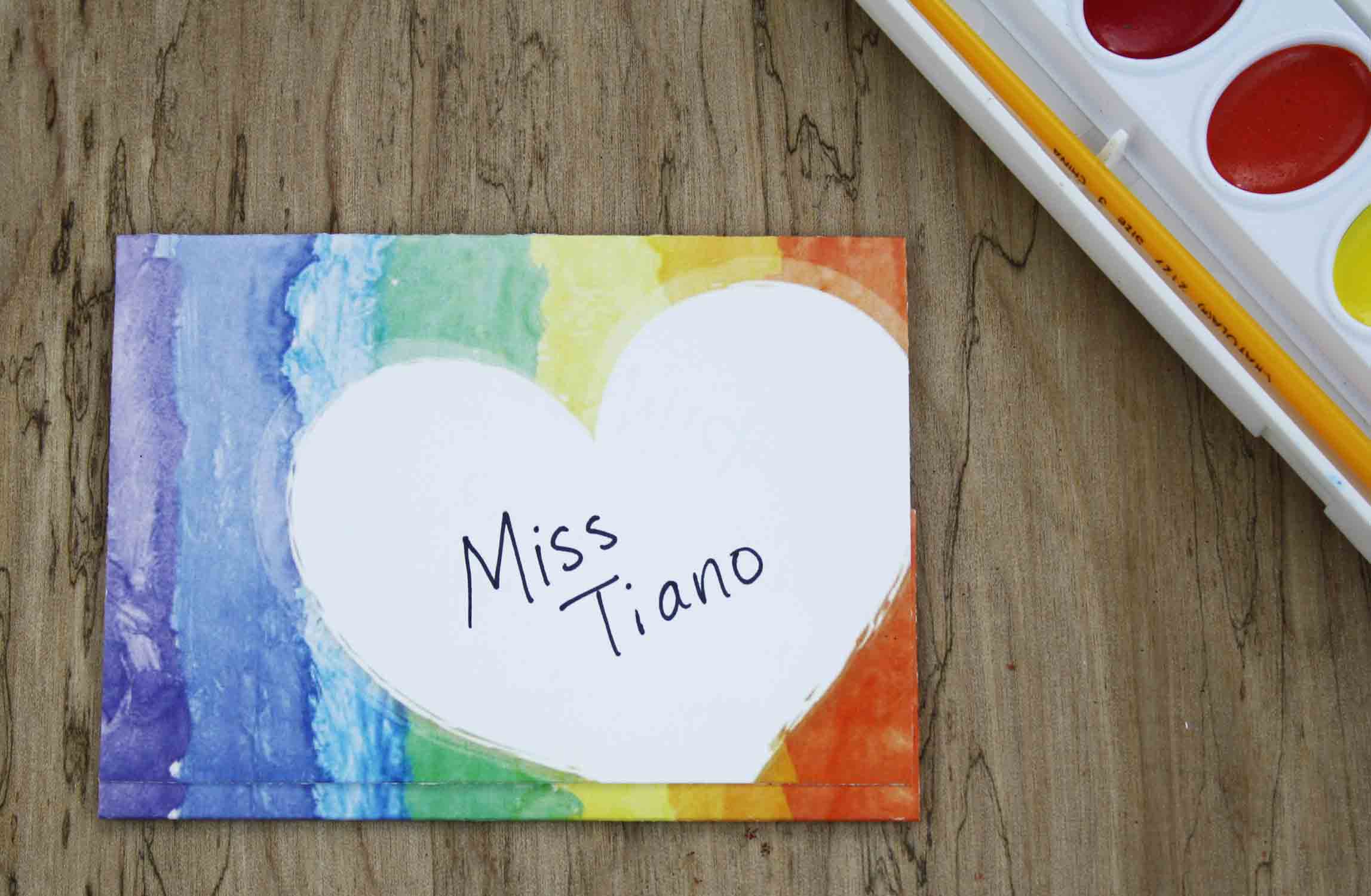 Wrap it Up
Another way to deliver this watercolor-themed gift card is to deliver it with a set of watercolor paints–perfect for the art teacher. You could even deliver it with a classroom set of foam brushes (very inexpensive), art paper, or a rainy day activity the teacher can keep on hand for winter months. There's no need to over-think this gift. Like one of my teachers always said, "Keep it simple."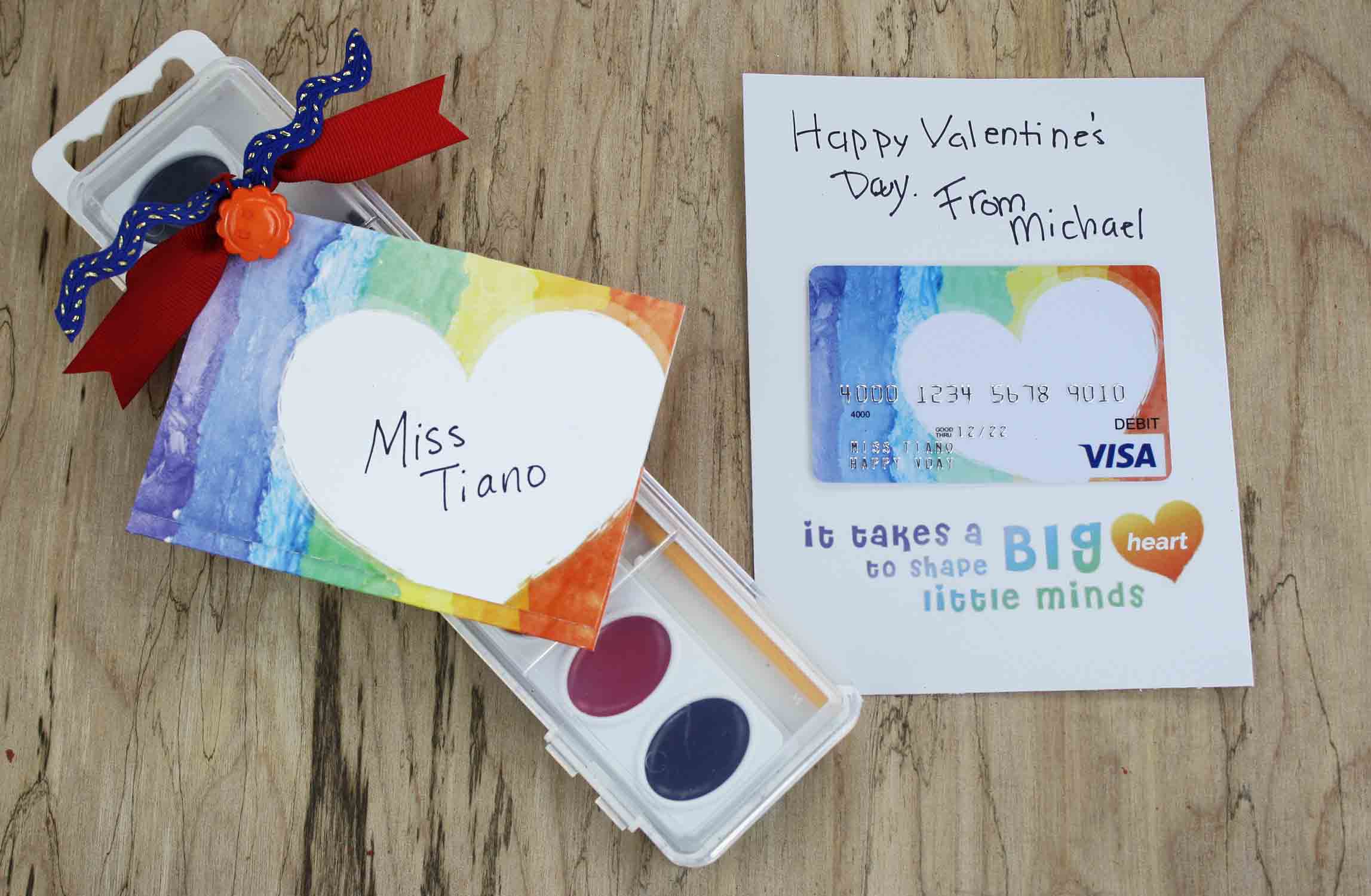 Bonus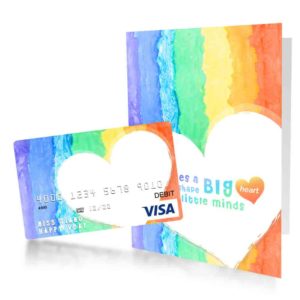 If you love the teacher appreciation quote, but don't have time to get the kids deep into their own artwork, then let us take care of this gift for you. Order the "Takes a Big Heart" Visa gift card and select the standard greeting card option. Then add your teacher's name and a message to the card's embossing lines and write a personal note inside the greeting card as well. Tell us where to send the card and we'll take care of the rest!
Come to think of it, have you ever considered sending a gift to one of your teachers of yesteryear–like the teacher who put up with your antics in middle school or the one who helped you finally understand the quadratic equation? I imagine teachers never tire of hearing from previous students.
More on Pinterest
For more free printable gift card holders, check out the free prints page or follow Gift Card Girlfriend on Pinterest. If you use this printable, send me a link to your page in the comments below or contact me on Twitter (@GCGirlfriend). I want to see what inspires you.
Happy Gift Carding!
~Shelley Hunter, Gift Card Girlfriend