Need a graduation gift in a hurry? These eGift Cards can be sent to graduates quickly and free of charge!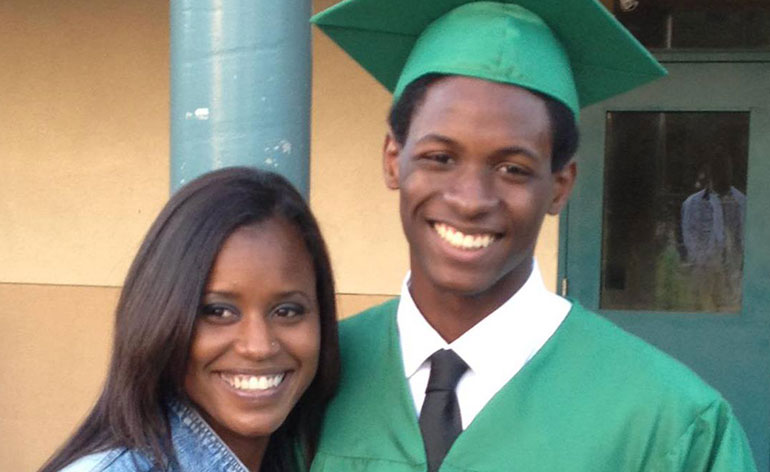 Let's Talk About Grads and eGift Cards
As an older sibling to five younger brothers and sisters and as a mom of teenagers, one thing I know is that once kids have their own car keys, they are never around. You're lucky if you can pin one down long enough to ask about his or her day or trap one at the dinner table for a much-needed family meal. So it is without hesitation that I suggest egift cards are the perfect gifts for graduates. You don't have to spend time driving to the store to pick out a present, you don't have to wrap it in fancy paper or spend time curling ribbon and writing out a greeting card either. You simply pick out a gift card you think your graduate would appreciate and send it electronically. That way, you're sure to have your graduation gift delivered promptly even if it takes days (or weeks) for you to connect in person.
Quick, however, does not have to be impersonal. With the egift cards here at Giftcards.com, you can personalize a digital graduation gift with an uploaded image or a video curated from several over at American Greetings. The process is simple, the delivery is speedy and the shipping is free. In just a couple of seconds, you can celebrate your graduate wherever he or she is.
Below is a selection of egift cards for graduates.

1. Happy Graduation
Let's start things off with this peppy little version of the Pomp and Circumstance March. The video is short, to the point and says all the right things–we always knew you were special and happy graduation. Do you really need to say any more than that? I don't think so. (Remember, these time-crunched seniors are on the go!) Deliver this Happy Graduation greeting with a Visa or other popular store brand gift card in less time than it takes to find parking at the graduation ceremony.
2. A Great Future
For the more sentimental senior, this "great future" video has a zen-like look and feel. Peaceful music plays while words of encouragement flash on the screen reminding new graduates that the world awaits and they have what it takes to be successful. It's a quick play with an uplifting message that could pair nicely with a relaxing spa gift card. A peaceful post may be just the thing you need to combat the stress of sending a last-minute gift. Maybe you should buy a spa gift card for yourself as well!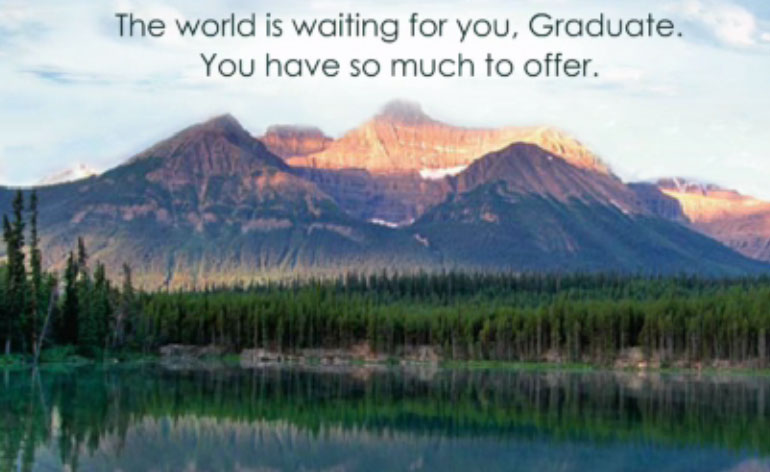 3. You Did It!
On the completely opposite end of the energy scale, this You Did It! egift card starts off with a drum roll and ends with confetti. For the graduating senior who is ready to throw a party, this last-minute gift is the perfect choice. It can be used for any age because the message simply offers congratulations.
4. The Butterfly Emerges
Returning to nature and the more serene graduation greetings, a Butterfly Emerges in this egift card greeting just like your graduate has. As the caterpillar moves from one side of the screen to the other, we are reminded that we are all in a transition of sorts. It's time to celebrate who you are now as well as who you will become.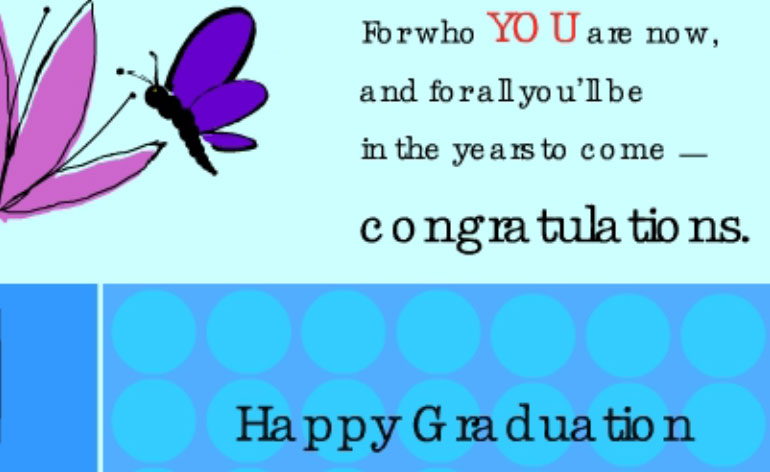 5. Yay for You!
Whether your graduate is going off to college or just entering middle school, this Yay for You egift card is a delightful choice. The music is jumping and so are the characters. Give this to someone who is jumping for joy over making it to the end of the semester!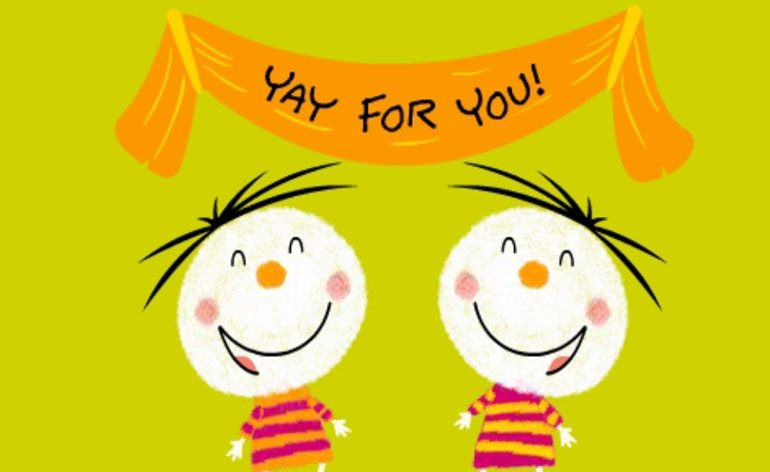 6. Your Time to Shine
This graduation egift card has a bit of a country feel to it. There's a little pickin' in the background music and a dock just above a glass-like lake that will make you want to dive in and start your summer. Sweet words flash about reminding graduate that it's her time to shine.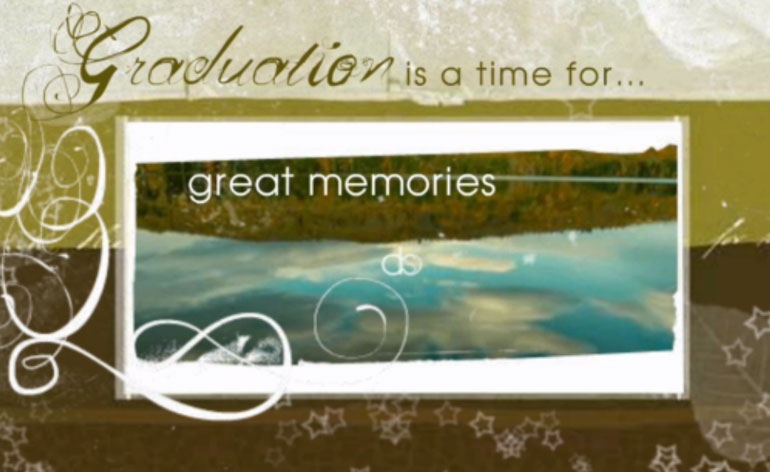 7. #1 Fan
Well there's no faking this is anything other than a giant dance from your #1 Fan…meaning the old foam finger is making an appearance. While it might not be the card for everyone, it's the perfect congratulations egift card for kids who are doing the happy dance and parents who are just as excited. Graduation is here and it's time to celebrate!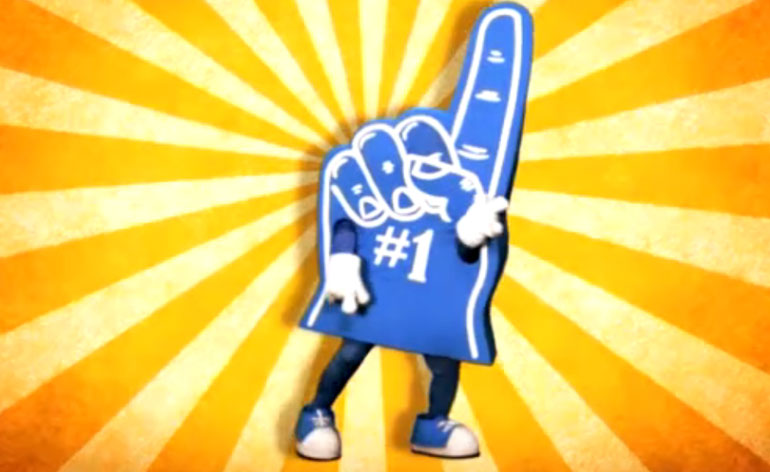 8. Standing Ovation
Speaking of literal interpretations, this "Standing Ovation" egift card is exactly that–a standing "O." I have to be honest, the first time I watched it, I wasn't quite sure where the whole video was going. (It's not quite as obvious as the #1 Fan gift card above.) But then the "O" jumps up, and yes, it all makes sense. If you're into puns and you don't have time to send a traditional gift, then this last-minute graduation gift card is the one for you.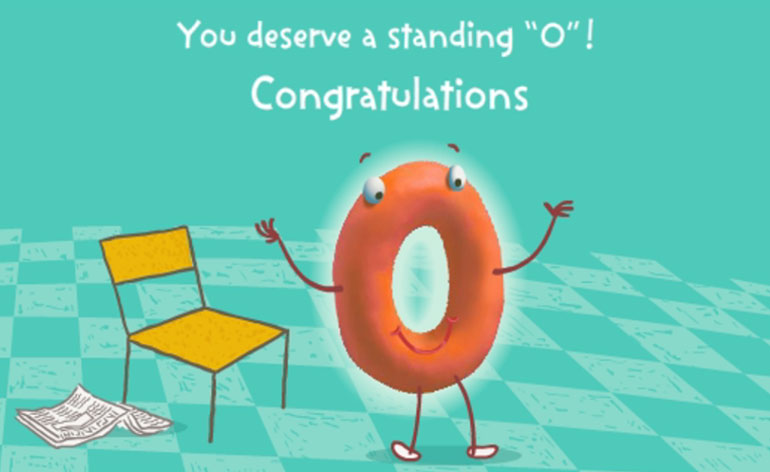 9. Picture of the Graduate
If you don't want to thumb through these videos, here's a graduation gift idea that is so quick it will blow your mind. WHILE YOU'RE AT GRADUATION, snap a picture of the graduate. Then, upload the photo via your phone and order an egift card before you leave the ceremony. I'm not kidding you. An egift card can be ordered THAT quickly! Choose from popular store brand gift cards such as GameStop (pictured below) or go with the standard Visa gift card that can be used almost anywhere. This graduation gift is super easy, super fun and super quick!

How to Send a Graduation eGift Card
If you're not sure how to send a graduation egift card, then let's talk about that. Nearly all major store and restaurant websites offer some type of digital gift cards. Though you can visit each website to find an egift card for your graduate, you'll save time browsing through our one-stop-shop instead. Plus, we also sell Visa eGift Cards that are hard to find anywhere else. Here's how to quickly buy an egift card on this site:

Select eGifts from the Main Menu.
Select the brand gift card you want to send.
Select "Add a Design."
Scroll through the various video choices and pick one that your graduate will like. If you don't want to add video, you can also upload an image from your computer, phone or social media account.
Enter a dollar value, graduate's name and an email address.
Pick a delivery date. If you want the gift delivered immediately, then pick "Right Away." If you'd rather have the gift delivered on graduation day, then select a future date.
Enter a personalized message. This is a great way to add a little note of congratulations, an inside joke to make your graduate giggle or words of advice for the next endeavor. (If you're stumped, try this list of things to write on an egift card.)
Here's a Tip: If this is your first time buying a gift card or an egift card, your order will go through a security screening process that could delay delivery. So if you want to be sure your gift card arrives on graduation day, place the order early and schedule it to arrive on the date of the ceremony. (Nearly all gift card sites have similar first-time ordering processes.)
What do you think? Ready to send graduate a last-minute egift card for graduation? If so, tell me which one you pick. If not, add a comment below or send me a message on Twitter (@GCGirlfriend). I want to know what hits the mark and what still needs work.
Happy Gift Carding!
~Shelley Hunter, Gift Card Girlfriend