If you are unable to gather in person this holiday season but still want to share a moment with family, try this recipe for creating a virtual holiday party that is as fun as it is different.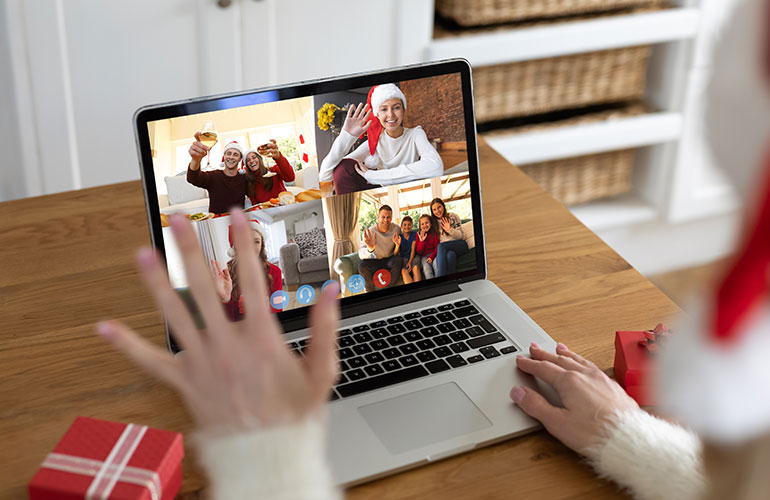 I'm not going to use all of the same words that everybody else is using–the words that describe the chaos that befell us last year. Though the situation-not-to-be-named may have forced us to think of ways to celebrate virtually like never before, I believe there are many times we want to gather as one but cannot. Maybe in the past we just accepted that and went without. But this part year and a half has taught us to be creative. So here we are.
Below are my suggestions for gifting, gathering and creating new family traditions using technology:
1. Start with Virtual Gifts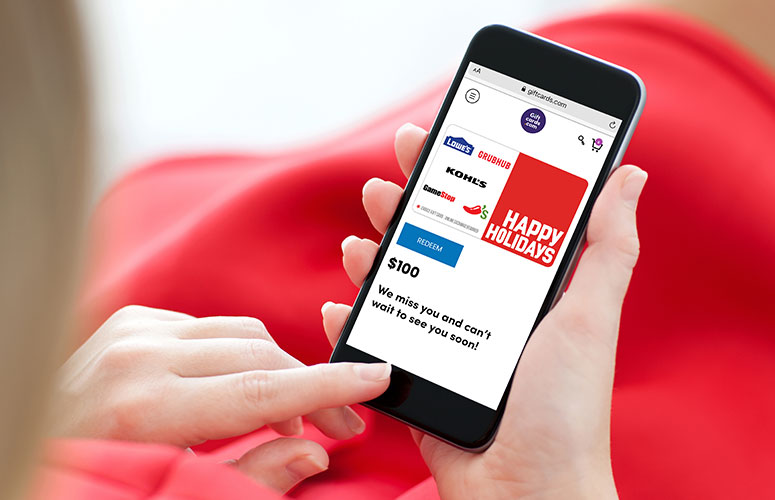 eGift cards have been around for a while, but they have significantly increased in popularity this year. Though people may have been reluctant to gift virtually in years past, doing so in 2020 may be the kindest, most loving way to send a gift this year. Not only can you buy an egift without going to the store and the post office, but the recipient can receive it electronically and shop online as well. Everybody stays clear of crowds and gets to shop conveniently as well.
But virtual doesn't have to be boring. Here's a list of ways to make egift cards more personal. In addition to suggestions on images, video and messages to add, I also share advice on scheduling delivery for a specific date. If you are gathering remotely this year, I would buy egift cards in advance and make sure each gets delivered before the event. Then you can either tell everyone to wait to open their gifts at the virtual party or be prepared to tell the group what they're planning to buy with the egift card.
If you need suggestions for the perfect egift cards, I suggest checking out multi-store gift cards. They are usable at any of the stores and restaurants shown on the card, but you don't have to pay extra for the flexibility, shipping is free and there are no expiration dates. Here are some popular multi-store gift cards:
Visa egift cards always work too.
2. Set up a Virtual Party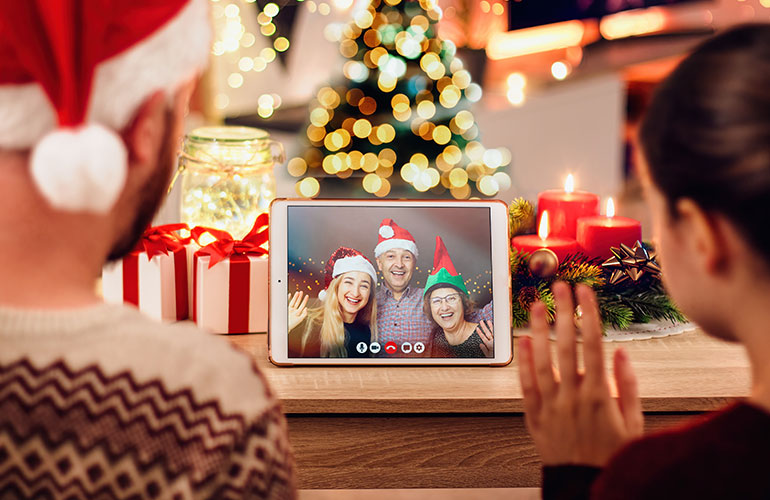 Earlier this year, at a time of mocked-distress in my life, I set up a Zoom call to chat with my girlfriends about a situation. I know, by now, you have probably done something similar. It's not ideal. I would rather be sitting at a restaurant with my besties, solving life's problems over an endless supply of nachos, Diet Coke and laughter. But it was still good to connect.
If your normal holiday family get-together has been squashed this year, set up a virtual call instead. Zoom, Skype, Google Hangouts and Microsoft Teams are probably some of the more popular technologies, but you can use Facetime as well.
Just be sure everyone has access to the link (and the platform) before the party starts and check to see if there are time-limits as well. (I got kicked off the tail-end of a group gathering the other day because the host used a free account that stopped after 45 minutes.)
3. Dine Together Remotely
What's a party without food? Rather than leave everyone to fix their own meal at your virtual party, send everyone an egift card for restaurant delivery. You can pick up the tab with a GrubHub gift card or other food delivery service. That way recipients can order their favorite meals and have them delivered before the virtual party starts.
With a Happy Dining gift card or other restaurant gift card, you may opt for everyone to eat at the same place—remotely. For example, if you send each family member a Feeding America gift card and instruct each to redeem it for a Cheesecake Factory gift card and a Subway restaurant gift card, you can all enjoy sandwiches followed by a family Cheesecake testing experience! If the restaurants in your area deliver, all the better!
4. Do Virtual Games Together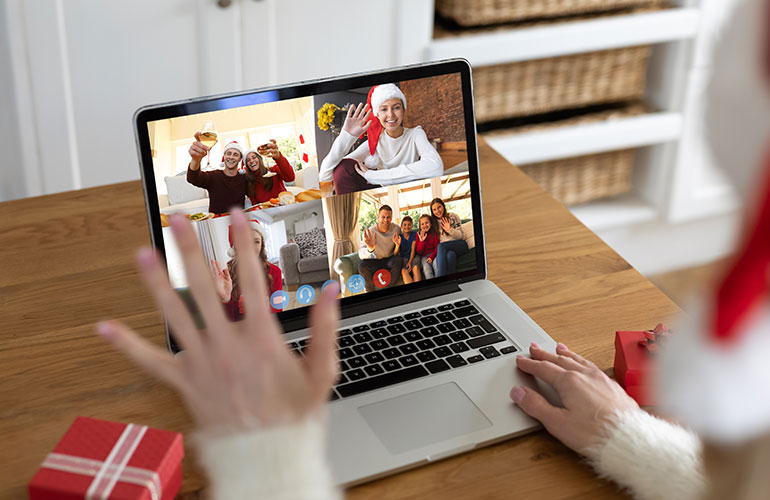 I resisted virtual games for a long time, but 2020 forced me to try a bunch of things I wouldn't have otherwise. I'm definitely not ready to set up my own gaming accounts, but my kids sure love playing online with their cousins. For an easy party distraction, send the little ones off to play Fortnite together (though at their own homes) while the adults enjoy quieter interaction. Or gather everyone together for some virtual Christmas caroling or a talent show.
You might also create some virtual games and competitions you can do together. If you haven't tried Kahoot yet, it's a must. Create some family trivia, get everyone connected and award virtual prizes to the winners. I teach an early morning religious class a few days a week and I promise, this is the one activity we do that gets everybody—online and in-person—engaged in the activity. I highly recommend trying this for virtual entertainment and your virtual family get together.
And by the way—if not everybody has the technology they need to meet together virtually, that's another great gift card to buy this holiday season. Gift cards to GameStop, Best Buy, Target, Staples and more can be used to help upgrade devices that make staying connected this year easier than ever.
What Else Do You Need for a Virtual Party?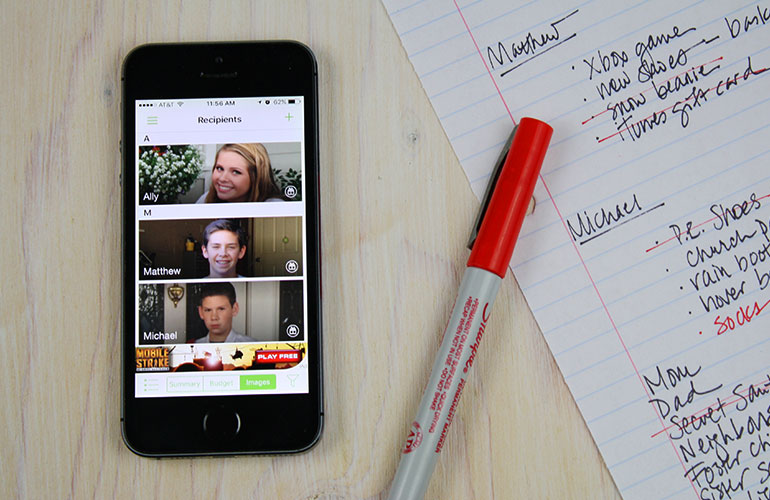 What haven't I thought of? I have your digital gifts, a way to gather, a way to dine together and activities to play together. Perhaps the only thing missing is a visit from Santa. Let's see if he's making the rounds digitally again this year.
Check Chatbooks and Cameo to see if new visits will be added.
I realize there is no substitute for being together in person, but I hope this list helps you feel energized or at least ready to think outside of the typical gift box this holiday season. You know I'm a fan of the traditional gift card pairings and physical presentations, but even I am embracing the idea of gathering my family around my table and reaching out virtually to extended family doing the same. And if I must admit, a small part of me is even picturing us all being a little bit more relaxed.
Let me know your thoughts on how to make virtual celebrations more fun this holiday season. Add a comment below or reach out to me on Twitter (@GCGirlfriend) or Instagram (@Gift.Card.Girlfriend) so I can check it out.
Happy Gift Carding!
~Shelley Hunter, Gift Card Girlfriend