Guest Post: One score and many birthdays ago, the gift card craze began to spread across the United States. Gently wrapped boxes filled with itchy sweaters and ugly scarves were replaced with sealed envelopes, complete with plastic happiness redeemable at Macy's, Best Buy, and Barnes and Noble. A bright future illumed for the prepaid world. Being the shopper that I am (Read my Coupon Queen story here.), gift cards don't stand a day's chance in my wallet. As soon as I have time to get to the mall, see ya later!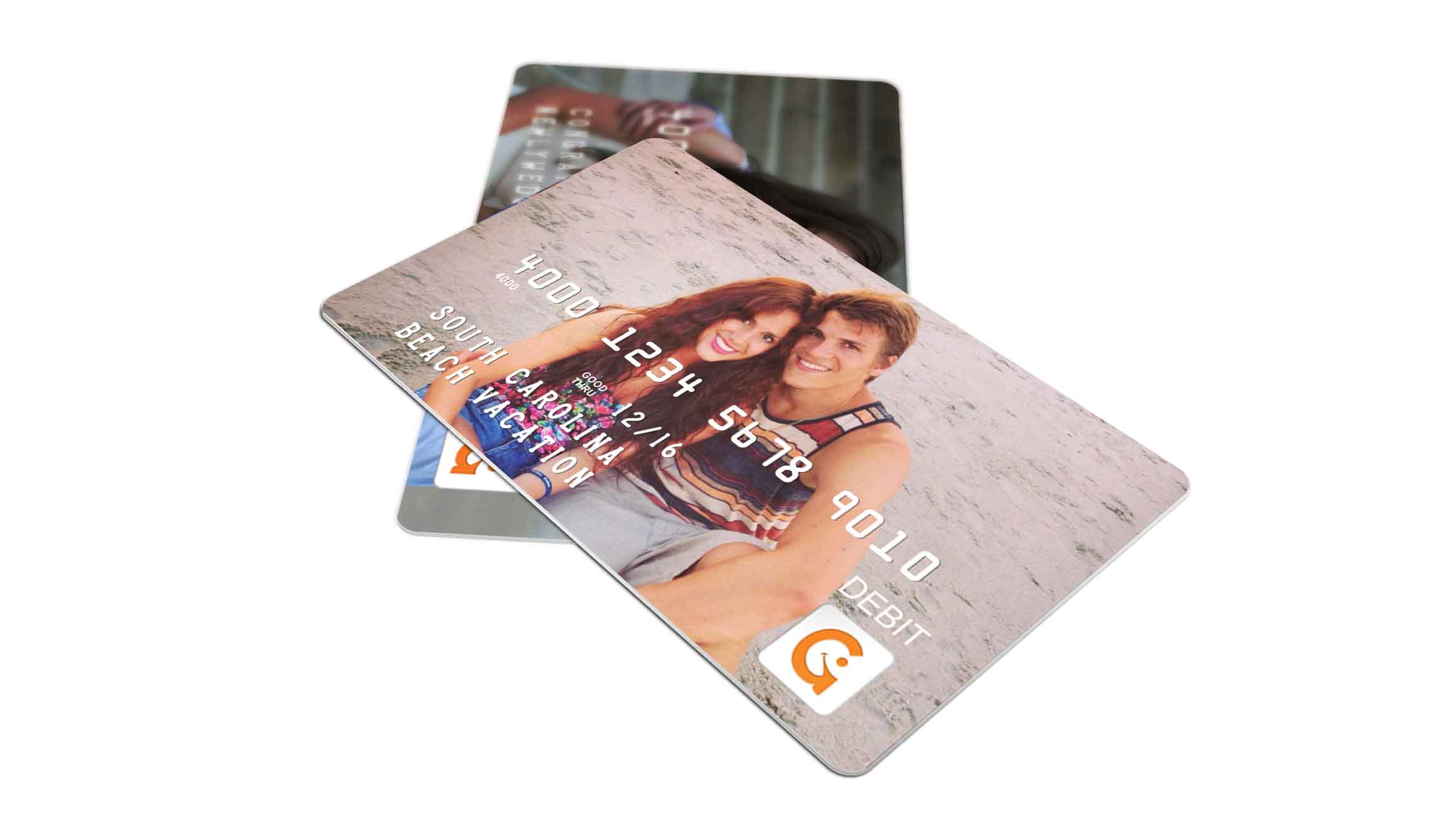 Gift Card Truths
The Awesome Truth: Gift cards are perfect gifts for anyone–you can't go wrong with plastic cash. The Unfortunate Truth: Gift cards are thrown away after they are used. The new shirt comes home, but the card goes in the trash.
Making Memorable Gift Cards
A few years back, a little light bulb began to flicker outside the city of Pittsburgh. Soon enough, Giftcards.com built an on-site custom gift card printing facility–one of two in the world–that changed the standard stock image gift card into a personalized testament of why we give gifts: to make people smile. If you aren't familiar with our personalized gift card process, Giftcards.com allows you to customize Visa® or Mastercard® gift cards. Choose a photo from Facebook, Instagram or your computer and add a message for the cardholder. The process is simple, and the gift is heartfelt and sincere. Not to mention, it's a lot of fun to add a little creativity to a matching greeting card.
Our Cards are Keepsakes
As of late, I have been the official gifter of personalized gift cards to my friends and family. Recently, I gifted a lovey-dovey congratulations card to my newlywed friends. I received a call from the bride after they used the card value asking if they were allowed to save the card as a keepsake. I gladly rejoiced, "Yes!" My mother gifted a card to a close friend of mine from college. Having recently graduated from Physician's Assistant school, mom put a picture of my friend in scrubs on the card. My friend loved the chosen photograph and has kept the memorable gift card for laughs down the road. Finally, on a personal note, I have a gift card of my hubby and I in my wallet. The funds are long gone, but I will never throw away this gift card. It depicts a wonderful memory of a South Carolina vacation. Each time I open my wallet, I remember a summer in the sand.
More Choices
GiftCards.com also offers national-branded cards for use at
Olive Garden
,
Yankee Candle
and many other merchants. These merchant gift cards can be personalized, too. (Beats the regular cards in your local grocery store!) Save your friends and family members from recipient's remorse by giving them made-to-order gift cards they won't want to throw away. They'll keep the plastic because each card is a loved photographic memoir, a reason to reminisce and a token of friendship. With a wallet full of gift cards and memories, I can't think of a reason not to smile.
~~ Alyssa Vukson, Implementation Manager at Giftcards.com