Everything you need to know about gift cards for weddings, bridal showers and engagement parties.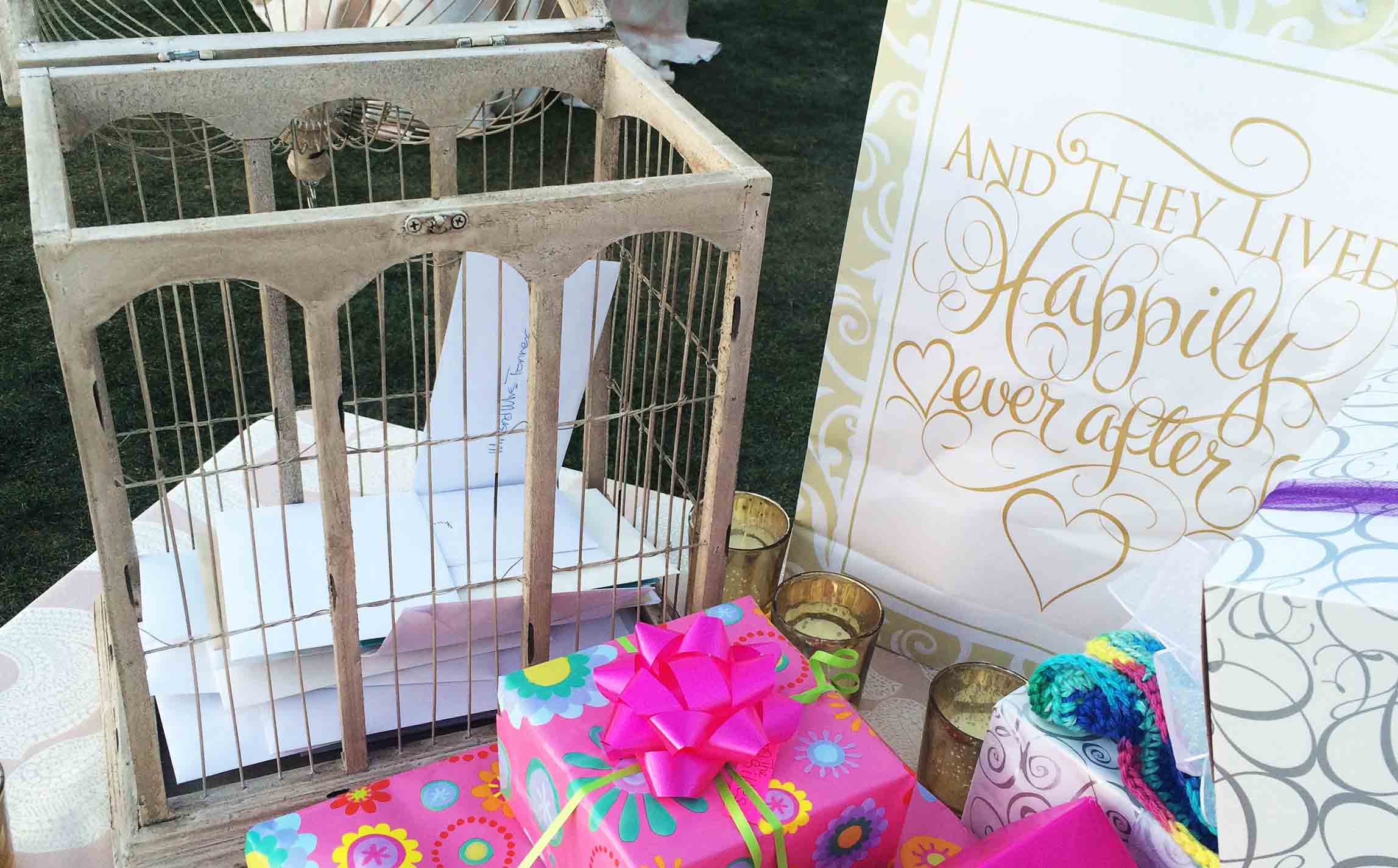 What's Inside
---
"Top 10" Wedding Gift Cards for Newlyweds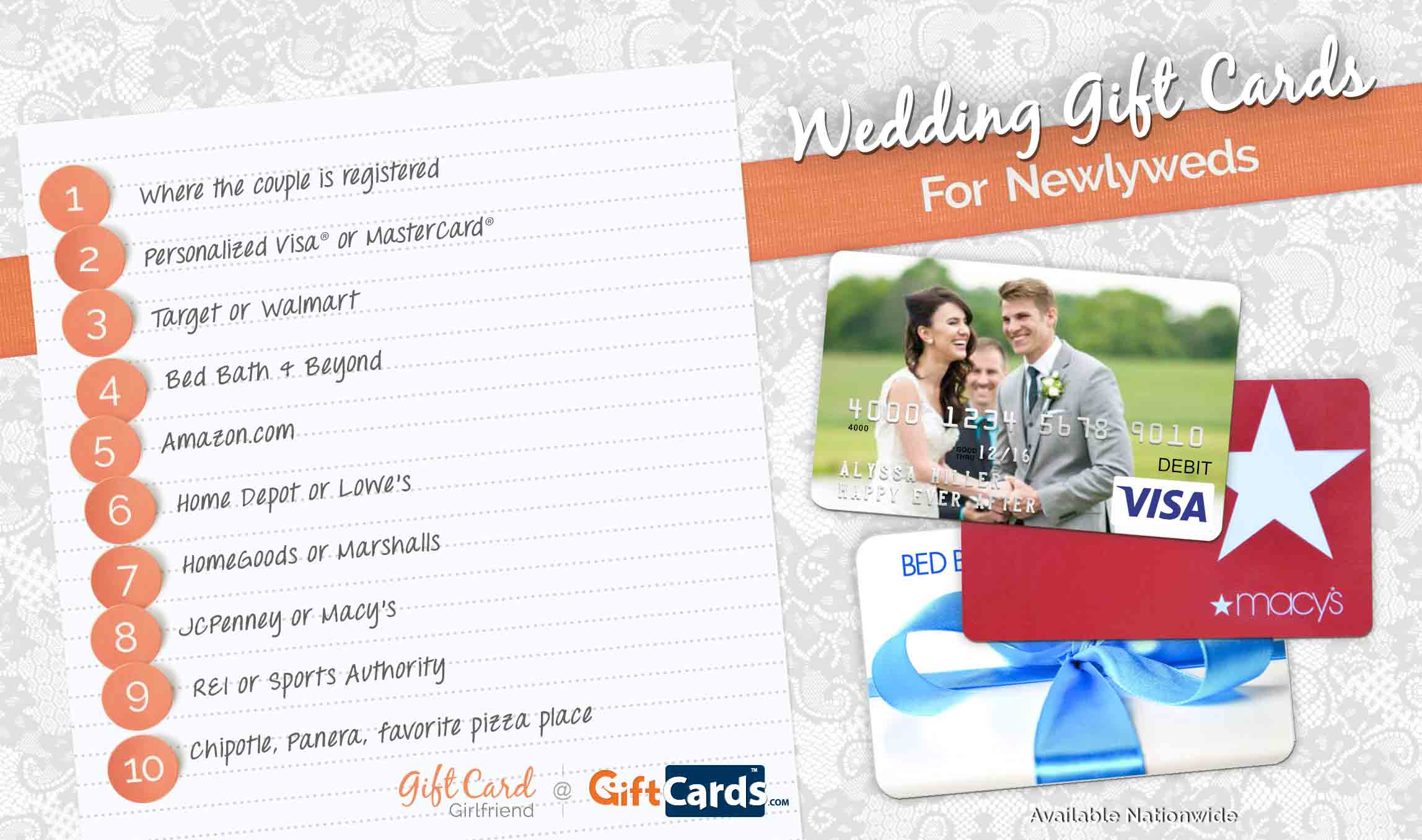 With so many gift cards to choose from, you may be trying to figure out which is the best card to buy for engaged couples. Although the simple answer is to buy a gift card to the store at which the couple has registered, that's not the only gift card option. You might also consider a Visa gift card that can be used anywhere, a gas station gift card to help the couple start that honeymoon road trip or a grocery store gift card that can be used to fill the cupboards of their new kitchen. The options are endless, but in the post below you'll find my top picks for the best wedding gift cards to buy for what will hopefully be a most memorable celebration.
Read the full post: Top Wedding Gift Cards for Newlyweds.
---
How to Guard Your Gift Cards in Style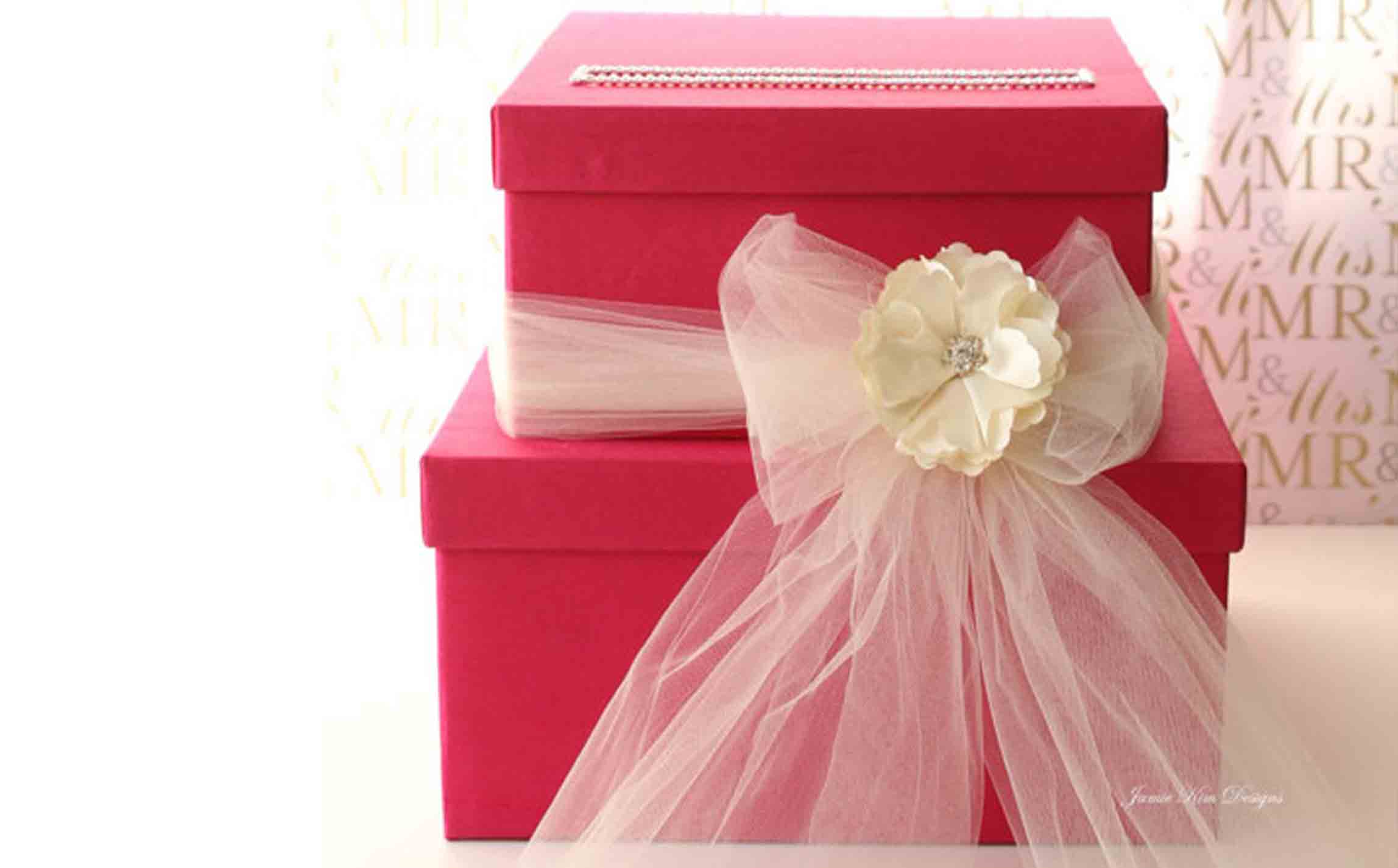 Image Credit Jamie Kim Designs
Have you ever put a gift card into an envelope and worried that the recipient would lose the card if it got placed among traditional wedding presents and gift bags? Well, I have. And that's one of the reasons many wedding couples put a gift card holder on the gift table–to help guests know where to put the gift cards and to keep them from getting shuffled in with the other items. The only problem with these gift card receptacles, however, is that they are becoming a magnet for party crashers with thievery on their minds. In the blog post below, you'll find eight ways to secure your wedding gift cards to make sure they don't get picked up by an uninvited guest.
Read the full post: 8 Ways to Stop Wedding Gift Cards from Being Stolen.
---
Surprising Ways to Collect Gift Cards at the Wedding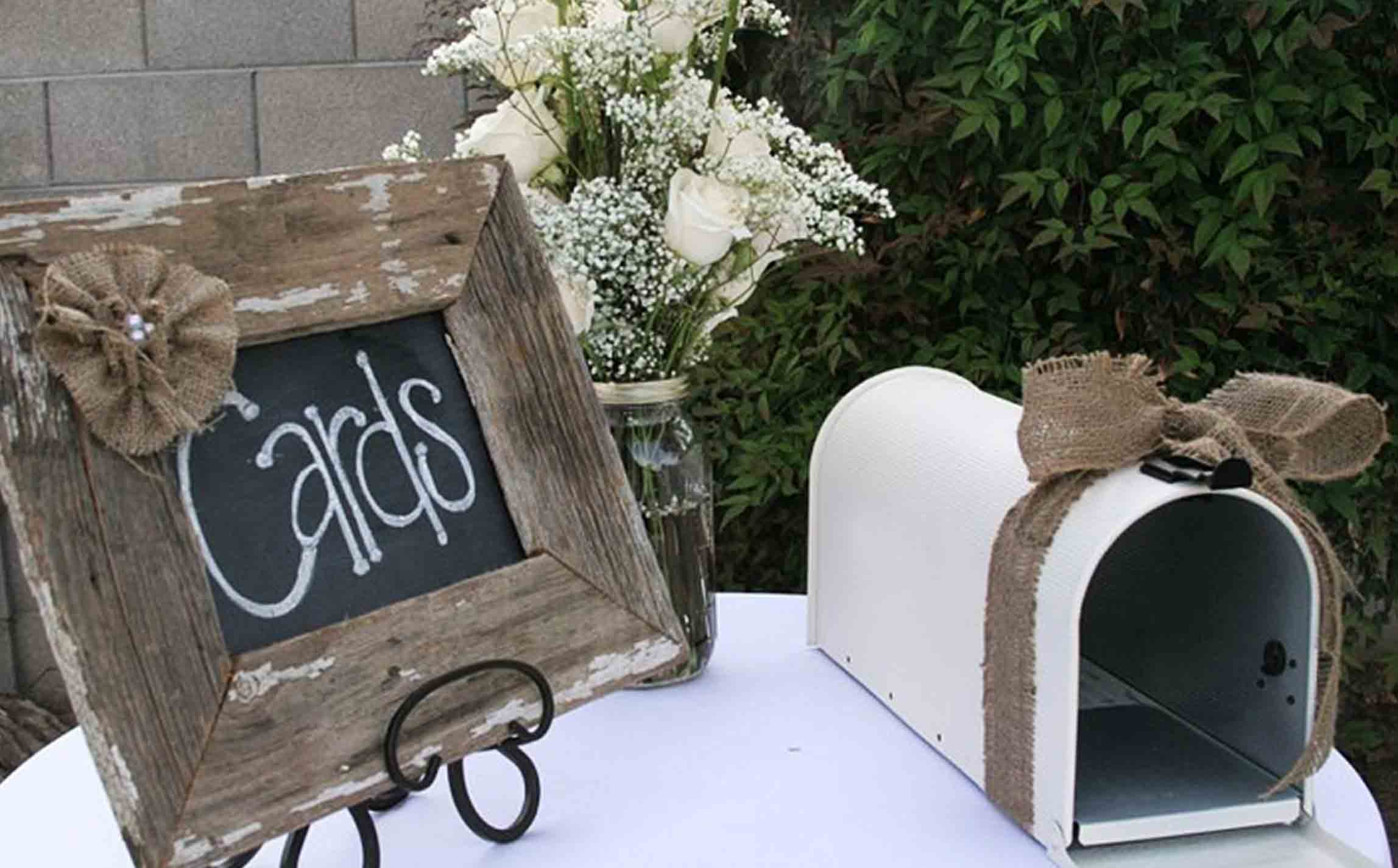 Image Credit
Pinterest user
Speaking of gathering gift cards at the engagement party, bridal shower and wedding reception, I've curated some of the more interesting gift card holders I could find. From simple wire baskets and apple crates to replica houses and hollowed out tree stumps, there is certainly more than one way to invite guests to drop their gift cards into one place.
Read the full post: The Best Wedding Table Gift Card Holders.
---
How to Save Money on Your Bridal Shower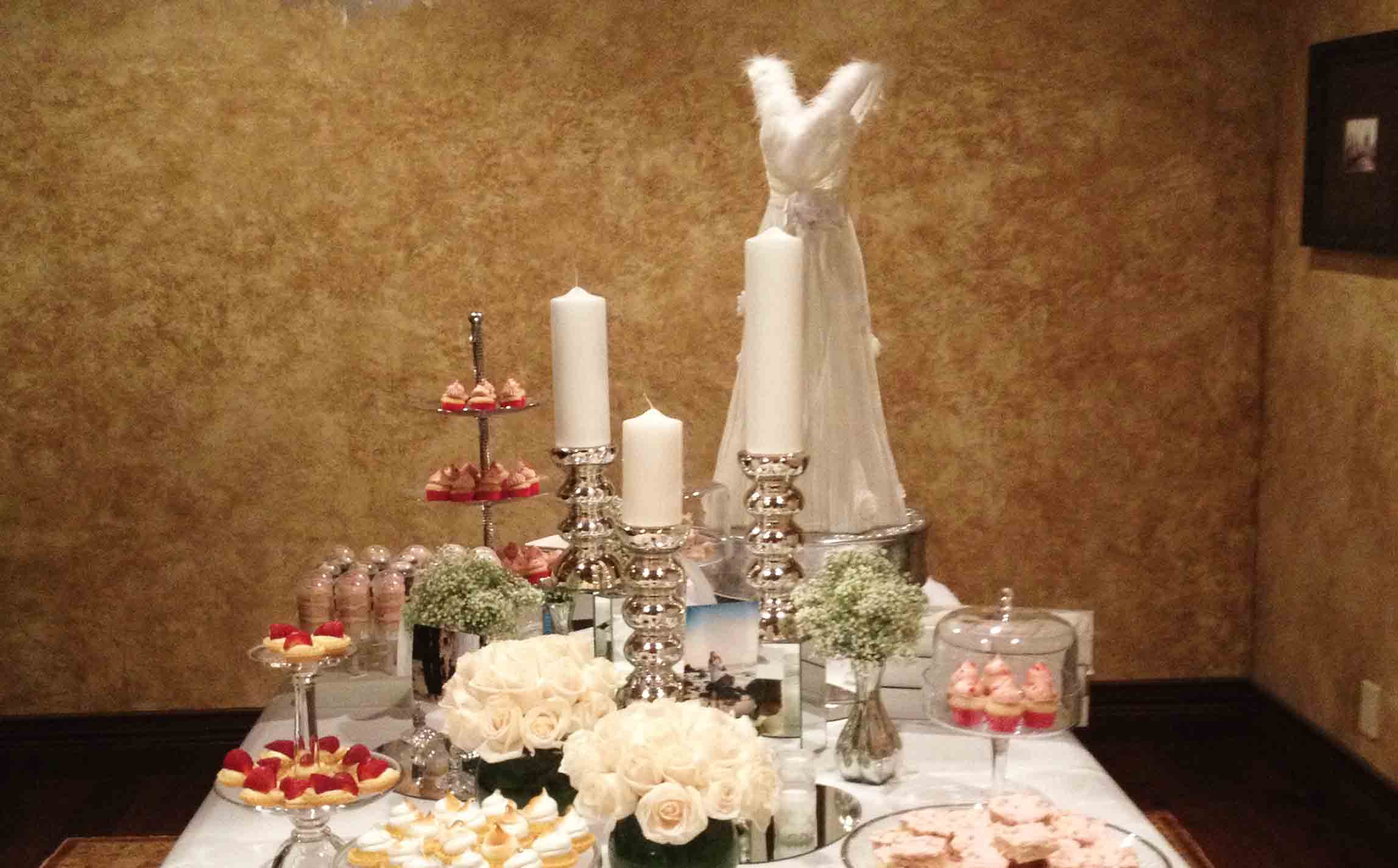 Image credit: Pink & cream bridal shower dessert table via photopin
(license)
First comes love, then comes the bridal shower and the engagement party and the marriage. Much as we love our friends, the costs of celebrating in their joy can cast a shadow on the checkbook. Before the bills start piling up, read this post, filled with advice on creative ways to save money. From helping the bridal party cut costs to helping the bride herself stay within a budget, there's bound to be a trick or two you haven't heard.
Read the full post: 8 Ways to Save Money On A Bridal Shower.
---
Top 5 Wedding Gift Card Etiquette Questions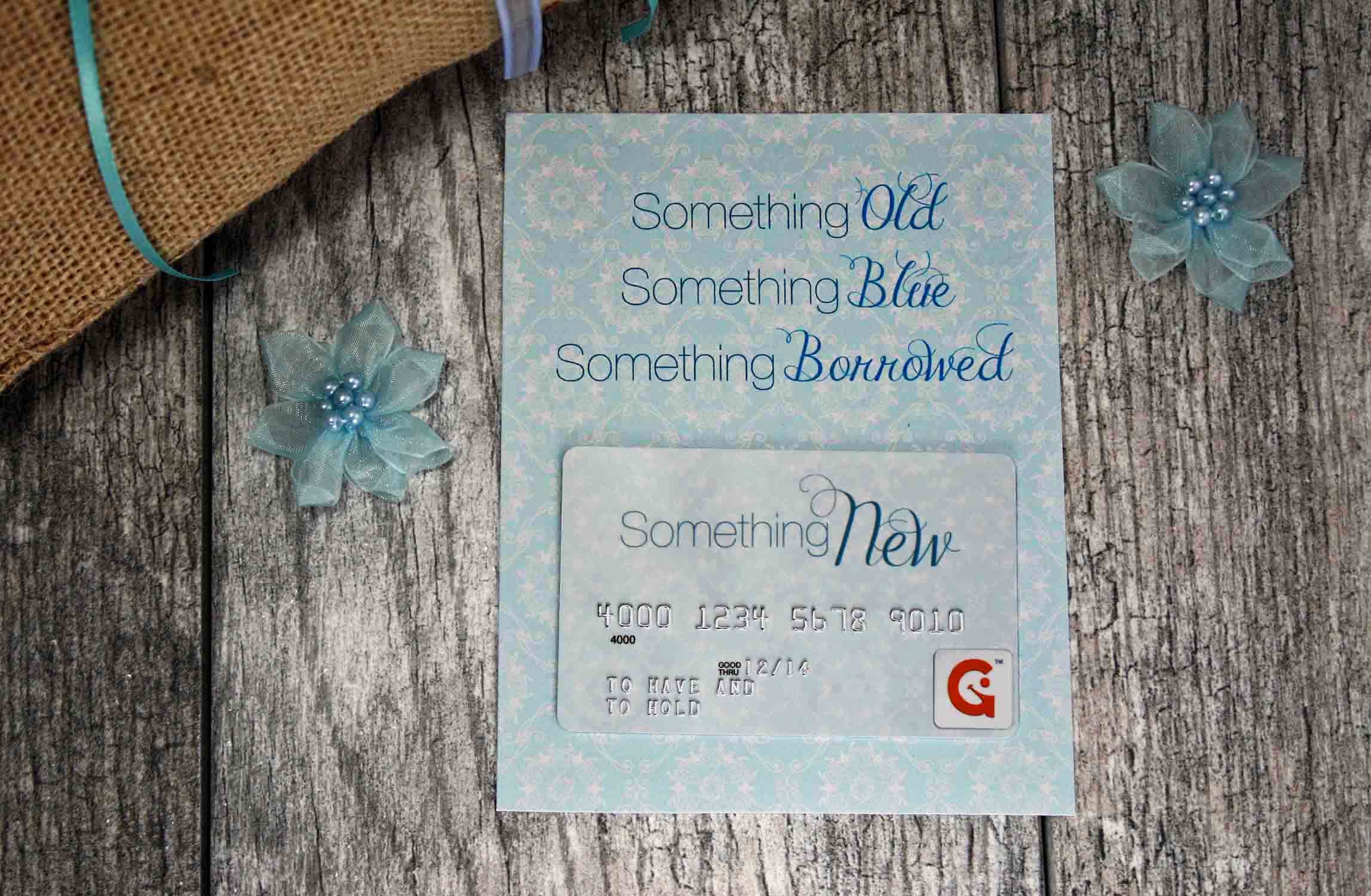 Thanks to Emily Post and Miss Manners, we know there are etiquette rules for weddings and gifting in general; but are there any etiquette rules specifically for gift cards? Yes there are. Some etiquette rules are the same regardless of the type of gift you give (or receive). For example, should I send a gift to the happy couple? Yes. Should I send a thank you note after receiving a gift? Yes, definitely. Those answers obviously apply to gift cards as well, but try this one. Should I include a gift receipt with my gift? In the case of gift cards, an activation receipt is even better. When should I send a wedding gift card? Before is best and after is fine as well. With digital gift cards, you can buy, ship and send an egift card straight from your smartphone while you're waiting for the bride to walk down the aisle. You can even snap a selfie in front of the alter and upload the photo to the egift card to make this cyber gift more personal. As technology changes the way we gift, a few of the etiquette rules have been modified as well.
Read the full post: Top 5 Wedding Gift Card Etiquette Questions.
---
Free Wedding Gift Card Holders
Planning to give someone a gift card for their wedding, bridal shower or engagement party? You've come to the right place. With a variety of gift card designs to choose from, there's sure to be a card for everyone on your list. You can pick a card, customize it and let us send it for you, or you can get crafty with the free printable wedding gift card holders below.
---
Custom Wedding Gift Ideas
Whether you want to deliver a wedding gift in person or send it electronically, Giftcards.com has a number of gift cards that can be customized with images, personal messages and more. Choose physical gift cards for same week delivery or choose egift cards for same day.
Physical Gift Cards

Custom gift cards to send in the mail here.

eGift Cards

Digital gift cards to send electronically here.
---
Gift Card Tips
With gift cards being the most-requested gift year after year, consumers often need help picking out the best gift cards, knowing how much money to load onto a gift card and what to do with unwanted gift cards. Gift Card Girlfriend can help ensure gift cards delivered for the big day are received with all the love and affection intended.
| | |
| --- | --- |
| BEFORE the Wedding | AFTER the Wedding |
| | |
Find more gift card tips and answers to your gift card questions on the Gift Card Girlfriend blog.
---
About Gift Card Girlfriend
From gift card tips and practical advice, to inspiring ideas and insights into the gift card industry, Shelley Hunter, Gift Card Girlfriend and spokesperson for Giftcards.com, is your go-to guide. As a gift card expert, she can address any gift card question or concern you have, plus share her signature way of turning gift cards into thoughtful, personalized gifts.

Learn more about Gift Card Girlfriend.

Happy Gift Carding!

~Shelley Hunter, Gift Card Girlfriend