The secret to saving on wedding expenses is to match discount gift cards with seasonal sales and to match gift card sales with off-seasons. Here's how.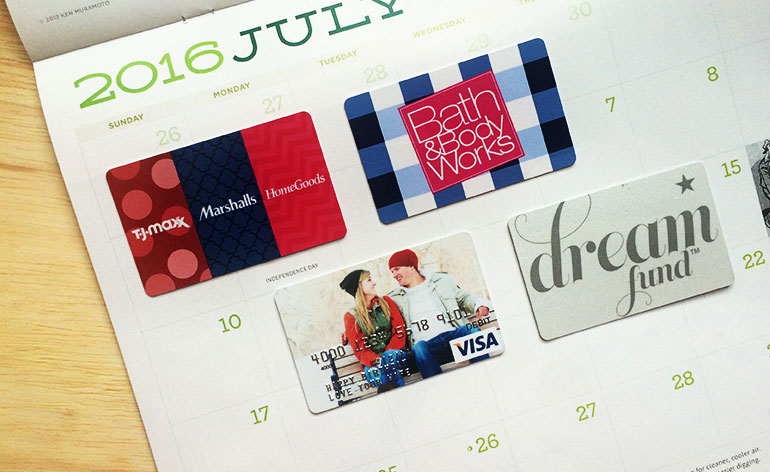 Valentine's Day may be over for this year, but there is another season of love right around the corner! It's called "Wedding Season!" According to the popular wedding website, The Knot, January, February, and March are the least popular months for weddings. June, August, September, and October are the most popular wedding months. December, however, is gaining in popularity because of the holidays.
Knowing what months are considered "wedding season" is helpful in planning your
wedding budget
because you can save money booking popular venues, florists, photographers and caterers during less popular months. Conversely, you will likely pay a little more booking those same services when you're jockeying for dates alongside a bunch of other brides and grooms. Though I started this blog post thinking that gifting doesn't really have a "wedding season" benefit, the more I think about it, the more I realize that there are certainly times of the year when gift card discounts are more abundant than others. Discounts and deals create opportunities for both you and your guests to save on your wedding day. Below is a calendar look at how gift cards can be used to save money during the wedding season and wedding off-season.
January
With gift cards being the most-requested gift on holiday wish lists year after year, millions of gift cards are given to friends, family members, colleagues and others during the month of December. That abundance of gift cards given at year's end often turns into a deluge of gift cards sold to
gift card resellers
at the start of the new year. Once in the hands of gift card resellers, the cards are sold again (predominantly via websites and mobile apps) for less than face value. Wedding participants can save money during the month of January by purchasing discounted gift cards to prepare for bridal showers, engagement parties, wedding gifts and more. For example,
gift cards to Macy's
are currently selling for about 10% off.
Gift cards to DSW
are up to 17% off. There's your double-digit savings on a new outfit and shoes for the rehearsal dinner right there!
February
With Valentine's Day solidly planted in the middle of February, there are sure to be gift card promotions that everybody will love. In fact, I just posted a round-up of
gift card deals
packed full of Valentine offers that match up nicely with wedding season needs. For example, we listed a sweet deal where you could buy a $100 Bedandbreakfast.com gift card and get a $15 Amazon.com gift card, all bundled up in a greeting card ready to be delivered. If you're pitching in on the honeymoon for one of your favorite couples, that deal is a great way to give a little more for less. Look for other gift card offers during the month of February that are meant for Valentines but can be given well after February 14th.
March and April
According to
The Peaceful Mom
, you'll find the best deals on the previous seasons' China and flatware patterns in March and the lowest prices on cookware, electronics, televisions and vacuum cleaners during the month of April. So this is the perfect time to stack your discount gift card deals onto in-store sales and promotions to save the most amount possible. For example, if the couple is registered at Bed Bath & Beyond, then pick up a
discount Bed Bath and Beyond gift card
(currently selling for about 8% off), grab your coupons and purchase a gift from the couple's registry. In just a couple of clicks, you can purchase a wedding gift at the best time of year for the lowest possible price.
May and June
In the retail world, the second busiest shopping season of the year is a little time period popularly called, "Mom, Dad and Grad." That's because Mother's Day, Father's Day and graduation all fall within these two months. And if you count Easter and wedding season, like I do, then the number of gifts given during this time period rises even more. As this mini-holiday term begins, you'll find gift card deals similar to the end of the year. Expect to find all sorts of gift card BOGO's (Buy one, get one free), gifts with gift card purchase, mystery gift card games and other incentives to get you to choose a gift card over a traditional present. I find that restaurants, in particular, offer the most savings but that is not entirely true. Grocery stores often have deals where you'll get additional gas perks or grocery coupons if you buy a certain dollar amount worth of gift cards as well. So pick up a gift card to simply give as a gift and either deliver the freebie to the happy couple or keep it for yourself. (Just because it's called a gift card doesn't mean you have to give it away!)
July and August
As the summer starts to wind down, barbecues and patio furniture go on sale and kids gear up for back to school time. Look for gift card deals to match up with those events. For example, you know office supply stores will have deep discounts on basic school supplies, but they will also be offering big savings on computers and other electronics. Clothing stores will be sending out paper circulars, email newsletters, text offers and other incentives to get you shopping in their stores for back-to-school clothing as well. And home improvement stores will desperately be trying to move their outdoor products to make room for the pending end-of-year holidays. So when the savings go up, the discount gift cards become even more valuable because you can pack these things together and save. One tip I have is to go where the best discounts are. If you want to spruce up the patio for your backyard wedding, as an example, then check the discount gift cards for all popular home improvement stores. Then pick the gift card available at the highest savings. Do the same for crafting supplies. Often times you can save double-digits at a variety of crafting stores. Pick the store that has the deepest discount on gift cards before deciding where you'll buy supplies to make your bridal shower invitations, hostess gifts and wedding favors. Being flexible allows you to decide how big your savings will be.
September and October
I don't typically find gift card deals during this time of year because I think most retailers are gearing up for the major gifting holidays ahead, but that doesn't mean you can't find ways to save. At this point in the year, I'm wondering if you are still holding onto gift cards you received during last Christmas or your recent college graduation. Studies show that if you don't use a gift card within the first three months of having it, then the gift card is at risk of being unused entirely. Don't let that happen. If you have gift cards still in your wallet, then sell the gift cards for cash. You won't get the full face value of the card, but an unused gift card isn't serving you that well anyway. So you might as well cash it out and buy something you want or really need.
At some gift card resellers, you'll get money back faster if you will accept another gift card in lieu of cash. If you're planning to buy stuff for your wedding, then clear out that sock drawer of gift cards you won't use and turn them into egift cards that can be spent online right away.
November
I have two suggestions for the month of November. The first is to download gift card reseller apps so you can save money while you're at the stores. If you want to
save on Black Friday
, for example, but have no idea where the sales are going to take you at 4AM in the morning, then a discount gift card app can be your best friend. Before making a purchase, check the app to see if you can buy a discount egift card while waiting in line at the cash register. Given that November is the month of thanks, my other suggestion is to consider giving the bride and groom a gift card that gives back. With this list of
charity-based gift cards
, your wedding present could make a difference in the lives of others. Plus it's a way for you to make a donation in lieu of (or in addition to) buying a present. When you buy a Nordstrom gift card, for instance, the store will donate 1% of all gift card sales to nonprofit organizations. So simply buying a gift card for the wedding couple will result in doing a little more good for someone else. Another option is to give a
charity gift card
which essentially allows the couple to donate the entire gifted amount to a worthwhile cause of their choosing.
December
Here comes the bride and here come the deals! Towards the end of November and into the early part of December, you'll see gift card savings galore. As restaurants and retailers vie for your gift card dollars, you'll be thrown all sorts of offers. My post on
gift card deals
gets a huge amount of traffic this time each year as consumers are looking for ways to stretch their holiday budgets. If you're looking to stretch your wedding budget as well, then let's look at what you can do with these offers. If you're going to give the wedding couple a restaurant gift card, then this month is a slam dunk for savings. Pick up one of the offers and your wedding gift is in the bag. Remember that promotional gift cards frequently come with restrictions such as when they can be used, so read the fine print before making a purchase. Perhaps you are the happy couple and you want to treat the wedding party to a night out on the town. Then this is another great reason to take advantage of the offers being made. Grocery stores will also be contending for you to buy gift cards off the rack instead of in individual stores. So look for offers such as free gas perks or free grocery coupons when a certain amount of gift cards are purchased. I frequently take advantage of these sales for personal spending. For example, if I know that I'm buying toys for Christmas gifts, then I might pick up a gift card to
Toys "R" Us®
in order to earn the grocery coupon. Then I simply use the toy store gift card to buy presents. This strategy can be used to save money on your wedding as well. In fact, often times the grocery store will offer those same deals when you buy a Visa® or Mastercard® gift card. Since those cards can be used almost anywhere, if the savings cover the activation fees, then you can buy those cards to earn the freebies and use the cards to pay for a wide range of wedding expenses.
Year-Round Trick
So I hope you have picked up on the trick here. To save money on wedding expenses using gift cards throughout the year, I'm either looking for discount gift cards that match up with seasonal sales or I'm looking for gift card sales that match up with the season. Though discount gift cards are available year round, inventory is especially high at the beginning of the year which means the savings are often greatest because there are more cards to move. And gift card deals are more abundant during peak gifting seasons when merchants know many people are shopping for presents. Though I don't always use gift cards for personal shopping, I do use them often. In my opinion, there is no better way to create a predictable sale on the products or services I want to buy. Though it might take me a few extra minutes to get the discount or deal in order, the savings are often worth the effort. Let me know if you have any other gift card tricks for saving money on your wedding. I'd love to hear what you have in mind. Add a comment below or reach out to me on Twitter (
@GCGirlfriend
).
Happy Gift Carding!
~Shelley Hunter, Gift Card Girlfriend