This fun birthday gift card comes with a matching greeting card that you can buy online or download and print at home for free.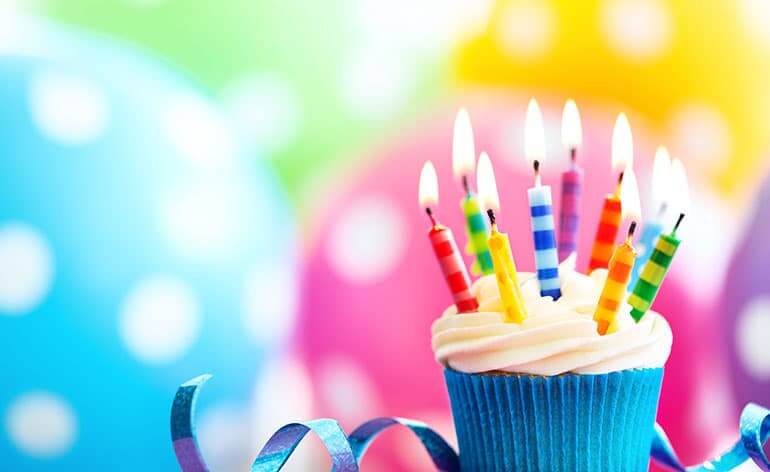 Ready to make a wish? Did you wish that you could get a free greeting card to match your birthday gift card? Well, that wish is granted here today.
At Giftcards.com, many of the artist designed gift cards come with matching greeting cards that can be added to your gift card purchase for $1.50. I love this option when I want to send a gift card directly to the recipient in something fancier than the standard carrier. When I want to hand deliver the gift card, however, I send the gift card to my house and skip the matching greeting card in favor of something I'll put together on my own.
This "Make a Wish" birthday gift card gives you both options. There is a matching greeting card that can be ordered online plus a free downloadable version of the same greeting card that can be printed at home for free. I'll show you the difference between the two options below.
Here's the link to order the "Make a Wish" birthday gift card.
Option 1: Order Matching "Make a Wish" Greeting Card
If you order the matching greeting card at Giftcards.com, the "Make a Wish" gift card will be affixed to the inside of the card. This is a full color greeting card on heavy cardstock. Below is a picture of the card.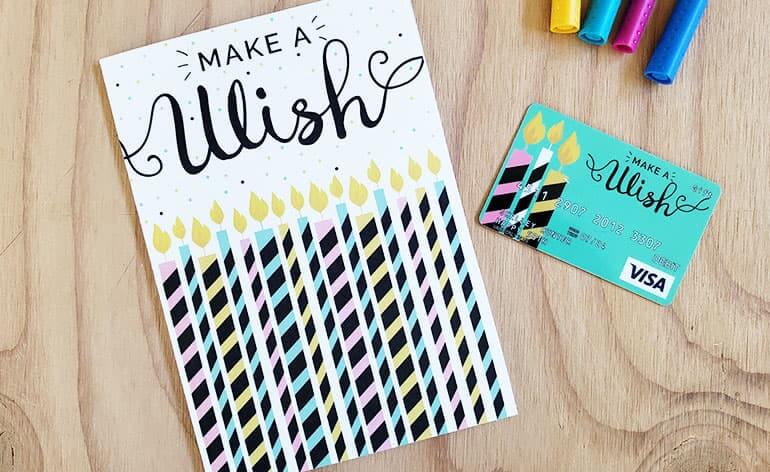 When you open the card, you'll find a birthday greeting on the right, the gift card on the left, your personal message on the left along with a note about how much money is on the card and instructions on how to activate it.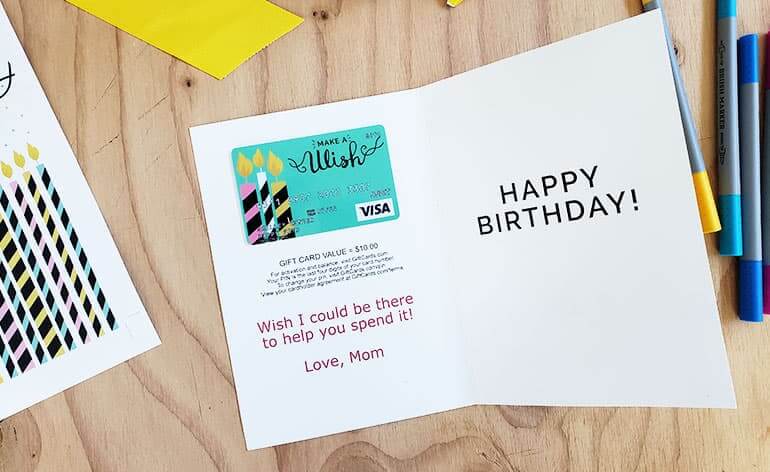 If you want to add a personal touch to the greeting card before it gets delivered, then check out this next option.
Option 2: Download FREE Printable Greeting Card
If you have access to a color printer, download the free printable "Make a Wish" greeting card. When you print the card, use the best quality printing your printer allows and print "as is." Do not select "shrink to fit" or any other setting on your printer that might distort the image on the card.
Here is the downloadable "Make a Wish" birthday greeting card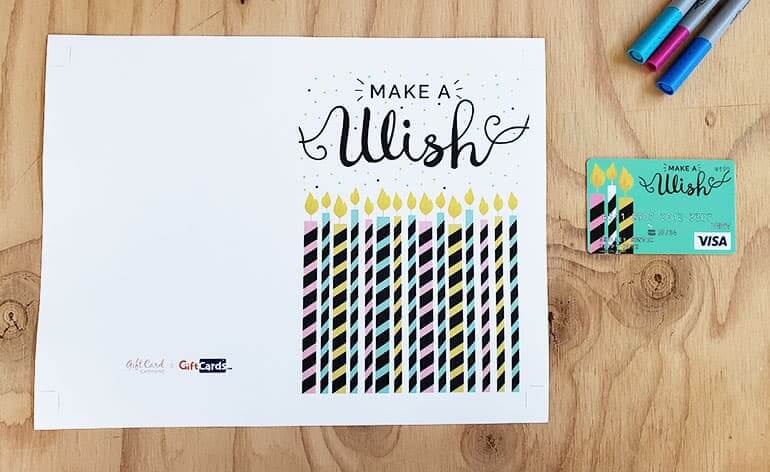 The next step is to crop the card. There are printed crop marks to guide you.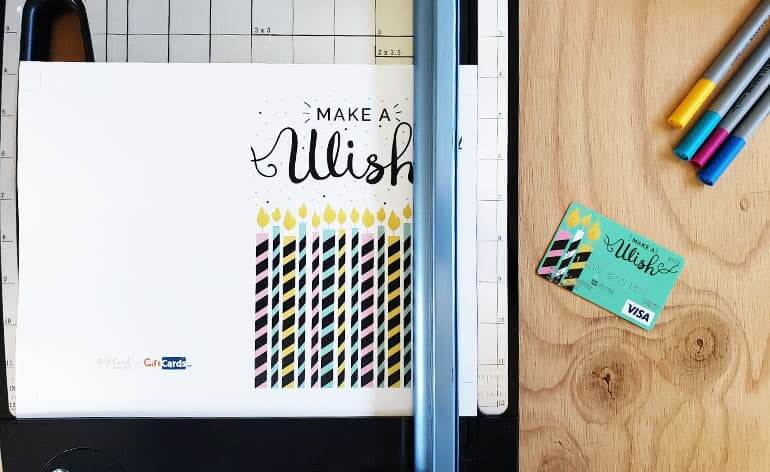 After you crop the card, simply fold it in half, tape the greeting card to the inside and write a personal note.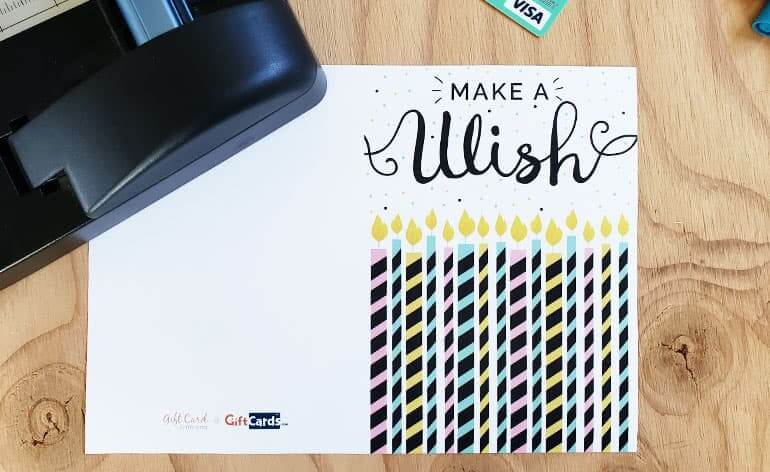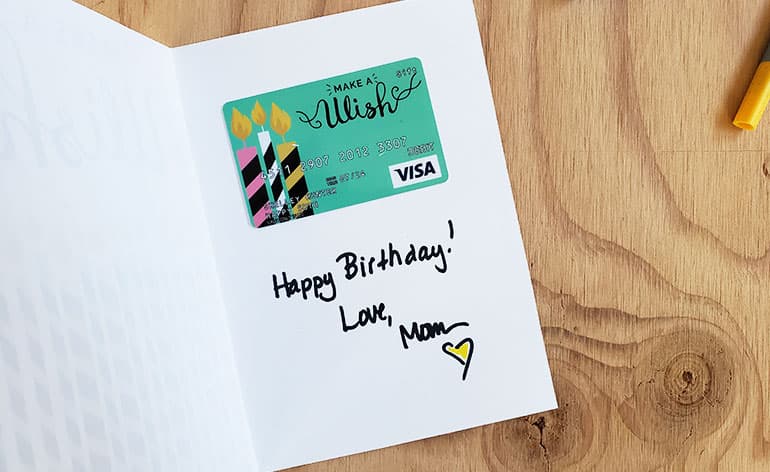 When I compared the card I printed to the one that Giftcards.com delivered, I noticed a subtle difference in color intensity. In the picture below, the professionally-printed card is on the left.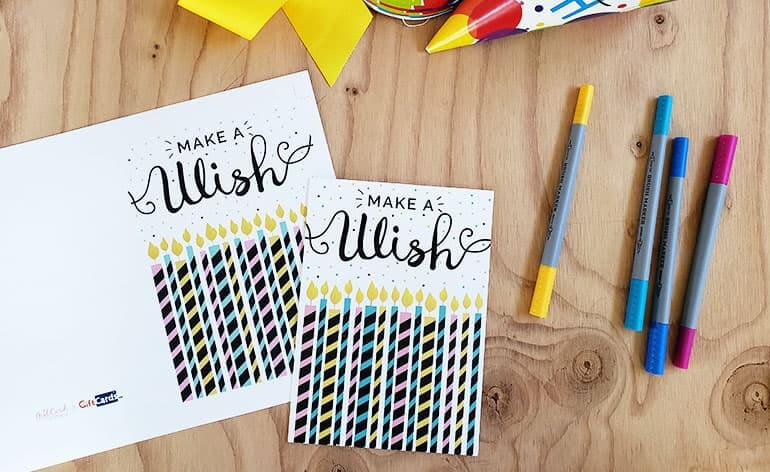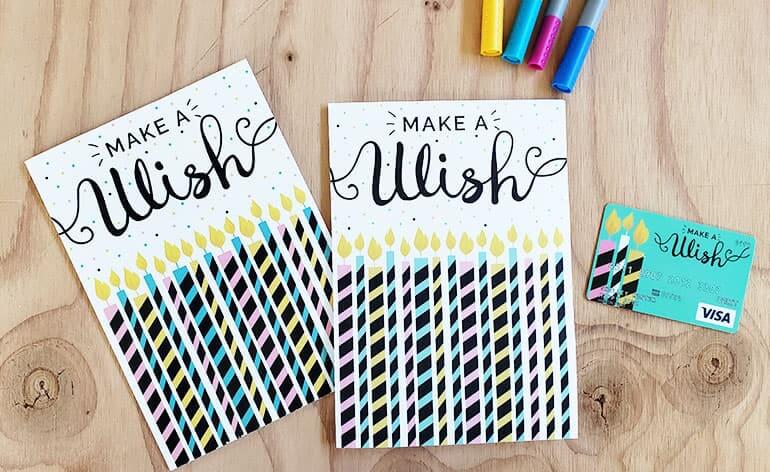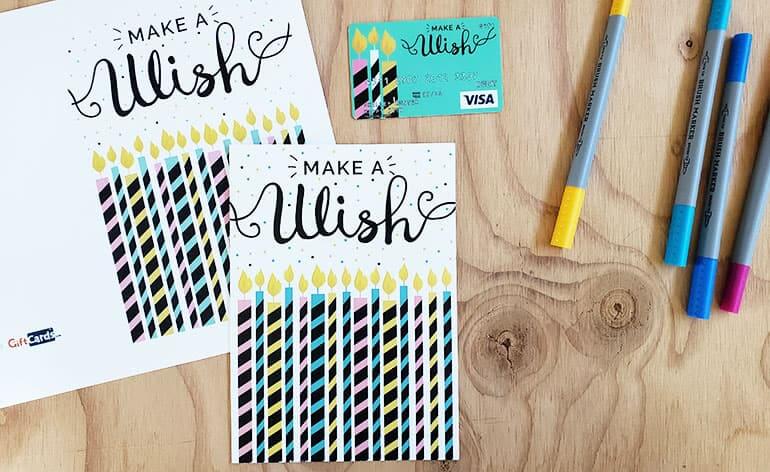 If you are thinking about getting someone a gift card for an upcoming birthday, then this is an easy choice. The recipient gets a gift card that can be used almost anywhere and you get the option to order a pre-printed greeting card or make one yourself. That's a whole lot of flexibility for everyone.
Check out our other printable gift card holders for more ways to turn gift cards into thoughtful, creative gifts.
If you make this card, please send me a picture or tag me on Gift Card Girlfriend on Pinterest, @GCGirlfriend on Twitter or @Gift.Card.Girlfriend on Instagram. I want to see what you can come up with.
Happy Gift Carding!
~Shelley Hunter, Gift Card Girlfriend