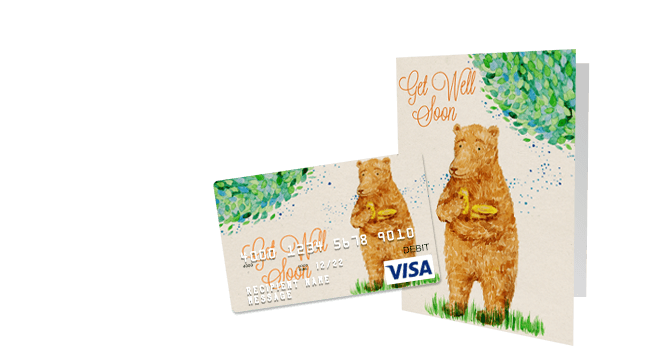 Top Get Well Soon Gift Cards
Get Well Soon Gift Ideas
When dealing with health issues, it can be difficult to get the rest you need while juggling day-to-day tasks and responsibilities. Financial help during times of crisis can ease the burden by allowing the recipient to pay for cleaning services, yard work, or take-out meals they otherwise couldn't afford. Whether the recipient is dealing with a long-term illness or a short-term setback, a get well gift card delivered at just the right time can make a big impact.
Here's how to give get well soon gift cards:
1. Dinner is Served! Deliver a customized gift card that can be used buy groceries or pay for ready-made meals. Upload a photo of your family wearing cooking aprons and big smiles. Write, "Dinner is served" on the card's embossed message line. Deliver the get well soon gift card with a homemade meal, bedside snacks, or a stack of take-out menus from local restaurants.
2. Magic Maid Service. When just getting out of bed is a challenge, cleaning toilets isn't even an option. Offer get well wishes with a gift card that can be used to hire a cleaning service. Take a photo of yourself wearing a princess or magician costume, waiving a toilet brush like it's a magic wand. Upload the magical photo and emboss, "Wish granted" on the card. Deliver the get well soon gift card with a list of reputable cleaning services in the area plus a magazine the recipient can read while resting.
3. Yard Gift Card. Getting outdoors might be good therapy, but cleaning the pool or mowing the lawn could be strenuous. Help your friend or family member by delivering a gift card that can be used to pay for yard or pool service. Take a photo of a hammock, lawn chair, or park bench. Use the photo to make a gift card and write, "Take it easy" on the get well soon gift card's embossed message line.
If you don't have a get well photo of your own, select a get well gift card design from our predesigned gallery. The gallery is full of gift cards created by our designers.
Get Well Soon Savings
Financial stress often accompanies a long illness. Whether the person in need is unable to work or the family is forced to spend time away from home at hospitals or care facilities, using discount gift cards to cut costs may offer some relief. Consider giving the family discount gift cards to nearby coffee shops like Starbucks and Peet's Coffee and Tea, restaurants with curbside pickup such as Applebee's and Cheesecake Factory, and drugstores such as Walmart and CVS for forgotten toiletries or additional medicines. You may not be able to fix the big problem, but a receiving a gift card to help with expenses may bring a smile in a much-needed moment.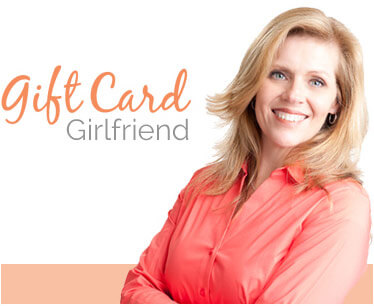 Get Well Soon Gift Tips
"Chicken soup warms the soul and gift cards warm the wallet. Deliver a gift card along with some homemade chicken noodle soup and a set of DVD's to borrow. If your friend is distant, send an e-Gift Card instead. He or she can shop online while convalescing."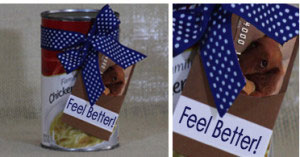 10 Great Get Well Soon Gift Cards
When someone you know isn't feeling well, get a gift card to either lift her spirits or to help with daily essentials. Either one will be much appreciated.