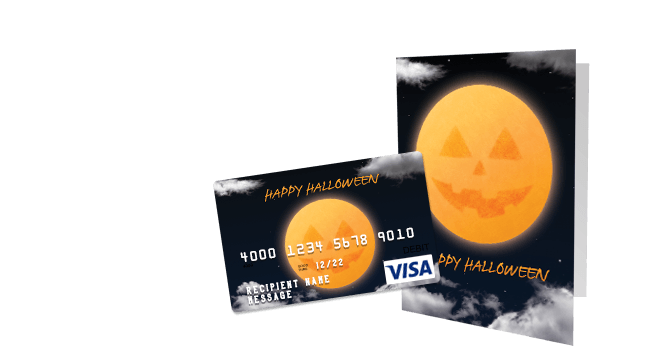 Top Halloween Gift Cards
Free Halloween Printables

If you want the convenience of gift cards, but still want to be able to put a little D-I-Y into your Halloween gifts, then try our free printable Halloween gift card holders. There's a gift card holder that matches all of the "Owl-oween" series cards you see above plus a few others. All you have to do is select the holder you want, download it, print it and follow the directions give on the blog. Enjoy!
Make it here: Happy Owl-oween Gift Card Holders
Candy Corn Halloween Gift

Halloween isn't a "gifting" holiday in the traditional sense, but we certainly hand a witch's lair worth of treats to little superheroes, princesses, ghosts and goblins throughout the month of October. One of my favorite gift cards to give is personalized gift cards. You can upload a picture of the kids in their costumes or take a photo of your pet with the pumpkins. Add a personal message and deliver! In the link below, you'll find instructions for making this adorable candy corn gift card holder shown above:
Make it here: Candy Corn Halloween Gift Card Holder
More Personalized Halloween Gift Ideas
If you are thinking of getting something other than candy this year, check out my ideas for turning a personalized gift card into a memory-making gift. Use these ideas as inspiration!
Pretty Pumpkin. A quick search of the Internet will reveal several ways to decorate a pumpkin without cutting it open or scraping out the goo. Pick a favorite design, make your own pumpkin, then take a picture of it and make your own gift card. When the card arrives, punch a hole in the card (being careful not to punch the magnetic stripe), and use a ribbon to tie the card to the stem of the pumpkin. The recipient will have a Halloween pumpkin for the porch and a Halloween gift card for the mall.
Candy Corn Creation. Take a photo of your favorite Halloween candy and upload the image to make a personalized gift card. Write the words, "All Treat. No Trick." on the embossing line. Fill a mason jar with the same candy and tuck the Halloween gift card inside. Tell the recipient to reach inside to find either a trick or a treat!
Goblin Gift Card. Of course, the easiest Halloween gift card to make is the one that's already halfway done–a picture of the kids trick-or-treating from the year before. Just upload that photo and write "Halloween 2018" on the message line. Start a tradition of capturing an annual photo of the kids in costume on a gift card.
If you don't have a Halloween photo of your own, select a Halloween gift card design from our predesigned gallery. There are plenty of designs to choose from.
Digital Halloween eGift Cards
No time to make a plastic gift card? Send a digital gift card in minutes–or schedule it for a future date—whichever works best for your timeframe. Pick a gift card, add a personal photo and message, then send it off with the witches!
And, as usual, if you have any questions, enter them in comments below and I will get back to you as soon as I can.
Happy Halloween!
~Shelley Hunter, Gift Card Girlfriend
Ask Your Halloween Gift Card Questions Here:
Halloween Gift Ideas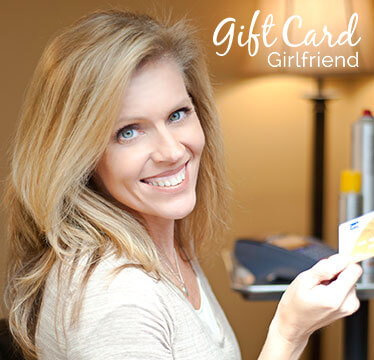 Get answers to all of your gift card questions plus get more tips on Halloween gift cards from Gift Card Girlfriend's Blog
Here's a Halloween Tip!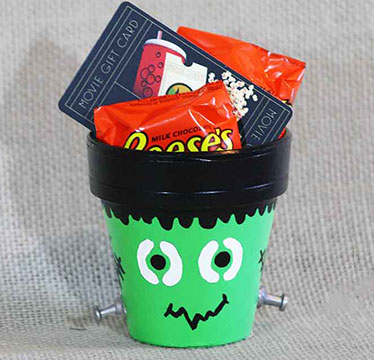 Trick-or-Treat! Put a Halloween gift card inside a handmade ghostly luminary or a ghoulishly decorated clay pot. Bury the gift card in the holder. Tell the recipient to reach inside to find either a TRICK or a TREAT!"
10 Great Halloween Gift Cards
Great gift cards for party-planning, decorating, and getting dressed up for Halloween.
Make Your Own Gift Cards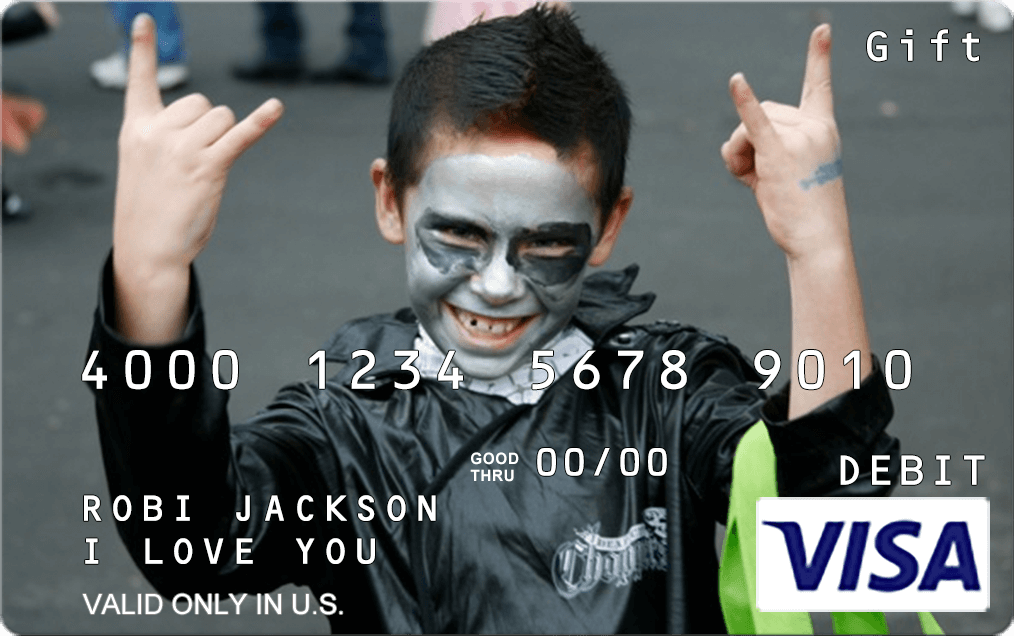 Put your own photos and images on personalized Halloween Visa Gift Cards and Halloween Mastercard Gift Cards.