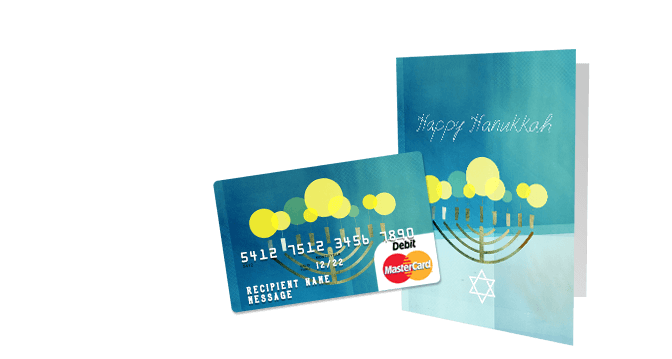 Top Hanukkah Gift Cards
Hanukkah Gift Ideas
Hanukkah (also pronounced Chanukah), is an eight-day Jewish holiday sometimes referred to as the "Festival of Lights." Though Hanukkah is a holiday steeped in ancient traditions, modern-day Hanukkah gift cards can still be part of this nightly gift exchange.
Here's how to make Hanukkah gift cards:
1. Double Dreidel. Have the kids gather round to make dreidels out of clay, paper, or cookie dough. Take a candid photo of the kids while they work together and upload it to make a personalized gift card. Give the Hanukkah gift card along with the homemade dreidels to a friend or family member who will appreciate the modern approach to a Jewish tradition.
2. New Menorah. As the Jewish bride and groom start their new life together, they'll need to light a Hanukkah menorah of their own. Turn the couple's engagement photo into a custom Visa gift card. Punch a hole in the corner of the gift card (being careful not to punch the magnetic stripe) and tie the gift card to the menorah with a blue and white ribbon. In one simple gift, you've paid homage to another tradition in giving the wedding couple something old, something new, and something blue.
3. A Lasting Gift. As important as it is for families to gather together to celebrate Hanukkah, spending time together throughout the year is no less important. Use a photo from a previous family gathering to give everyone the same personalized gift card. Write the words, "Make it last" on the embossed message line, symbolic of the oil that lasted, families that last, and making the Hanukkah gift card value go a long way.
If you don't have a Hanukkah photo of your own, select a Hanukkah gift card design from our predesigned gallery. The gallery is full of gift cards created by our designers.
Hanukkah Savings.
With the Festival of Lights lasting eight days and gifts being given on each one, finding new ways to save money during this religious holiday may be a blessing. With discount gift cards, you can get more for your money at stores like Toys R Us, Best Buy, and Brookstone. You can also save on holiday food with discount grocery store gift cards and on home party essentials with drugstore gift cards. Whatever your needs, prepping early with gift cards is a great way to save money during this important holiday.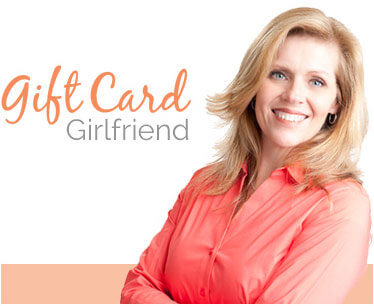 Hanukkah Gift Tips
"Add a Hanukkah designed gift card to other small gifts designated for the season such as a book, game, or special chocolates."
10 Great Hanukkah Gift Cards
Great gift cards for party planning, gift-giving, decorating, and getting ready for Hanukkah.