Top Hanukkah Gift Cards
Hanukkah Gift Ideas

Mastercard® and Visa® gift cards make great gift for Hanukkah celebrations. Personalize a gift card with a unique photograph or chose from a variety of designs in the predesign gallery. Each card can be personalized with both a name and a message in amounts ranging from $10 to $500 per card. Add a greeting card with a personalized message to truly make it a one-of-a-kind gift.
If you don't find what you need, check out Gift Card Girlfriend's blog for
more gift ideas
.
Top Hanukkah Gift Card Designs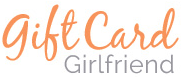 Hanukkah Gift Ideas
Add a Hanukkah designed gift card to other small gifts designated for the season such as a book, game, or special chocolates.
10 Great Hanukkah Gift Cards
Great gift cards for party planning, gift-giving, decorating, and getting ready for Hanukkah.