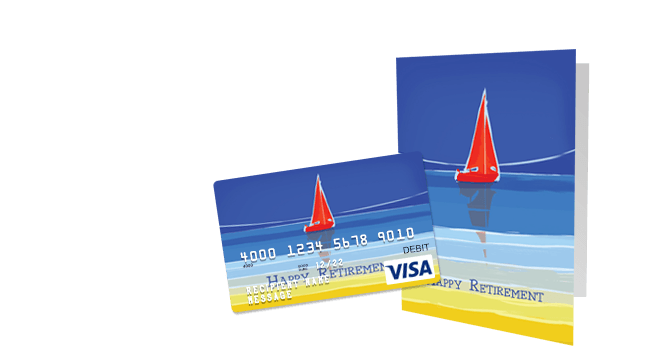 Retirement Gift Ideas
Retirement Gift Ideas
After years of dedication and service, send retiree off with a custom Visa® gift card that can be used to kick-start the permanent vacation. Is he headed to the fishing hole? Is she trading her office chair for a lounge chair? Find out what this longstanding employee has planned for the next chapter of life and get a gift card to go with it.
Here's how to give a retirement gift card:
1. Weekday Golfer. If the retired person has been a weekend golfer, he or she is likely to spend more time on the course now that the workday is clear. Find a photo of the retiree driving a long ball or deep into a back-swing. Upload it to make a golfing gift card the retiree can use to pay for green fees, new clubs, or new golf clothes. Write the words, "Time to tee off" on the retirement gift card. Deliver it with a new golf balls signed by everyone in the office.
2. Beach Bum. Trading in the office for the beach? Take a picture of a beach chair, pool lounge, or hammock. Use the picture to make a personalized gift card and write the words, "Your chair awaits" on the card's embossed message line. Deliver the customizable Visa® Gift Card with that same chair, now signed by everyone in the office.
3. Retirement Garden. Finally time to spend pruning the roses in winter or planting bulbs in the spring. Send retiree off with a gardening gift card and supplies to get started. Take a picture of the retiree's current garden (better if it's been ignored) and use the image to make a personalized gift card. Write "Your new job" on the card's embossing line. Deliver the retirement gift card with a variety of potted plants, bulbs, gloves, and a garden sign from the office
If you don't have a retirement photo of your own, select a retirement gift card design from our predesigned gallery. The gallery is full of gift cards created by our designers.
Retirement Savings
You may have stopped working, but that doesn't mean you can't get on the computer to work a few deals. With discount gift cards, you can save money on the things you're already planning to do. Finally have time to start that backyard project? Order discount Home Depot gift cards to save on needed supplies. Planning to spend more time meeting up with friends in the morning? Stock up on Starbucks gift cards and you'll save on every visit. Want to take advantage of matinee prices? Order AMC Theatres gift cards first and you'll save even more. Stacking discount gift cards with special pricing is a great way to stretch your retirement dollars.
Did you know?
The Baby Boomer generation reached the retirement age in 2011. For the next 30 years, an average of 10,000 American's will turn 65 every single day! Learn More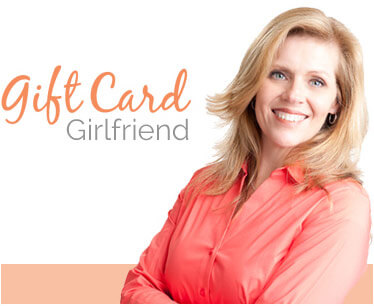 Retirement Gift Tips
"Time to fill the calendar with travel, leisure activities, and new hobbies. Ease the transition into retirement with a gift card combo such as a golfing gift card plus a sleeve of golf balls, a gardening gift card plus a pair of gloves, or a travel gift card plus a new luggage tag."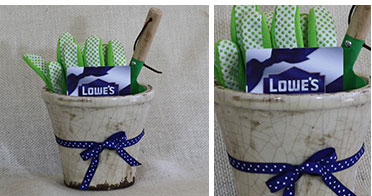 10 Great Retirement Gift Cards
From matinees to morning tee times, below are a few gift cards that can be enjoyed during the retirement years.