Summer Gift Ideas

Summer gift ideas for backyard barbecues, birthdays on the beach and dog day celebrations.
At GiftCards.com there are many options for summer gifting. Gift cards to make, top brand gift cards to buy, eGift cards to send quickly and presentation ideas to make your summer gifts more unique. If you don't find what you need, check out Gift Card Girlfriend's blog for more gift ideas.
Personalized Summer Gift Cards
Make the perfect summer gift card by uploading a favorite photo. Having trouble finding the perfect picture? Snap a selfie and upload it to make your one-of-a-kind Visa® or Mastercard® gift card. If you don't have a summer photo of your own, select a summer gift card design from our predesigned gallery. The gallery is full of gift cards created by our designers.
Top Summer Card Designs
Great Summer Gift Cards

Maybe you would rather give a gift card for a favorite store or restaurant. GiftCards.com has you covered with a huge assortment of top gift card brands. From restaurants to retailers and multi-merchant cards, there is a card for everyone.
Top-selling Gift Cards That Everyone Loves
Digital eGift Cards
The easiest and fastest way to send a gift card is right from your phone or computer. With eGift cards, you can upload a personal photo or select a video message and have your eGift card delivered in minutes–or scheduled for a future date—whichever works best for your timeframe. If this is the first time you have ordered a digital gift card, we suggest setting it up now and scheduling delivery for the date needed. The eGift will be delivered to the recipient's inbox on the date you select.
More Summer Gift Ideas
With sunny days spent at the pool, warm evenings on the patio and vacations on the calendar, the summer months are often full of good times. Summer weddings, graduations, birthday parties and Father's Day are even more reasons to get together and celebrate. But don't waste summer days shopping for gifts at the mall. Order custom Visa gift cards in minutes and get back out to the barbecue where you belong!
Here's how to give a summer gift card:
Toes in the Sand. Head to the beach and write a message in the sand. Take a photo of the words before the surf washes them away, then upload the image to make a personalized gift card. Write the same message on the summer gift card or use it to answer a question. For example, write, "Who loves you?" in the sand. Write, "I do" on the card.
Picnic Perfect. Pick up a cute picnic basket and take a picture of flowers on a red, checkered tablecloth. Turn the picture into a personalized gift card. Punch a hole in the corner of the summer gift card (being careful not to punch the magnetic stripe), thread a ribbon through the hole and tie the card to the picnic basket. Deliver it with a note that reads, "For your next outdoor meal."
Summer Lovin'. Take a picture of the kids jumping off of the dock or floating on a raft in the pool. Use the photo to make your own gift card and write the words, "Summer Lovin'" on the card. Deliver the gift card with a lemonade mix, tucked inside of a flirty drink tumbler (with straw!) or tie it to the handle of a bucket of sand toys.
In addition to all of these great summer gift cards, Gift Card Girlfriend has more great ideas on her blog. Check out the Gift Card Girlfriend Blog, where you will find links to all of her posts for and about gift cards.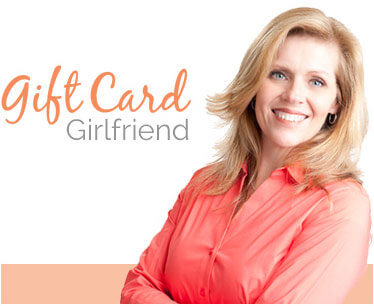 Summer Gift Idea
"Give a summer gift card to an adult with a new beach towel and a magazine to read. Give a summer gift card to a child with a container of sunscreen and new pair of flip flops. So fun!"