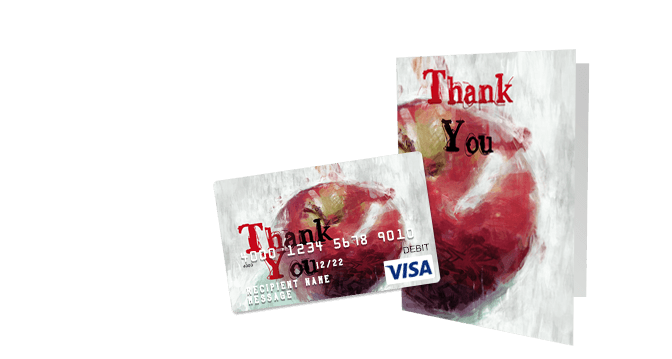 Teacher Gift Cards
Teacher Gift Ideas
Officially, Teacher Appreciation Week is celebrated in the United States during the month of May. Unofficially, teachers should be thanked all year round. With budget cuts and school funding issues, educators often reach into their own pockets to provide supplies and extra-curricular activities for their students. So while you could pick up a traditional apple-themed teacher gift, a gift card may be more useful and more appropriate.
Here's how to give teacher gift cards:
1. Class Gift Card. A perfect combination of sentiment and practicality is a personalized gift card with a picture of the entire class on the card. Write, "Top of Class" on the card's embossed message line. Deliver the gift card with a box of tissues, hand sanitizer, or a new set of whiteboard markers.
2. Break Time. Whether it's spring break, winter break, or summer break, send teacher off with a gift card that can be used for a relaxing vacation. Upload a photo of the beach, the ski slopes, or a nearby park bench. Write, "Time for a break" on the teacher gift card. Deliver the break time gift card with something needed for a proper vacation such as a bottle of sunscreen, a magazine, or a tote bag signed by each of the kids.
3. Helping Hand. Express your gratitude to teachers, office staff, janitors, and aides for their helping hands. Have the kids stamp handprints on a simple canvas, an apron, or a planter box. Take a photo of the handprints and upload it to make a personalized gift card. Write, "For helping hands" on the card's embossed message line. Deliver the handprint gift card with the handprint craft.
If you don't have a class photo of your own, select a teacher gift card design from our predesigned gallery. The gallery is full of gift cards created by our designers.
Teacher Gift Savings
Are you planning a teacher appreciation party? Use discount gift cards to save money on supplies. Or use discount gift cards to buy teacher gifts for less. Pick up party plates, napkins, and decorations with discount gift cards to Michaels or Joann Stores. Pick up snacks and treats with a Walmart discount gift cards. And stretch parent donations for teacher gift cards to the salon, spa, or the movies.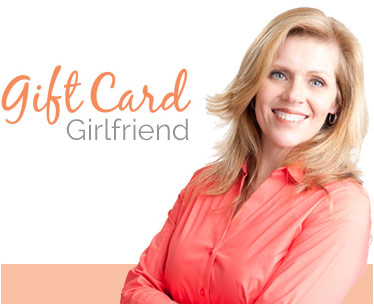 Teacher Gift Tips
"Rather than collecting money to buy a single teacher gift card, have parents each buy individual (small dollar value) gift cards. Put the gift cards into a teacher gift card tree or flower pot."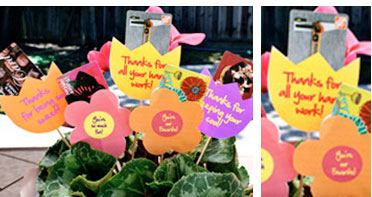 10 Great Teacher Gift Cards
Below are several gift cards teachers can use to treat themselves or buy classroom supplies.