TheChoiceCard is a NEW line of multi-store gift cards featuring stores and restaurants that appeal to a more discerning recipient. Learn more about TheChoiceCard .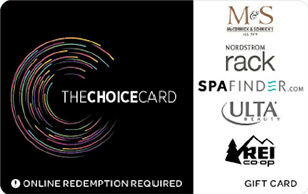 From fine dining to top fashion and luxury spa treatments to some of the best outdoor gear available, TheChoiceCard allows recipients to create the experiences they most want. This TheChoiceCard is redeemable for one or more of the egifts listed on the card. That selection is currently:
McCormick & Schmick's
Nordstrom Rack
Ulta Beauty
Spafinder
REI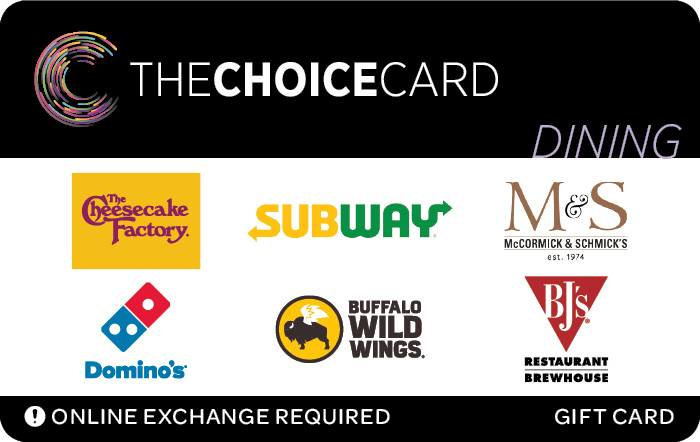 Treat someone to a delicious meal (or two!) with TheChoiceCard Dining Card. This card contains enough choice to suit any craving! TheChoiceCard Dining Gift Cards are redeemable for one or more of the egifts listed on the card. That selection is currently:
The Cheesecake Factory
Buffalo Wild Wings
Subway
McCormick & Schmick's
Domino's
BJ's Restaurant and Brewhouse
Guide to The Choice Card
The best thing about gift cards is that recipients get to decide how and when to create the unique experiences they most want. With TheChoiceCard, the experiences are even better. From fine dining at McCormick & Schmick's to luxurious spa treatments and other salon services via the Spafinder gift card, recipients can craft a one-of-a-kind days with this one-of-a-kind gift card.
Here's a Tip:
To redeem TheChoiceCard, you'll first go to redeem.giftcards.com. After entering the card details, you can select the eGift(s) you want from the participating merchants. The eGift(s) you select will be delivered via email. You can start shopping or dining as soon as they arrive!
To see other multi-store gift cards available at GiftCards.com, you can learn more about Happy Cards, Giving Good Cards, and Holiday Favorites Gift Cards or simply shop the full selection of Multi-Store gift cards.
Below is everything you need to know about TheChoiceCard :
FAQ on TheChoiceCard
Do I Have to Pay Extra for TheChoiceCard ?

No. With TheChoiceCard , the recipient has a choice of where to redeem the gift card, but you don't have to pay extra to give them that flexibility.

Where Can I Buy TheChoiceCard?

TheChoiceCard are available in most major grocery stores and online here at GiftCards.com.

Where Can I Use TheChoiceCard ?

TheChoiceCard is redeemable at any of the stores and restaurants shown on the front or listed inside of the card. Simply redeem the gift card online and select the egift(s) you want. It's a simple two-step process:

Redeem the gift card. Enter the gift card details from the back of the packaging (scratch to reveal PIN).
Select the eGift(s) you want from participating merchants. Receive your eGift(s) by email and start shopping online or in stores.

Can TheChoiceCard be Used in Stores and Online?

Yes, but you first have to redeem online where you select which eGift(s) you would like delivered. So, for example, to use TheChoiceCard at Ulta Beauty, you would redeem TheChoiceCard for an Ulta Beauty eGift Card. When the Ulta Beauty eGift Card arrives, you can use it to shop at Ulta Beauty online and in stores.

Can I Use TheChoiceCard in More than One Place?

Yes! One of the best things about TheChoiceCard is that you can redeem TheChoiceCard for one or more eGifts to the stores or restaurants listed on the card. For example, you can swap part of the balance for one egift card and swap the rest for another retailer's gift card. If the balance allows, you can select as many as you want!

Does TheChoiceCard Expire?

No. The Choice Card does not expire and there are no fees associated with buying or using these gift cards.

How Do I Check the Balance of TheChoiceCard?

Visit redeem.giftcards.com or call 833.568.8729 to check the balance of TheChoiceCard.

Can I Get a Replacement if I Lose TheChoiceCard?

Like other gift cards, TheChoiceCard will not be replaced if lost or stolen. If you have the card number and proof of purchase, however, you may contact customer service or call 855.606.3494 to see if the card funds have been used.

Where Can I Get Help with TheChoiceCard?

Contact customer service or call 855.606.3494.

Can I Add Money to TheChoiceCard?

TheChoiceCard cannot be reloaded with additional money.
Where to buy TheChoiceCard in Stores
Below is a list of stores that currently are or will be selling TheChoiceCard:
Gift Card Girlfriend Video Transcript
I'm Shelley Hunter, Gift Card Girlfriend, and I'm excited to talk to you about TheChoiceCard.
TheChoiceCard is one of many new multi-store gift cards launched by Blackhawk Network in 2020. Each multi-store gift card gives the recipient access to top stores, restaurants and entertainment options.
TheChoiceCard is redeemable for a hand-selected list of options for the more discerning recipient—for example, you can opt for a fine dining experience via McCormick & Schmick's, get a spa treatment via spafinder, find the latest fashions at Nordstrom Rack, try new makeup or hair products at Ulta Beauty or gear up at REI.
Because you can split the value of your Choice Card across any and all of the stores on the card and then use the egift cards received however you want, the options truly are endless. Or, you might say…the choices are better than ever.
Now here's a tip. To use TheChoiceCard you'll need to do two things.
First, redeem the gift card at redeem.giftcards.com.
Second, select the e-gifts you want from the participating stores.
You can redeem it all on one retailer e-gift or you can break the value up into a couple of different merchants depending on how much you have to spend. Once you make that selection, your e-gift will arrive via email and you can use it to shop in stores or online when you're ready.
And good news — there are no fees or expiration dates associated with TheChoiceCard.
Again I'm Shelley Hunter, your consumer guide to gift cards. If you have any questions about TheChoiceCard, please leave a comment below.