Featured
Wounded Warrior Project Gift Card
The Giving Good – Wounded Warrior Project is a gift that celebrates our nation's heroes and we'll donate 3% directly to Wounded Warrior Project.
Feeding America
Gift Card
Help Feed America while feeding your recipient with the Giving Good – Feeding America gift card. And… 3% will be donated to Feeding America.
Top Patriotic Gift Card Designs
Top Brand US Holiday Gift Cards
Great gift cards for party planning, preparing the backyard, and enjoying American celebrations. We've got you covered for all your US Holiday gifting.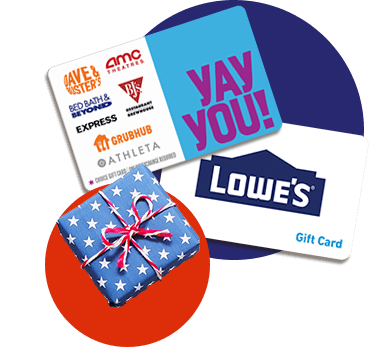 US Holiday Gift Tips
Need some clever ways to make your custom gift cards more personal?
Here's how to make US Holiday gift cards:
Yankee Doodle. Take a photo at the 4th of July parade and upload it to make a custom Visa® gift card. Add the words, "Have a dandy day!" to the message line. Add a greeting card to your order using a different photo from the Independence Day party. Deliver the gift card with parade supplies such as an American flag, a set of red white and blue beads or an Uncle Sam hat.
Veteran Thank You. We shouldn't need a holiday to remind us to thank the men and women who dedicate their lives to protecting our freedoms. Take a photo representing a freedom you enjoy such as free speech (talking in public), the right to vote (wearing your "I Voted" sticker) or religious freedom (taking your family to church). Upload the image and add the words, "Thank You" to the gift card. Deliver the gift card with a detailed handwritten note of gratitude for the sacrifices made.
Hot Dogs and Apple Pie. What's more American than baseball, hot dogs and apple pie? Make an American-themed gift card, taking a photo of the kids writing words with sparklers. Deliver the US Holidays gift card with a baseball, hot dog fixings and a homemade apple pie. If you don't want to give all three, then put the gift card in a matching greeting card and write, "Have an All-American Day" inside.
If you don't have a US Holiday photo of your own, select a US Holiday gift card design from our predesigned gallery.