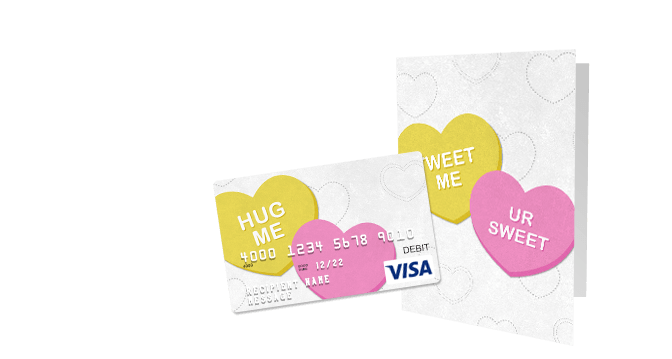 Top Valentine Gift Cards
Valentine Gift Ideas
Once strictly a romantic day reserved for sweethearts in love, Valentine's Day has morphed into an event celebrated by friends, family members, schoolmates, and more. It can also be a stressful day filled with pressure to find a greeting card, novelty candy, balloon, or stuffed animal that bares an appropriate expression of your feelings. (Be mine? I love you? Kiss me? We've only been on three dates and…so far, so good?) Not to worry. With personalized Valentine's Day gift cards and matching greeting cards, you can write any message you want. No pressure, whatsoever.
Here's how to give a Valentine's Day gift card:
1. Beary Much. Take a photo of teddy bear, a photo of you hugging a teddy bear, or a photo of the kids snuggled up with a favorite teddy bear. Upload the picture to make your own teddy bear gift card and write the words, "Love U beary much" on the card. (Or "like U beary much" or "You are beary nice.") You can also tie the teddy bear gift card to a real teddy bear so your Valentine has something to snuggle after the Valentine gift card is used.
2. Valentine Bouquet. Rather than spend money on an expensive bouquet, buy an economical bunch of flowers or a potted flower and use the money you saved to buy a Valentine's Day gift card to go with it. Upload a photo of you and your Valentine to make a personalized gift card. Write an appropriate expression on the gift card ("Love you," "Be mine" "Be my Valentine.") Tie a ribbon around the vase and tuck the Valentine gift card inside or put the gift card into the flower stick that comes from the florist.
3. Stuck on You. For a more practical Valentine gift, order a custom Mastercard® gift card and deliver it with something sticky—gum, taffy, super glue, crafter's glue, wood glue—any item appropriate for your Valentine's hobbies and interests. Upload a photo of the two of you hugging and write, "Stuck on you" on the card's embossed message line.
If you don't have a Valentine photo of your own, select a Valentine gift card design from our predesigned gallery. The gallery is full of gift cards created by our designers.
Valentine Savings
If you're not ready to give your sweetheart a discount gift card for Valentine's Day, that is okay. You can still save money using gift cards to buy traditional presents. For example, order a discount gift card to Zales, then use the gift card to pick out a piece of jewelry. Order a gift card to Sephora, and use it to buy perfume. Order a discount gift card to Fleming's Steakhouse, and use the gift card to pay for the Valentine's Day dinner. Giving all your love doesn't mean giving all your money. Might as well save on the things you're already planning to buy.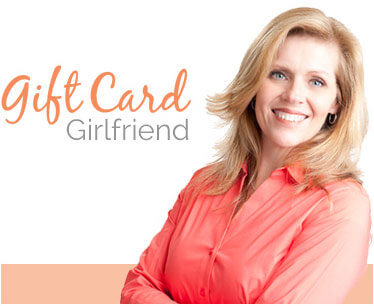 Valentine Gift Tips
"To be sure Valentine knows you put extra love into the gift card, select a personal photo and include a custom message. A generic plastic gift card might not get you a second date. But a photo of the day you first met plus embossing the words "Love at First Sight" onto the card, could be the beginning of a long-lasting relationship."
10 Great Valentine Gift Cards
Great gift cards to give your sweetheart on Valentine's Day. You can't go wrong with jewelry, designer accessories, and pampering at the spa.