Valentine's Day Gift Ideas

Once strictly a romantic day reserved for sweethearts in love, Valentine's Day has evolved into an event celebrated by friends, family members, schoolmates and more. It can also be a stressful day filled with pressure to find a greeting card and/or gift that relays the appropriate expression of your feelings. (Be mine? I love you? Kiss me? We've only been on three dates and…so far, so good?) Not to worry. Whether celebrating the day with your true love or gal pals (Galantine's Day is now a thing) GiftCards.com has the perfect gift. With personalized Valentine's Day gift cards, one-of-a-kind designs, from our artists with matching greeting cards, merchant and egift cards, there is a card for everyone.
You've come to the right place for Valentine's gifts. Below you will find gift cards to make, top brand gift cards to buy, egift cards to send quickly and presentation ideas to make your Valentine's Day gifts extra special. If you don't find what you need, check out Gift Card Girlfriend's blog for more gift ideas.
Personalized Valentine's Day Gift Cards
To make the perfect Valentine's Day gift card, upload a picture of you and your sweetheart doing something fun together. Snap a selfie or use an old photo of the two of you to easily make a one-of-a-kind Visa® or Mastercard® gift card. Not feeling creative, choose from one of our popular Valentine's Day gift card designs.
Top Valentine's Day Gift Card Designs
Top Brand Valentine's Day Gift Cards

Your Valentine is one-of-a-kind and because of this, GiftCards.com offers Valentine's gift cards in a variety of merchants, denominations and delivery methods. Offering gift cards to top retailers like Macy's and Lowe's as well as multi-brand cards like the Retail Therapy gift card make shopping for the perfect gift an easy task.
Top-selling gift cards for your Valentine.
Digital Valentine's Day eGift Cards
The easiest and fastest way to send a gift card is right from your phone or computer. With egift cards, you can upload a personal photo or select a video message and have your egift card delivered in minutes–or scheduled for a future date—whichever works best for your timeframe. If this is the first time you have ordered a digital gift card, we suggest setting it up now and scheduling delivery for the morning of Valentine's Day. When mom checks her phone first thing that day, your sweet digital Valentine's Day egift card will be waiting for her.
More Valentine's Day Gift Ideas
In the United States, Valentine's Day is celebrated on the second Sunday in May. Though Valentine's Day gift guides suggest giving handmade items such as hand-stamped aprons, macaroni necklaces, and "world's best mom" t-shirts, those gifts are likely to be tossed into a closet the very next day. If you want mom to enjoy her Valentine's Day gift, after the celebration is over, get her a personalized gift card. The card will be every bit as personal as a thumbprint butterfly on a clay pot, but will be significantly more useful. Need some clever ways to make your personalized gift cards more personal?
Here's how to give Valentine's Day gift cards:
Beary Much. Take a photo of teddy bear, a photo of you hugging a teddy bear or a photo of the kids snuggled up with a favorite teddy bear. Upload the picture to make your own teddy bear gift card and write the words, "Love U beary much" on the card. (Or "like U beary much" or "You are beary nice.") You can also tie the teddy bear gift card to a real teddy bear so your Valentine has something to snuggle after the Valentine gift card is used.
Valentine Bouquet. Rather than spend money on an expensive bouquet, buy an economical bunch of flowers or a potted flower and use the money you saved to buy a Valentine's Day gift card to go with it. Upload a photo of you and your Valentine to make a personalized gift card. Write an appropriate expression on the gift card ("Love you," "Be mine" "Be my Valentine.") Tie a ribbon around the vase and tuck the Valentine gift card inside or put the gift card into the flower stick that comes from the florist.
Stuck on You. For a more practical Valentine gift, order a custom Mastercard® gift card and deliver it with something sticky—gum, taffy, super glue, crafter's glue, wood glue—any item appropriate for your Valentine's hobbies and interests. Upload a photo of the two of you hugging and write, "Stuck on you" on the card's embossed message line.
If you don't have a Valentine photo of your own, select a Valentine gift card design from our predesigned gallery. The gallery is full of gift cards created by our predesigned gallery.
In addition to all these gift cards you can get for mom, Gift Card Girlfriend has several more ideas on her blog. Check out the Valentine's Day gift card hub, where you will links to all of her posts for and about Valentine's Day. Have questions? Enter them in the comments below and Gift Card Girlfriend will give you the answers.
Ask Your Valentine's Day Gift Card Questions Here:
Valentine's Day Gift Tips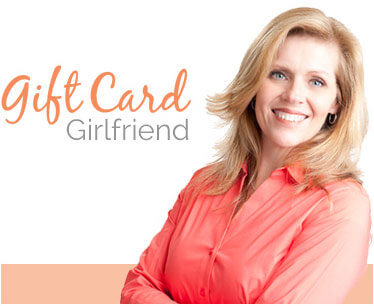 "To be sure Valentine knows you put extra love into the gift card, select a personal photo and include a custom message."
A generic plastic gift card might not get you a second date. But a photo of the day you first met plus embossing the words "Love at First Sight" onto the card, could be the beginning of a long-lasting relationship.